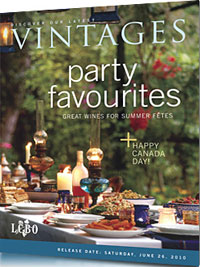 It will soon be time to celebrate Canada Day and the good old LCBO has come to our aid by putting a few solid domestic wines from coast to coast onto the shelves this Saturday. The rest of the release feature is "party wines", an array of global wines the board considers suitable to bring to a wide range of social events and celebrations. Congratulations to England and the USA for making it into the final sixteen of the World Cup. I of course am elated as my Italian friends are crying in their Chianti. It has been am interesting tournament for sure.
Wines for Canada day.
089029 TAWSE SKETCHES OF NIAGARA RIESLING 2009 Niagara Peninsula $17.95
A well priced wine from one of the Bench's premium producers. Sketches is a second tier series wines from Tawse and renders the buyer wines that are more approachable upon purchase and offer good value. This Niagara Riesling has bold mineral aromas with an aggressive layer of citrus and a note of apple. Off dry, but by no means sweet, the palate shows solid structure, nice sweet and sour flavours and lovely acidity on the finish. find this wine
177824 13TH STREET WINERY GAMAY NOIR 2008 Niagara Peninsula $17.95
Although this wine does not quite match the quality of its predecessor from the 2007 vintage, it is still very tasty and about ten bucks cheaper than last years bottling. Much of the fruit comes from the Sandstone vineyard that made last year's wine so exceptional, but the winery decided the quality of the 2008 did not warrant a single vineyard bottling. Hats off to 13th Street for doing what they need to, to maintain their excellent reputation. The '08 has a wonderful mix of floral aromas with lavender, cake spice, black pepper and plum. The palate is quite spicy, showing clove and pepper, lively acidity, plenty of fleshy fruit and a trace of sweetness on the finish. find this wine
169961 QUAILS' GATE MERLOT 2006 Okanagan Valley$24.95
A west coast wild fermented wine that offers blackberry, soy and dried mushroom on the nose leading to a palate of pure red and black fruit, a touch of chocolate and gentle tannin. find this wine
175174 INNISKILLIN WINEMAKER'S SERIES THREE VINEYARDS PINOT NOIR 2007 Niagara Peninsula $19.95
Lots of dark berry and underbrush with a hint of cigar leaf, black cherry and plum blend together on the nose. The palate has fruit and a note of dark bitter chocolate and tons of expressive tannins that overpower the other components of the wine. Perhaps decanting will lessen the astringency or maybe time away in the cellar. find this wine
179390 RODRIGUES WINERY BLACK CURRANT WINE Newfoundland $13.95
Rodrigues Winery is Newfoundland's first winery that produces fruit wines sourced from local berries. This is a little sweet for my tastes, but it has a nice layer of cassis and would be perfect for concocting Kir Royal or any similar summer afternoon treat. find this wine
179473 CIDRERIE ST-NICOLAS POM'OR TRADITION CRACKLING CIDER Quebec $12.95
I am eager to try this again. It comes in a 750 sparkling wine bottle, the pour offers gentle foam, and the aromas are of apple pie, creamy toffee and vibrant green apple acidity. The palate is dry, wonderfully balanced and extremely refreshing. find this wine
627315 CAVE SPRING ESTATE CHENIN BLANC 2007 Beamsville Bench, Niagara Peninsula $16.95
A grape rarely produced in Ontario, Cave Spring offers one an opportunity to taste a wine that is unique. It has aromas of lime leaf, fresh bay leaf, mineral and white tree fruit. The balance is spot on, the palate is clean, and has apple and mild honey flavour with a note of grassiness on the finish. find this wine
091173 DANIEL LENKO UNOAKED CHARDONNAY 2007 Niagara Peninsula $20.15
The lack of oak allows the aromas of ripe Anjou pear, canned pineapple, lime leaf and peach to shine. The palate is full, plump and redolent of the aromas on the nose. Acidity shows up on the finish to keep the wine focused and pleasing. find this wine
183491 HIDDEN BENCH ESTATE RIESLING 2008 Beamsville Bench, Niagara Peninsula $24.20
I do love Hidden Bench's Rieslings and this vintage seems to have been very good for this particular varietal. It is a powerful wine, featuring aromas of tangerine, candied citrus and stony mineral. It has a dry palate, with apple and citrus flavours, lively acidity and a solid structure. find this wine
Wines from the rest of the world
USA: You played some great football America, and I don't mean the spandex and crash helmet rendition, I mean the type played with ones foot! Good luck in the final sixteen.
041095 LIBERTY SCHOOL ZINFANDEL 2007 California $18.95
A well priced wine that has a nose of cooked fruit, black licorice, chocolate and spicy salad leaves. It is full on the palate, carrying a rounded texture that has some sweetness, candy bar chewiness and sweet blackberry on the finish. find this wine
135145 NAPA CELLARS CABERNET SAUVIGNON 2007 Napa Valley $24.95
A "plastic" aroma with some berry and plum notes followed by a hint of anise and tar. The palate is light, has a creamy texture, gentle dusty tannin and some heat on the finish. find this wine
497933 RODNEY STRONG MERLOT 2006 Sonoma County $19.95
No complexity here, but a solid wine offering up aromas of black raspberry, thyme and a touch of licorice. The palate has currant and blackberry, good acidity and a decent finish. find this wine
284653 ROSENBLUM ZINFANDEL 2007 California $15.00
The initial note of cabbage does blow off to reveal black fruit, mushroom, sweet black coulis and cherry liqueur. The palate is fleshy, plumy and sweet and there is heat on the finish. find this wine
056879 SEGHESIO OLD VINE ZINFANDEL 2007 Sonoma County $39.95
Yowzer, a wicked concentration of dark fruit, blueberry, briar, black cherry, dried mint and mineral. The rich and chewy palate has fabulous structure, is full of ripe and spicy blackberry and currant flavours with velvety tannins and a peppery fruit laden finish. find this wine
048710RED HAWK VINEYARD GRATEFUL RED PINOT NOIR 2008 Willamette Valley $21.95
Aromas of biscuit, sweet red fruit, medicinal candy and Moroccan spice are abounding. The palate however is somewhat lackluster, the fruit is pale and the finish fails to excite. find this wine
NEW ZEALAND: Nice run Kiwis, you played some good football.
685560 CRAGGY RANGE GIMBLETT GRAVELS VINEYARD MERLOT 2007 Hawkes Bay, North Island $21.95
This may not be quite as stunning as the Te Kahu vineyard released back in May from this winery, but it is nonetheless a great wine carrying an affordable price tag. It starts out with enticing aromas of wet cave, coal dust and moss with a super layer of red fruit, a shave of fresh nutmeg and cinnamon. Good intensity on the palate, great balance, a touch of chocolate and fine acidity. find this wine
SOUTH AFRICA: The gracious hosts who sent the French back home.
999821 MULDERBOSCH CABERNET SAUVIGNON ROSÉ 2009 $12.95
As much as I have been enjoying many of the fine Rose wines produced in the area I am luck enough to live in, I can't let this wine get by me without picking a few up for some summer sipping. It consistently offers pure red berry fruit on the nose with a note of mineral, just the right amount of refreshing acidity and purity on the finish. find this wine
FRANCE: Wines for fans of the French football team to drown their sorrows. Teirry Henry, do you believe in fate and payback? That's what you get for messing with the Irish, mate!
160200 JEAN-PIERRE & ALEXANDRE ELLEVIN CHABLIS 2008 $19.95
Chablis for just under than twenty bucks! It is simple, clean, has the expected wet stony mineral aromas with citrus, pear, and crisp green apple aromas. The palate has a touch of lime cordial, nice acidity and clean fruit flavours. find this wine
177006 CHÂTEAU LANBERSAC 2005 Puisseguin Saint-Émilion $19.95
A nose of blackcurrant, black toffee, chocolate, iron, dried herb and dusty soil. It is astringent on the palate, but behind the tannin there is plenty of fruit, an earthy terroir character and mineral. Give this time and it will be tasty. find this wine
168716 M. CHAPOUTIER LES VIGNES DE BILA-HAUT CÔTES DU ROUSSILLON-VILLAGES 2008 $15.00
A gutsy and solidly structured wine that offers plenty of bang for the buck, well fifteen bucks to be correct, but this is fifteen bucks that would be well invested. It is muscular, full of black toffee, dark berry, a floral note with lavender, slate and pepper. The palate has dark dusty chocolate tannin, plenty of dark fruit, a note of Kirsch and a long balanced fruit laden finish. find this wine
171579 CLOS LA COUTALE CAHORS 2007 $13.95
Dark fruit, newly polished shoe leather, tar, blackberry and plum aromas are solid. The palate is fruit focused, but has mineral, licorice and great ripeness. The tarry and terroir notes do come alive again on the finish. Great value. find this wine
ITALY: From World cup heroes to world cup zeros. Some wines to console my Italian friends whilst their fans and team in South Africa are checking Expedia.com for cheap flights home.
165357 ROSSO DI MONTEPULCIANO 2007, Salcheto, Tuscany $14.95
There is plenty of tasty stuff to enjoy here; it starts with a note of maraschino, which soon turns to dark fruit, with a touch of tar and red currant. Lots of flavour on the palate decently balanced with a note of anise on the finish. find this wine
995910 FARINA AMARONE DELLA VALPOLICELLA CLASSICO 2005, Veneto $34.95
Whiffs of marzipan and hazelnut blend with aromas of moss, damp earth and sweet fruit. The palate has a pleasing note of Turkish Delight, plenty of plum, good acidity, a hit of vanilla but the discernible heat is unwelcome. find this wine
165662 TENUTA LENA DI MEZZO RIPASSO VALPOLICELLA CLASSICO SUPERIORE 2006, Veneto $16.95
An odd, but intriguing scent of sliced runner beans, a touch of prune and pure red fruit all appear on the nose. The palate is clean, well balanced and carries a touch of sweetness with a nice chewy finish. find this wine
144345 BOVIN VRANEC 2007 Tikves Wine Region MACEDONIA$13.95
My first Macedonian wine has a dark and inky robe with an odd initial aroma of roasted root vegetables that gives way to a layer of ripe dark fruit and mineral. It is solid on the palate, the acidity level is low for me, but flavours of blackberry, plum, cola and mocha are pleasing. find this wine
Cheers
CZ
Related posts:
3 Responses to "Alan Kerr's June 26th, 2010, Vintage's Release – Tasting Notes"