Archive for the Vintages/LCBO Release Notes Category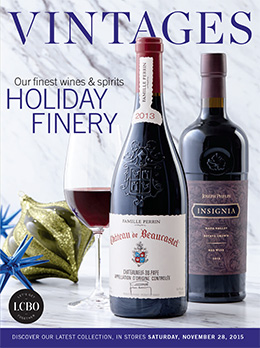 I do not have a lot of notes on the featured release, Holiday Finery, but they do prove that this is the time of the year the LCBO puts its serious stuff onto the shelves. The release on November 28th is an assembly of fine juice from all parts of the wine making world. There are several stellar Napa Valley Cabs to be found, but regrettably one wine that I was hoping would be part of the lineup was absent, Ridge's 2013 Geyserville. Now this wine carries a price tag of $63.00. Ouch, I will not be buying mine from the LCBO! (Click images to enlarge.)
722470 ORNELLAIA 2012 Bolgheri Superiore, Tuscany, Italy
This is an absolute treat to taste. For some reason, the board, in full seasonal spirit, sent all three formats that will be available. One can buy a single bottle for $195.95, a Magnum for $465.95 or a half bottle stocking stuffer for $103.95. I do not understand the vast pricing difference for the larger format, but hey, it is what it is. Tasting all three together, the magnum does seem to be tighter and more structured than the other two. The half bottle and 750 ml size show no difference at all. There is smoke, dark fruit, mint, violet, smoked meat, Asian spice, in particular Star Anise, and pure blackcurrant on the nose. There are flavours of dark fruit, spice, bitter chocolate and mineral. It is an attack on the senses, chewy and ripe, but the dusty silky tannins are planning on sticking around for a while. This is a wine clearly made to age and age well it will. Find this wine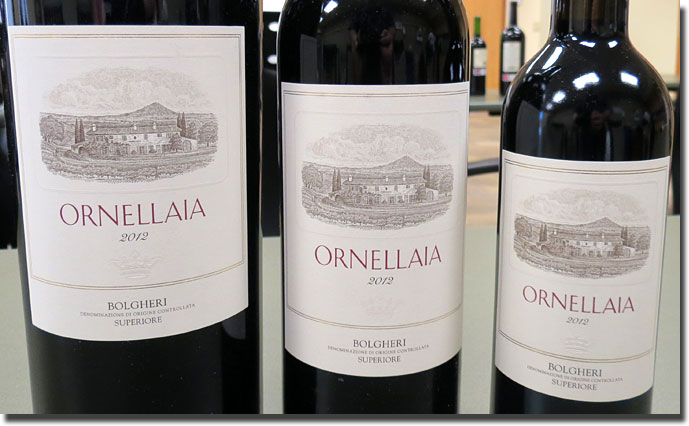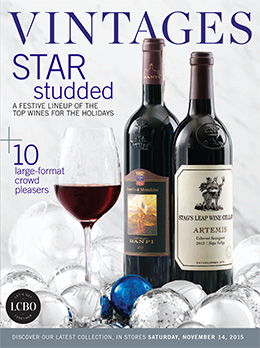 There were many great wines released on the 14th, all just in time for gifting and drinking over the holidays. Big wines, big bottles and of course big prices, but the "Star Studded" line up and the "Big Bottles For Entertaining" both have some stellar wines. (Click on images to enlarge.)
November 14th release.
WINES OF THE MONTH
186171 DECOY CABERNET SAUVIGNON, 2013, Sonoma County, California $35.95
A lovely nose showing ripe dark fruit, but with accents of dusty soil, mineral, dark chocolate and leather. Superb balance, gorgeous layers of dark fruit, some tannins, but drinking nicely already. Find this wine
206409 CONVENTO SAN FRANCISCO CRIANZA 2009 Ribera del Duero, Spain $19.95
A heady wine boasting aromas of black cherry, plum, black licorice and sweet oak. It has purity on the palate; black fruit and plum are discernible, acids are fine-tuned, there is some tannin, but time in a decanter will soften. Find this wine
WINES FROM THE "STAR STUDDED" LINE UP

265090 LA CHABLISIENNE MONTMAINS CHABLIS 1 ER CRU 2012, Burgundy, France $32.95
Tight nose at first, some apple and unripe pear aromas appear and meld well with the shingle, stony and mineral elements. Acidity is sharp, but not over the top and the fruit is in the background. Needs a little time I think. Find this wine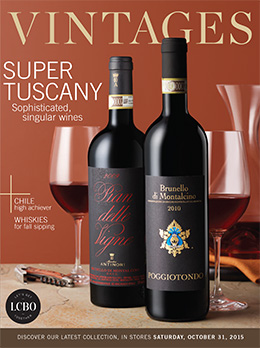 Sophisticated, singular wines. That is the heading on the brochure of the Vintages release on October 31st. This release features some of the "Super Tuscan" wines of Italy. There will be some really tasty wines that should complement any super scary Halloween bash or would be nice to sip a glass whilst handing out Halloween treats to the kiddies. (Click images to enlarge.)
WINES OF THE SUPER TUSCAN RELEASE
276576 POGGIOTONDO BRUNELLO DI MONTALCINO 2010 $39.95
Cherry and alcohol at first, then some notes of red fruit, cigar leaf and black raspberry arise. Not too much excitement on the palate either, it lacks oomph, has some heat and it finishes thin. Find this wine
403477 IL GRIGIO DA SAN FELICE GRAN SELEZIONE CHIANTI CLASSICO 2010 $46.95
Lovely earthy, sewer, mineral and clay aromas are soon overshadowed by wave after wave of dark berry, blackcurrant, anise and sour cherry. It has great texture; the Asian spice, black cherry and currant flavours shine. There is tannin, but it is silky. A super Halloween counterpart for liver and fava beans. Find this wine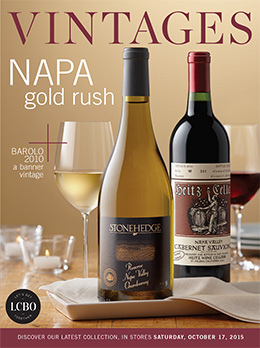 It has been too long since I had the privilege to shoot to London and taste some of the juice flowing onto the LCBO's Vintages shelving this coming Saturday. As a bonus, the feature release is Napa Gold Rush, a region I have many fond memories of travelling around and tasting. Also there are several Piedmontese wines from the highly touted 2010 vintage to be had. Overall, there are many great wines to be found, the prices are steeper than some of the Napa valley slopes, but Napa has always carried high price tags for their premium wines. (Click images to enlarge.)
Wines of the month.
256768 BLACK STALLION CABERNET SAUVIGNON 2012 Napa Valley, California $32.95
Minty and chocolate aromas, toasty oak, currant and dark fruit, mocha and nutmeg; the palate shows plum and dusty tannin, with good acidity to keep it lively, but mid palate struggles to live up to the nose. Find this wine
222877 CAYMUS CABERNET SAUVIGNON 2013 Napa Valley $99.95
Sweet dark berry pie, vanilla, buttery and laden with aromas of cola, thyme, black toffee and black licorice; showing heaps of blackcurrant, blueberry, sweet chewy nougat and chocolate in the mouth. A bit of a monster, but showing well already. Find this wine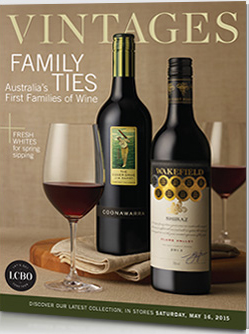 G'day mates, a few Aussie wines are to be rocked up on the shelves of your local bottle-O store this coming weekend. Stylistically, Australian wines have changed over the past few years, much to this cobber's liking. Many of these wines are totally bonza and some even got the old fella excited! Perfect to sip on a sunny arvo with some tucker on the Barbie, and you'll have a ripper of a time. (Click images to enlarge.)
943399 D'ARENBERG THE COPPERMINE ROAD CABERNET SAUVIGNON 2010 McLaren Vale, South Australia mL $49.95
Power packed, aromas of eucalyptus, mint, Ribena, black sweet cherry, mineral and smoke. Rich and chewy palate, with gorgeous layers of red and dark fruit, some spiciness, ground black pepper and ripe dusty tannins that stick to your teeth like candy. A very good price too as it is considerably more expensive elsewhere. Find this wine
048785 D'ARENBERG THE LOVE GRASS SHIRAZ 2011 McLaren Vale, South Australia $25.95
Some funk, muddy wet soil and mineral, but a solid background of dark fruit and blackberry lurks beneath. A touch of coffee grounds, very tasty black raspberry and blackberry flavours, with good acidity and a sprinkle of dark chocolate on the finish. Find this wine
408328 DE BORTOLI GULF STATION SHIRAZ/VIOGNIER 2010 Yarra Valley, Victoria$19.95
Earthy, floral and mineral aromas give way to prune, tar, cigar box and forest floor; lots of juicy cherry and plum flavours, chewy tannins and good length. Find this wine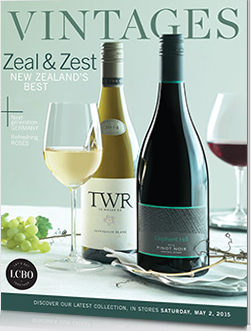 The release for May 2nd has three features. One can choose to peruse through some wines from New Zealand, a small allotment yes, but there are some tasty Sauv Blancs. Fans of Germanic wines can sample some of Germany's next generation's style of wine. Or, to make us really believe that summer is just around the corner, there are several Rosé wines to chill down and assist with some long awaited patio sipping. (Click images to enlarge.)
NEW ZEALAND
095679 SAINT CLAIR PIONEER BLOCK 2 SWAMP BLOCK SAUVIGNON BLANC 2013 Dillons Point, Marlborough, South Island, New Zealand $24.95
Far from the typical in your face Sauvignon Blanc here. This has aromas of earth, apple orchard, tangerine, tomato leaf and citrus. The palate is rich with concentrated tropical fruit, kiwi, Meyer lemons, papaya and baked apple. I really like this style of sauvignon Blanc. Find this wine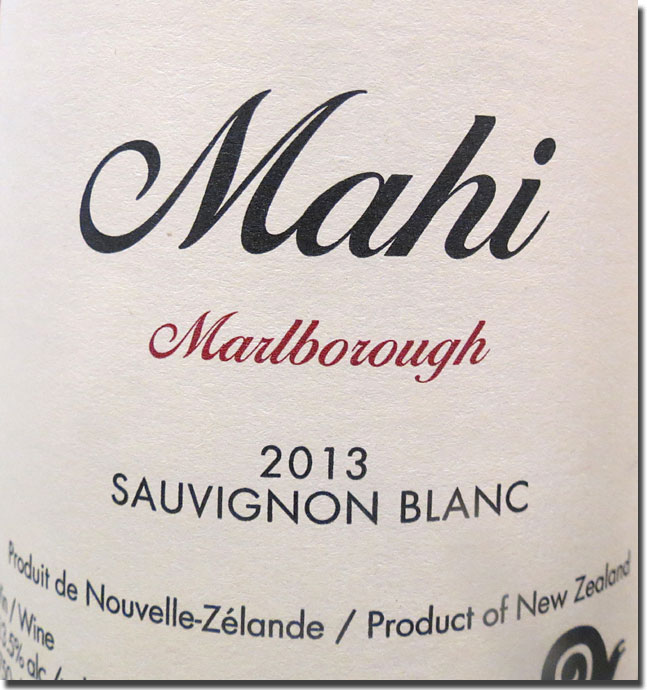 063941 MAHI SAUVIGNON BLANC 2013 Marlborough, South Island $19.95
Very brazen, showing grassy, gooseberry, thyme and cumquat aromas; palate offers great acidity, lots of candied citrus notes and a herbaceous character that runs well into the finish. Find this wine
411603 TE WHARE RA SAUVIGNON BLANC 2014 Marlborough, South Island $24.95
Stony mineral, candied lime and gooseberry, quite grassy. Fresh squeezed grapefruit is the featured flavour on the palate, acidity is crisp, with hints of melon and papaya on the finish. Find this wine
408625 OPAWA PINOT GRIS 2014 Marlborough, South Island$16.95
Floral, stone fruit, toffee and apple candy aromas; nicely set palate, well balanced with apple and nectarine flavours, a rich chewy texture and caramel note on the finish. Find this wine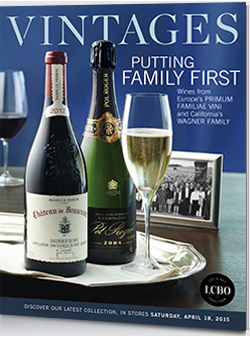 A little late for Ontario's family day, but the think tank of the Vintages releases has come up with a theme entitled "Putting family first", Wines from Europe's "Primum Familiae Vini and California's Wagner Family". There are some gems to be found on April 18th, but sadly few of these wines fall into the "pick up a couple tasty wines for the weekend" category. However, for those with deep pockets will be like kids in a candy store. (Click images to enlarge.)
Wines of "BodegasTorres Influential Spanish globetrotters "
381046 MIGUEL TORRES ALTOS IBÉRICOS CRIANZA 2012 Rioja, Spain $16.95
Torres does produce an array of wines at all price points and these two are affordable. This 100% Tempranillo has clean fruity aromas, but with an odd plastic note; the palate, carries strawberry and red berry flavours. Tannins are low and the soft acidity renders it drinkable now. Find this wine
210872 TORRES CELESTE CRIANZA 2011 Ribera del Duero, Spain $20.95
Bacon fat, thyme, dark chocolate combine with a mix of red and dark fruit on the nose. A tasty palate shows dark fruit enhanced with mocha while tight tannins grow powerful on the finish. Give it a little time in a decanter and this will show well. Find this wine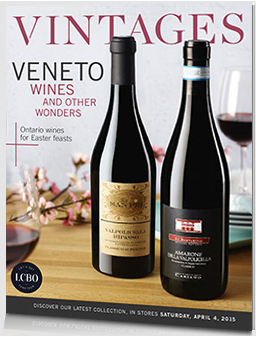 This release showcases some interesting juice from Italy's famed Verona region. There are some tasty wines, but the French contingent impressed me far more in terms of value and drinking quality. My advice is to just read on…
Wines of the Month
990440 KENWOOD CABERNET SAUVIGNON 2012 Sonoma County, California $23.95
Nice aromas of forest floor, ripe black fruit, mostly currant, Chinese black mushrooms, spice box and cedar. Good concentration, a little spicy now, but decanting will help, tannins are medium. Fun wine. Find this wine
672931 ALLEGRINI PALAZZO DELLA TORRE 2011 Veronese, Italy $24.95
Oozing notes of blackberry, cassis, cherry liqueur, mocha, pressed flowers and lavender. A little fruit forward on the palate, but bitter chocolate helps to balance, finishing with cherry and anise. Find this wine
WINES FROM THE VENETO RELEASE
403840 LE BERTAROLE PODERE CARIANO AMARONE DELLA VALPOLICELLA CLASSICO 2009 $44.95
Very tight in its youth, teasing with notes of hay, straw and with much coaxing, hints of chocolate, caramel and dark fruit appear. It is sweeter than anticipated, as raspberry liqueur takes centre stage accented by cinnamon and anise. Quite disjointed right now, but time will render good stuff. Find this wine
332403 DONATONI MASSENÀ APPASSIMENTO 2011 $16.95
Very fruity, bolstered with mint and floral aromas and coffee grounds; an odd sweetness hits the palate along with cough candy, blueberry and blackberry. Down side is it finishes rather stickily. Find this wine
Editor's note: For  more on the Appassimento method of winemaking, go here.
181446 FEUDI SAN PIO RIPASSO VALPOLICELLA CLASSICO SUPERIORE 2012 $17.95
Enticing floral aromas complete with cake spice, dark fudge, balsa and sweet vanilla bean; lovely sweet flavours of cherry and currant. Some grip and the solid tannins do suggest time. Find this wine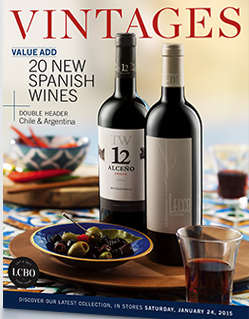 The wines of Spain take centre stage for the January 24th release. Spanish wines are usually fairly priced in the LCBO and many of these wines offer the consumer great wines at reasonable prices. Lots to buy so please read on……
Wines of Spain
392522 FINCA LOS ALIJARES GRACIANO 2009 Vino de la Tierra de Castilla $17.95
Very concentrated, laden with dark fruit, sweet rhubarb, caramel and nutmeg; plenty of blackcurrant flavours, with a touch of cherry, mineral, aggressive tannins and a touch of heat. Give it time. Find this wine
393140 DOMINIO DOSTARES ESTAY PRIETO PICUDO 2011 Vino de la Tierra de Castilla y León $15.95
Dark fruit, Fry's chocolate cream bar, a touch of mocha and mint; juicy plum flavours, earthy, great acidity and gentle tannins. Find this wine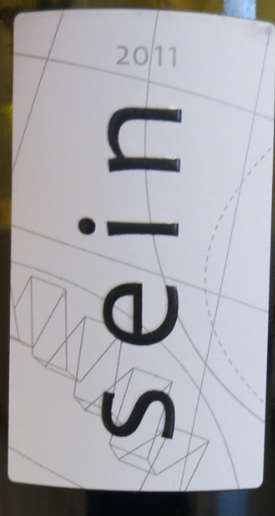 391896 VINESSENS SEIN 2011 Alicante $17.95
Sweet blackberry and currant, dark chocolate, thyme and Herbes de Provence; sweet chewy fruit, pings of anise and cardamom, good acidity and a decent finish. Find this wine
$17.95 SUEÑO TEMPRANILLO 2011 DO Ribera del Júcar $18.95
A lovely combination of blackberry, cherry and plum, mostly fruit focused nose, but the touch of lavender is pleasing; luscious chewy palate, good structure, some spice and mocha cream on the finish. Find this wine
392993 MACHO MAN MONASTRELL 2012 Jumilla $18.95
Chunky and clumsy, jammy black fruit, sweet oak and sandalwood; low acidity, sweet chewy texture, little hint of spice and an overly sweet finish. Find this wine
398685 BURÓ DE PEÑALOSA CRIANZA 2009 Ribera del Duero $23.95
A forceful mix of French and American oak, plenty of dark fruit, blueberry, tar, fresh flowers and coal dust; nicely balanced palate, some anise and bay leaf and a touch of heat on the finish, but overall a very good wine. Find this wine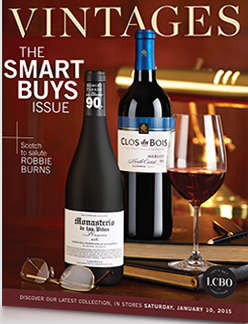 It's January, things are a little less hectic, the holiday haste is done and life is supposedly back to some sense of normality. Cellars tend to get depleted over the jovial season and if that is the case, one can stock up with a few of the wines from Vintages "Smart Buys" release.
WINES OF THE MONTH
256693 CONCHA Y TORO SERIE RIBERAS GRAN RESERVA CABERNET SAUVIGNON 2012 Marchigue, Central Valley, Chile $17.95
Blasts out aromas of Cassis, Ribena, polished wood, Asian spice, anise and bay leaf; strange soapy/cardamom taste, dark fruit does come through, with good structure and gentle tannins. Find this wine
657411 VIÑA REAL PLATA CRIANZA 2010 Rioja, Spain $18.95
Lots of mocha, dried flowers, black raspberry, bitter chocolate, black tea, and forest floor, but a musty note interrupts. Good chewy dark fruit, but the musty note hits on the finish. A bad bottle perhaps. Find this wine
SMART BUYS LISTINGS
234518 LAMADRID SINGLE VINEYARD RESERVA CABERNET SAUVIGNON 2012 Agrelo, Mendoza, Argentina $15.95
Very tight; some sweet spice, red fruit and raspberry start to show, light palate, with some currant flavours and low tannins. Just a simple wine. Find this wine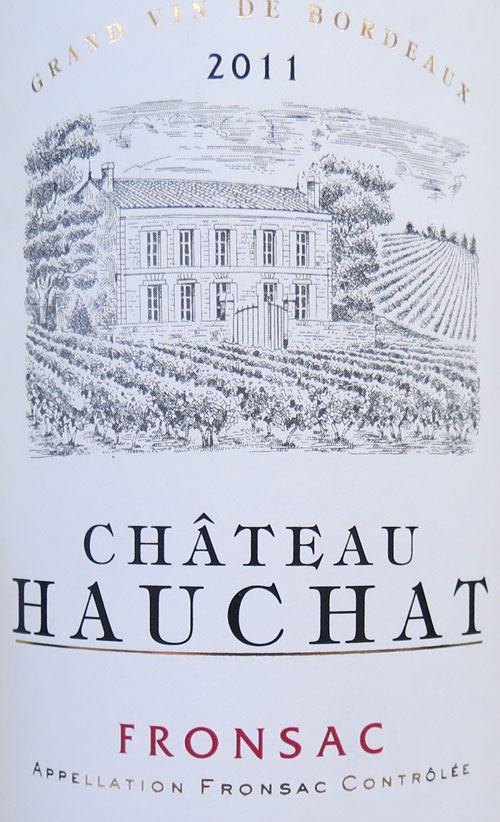 123489 CHÂTEAU HAUCHAT 2011 AC Fronsac, Bordeaux, France $15.95
Mushroom and a little earthy beet, with plenty of ripe dark plum fruit; low acid palate, where blackcurrant shines, with some grip and spice on finish. Find this wine
395053 12 E MEZZO PRIMITIVO DEL SALENTO 2012 Puglia, Italy $13.95
Juicy dark fruit, cough candy medicinal notes, black sweet licorice, dusty, pleasing sweet berry flavours; good acidity, a little cloying on finish. Find this wine
124883 CLOS DU BOIS MERLOT 2012 North Coast, California $16.95
Dark with some mineral notes, black cherry, chocolate shavings; palate shows black raspberry and dark fruit. Simple structure, gentle tannins. Find this wine
171025 PUIG-PARAHY CUVÉE GEORGES 2011 Côtes du Roussillon, Midi, France $16.95
Maltesers, creamy coffee crisp bar, Asian spice, tar and black fruit. The disappointing palate shows light in comparison to its nose; dark fruit is there, but pales and the finish is rather light. Find this wine
395236 LAFAGE CÔTÉ SUD 2012 Côtes Catalanes, Roussillon, France $14.95
60% Syrah and 40% Grenache, showing lovely floral aromas; layers of dark fruit and tar, blackberry and currant flavours are ripe and chewy, with a silky texture sweet spice on the finish. Find this wine