Archive for the Alan Kerr Category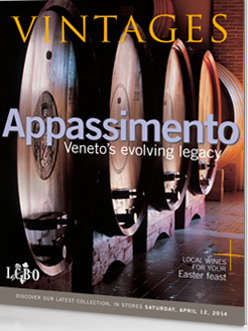 Wines made in Veneto's Appassimento fashion is the theme for this release on April 12th. There are some wonderful wines, but sadly there was not a lot sent for sampling, so here is my take on those that were.
650713 MONTE ZOVO SA' SOLIN RIPASSO VALPOLICELLA 2011 $17.95
Very good concentration of dried fruit, polished mahogany, brown cardamom shell and cigar leaf on the nose, lively palate has vibrant blackberry and blueberry flavours with a hint of dusty cocoa on the finish. Find this wine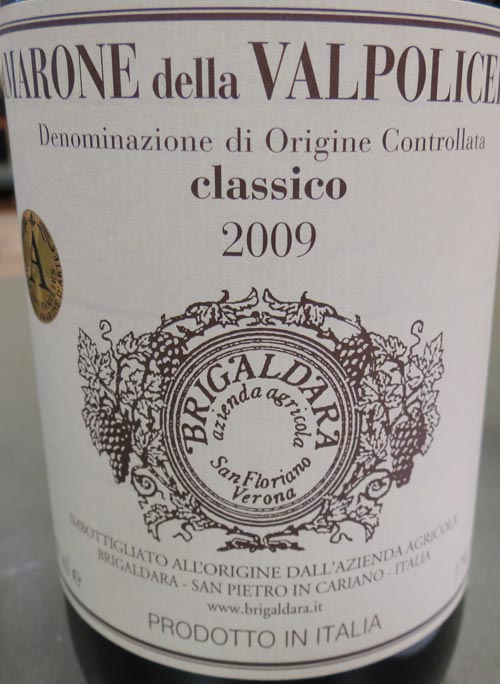 685107 TENUTA SANT'ANTONIO SELEZIONE ANTONIO CASTAGNEDI AMARONE DELLA VALPOLICELLA CLASSICO 2010 $43.95
Lovely aromas of blackcurrant, tar, black tea, fresh cut flowers, new leather and dark roasted coffee grounds lead to a mouth-watering palate of pure dark fruit, perfect acidity, bitter clove and dried plum, with a dose of astringent tannin on the finish. Find this wine
300012 BRIGALDARA AMARONE DELLA VALPOLICELLA CLASSICO 2009 $49.95
A wine brimming with aromas of cherry cola, sweet candy, dried cherry, cassia bark and dried meat. There is a floral background too whilst heady aromas of cherry brandy take centre stage. It has seventeen degree of alcohol, which deposits some heat on the palate, it is quite astringent, dysfunctional and clumsy now, but given time, this could be quite some wine. Find this wine
333575 CAPARZO ROSSO DI MONTALCINO 2011 $19.95
Earthy, with lots of aromas of wet cut grass, mineral, rosewater, damson and red currant. The fruit aromas flow through to the palate. It's nicely balanced, lively acidity, with a note of mocha and chocolate tannins on the finish. Find this wine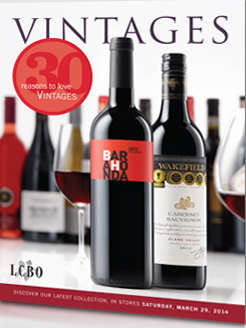 The theme for the release on March 29th' is "Thirty reasons to love Vintages." Well after the fiasco with the allocation of the 2010 Dominus featured in the previous release, I will need way more than thirty reasons to put Vintages back on my Christmas card list. Having tasted it, I touted it as being one of the best young wines I have ever had the privilege to sample. When I went to get me some, I found the allotment for the entire Niagara region was a grand total of 0 bottles.
Oddly enough, the entire allocation went to the more affluent neighbourhoods in Ontario, namely Oakville, London, Toronto and Ottawa. At least some of our federal and provincial politicians had the chance to get their grubby little paws on a bottle or two, if I did not. Seriously, if there is not enough wine to evenly distribute through the system, sell it through Vintages on Line and use a first come first served basis.
The theme of "Thirty reasons why we should all love Vintages" is a mix of self-admiration of the Vintages organization along with numerous wines worthy of making the pick. Here are my thoughts on a few of the wines listed. There is again one wine that blew me away and there is plenty to be found in the system. It is the amazing………….Ah shucks, just read the notes  Read the rest of this entry »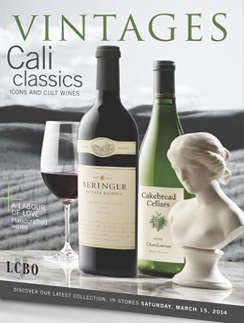 "California Classics" take centre stage for this release of March 15th. For the most part, these wines are outstanding, but sadly one does need deep pockets to take them home. Best advice I can offer is buy a lottery ticket or better still, rob a bank, because these wines are worth getting hold of.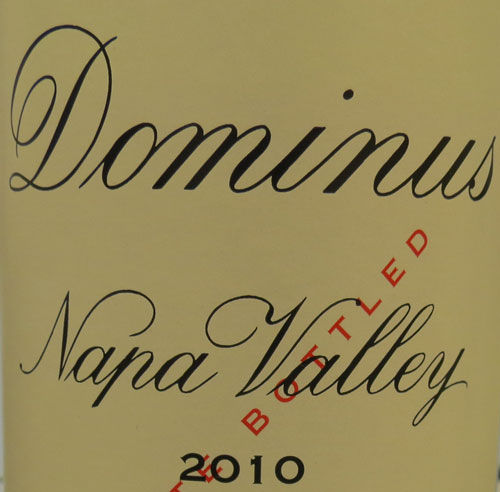 212381 DOMINUS 2010 Napa Valley $170.95
Tight, but it teases with dabs of coffee grounds, molasses, salted licorice, dried herbs, barnyard and hay. Then all of a sudden it bursts into life hurling aromas of blackcurrant, plum and sweet Moroccan spice. It has amazing structure, the tannins are gripping, but the velvety dark fruit is so focused, the acidity is seamless, just enough oak and an amazing mouth feel that finishes with spice, dark fruit and a touch of mint. Robert P deemed this wine to be a 100 pointer and I can't disagree. It is without any doubt, one of the greatest young wines I have tasted in a long long time. Plus, a quick scan of US pricing shows $170.00 price tag is more than a fair price to pay as our wine imbibing neighbours to the south are paying an average of $285.00 Find this wine
104299 THE PRISONER 2012 Napa Valley, California $49.95 or $109.95 if one wants to splurge on a magnum.
Another rave review from Mr. P. in a blend of 46% Zinfandel, 22% Cabernet Sauvignon, 18% Petite Sirah, 12% Syrah and Charbono that does sound intriguing, but for me it is awfully sweet and way over the top with its heady nose of cassis, red licorice, milk chocolate and briar. The hugely extracted palate has flavours of cherry liqueur, cherry cola, creamy oak and low acidity. Find this wine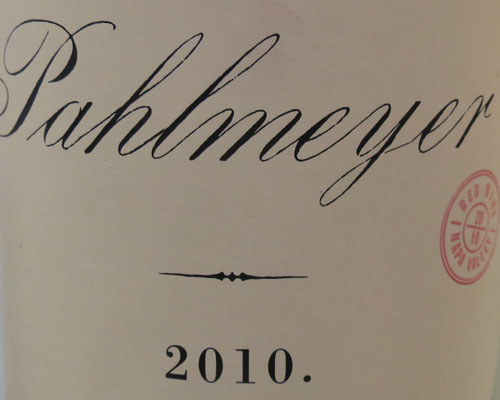 329375 PAHLMEYER PROPRIETARY RED 2010 Napa Valley $159.00
Given that 2010 was a challenging and cooler vintage in Napa these wines are really very good and Pahlmeyer is no exception. It is a heavy Cabernet Meritage blend that is not shy about showing its fruit forwardness, but it also shows another side packed with mineral, slate, forest floor, coffee grounds, Chinese mushroom and Indian spice box. The palate is powerful, while elegant, tannins are subdued; it demands drinking now, but those with lots of patience will reap the benefits a decade or two down the road. Marvelous stuff. Find this wine
060020 SEQUOIA GROVE CABERNET SAUVIGNON 2010 Napa Valley $55.95
A pricy entry level wine, but one that has serious merit and is bloody tasty, right from the muscular iron and mineral notes that meld with creamy mocha, currant, fennel seed and tobacco aromas. Cocoa and dusty tannins hold back the lively fruit for now, but give it a year or two of slumber and those fruit flavours will awake and do their thing. Find this wine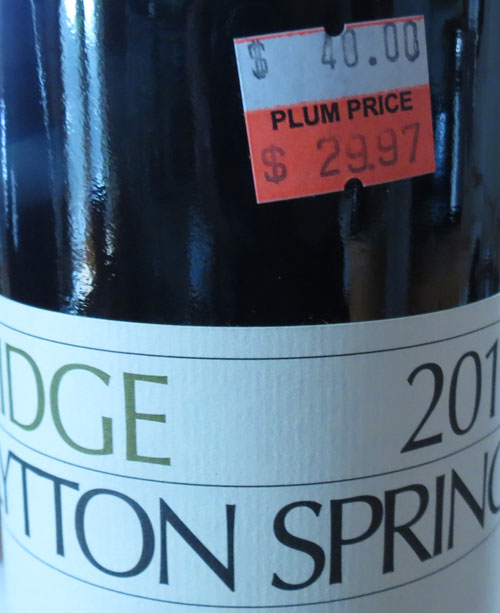 982413 RIDGE LYTTON SPRINGS 2011 Dry Creek Valley, Sonoma County $50.95
As good a Lytton Springs that I have tasted in a while. Cedar, blackberry, black toffee with a floral edge, dried cherry, lavender and a touch of beet abound. Not a candidate for early drinking, although I have no problem at the time of tasting, but there is a veil of tannin that does suppress the stunning concentration of fruit as it opens up, with super structure and lip smacking acidity. Having already made a purchase of this wine at "Plum Market" a store in the Detroit area known for its competitive pricing policies, I paid $29.00, considerably less than what the LCBO commands. Find this wine
366013 BELLE GLOS DAIRYMAN PINOT NOIR 2012 Dairyman Vineyard, Russian River Valley, Sonoma County $44.95
For those that wish to try a Pinot that doesn't remotely taste anything like Pinot, this is the one to acquire. As a wine, it has interest, as the inky purple/mauve libation shows density and heavy viscosity. The nose overflows with aromas of blueberry, Turkish Delight, white chocolate and sweet spice. Sweet and gobby on the palate, lots of dark fruit, and a background of coffee crisp candy and chocolate fondue. Find this wine
058024 LA CREMA PINOT NOIR 2012 Los Carneros $44.95
Moroccan spice ground with sweet cake spice, lovely blackberry, black raspberry and cherry cola aromas lead to an elegant palate, showing fruit purity, mineral, gentle acidity and the right amount of oak. Find this wine
089284 RIDGE ESTATE CABERNET SAUVIGNON 2010 Monte Bello Vineyard, Santa Cruz Mountains $61.95
Classic, this baby Monte Bello is filled with sweet spice, violets, cardamom, cassis, slate and blackberry aromas with a lovely palate; quite chewy, with great structure, vivacious fruit and lots of dusty tannin. Find this wine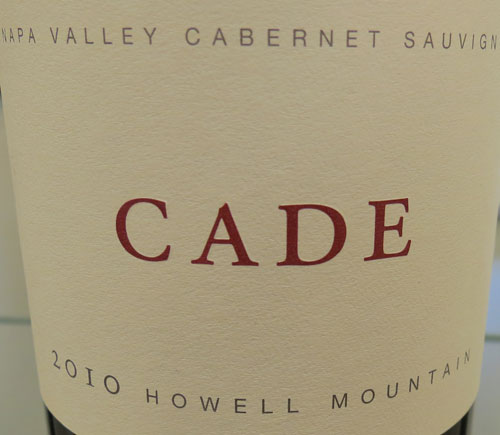 325027 CADE CABERNET SAUVIGNON 2010 Howell Mountain, Napa Valley $99.95
Very tight at first, needs sweet-talking to strut its stuff and when it does, it is a majestic and stately wine. Aromas of black and red fruits, vanilla, wet soil, molasses, morels, balsa and forest floor are plentiful. It has layer after layer of red fruit, cassis, and black raspberry with mineral and stone, a super long finish and although tannins are somewhat restrictive, every time I go back and re-taste this, it just keeps on getting better. Find this wine
THE REST OF THE RELEASE.
327700 BURNING KILN STRIP ROOM MERLOT/CABERNET FRANC 2012 Ontario $24.95
First impressions are of musty old wood, but that blows off to reveal notes of candy and soda pop, quite a tannic palate, some red currant and raspberry flavours that are masked by the astringency on the finish. Find this wine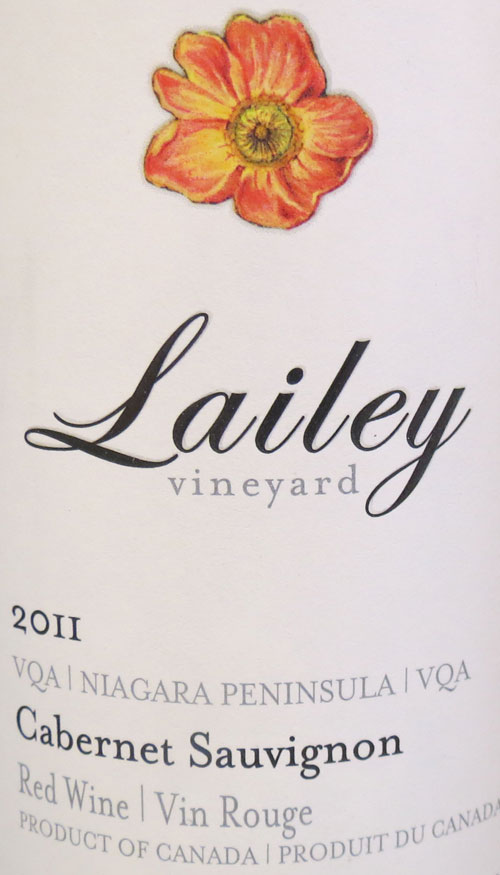 591370 LAILEY CABERNET SAUVIGNON 2011 Niagara Peninsula, Ontario $24.95
2011 was a taxing vintage in this part of the world, but wine maker and fellow Brit, Derek Barnett has produced one tasty Cabernet that, although tight, carries great aromas of plum mocha, blackcurrant and whiffs of vanilla. It has solid structure, well balanced fruit, acidity and mineral flavours, but the tannins are in control and suggest time in the cellar is needed. Find this wine
743989 CHAPEL HILL SHIRAZ 2011 McLaren Vale, South Australia $25.95
Muddy and enthralling notes of barnyard, Marmite, coconut and dense fruit, super power packed, but focused palate; well balanced and super length on the finish. Find this wine
357053 PATRICK LESEC CUVÉE SUZON BEAUMES-DE-VENISE CÔTES DU RHÔNE VILLAGES 2011 $19.95
Sweet cherry, linalool, caramel and currant combine in the Grenache and Syrah blend. There is dark fruit on the palate, decent acidity, but not enough to balance the unusually sweet flavours and globby texture. The 15 degrees of alcohol makes itself known on the finish with a snap of heat. Find this wine
356816 ALBERT MOROT BEAUNE TOUSSAINTS 1er CRU 2009, Burgundy, France $59.95
Pinot in its purity, featuring delightful aromas of beet, lavender, blackberry, sweet licorice and bay leaf, that turn to a blend of velvety red and dark fruit, sweet spice, cola, perfect acidity and a deft amount of oak. Find this wine
051797 GIORDANO COLLECTION PRIMITIVO DI MANDURIA, Puglia, 2011 $17.95
Fleshy and ripe, floral aromas combine with a touch of smoked meat and spice. Some expected sweetness on the palate, pleasing chocolate texture, dark fruit and enough acidity to keep one interested. Find this wine
684597 SANTA CAROLINA RESERVA DE FAMILIA CABERNET SAUVIGNON 2010 Maipo Valley $18.95
Quite dense, cassis and Ribena aromas enhanced by dried mint, Thai basil and cigar box. It is muscular, has plenty of fruit, but added mineral and iron notes are powerful, as are the teeth coating tannins. Needs time or a spell in the decanter. Find this wine
359927 FINCA LA EMPERATRIZ RESERVA 2007 $29.95 Old vines, DOC Rioja
Impressive, dark berry notes, some clove and mocha in the background, mostly red fruit on the palate; plum joins in the fun, tannins are soft, but still could use a year or two. Find this wine
Cheers
CZ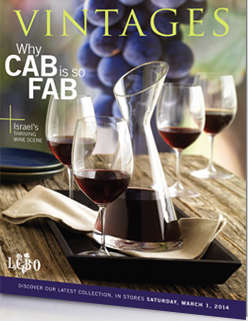 A fleet of Cabs will be cruising onto the LCBO shelves this March 1st. Many are really tasty, a couple are well…not so much. In time for Passover, there are a couple of new additions to the Vintage's portfolio and I am happy to say Kosher wines have come a long way.
THE CABERNET SAUVIGNONS
060525 RUTHERFORD RANCH RESERVE CABERNET SAUVIGNON 2009 Napa Valley, California $49.95
Heaps of dusty clay, mineral, dried herbs and pure black fruit run to a chewy and meaty palate of fleshy fruit, dried blueberry, blackcurrant, with bright acidity and silky dark chocolate tannins. Tasty now with time in a decanter, but it will get even better with time in the cellar. Find this wine
642207 DRY CREEK VINEYARD CABERNET SAUVIGNON 2010 Dry Creek Valley, Sonoma County, California $25.95
The aromas of black forest torte, blackcurrant and sweet vanilla entice, while the pure clean palate offers mouth-watering flavours of currant and black raspberry. It has great texture, is well balanced and although noticeable, the silky tannins do not interfere. Find this wine
725150 STARMONT CABERNET SAUVIGNON 2009 Napa Valley, California $35.95
A costly, but tasty entry level wine from Napa's renowned Merryvale Vineyards, that is rustic and hard showing notes of iron, mineral, dark fruit, Dutch licorice and cassis. The blend of 76% Cabernet Sauvignon, with Merlot, Petit Verdot, Cabernet Franc and Malbec is built to last. It is brawny, has solid tannins, the right amount of oak and pure clean fruit on the finish. Find this wine
161398 LANDER-JENKINS SPIRIT HAWK CABERNET SAUVIGNON 2010 California $19.95
If I only grab one Cab from this release, you are lucky enough to be reading about it. It's aromas of dark cherry, chocolate, currant and bay leaves are quite enthralling. The balance between dark fruit, lively acidity and sweet spice is spot on. Although its AVA is merely California, it offers up the drinking pleasure of some more prestigious wines at twice the price. Find this wine
001594 HEDGES FAMILY ESTATE RED 2011 Red Mountain, Yakima Valley, Washington State $32.95
A non-conventional blend of 44% Cabernet Sauvignon, 33% Merlot, 16% Syrah, 4% Malbec and 3% Cabernet Franc, boasting aromas of sweet mint, dried fruit, tar, peppery spice, blackcurrant and vanilla, with super structure on the palate, layers of dark fruit, chunky tannins, mineral and a finish of cassis and baking chocolate. Find this wine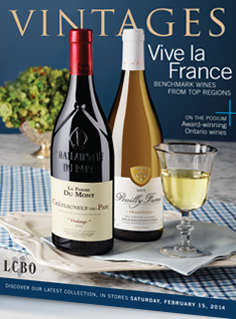 Those that head to their local vintages corner on February 15th. will have a selection of regional French wines to choose from; sadly though, I can't give too many recommendations on what to buy as the powers that be on the top floor of the LCBO were a bit stingy with what they sent out for sampling. However, as always, there are a couple of wines worth seeking out especially at the friendlier on the wallet pricing point.  (Click images to enlarge)
REGIONAL WINES OF FRANCE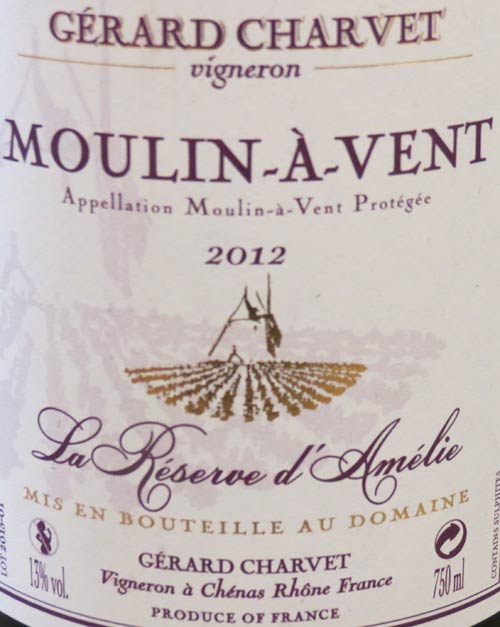 356741 DOMAINE GÉRARD CHARVET LA RÉSERVE D'AMÉLIE MOULIN-À-VENT 2012 $20.90
Not being known to be a fan of Beaujolais, I must confess to finding this wine more than just a pleasant surprise. Its bright, fresh and perfumed nose emits aromas of lavender, blackberry, yellow plum and brandied cherries. It has black raspberry on the palate along with some peppery spice, dried cherry and clean acidity. Find this wine
309245 LA FERME DU MONT VENDANGE CHÂTEAUNEUF-DU-PAPE 2011 $46.95
Very fruit forward, dark jam aromas, not a lot of complexity, but some interesting hits of sweet spice and cola. At this point in time, the palate is lacklustre and one dimensional with an element of heat on the finish. Well reviewed by one of Parker's peeps, so maybe my comments are a little harsh. Find this wine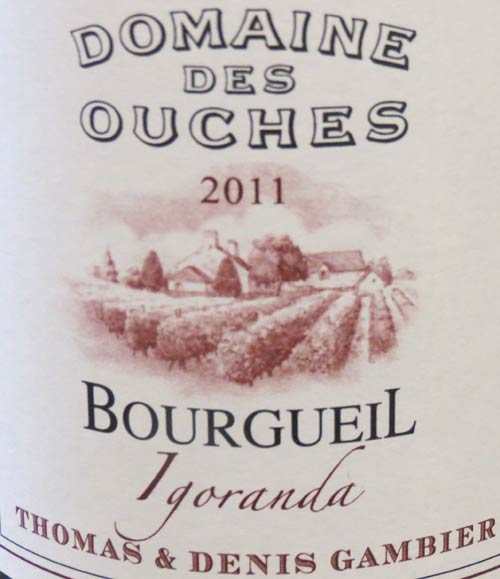 283424 DOMAINE DES OUCHES IGORANDA BOURGUEIL 2011 $16.95
Cab Franc as cab Franc should be, at least if you make wine in this part of the world. It is very herbaceous, showing dill ferns, bell pepper and faint whiffs of dried red fruits. There is a dose of tannin on the finish that shuts down the miserly degree of fruit. Worth buying to see what happens with a year or so in the cellar. Find this wine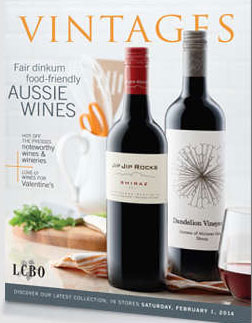 I decided to tackle the drive to London despite the "Polar Vortex" encompassing this part of the world to taste some of the wines in the upcoming release this Saturday, February 1st. This release focuses on wines from Australia, of which I must confess I have not had too many lately. But there are a couple worth picking up and waiting for the weather to warm and enjoy with a spring time Barbie.  (CLICK LABEL IMAGES TO ENLARGE)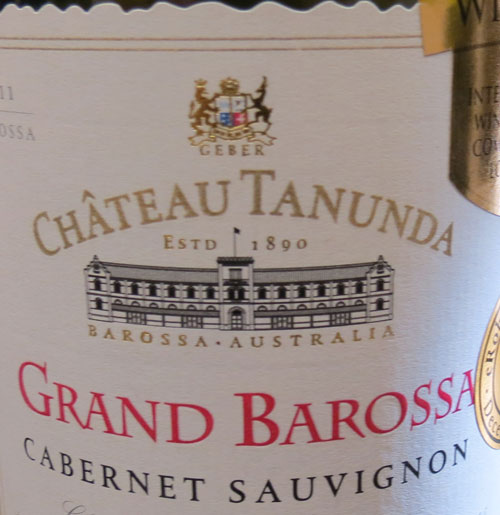 357517 CHÂTEAU TANUNDA GRAND BAROSSA CABERNET SAUVIGNON 2011 Barossa, South Australia $19.95
A plush wine, showing good density of Cassis with a backdrop of forest leaves, dried mint and floral aromas. Tasty palate, not too ripe, good structure nice currant based acids and the blackcurrant flavours linger long. Find this wine
357491 ROBERT OATLEY SIGNATURE SERIES PINOT NOIR 2012 Yarra Valley, Victoria $18.95
This Oatley is not remotely like the Pinot that I know and love. It is sweet, having medicinal cough candy notes on both the nose and palate. Some cherry notes are found on the finish, but overall quite disappointing. Find this wine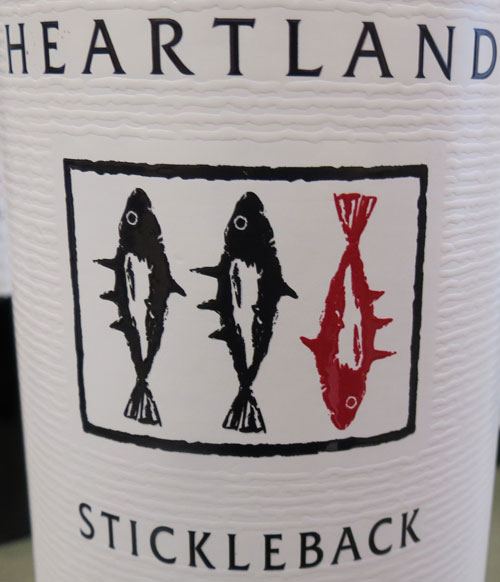 116574 HEARTLAND STICKLEBACK RED 2010 South Australia $13.95
A good value quaffer loaded with lively blackcurrant plum, dried herb and chocolate aromas, showing good concentration, soft tannins and a juicy texture. Made to drink now, it offers a pleasing mouthful of zippy fruit combined with chocolate and dried herbs. Find this wine
262105 CHAPEL HILL BUSH VINE GRENACHE 2011 McLaren Vale, South Australia $26.95
A twist of white pepper couples nicely with the ripe fruit, tar, red berry and even a hint of apple aromas. It has a dusty note; the fruit on the palate is surrounded by a veil of gentle tannin, nice creamy texture, albeit a touch sweet on the finish. Find this wine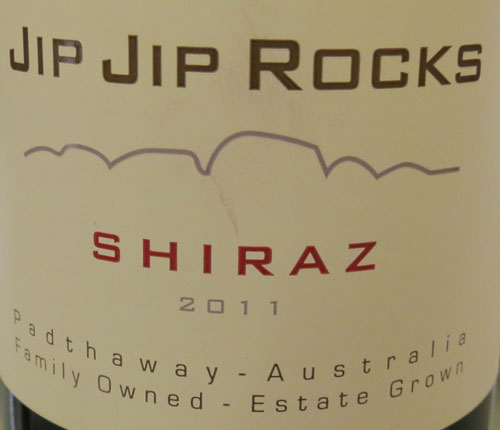 673897 JIP JIP ROCKS SHIRAZ 2011 Padthaway, South Australia $16.95
Imagine rolling up a bouquet garni laden with sage and thyme then adding it to a black fruit coulis. Well this is not too far off that and I should add I do like it. The palate has fruit purity, there is complexity and balance. Some tannins, but nothing a slow braised lamb shank wouldn't deal with. Find this wine
358127 DANDELION LIONHEART OF THE BAROSSA SHIRAZ 2011 $10.95
There are two Dandelion wines in this release. Both are very good, but I feel this is the more multi-layered of the two. It is deeper in all factions than its mate; it has a pleasing sweetness, a layer of clay soil on the nose while hints of dark chocolate peek through. Its palate is tasty and chewy, has controlled sweetness and lively acidity on the finish. I should mention the listed price is for a 375 ml bottle, which to find a half bottle of this quality is a rarity in the LCBO. Find this wine
357475 DANDELION LIONESS OF MCLAREN VALE SHIRAZ 2011 McLaren Vale, South Australia $19.95
Not to be undermined, this is also quite tasty, bursting with red fruit, plum, blackberry and pepper. Not as intense on the palate as its brother, but balance is in tune, it is well rounded and carries a long finish of blackberry and red licorice flavours. Find this wine
108103 SCHILD ESTATE OLD BUSH VINE GMS GRENACHE/MOURVÈDRE/ SHIRAZ 2011 Barossa, South Australia $19.95
Nice perfume, some subtle floral notes with mixed fruits and a touch of mocha. The palate has an elegant structure; it has a gentle sweetness, clean acidity and decent length. Find this wine
A COUPLE FROM THE HOMELAND. Read the rest of this entry »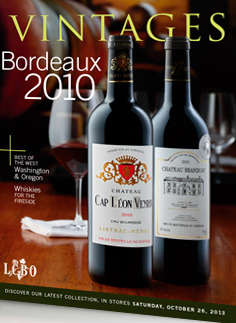 October 26th sees the first of the 2010 Bordeaux wines to come through Vintages. Naturally once again, 2010 is being heralded as one of the greatest vintages from Bordeaux in living memory. Gee, when have I heard that statement before? Given what I was able to taste, there was little that really impressed me. However, those people that read through my notes, hello mum, know there is always one or two wines on the release that warrant the trip to the LCBO on Saturday worthwhile. (click images to enlarge)
641555 CHÂTEAU LAMOTHE DE HAUX 2010 Côtes de Bordeaux $16.95
A bright wine full of blackcurrant, Ribena, Cassis, cherry and cedar with decent structure on the ripe and chewy palate, very new world styled wine, tannins are discernible, but non offensive. Find this wine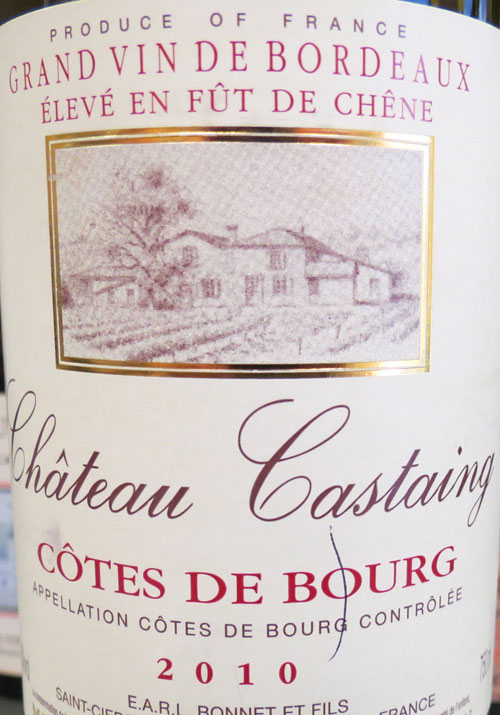 206631 CHÂTEAU CASTAING 2010 Côtes de Bourg $17.95
Dusty, with aromas of dried mushroom, cedar, plum and dried thyme. There is a good core of red and black fruit on the palate, acidity seems low, and some iron and mineral flavours surface on the finish. Find this wine
297945 CHÂTEAU LAROSE TRINTAUDON 2010 Haut-Médoc $26.95
Blending 65% Cabernet Sauvignon and 35% Merlot has created a tasty wine that boasts aromas of hay, dark chocolate, sweet vanilla, blackberry, currant and dried Chinese mushroom. The rich and chewy fruit driven palate is ripe and tasty, a little low in acidity, but nonetheless it finishes long and the tannins are gentle. Find this wine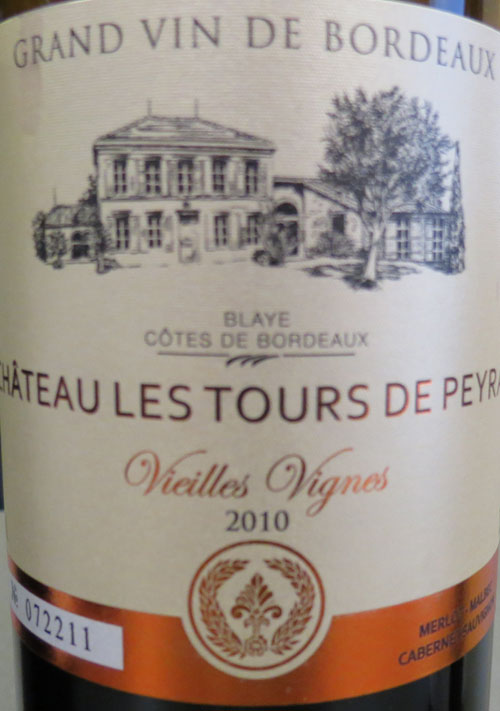 355891 CHÂTEAU LES TOURS DE PEYRAT VIEILLES VIGNES 2010 Côtes de Bordeaux – Blaye $18.95
Mix of blackcurrant, raspberry, mineral and lead pencil lead to a gutsy palate of red berries, big tannins and good acidity. Tasty, albeit tannic, but should only get better with time. Find this wine
199091 CHÂTEAU LACOMBE NOAILLAC 2010 Médoc $18.95
A meaty smoky almost bacon like note gives way to layers of dark fruit, cedar and a whack of oak. Its palate is creamy, showing some nice dark fruit, some sweetness and dusty tannin. Find this wine
171249 CHÂTEAU ROBIN 2010 Lussac-Saint-Émilion $17.95
Closed nose, struggles to show fruit, some earthy aromas come through, palate is thin, finish is lame and overall not a wine worth holding. Find this wine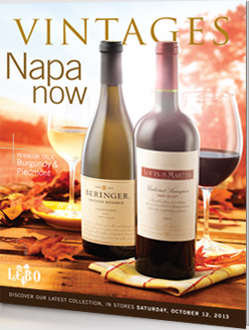 Some big guns are taking centre spot on the USA sections of Vintages stores on October 12th. The feature this release has picked several wines from the Napa Valley and the nice folks at the LCBO head office sent pretty well all the reds on the release. Tasting brought back many great memories for me as I still have a passion for these wines, albeit they are mostly out of my price range. If you want to see what is tasty and worth picking up, then you have to read on.
THE TWO "WINE OF THE MONTH" WINES
126607 NAPA CELLARS ZINFANDEL 2011 Napa Valley, California $21.95
Lots of dark berry and underbrush aromas, coupled with sweet plum and a touch of cedar. Palate is solid, not overly sweet, has clean acids, a decent finish and is drinking very well right now. Find this wine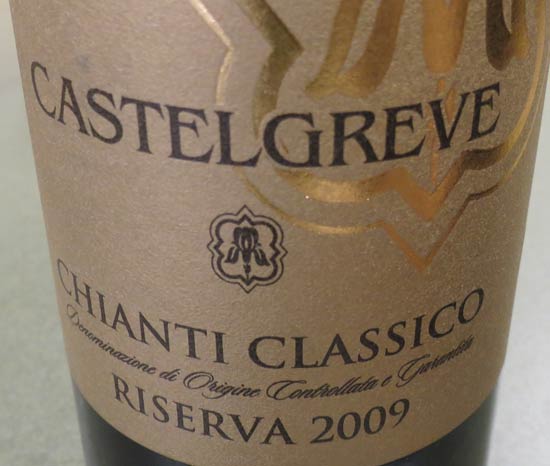 344416 CASTELGREVE CHIANTI CLASSICO RISERVA 2009 Tuscany, Italy $19.95
Layers of dark chocolate and blackcurrant are enhanced by a tease of Turkish Delight candy and a touch of mocha. It carries some pleasing sweet fruit on the palate, a touch of blackberry and raspberry. Not a long finish, but a flavoursome wine. Find this wine
SOME SERIOUSLY TASTY WINES FROM THE NAPA VALLEY
333328 CORISON CABERNET SAUVIGNON 2005 Napa Valley $113.95
A wine that immediately peaks at that "Oh my god" factor from the first swirl of the glass to the finish. Its nose is laden with dried blueberry, cassis, dark chocolate, black raspberry, slate and mineral. It is full bodied, carrying flavours of Asian spice, purest dark fruits and impeccable balance. The degree of oak is perfect, tannins are integrating and the finish is brilliant. Find this wine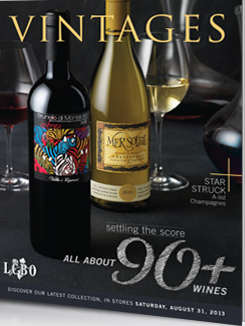 On August 31st, Vintages will release its 90 points plus wine release and yours truly was able to taste and enjoy a few of them. For those who buy wine based on the wine gurus' numerical ratings, there are many tasty bottles to pick from. Just for fun, I put my own numerical ratings next to those of the experts. Please do read on………
593525 FROG'S LEAP ZINFANDEL 2010 Napa Valley, California $37.95
An absolutely amazing multi-layered Zinfandel just brimming with dark fruit, mineral, Asian spices, pepper and dried mushroom. It is beautifully balanced, the dark fruit acidity is so cleansing, tannins are soft and the finish is long. Find this wine
Score: 91 Steve Heimoff, Wine Enthusiast.
Score: 92 C.Z. Gang of Pour
091058 BERINGER CABERNET SAUVIGNON 2010 Napa Valley, California $49.95
Ripe and aromatic, the nose has blackcurrant, stone, chocolate and cinnamon notes.
It has solid structure, good depth of dark fruit and plummy flavours, milk chocolate tannins and a chewy finish. Find this wine
Score: 92 Antonio Galloni, erobertparker.com
Score: 90 C.Z Gang of Pour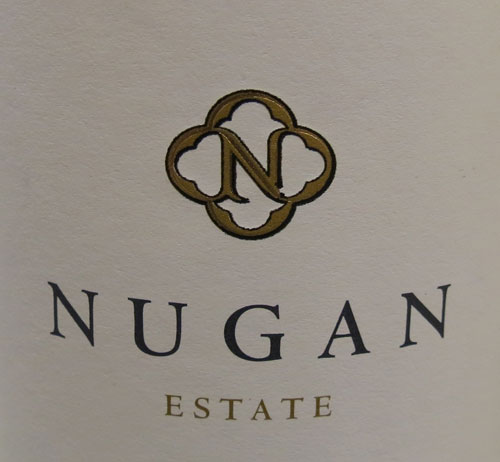 072603 NUGAN ESTATE MCLAREN PARISH VINEYARD SHIRAZ 2010 McLaren Vale, South Australia $24.95
Dark and shiny, it blows off notes of eucalyptus, mint, lavender and black toffee. A few spins releases layers of dark fruit, blackberry, black cherry and vanilla. Well balanced on the palate, lots of creamy sweet fruit tamed by perfect levels of acidity. Tannins are tight, although tasty right now, time in the cellar will only enhance this wine. Find this wine
Score: 90(+?) Josh Raynolds, International Wine Cellar
Score 91 C.Z Gang of Pour
719575 MOUNT LANGI GHIRAN BILLI BILLI SHIRAZ 2009 Victoria, Australia $17.95
A little supressed, some earthy aromas along with stewed fruit; palate has a sweet and viscous texture to it. The fruit is more apparent on the finish, acidity is low and tannins are soft. Find this wine
Score: 94 James Halliday, winecompanion
Score 85 C.Z Gang of Pour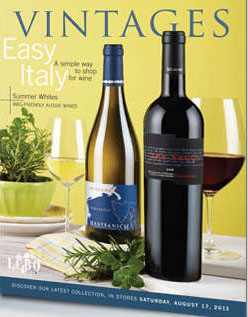 It has been a while since I was able to pop up to London and taste some of the merchandise due to hit the shelves on Vintages next release this Saturday August 17th. What will be released is a mixed bag with some pleasant surprises especially in the price range of $20.00 or less. Easy Italy is the feature focus that offers several wines from lesser known regions. (click labels to enlarge)
USA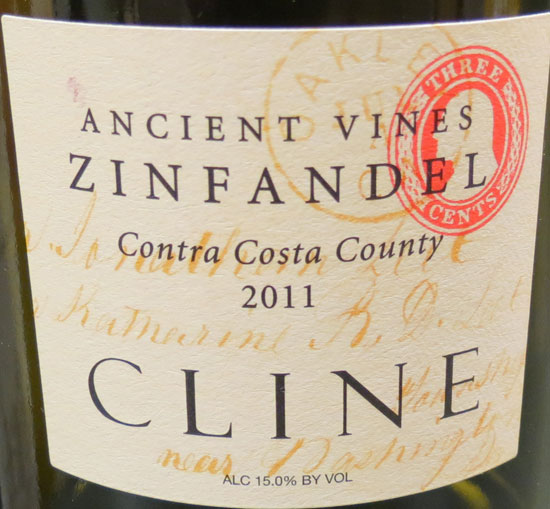 719211 CLINE ANCIENT VINES ZINFANDEL 2011 Contra Costa County, Central Coast $19.95
Pleasing aromas of blueberry, cake spice, black raspberry and plum. Its texture is quite creamy, with sweet flavours of ripe fruit, milk chocolate and mocha. Nice acidity balances the sweetness, finish is ripe and tasty. Find this wine
161190 GROVE STREET CABERNET SAUVIGNON 2010 Sonoma County $18.95
A nicely structured Cabernet showing, dark fruit and blackcurrant mixed with dusty cocoa and cough candy, bearing a nicely balanced palate and a simple clean finish. Find this wine
161273 CLOS DU BOIS PINOT NOIR 2011 California $18.95
Plum and dark cherry with some herbaceous notes and a touch of beet and sweet cherry cola on the nose. It's sweet on the palate, although acidity is noted; it is not enough to tone down the cloying quality on the finish. Find this wine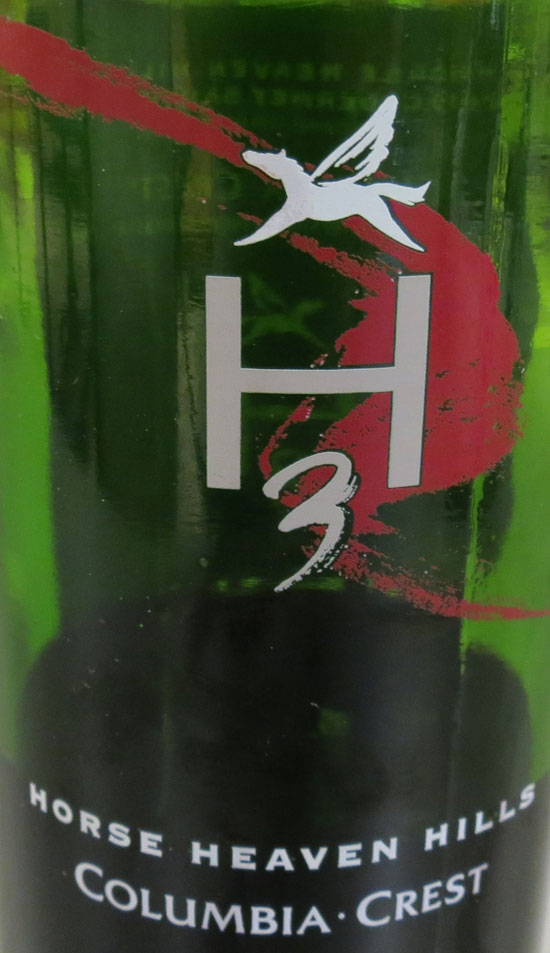 210047 COLUMBIA CREST H3 CABERNET SAUVIGNON 2010 Horse Heaven Hills $19.95
This is a most impressive wine that starts with earthy barnyard aromas that quickly take second place to layers of dark fruit, plum, dark chocolate and mocha. Tasty palate, well balanced, with gentle tannins, the only spoiler being a touch of heat on the finish. Wine of the month. Find this wine
AUSTRALIA
336966 TOURNON MATHILDA VICTORIAN SHIRAZ 2010 Victoria $19.95
A blend of treacle, fig, sour cherry and black pepper on the nose, all coming together on a palate full of lively acidity, black fruit and dark bitter chocolate. Somewhat clumsy now, but has potential to be an interesting wine in the near future. Find this wine
FRANCE
336909 CHÂTEAU LA FLEUR GRANDS LANDES 2010 Montagne Saint-Émilion $17.95
Whiffs of dark berry, leather and espresso grounds, a palate of sweet fruit, gentle tannins and a good core of acidity render this wine simple, pleasing and quaffable. Find this wine