Archive for the Alan Kerr Category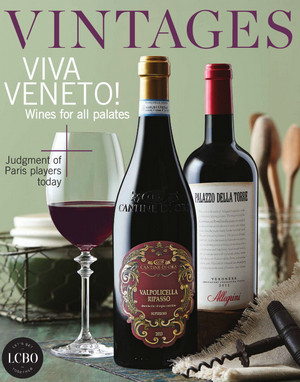 Hello, here are some notes on several of the wines being released on Saturday May 28th. The release features wines from the "Viva Veneto" and there are some solid Californian wines in the secondary release, the "Judgement Call".
The latter is honouring the wine tasting of 1976 known as the Judgment of Paris. A wine competition organized on 24 May 1976 by Steven Spurrier, who, at the time was a wine merchant in the city.
French judges carried out two blind tasting comparisons: one of first rate Chardonnay from California and Burgundy and the other, red wines from Bordeaux and Cabernet Sauvignon from California.
Much to their dismay and disbelief, the Californian wines rated best in each category. This was unheard of back then as France was regarded as being the foremost producer of the world's premium wines.
The American vintners beating the French at their own game is akin to Leicester City wining the EPL. That too was an achievement that most footie fans would have believed impossible.
The repercussions of the Paris Tasting were far-reaching as it seriously raised interest levels for California's wines in both domestic and international markets. And furthermore, The Judgement of Paris happens to be this year's theme for the twenty fifth anniversary picnic of MoCool. The date for this extemporary event is August 13th and sign up information is soon to be released. This release showcases current wines from some of the original players who put California onto the world wine map.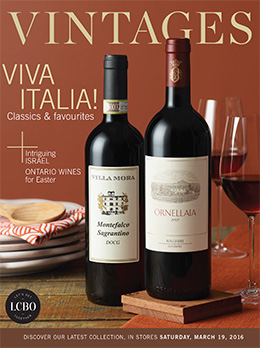 Italy is split up into twenty principal wine regions with each one producing many diverse and alluring wines. Italy's vineyards are home to some two thousand grape varieties, but for the most part, the countries more popular wines are made from Sangiovese, Barbera, Nebbiolo and Montepulciano. However, more recently French varieties such as Cabernet Sauvignon, Merlot and Chardonnay have found themselves at home in Italian vineyards. "Viva Italia" will put some of these captivating wines onto the shelves for the March 19th Vintages release. Also featured are some unique wines from Israel in the "Passover Perfect" segment that are worth exploring.
324160 NOZZOLE CHIANTI CLASSICO RISERVA 2011 Tuscany $19.95
Dusty with lots of cave air, sweet red fruit, strawberry, dried shitake and cinnamon aromas. Quite chewy on the palate, where redcurrant comes forth, with cocoa and mocha on the finish. Find this wine
722470 ORNELLAIA 2012 Bolgheri Superiore, Tuscany $195.95
Not much has changed since I last reviewed this wine in November of 2015. It is still very tight, but it is showing more dark fruit, the violet aroma is more pronounced and mineral and slate aromas are abundant. Plum, blackcurrant and blackberry liqueur appear on the palate, but the prickly tannins seem to propagate the longer the wine sits in the glass. It is still chewy, laden with dark berries, dusty chocolate and pure goodness. A long way from being even remotely ready to drink though. Find this wine
396382 ZACCAGNINI DAL TRALCETTO MONTEPULCIANO D'ABRUZZO 2013 Abruzzo $19.95
Blueberry and blackberry aromas combine nicely with hints of caramel, nougat, sweet spice and coffee grounds. The palate carries some sweetness, and the caramel and stewed fruit flavours are interesting. A touch of chocolate on the finish. Find this wine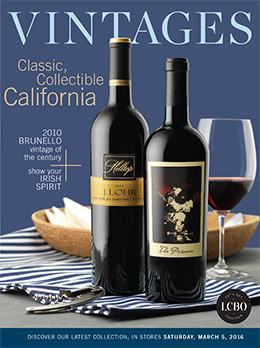 The March 5th release puts a few wines from California and Brunello onto the shelves and that made my drive to London to taste worthwhile. The Wines featured in the "Classical Coveted Collectable Californian" wines were more than likely purchased before the pre-Canadian dollar crash thus this is probably the last chance to buy US wines before their prices increase substantially. (Click images below to enlarge.)
CLASSICAL COVETED COLLECTABLE CALIFORNIAN WINES
218941 JONATA TODOS RED 2011 Santa Ynez Valley, Santa Barbara County $79.95
Earthy and reminiscent of a terroir focused Euro wine, this blend of 75% Syrah, 13% Cabernet Sauvignon, 4% Grenache, 4% Sangiovese, 2% Viognier, 1% Petit Verdot and 1% Merlot is flavoursome. It is laden with aromas of nutshell, lead pencil, saddle leather and wet soil. Californian fruit leaps across the palate in the form of ripe and chewy sweet cherry, plum and blackberry with globs of sweet oak and silky tannin. I like the nose better than I like the feel of the wine; it is tasty, but too cloying on the finish. Find this wine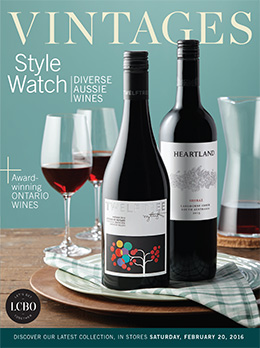 G'day mates. "Diverse Aussie Wines" is the feature of the February 20th release for Vintages. Unfortunately I was only able to taste a couple of the wines, but they were both bonza (Aussie term meaning exciting). I am happy to say there are some stellar wines from California that haven't yet been subjected to the price increase due to the instability of our plummeting Canadian dollar. Get them while you can as I am sure we will see a dramatic increase on the price of American wines in the very near future.
DIVERSE AUSSIE WINES
627869 GLAETZER BISHOP SHIRAZ 2013 Barossa Valley, South Australia $39.95
Notes of straw, iron and mineral soon give way to massive jolts of sweet black cherry, the purest black fruit and black licorice. Juicy and ripe on the palate, with some chalky tannins; a well-balanced wine with pristine acidity. Find this wine
246629 MOLLYDOOKER THE MAITRE D' CABERNET SAUVIGNON 2014 McLaren Vale/Langhorne Creek, South Australia $29.95
I have always enjoyed wines I have tasted from Mollydooker, Aussie Lingo meaning "left-hander" and this wine is as good as any. It's vibrant, laden with Cassis, mint, clove, band aid and lead pencil aromas. An inky wine, its texture is silky and full bodied, with an amazing concentration of dark fruit, plum, and currant, well integrated oak and a blast of sweet spice. Find this wine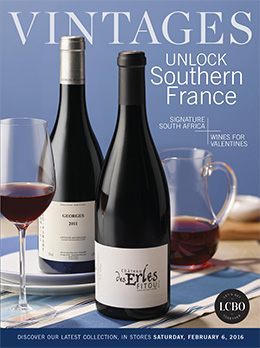 This release features some extremely tasty juice from Southern France. This is a vast region well known for producing a substantial array of artisanal and unique styles of wines. Geographically it starts just outside of Nice in its eastern regions then runs right down the Mediterranean coast just shy of the Spanish border. Not only do the wines produced here offer great value, the region showcases some of the prettiest and most bucolic parts of the country. It is split into numerous sub appellations, all creating wines that are distinctive to the soils they are produced in. There are several other tasty gems as well in this release including both the "Wine of the Month selections".
The aforementioned Wines of the Month selections.
444059 JOEL GOTT 815 CABERNET SAUVIGNON 2013 California $24.95
Although this is designated as a California AVA, don't be fooled, it really shows a sublime expression of Cabernet fruit, highlighting sweet blackcurrant, black raspberry, a trace of eucalyptus and milk chocolate. The palate is fruit forward, but well balanced delivering flavours of black fruits, red currant and mineral. Find this wine
384248 FINCA DEL MARQUESADO GRAN RESERVA 2008 Rioja, Spain $21.95
Lovely aromas of tobacco leaves, dried cherry, currant, raspberry, mocha and leather with a touch of coconut. The fruit is maturing beautifully, but there is still a spicy component and some chewy tannin. This is a fair price for those who want to sample an eight year old Spanish Gran Reserva wine. Find this wine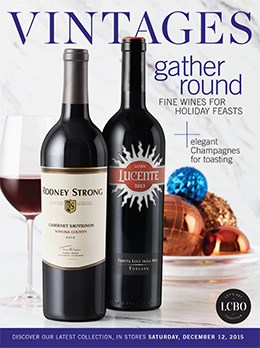 I am a little late posting this, caught up in all the hustle bustle of a busy term and school and life, but better late than never, especially when there are some seriously good wines on this, the last release of the year. The release is titled "Gather Round, Wines for Holiday Entertaining". It delivers an array of tasty stuff at varying prices and styles. Hope everyone finds peace and can spend time with friends and family over the holidays. (Click images to enlarge.)
WINES FROM THE "HOLIDAY ENTERTAINING" SECTION.
747030 LA VITE LUCENTE 2013, Tuscany, Italy $34.95
Quite the perfumed nose showing plush aromas of blackcurrant, plum and damson enhanced by a backdrop of mineral and earth. It carries a fruit focused palate with lively acidity and some tannin. A note of sweetness appears on the finish. Find this wine
127324 THE FOREIGN AFFAIR CABERNET SAUVIGNON 2010 Niagara Peninsula, Ontario $34.95
Several wineries in Niagara have recently jumped on the Appassimento band wagon, but Foreign Affair have been using this technique since the inauguration of the winery back in 2004. This cabernet, from a very good growing season, shows a strong presence of minerality and forest floor supported by layers of blackcurrant, clove and cinnamon. The palate is ripe, lots of currant flavour and dusty tannins on the finish. Find this wine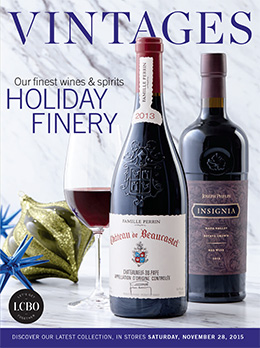 I do not have a lot of notes on the featured release, Holiday Finery, but they do prove that this is the time of the year the LCBO puts its serious stuff onto the shelves. The release on November 28th is an assembly of fine juice from all parts of the wine making world. There are several stellar Napa Valley Cabs to be found, but regrettably one wine that I was hoping would be part of the lineup was absent, Ridge's 2013 Geyserville. Now this wine carries a price tag of $63.00. Ouch, I will not be buying mine from the LCBO! (Click images to enlarge.)
722470 ORNELLAIA 2012 Bolgheri Superiore, Tuscany, Italy
This is an absolute treat to taste. For some reason, the board, in full seasonal spirit, sent all three formats that will be available. One can buy a single bottle for $195.95, a Magnum for $465.95 or a half bottle stocking stuffer for $103.95. I do not understand the vast pricing difference for the larger format, but hey, it is what it is. Tasting all three together, the magnum does seem to be tighter and more structured than the other two. The half bottle and 750 ml size show no difference at all. There is smoke, dark fruit, mint, violet, smoked meat, Asian spice, in particular Star Anise, and pure blackcurrant on the nose. There are flavours of dark fruit, spice, bitter chocolate and mineral. It is an attack on the senses, chewy and ripe, but the dusty silky tannins are planning on sticking around for a while. This is a wine clearly made to age and age well it will. Find this wine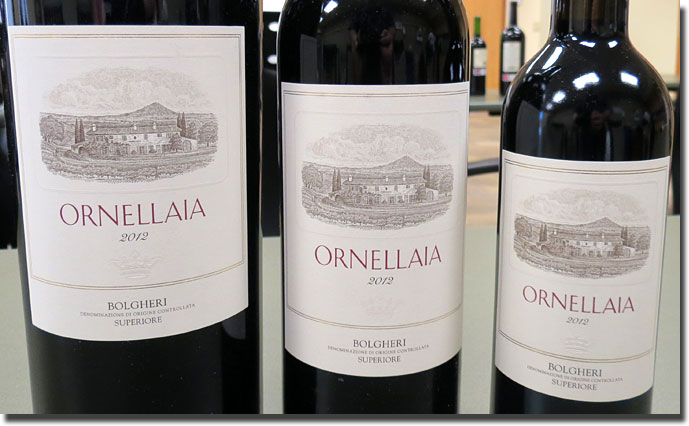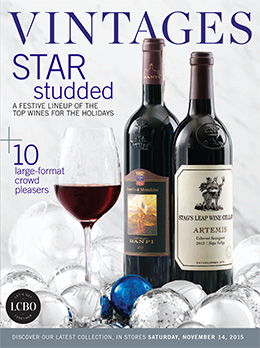 There were many great wines released on the 14th, all just in time for gifting and drinking over the holidays. Big wines, big bottles and of course big prices, but the "Star Studded" line up and the "Big Bottles For Entertaining" both have some stellar wines. (Click on images to enlarge.)
November 14th release.
WINES OF THE MONTH
186171 DECOY CABERNET SAUVIGNON, 2013, Sonoma County, California $35.95
A lovely nose showing ripe dark fruit, but with accents of dusty soil, mineral, dark chocolate and leather. Superb balance, gorgeous layers of dark fruit, some tannins, but drinking nicely already. Find this wine
206409 CONVENTO SAN FRANCISCO CRIANZA 2009 Ribera del Duero, Spain $19.95
A heady wine boasting aromas of black cherry, plum, black licorice and sweet oak. It has purity on the palate; black fruit and plum are discernible, acids are fine-tuned, there is some tannin, but time in a decanter will soften. Find this wine
WINES FROM THE "STAR STUDDED" LINE UP

265090 LA CHABLISIENNE MONTMAINS CHABLIS 1 ER CRU 2012, Burgundy, France $32.95
Tight nose at first, some apple and unripe pear aromas appear and meld well with the shingle, stony and mineral elements. Acidity is sharp, but not over the top and the fruit is in the background. Needs a little time I think. Find this wine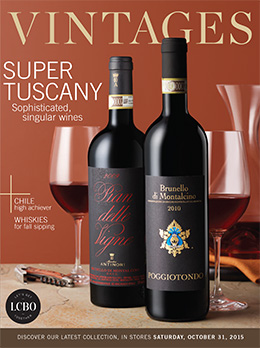 Sophisticated, singular wines. That is the heading on the brochure of the Vintages release on October 31st. This release features some of the "Super Tuscan" wines of Italy. There will be some really tasty wines that should complement any super scary Halloween bash or would be nice to sip a glass whilst handing out Halloween treats to the kiddies. (Click images to enlarge.)
WINES OF THE SUPER TUSCAN RELEASE
276576 POGGIOTONDO BRUNELLO DI MONTALCINO 2010 $39.95
Cherry and alcohol at first, then some notes of red fruit, cigar leaf and black raspberry arise. Not too much excitement on the palate either, it lacks oomph, has some heat and it finishes thin. Find this wine
403477 IL GRIGIO DA SAN FELICE GRAN SELEZIONE CHIANTI CLASSICO 2010 $46.95
Lovely earthy, sewer, mineral and clay aromas are soon overshadowed by wave after wave of dark berry, blackcurrant, anise and sour cherry. It has great texture; the Asian spice, black cherry and currant flavours shine. There is tannin, but it is silky. A super Halloween counterpart for liver and fava beans. Find this wine
One of the numerous benefits to living in a country where one can experience the value of non-government controlled wine sales is being able to sample wines in store. Should they chose to, a privately run business can offer customers the opportunity to experience, learn from and enjoy an in-store public tasting.
I know several product consultants working for the LCBO who have amazing palates. I have been fortunate to taste with them on many occasions. However, due to the LCBO's backward and archaic methods of retailing wine in Ontario, wine shoppers never get to witness and benefit from the skills these product consultants could convey.
On a recent visit to the land of Cincinnati, and home of great friends Cyndi and Mike Hughes, we were able to visit one such store. The Wine Merchant on Cincinnati's East Side is one of several stores in the city that offer a more progressive means to retail their wares. Here one can taste numerous wines for fifty cents at the tasting bar or grab an ounce or two of something premium poured from their nifty Napa Technology Wine Station. Early on a balmy Saturday afternoon in late October we attended the store's "ultra-premium" tasting that is held every Saturday from noon to five or until the wines run out.
Each week the wine consultants showcase a different theme. On this visit we tasted generous pours of four wines entitled "Undiscovered Italians". All had been decanted in the early hours of the day. To stifle any hunger, there was cheese, an assortment of salumi and baguette included for nibbling. The cost of this event is a mere $15.00 and should one decide to purchase any of the wines, they are offered at a seriously discounted prices.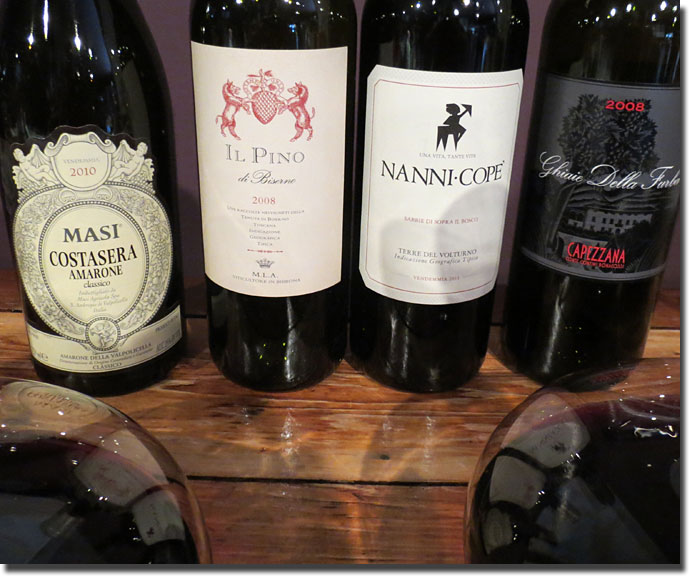 These are my observations. All were exceedingly good, but my notes are in order of my personal preference, starting with my least favourite, although I must point out I enjoyed them all, but one has to come in fourth spot, does it not?
Capezzana Ghiaie della Furba, Tuscany 2008. $54.99 Tasting price $48.99
A rustic wine showing plenty of spice, cigar leaf, black pepper, cherry and Kirsch aromas. The palate starts out as a power house, tannins are still quite evident, it parades its fruit nicely at first while anise and sweet spice enhance. It is tasty and chewy, but the fruit soon fades as the tannins overpower. Find this wine