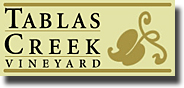 Sept. 3, 2009 – Charlottesville, Va – The beauty of living so close to the DC area is that every once in a while it creates an opportunity for the local wine market.  Occasionally, some of the bigger names in the wine industry or some of the more cutting edge players in the wine industry find their way south of The Beltway and to the southern edge of horse country into the "wine boonies" of Charlottesville and one of the independent wine stores.  Market Street Wine Shop is one such store.  Market Street once showcased 2001 Sauternes just a day after several chateau had tasted with Robert M. Parker, including the likes of Chateau Doisy-Daene, Chateau Suduriaut, Chateau Climens and others.  Having reps from the actual chateau and without the filter of wholesalers is such a pleasure.  The connection to the wine feels so much closer.  The infectiousness of their enthusiasm stokes the wine bug.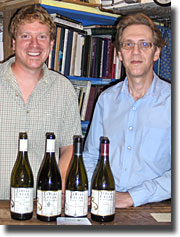 Of course, living in the wine boonies also means being little more than an afterthought, if thought of at all.  It means owners like Robert Harllee (pictured on the right, with Jason Haas to his left) of Market Street, along with the owners of other well regarded local Charlottesville wine shops such as Tastings and Wine Warehouse, all have to create their own opportunities.  But Robert is used to that.  While working his way through graduate school studies in history at The University of Virginia, he had a gig as a clerk in a wine store.  The owner's untimely death forced him to confront some hard decisions.  But from those hard decisions came opportunities.  Now wise in the ways of wine and the world, Robert knows the importance of recognizing opportunities.  It's a lesson, along with some solid wine advice, that Robert passes on to his customers.
So, when among the lengthening list of work related messages, Robert's e-mail pops up coaxing the laboring class to stop by his store for some one-on-one time with no less than Jason Haas, a member of co-family owned Tablas Creek Vineyard, the song of Serendipity lures a couple of boys from the Valley of Virginia across the Blue Ridge to Robert's store. And on a work night no less.
Tablas Creek is a fascinating story of two families dedicated to wine with a sense of place.  Over five generations, the Perrin family committed themselves to the wines of the southern Rhone.  Chateau Beaucastel stands as testament to their efforts.  The Haas family's roots are deep in the marketing of wine to Americans.  When Robert Haas convinced the Perrins to combine their expertise with California's climate, he unleashed a daunting array of events.  Unsatisfied with then current root stock and clones for Rhone varietals, the two families opted to import the vines from France.  That decision required the vines to sit in quarantine for over two years.  From those vines, if they survive quarantine and eventual release, would come all the cuttings for the 120 acre farm which now boasts 100 acres under vine and 90 acres in current production.
But while the desirable vines could be moved to a chosen site, the question became "what site would be deserving of the vines?"  Beaucastel rests upon a foundation of limestone and clay that soaks up the sunny days which sustain the vines though cool nights.  With those requirements, the families began their search for a different California dream – a clump of dirt and rock sustainable with dry farming    Two years passed while they narrowed their focus to two possible sites: an old orchard outside of Paso Robles and the Stolpman Vineyard in Ballard Canyon.  Paso won out.  In hindsight, the plan was visionary, but at the time it was a roll of the dice, Vegas style.
Charlottesville is neither your average Virginia town nor your average college town, but as the home of both Mr. Jefferson and the Dave Mathews Band, how could it be?  Charlottesville has always been a bit, well, different, as its newest scab name – Charlofornia – might suggest.  That difference is what attracts a vastly differing array of humanity to and through C'ville.  Jason Haas has connections beyond wine to the community that have drawn him here, now on his third trip.  The tasting is casual – come when you can, taste what you want.  Some folks drift in as others drift out.  Some stop by for the purpose of the tasting while others have stumbled on free wine.  But those who gather are never more than a handful at any one time.  The feel is Charlottesville casual – well-heeled, without preppy uptightness.
As Jason acquaints tasters with the uniqueness of Tablas Creek, he explains that the limestone bed under the vineyard adds acidity that contributes a freshness to the wines.  It makes for a quality that carries through in each of the wines, knitting them with a familial resemblance, but never denying them their own unique character.
The tasting took its cue from Charlottesville; it got to the core of Tablas Creek's wines with its two primary whites and its two primary reds.  Adding to the special quality of the workaday-evening, Robert announces that, just the previous day, no less than Robert Parker had just released his scores for Tablas Creek wines.  We first bent our elbows with: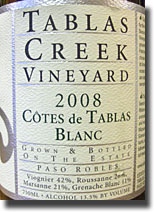 Tablas Creek Cote de Tablas Blanc 2008
A blend of 42% Viognier with 26% Roussanne, 20% Marsanne and the balance of Grenache Blanc.  The blend makes for an easy drinking wine – a good thing – with a profile of honey, white pepper, herbs (perhaps led by thyme).  With 100% stainless steel fermentation and no oak, the wine isn't fancy, nor does it need to be.  However, it delivers fruit and mineral in a way that suggests it would pair well with food.  Its acidity creates the backbone that carries the wine well.  Parker scored it at "91-93."  His note about "exotic tropical fruit" seemed a bit quixotic, but he is dead on about its "good underlying acidity, ripeness and length." Find this wine
Stepping up a notch, we turn to: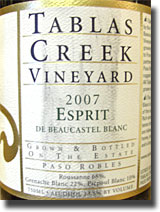 Tablas Creek Esprit du Beaucastel Blanc 2007
68% Roussanne, 22% Grenache Blanc and 10% Picpoul.  (One has to be amazed when considering the Perrin/Haas group imported, quarantined then created cuttings of Picpoul.  They grow only a few acres.  It has been suggested that no more than 10 acres exist in all of California.) The floral nose toys with expectations of what the texture of the wine will be. But instead of a heady floral acidity, the wine curves in to an oily texture, making for a surprisingly bigger mouthfeel than might be expected.  Nose and palate are concentrated with white flowers, herbs, citrus, anise and spice.  It all finishes with white pepper.  Bobby likes it, scoring it at "93″ and sings of its "stunning concentration and layered flavors." Find this wine
We sip and reluctantly spit our way on to the reds.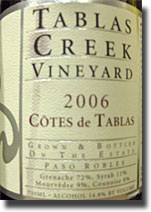 Tablas Creek Cote de Tablas Rouge 2006
Based on Grenache (72%) with 10% Mourvedre and 11% Syrah, then fleshed out with 8% Counoise.  For an entry level wine, this has everything a wine lover would want: notes of cassis and kir, as well as plum and blackberry and finish of spice.  The palate is very clean, but a somewhat sharp and short finish.  Bobby and I would disagree about the "lavender" notes as well as the wine having a "silky-textured style."  Nevertheless, he scores it the lowest of these four wines at a very respectable and solid 89.  Undoubtedly, he's wrong.  It's definitely a 90, but I'll leave it to him to define the difference. Find this wine
Jason stops to catch a few more drifters up with pours from the previous wines.  Eventually, he turns to the: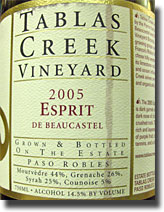 Tablas Creek Esprit du Beaucastel Rouge 2005
Reflecting its inspiration from Beaucastel Chateauneuf du Pape, a Mourvedre based wine, it relies on a foundation of 44% Mourvedre, followed by 26% Grenache, 25% Syrah and 5% Counoise.  It is nothing short of being a mammoth wine, but without being hairy or stepping on your tongue.  The tannins are both powdery and sharp …. or were the tannins powdery and the acidity sharp?  But the flavors come on in waves:  Bacon, game, smoke, blackberries, herbs and violets.  The nose is killer good; the palate showing excellent depth.  As the tasters begin to call out descriptors for what they sensed, I called out "bacon!" and heads nod in "light-bulb-turned-on agreement."  One woman said, "Yeah, THAT'S it."  To be as big as it is, the wine is nevertheless very accessible now and probably will continue to be for the duration of its life.  But I suspect it won't peak for another 5 to 7 years.  Parker scores it "92″ reflecting some degree of the exuberance that the tasters shared for this wine.  He proclaims this to be a "Beaucastel-like beauty."  Few would disagree and fewer still would be wise to do so. Find this wine
So it was that an ordinary evening became extraordinary.  A convergence of paths: Jason to see friends in Charlottesville; Jason knowing of Market Street; Robert making the time for an impromptu tasting; tasters with time and curiosity.  Put all end to end and it spells opportunity.  An opportunity for Jason to showcase his core wines, for tasters to either explore a wine completely new to them or for more experienced tasters to delve into a wine previously known only in passing, and for Robert …, well, moving a few bottles helps, but this opportunity also includes something every bit as important to him as financial viability; that is to say, the teachable moment to show a face behind a label and the passion behind the product.