Our old partner in crime, Putnam Weekley, gave me a shout a few weeks ago to let me know about an upcoming Ridge Vineyards tasting at a cool little Detroit deli called Mudgies. Mudgies is a classic Corktown joint, old school and charmingly so. The focus is on local products whenever possible, in-house roasted meats, fresh soups and high quality cocktails, meads, craft brews and, of course, wines. Putnam bartends afternoons and also extends his considerable knowledge toward the selection of the alcohol that is served. There's a different wine theme each Tuesday evening, and last week, it was the aforementioned Mr. Ridge. Lord knows, I have more than a little experience with this producer, and while I might have passed on some other such events, I know that anything Mr. Weekley has his fingers in is bound to be good, so I saddled up and drove down to take it all in. Turns out I was right, because not only were the wines terrific, I also ran into and renewed acquaintances with my old friends Steve and Robin Kirsch and Rick Lopus. (Click images to enlarge.)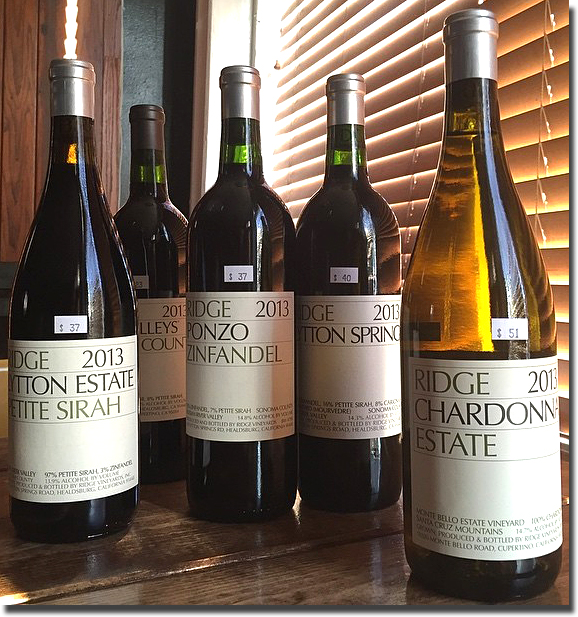 Read the rest of this entry »
As always, our tradition of pairing Red Wings hockey with Red Rhône wines is not exclusive to libations from southern France alone. All a bottle needs to qualify for Hockey Night in Day-twah is to be full of Grenache, Syrah or any other variety native to that region, be they grown in California, Australia, Argentina or wherever. We have our favorites, of course, and it should come as no surprise to longtime readers that Bonny Doon Vineyard is at the top of the list. (Click on image to enlarge.)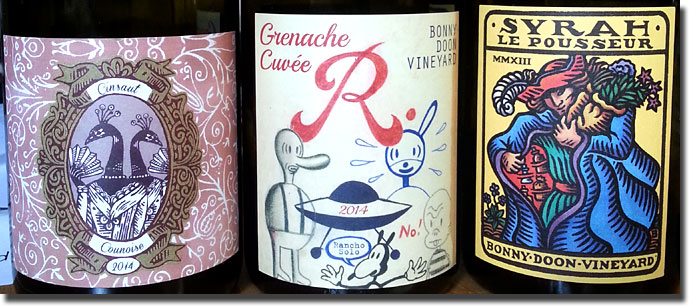 We got our hands on these three recently, and yes, they were all enjoyed while rooting for our boys with the winged wheel on the front of their jerseys. Here are our impressions.
Our wine fridge in the basement died a while back, so I spent some time a few weeks ago transferring the bottles from it into our passive Cellar From Hell. I had to move some things around to make everything fit, which is a good problem to have in this case, because it occurred to me that what had been a somewhat depleted collection a few years ago has become fairly substantial once again. Perhaps most surprising is that there's a good deal of Chardonnay down there now, which was never the case before, and it ain't from California, baby, it's all from the Chablis and Maconnais wine regions. Nothing "high end" (except for that one Raveneau), just solid and damned tasty stuff. We can live with that.
I've already blogged about the Collovray & Terrier Mâcon-Villages Tradition, Domaine de Roally Macon Vire-Clesse and Laroche and Picq Chablis, all of which are now well represented in our stash. In the past few months, the following three selections have also been very well received here at Gang Central.
I know that we've enjoyed previous vintages of this next wine at our good friend Anne Keller-Klump's house; it's out of the Vineyard Brands portfolio that she represents here in Michigan. This is the first time I've taken notes, though, and I'm glad I did, because it's a keeper. (Click images to enlarge.)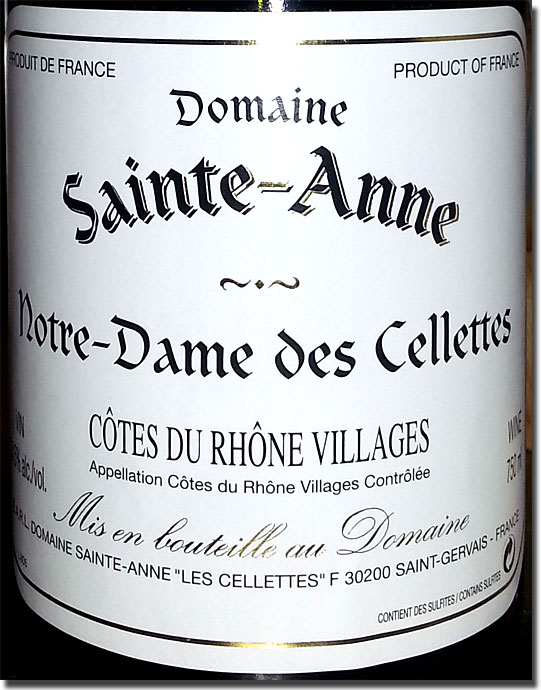 Over the past several years, Domaine Sainte-Anne, located in Saint-Gervais in the southern Rhône valley, has become one of our favorite producers. Their regular Côtes-du-Rhône is our #1 go-to everyday red wine, and going up from there, the wines just get better. We're always up for trying something we haven't had from the Steinmaier family's operation, and so it was that we picked this up selection during a recent visit to one of our friendly neighborhood Plum Markets. We hadn't tried this particular bottling since 2008, and based on our recent tasting of the regular Côtes-du-Rhône Villages, I had the feeling that it might be another tannic beast. It is all that and them some; here's my Rhône-down on what I found whilst sampling a few glasses and taking in a solid 3-2 Detroit Red Wings victory over the Nashville Predators last Saturday evening.

2011 Domaine Sainte-Anne Rouge Côtes-du-Rhône Villages Notre-Dame des Cellettes, 14.5% alc., $18.99: Deep and dark in both color and flavor profile, with a huge core of black fruit and lots of earth and tar. Seriously tannic, with a pretty good acidic bite to boot. This has all the goods, it just needs LOTS of time in the cellar; I wouldn't even consider opening another for at least five years, and waiting a decade might be an even better option. Having said that, Kim said the last two glasses were pretty good the next day, so it had opened, and maybe you just need to decant this for several hours if you want to try it now! 70% Grenache, 20% Syrah and 10% Mourvedre, aged in cement tanks after a relatively short maceration period of 8-15 days. Find this wine
Imported by AHD Vintners, Warren, MI
Reporting from Day-twah,
Bastardo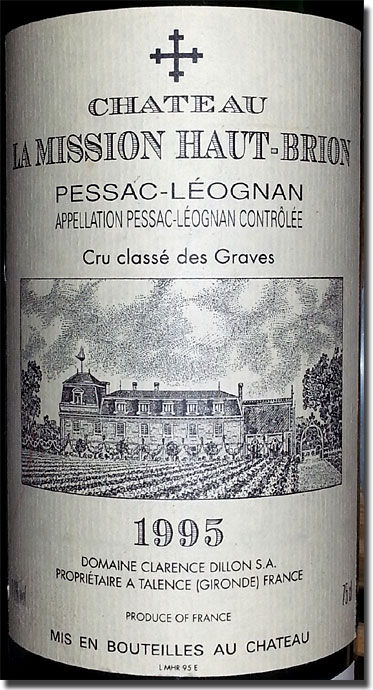 I don't know what a perfect wine is, and these days, I don't much give a damn. I do know that this "reclassified" First Growth, gifted to us by our friend, John Blackwood, more than 10 years ago, is as fine a wine as we could want to enjoy with Christmas dinner. I knew when John gave this to us that it would need considerable time in the cellar, and I decided last night that, at 20 years of age, it was time to see what it had to offer, and it proved to be a lovely match for perfectly grilled (I get it right every once in a while) medium rare Niman Ranch rib eye steaks, mashed potatoes with mushrooms in a red wine sauce and a mélange of multi-colored organic carrots, haricot verts and garlic.
1995 Chateau La Mission Haut-Brion Pessac-Leognan, 13% alc.: Still clean and dark in color, showing no bricking as of yet, and exuding copious amounts of saddle leather and mahogany aromatics, which follow through beautifully on the palate with subtle earth underneath. Rich, intense and still on the way up, this gives immediate pleasure from the moment it's poured after half an hour in a decanter, and it continues to open and become ever more generous as long as there is some left (I savored two and a half glasses over four hours or so). Harmonious and immensely satisfying, yet structured for many more years of further development. If you have some of this, it's more than safe to drink now, but I'd love to try another in about 5 years to see where it's at. Thanks a million, Blackie, this baby rocks, and so do you, my friend! Find this wine
Imported by Wine Markets International, Inc., Woodbury N.Y.
Reporting from Day-twah,
Bastardo
With the memory of the delightful 2013 Chateau Thivin Brouilly "Reverdon" still fresh in my mind (yes, I keep purchasing more and enjoying it again and again), I've been keeping an eye out for other Cru Beaujolais with which to whet our proverbial whistles and I've been pleased with the four in this report. The Foillard and Breton Morgons are two that we've quite enjoyed a number of times previously, but hesitated to purchase until recently because of price issues. They're both worth every penny of the tags on the bottle, but I've been focused more on budget-friendly selections for the past couple of years. I finally decided that it was time to see what the current models has to offer, and wasn't disappointed in the least with either.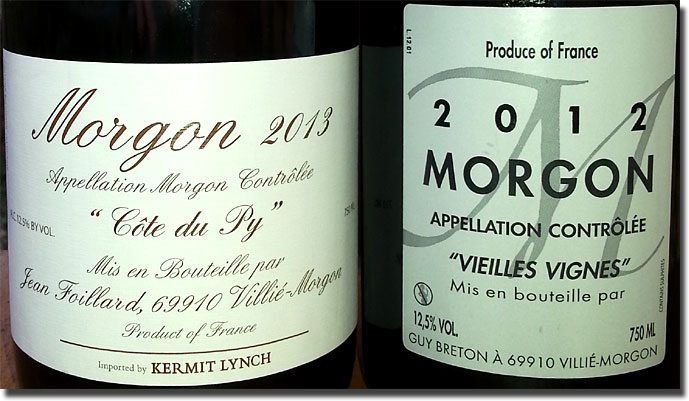 The Château des Jacques, a Louis Jadot property, is something that I happened upon in a Costco bin. While not a big fan of the parent négociant, in this case, I figured "how bad can it be," and was pleasantly surprised with what I found in the bottle. But the best find has undoubtedly been the Domaine Moulin d'Eole, which was recommended by Jason Kugel at Plum Market.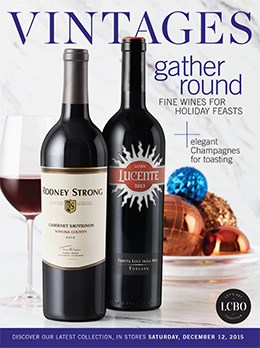 I am a little late posting this, caught up in all the hustle bustle of a busy term and school and life, but better late than never, especially when there are some seriously good wines on this, the last release of the year. The release is titled "Gather Round, Wines for Holiday Entertaining". It delivers an array of tasty stuff at varying prices and styles. Hope everyone finds peace and can spend time with friends and family over the holidays. (Click images to enlarge.)
WINES FROM THE "HOLIDAY ENTERTAINING" SECTION.
747030 LA VITE LUCENTE 2013, Tuscany, Italy $34.95
Quite the perfumed nose showing plush aromas of blackcurrant, plum and damson enhanced by a backdrop of mineral and earth. It carries a fruit focused palate with lively acidity and some tannin. A note of sweetness appears on the finish. Find this wine
127324 THE FOREIGN AFFAIR CABERNET SAUVIGNON 2010 Niagara Peninsula, Ontario $34.95
Several wineries in Niagara have recently jumped on the Appassimento band wagon, but Foreign Affair have been using this technique since the inauguration of the winery back in 2004. This cabernet, from a very good growing season, shows a strong presence of minerality and forest floor supported by layers of blackcurrant, clove and cinnamon. The palate is ripe, lots of currant flavour and dusty tannins on the finish. Find this wine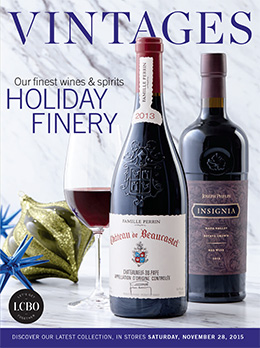 I do not have a lot of notes on the featured release, Holiday Finery, but they do prove that this is the time of the year the LCBO puts its serious stuff onto the shelves. The release on November 28th is an assembly of fine juice from all parts of the wine making world. There are several stellar Napa Valley Cabs to be found, but regrettably one wine that I was hoping would be part of the lineup was absent, Ridge's 2013 Geyserville. Now this wine carries a price tag of $63.00. Ouch, I will not be buying mine from the LCBO! (Click images to enlarge.)
722470 ORNELLAIA 2012 Bolgheri Superiore, Tuscany, Italy
This is an absolute treat to taste. For some reason, the board, in full seasonal spirit, sent all three formats that will be available. One can buy a single bottle for $195.95, a Magnum for $465.95 or a half bottle stocking stuffer for $103.95. I do not understand the vast pricing difference for the larger format, but hey, it is what it is. Tasting all three together, the magnum does seem to be tighter and more structured than the other two. The half bottle and 750 ml size show no difference at all. There is smoke, dark fruit, mint, violet, smoked meat, Asian spice, in particular Star Anise, and pure blackcurrant on the nose. There are flavours of dark fruit, spice, bitter chocolate and mineral. It is an attack on the senses, chewy and ripe, but the dusty silky tannins are planning on sticking around for a while. This is a wine clearly made to age and age well it will. Find this wine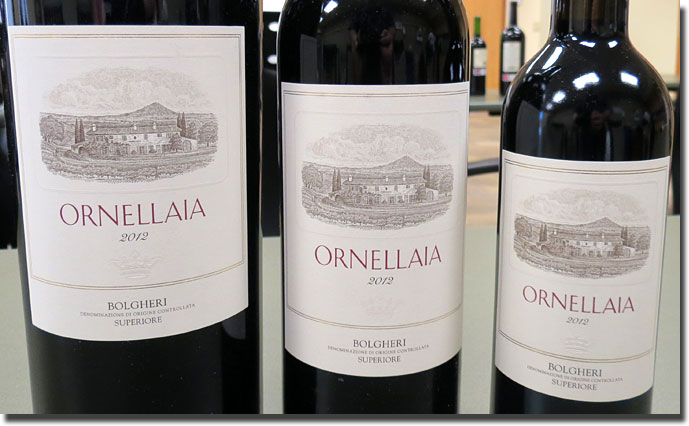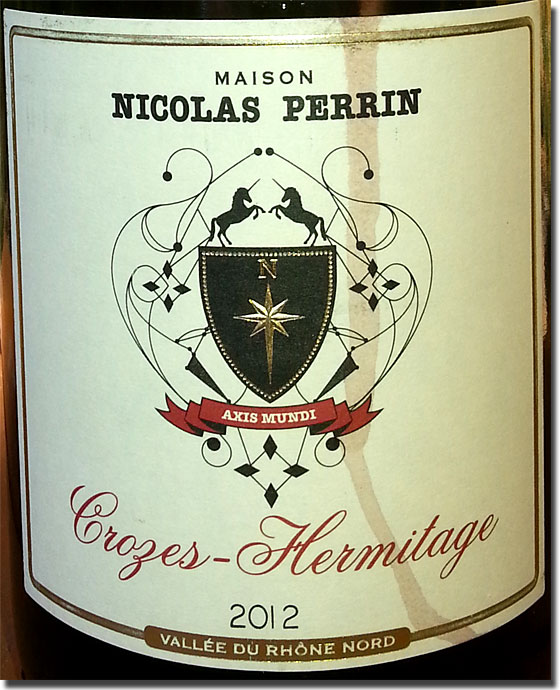 We first learned to love the wines of Crozes-Hermitage back in the summer of '95, when friends opened a bottle of 1978 Paul Jaboulet Aine Domaine du Thalabert for us. That bottling and those of Alain Graillot soon became some of our favorite wines for more than a decade. We gradually drifted away from them, one major reason being that the more reasonably priced Jaboulet pretty much disappeared from retail shelves around here. (Click image to enlarge.)
Happily, we "rediscovered" Crozes-Hermitage a few years ago, after encountering Graillot's wines once again, and then, discovering the lovely wines of Domaine des Hauts Chassis.
So, I was pleasantly surprised to find the following selection during an expedition to an area Costco a few weeks ago. I reviewed several wines from Maison Nicolas Perrin (a collaboration between Nicolas Jaboulet and the Perrin family of Chateau Beaucastel fame) three years ago, but it wasn't until I got it home that I realized this was the same vintage that I had tasted back then, so that made it all the more interesting.
2012 Maison Nicolas Perrin Crozes-Hermitage, 13% alc., $19.99: Looks like a glass of bloody ink; all leathery and briar-bramble on the nose. Shows obvious young Syrah black fruit character on the palate, somewhat sour and astringent, and it quickly offers more and more "garrigue" with air. A sizable and well-structured wine with the depth of fruit to get a lot better with age, and, at this price, a no-brainer to pick up at least a few more and lay them down for 5-8 years. Interestingly, it shows none of the barrel character that was so obvious three years ago. Find this wine
Imported by Vineyard Brands, Birmingham, AL
It's a bit of a shame that these have ended up in Costco bins here in southeastern Michigan. I could speculate that the wine has been a hard sell around here at the original $28-35 retail price range. I'm not saying it isn't worth that, but it's a lot more attractive at $20, and I'm nothing if not a bargain hunter. It won't supplant the Domaine des Hauts Chassis Les Galets as my current favorite from Crozes-Hermitage, but I'll certainly be going back for a few more to put down for a while and see how they develop with some age.
Reporting from Day-twah,
Bastardo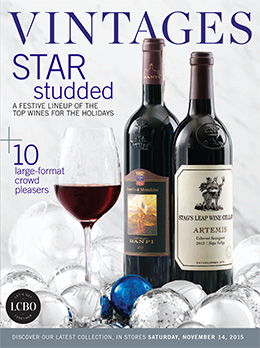 There were many great wines released on the 14th, all just in time for gifting and drinking over the holidays. Big wines, big bottles and of course big prices, but the "Star Studded" line up and the "Big Bottles For Entertaining" both have some stellar wines. (Click on images to enlarge.)
November 14th release.
WINES OF THE MONTH
186171 DECOY CABERNET SAUVIGNON, 2013, Sonoma County, California $35.95
A lovely nose showing ripe dark fruit, but with accents of dusty soil, mineral, dark chocolate and leather. Superb balance, gorgeous layers of dark fruit, some tannins, but drinking nicely already. Find this wine
206409 CONVENTO SAN FRANCISCO CRIANZA 2009 Ribera del Duero, Spain $19.95
A heady wine boasting aromas of black cherry, plum, black licorice and sweet oak. It has purity on the palate; black fruit and plum are discernible, acids are fine-tuned, there is some tannin, but time in a decanter will soften. Find this wine
WINES FROM THE "STAR STUDDED" LINE UP

265090 LA CHABLISIENNE MONTMAINS CHABLIS 1 ER CRU 2012, Burgundy, France $32.95
Tight nose at first, some apple and unripe pear aromas appear and meld well with the shingle, stony and mineral elements. Acidity is sharp, but not over the top and the fruit is in the background. Needs a little time I think. Find this wine