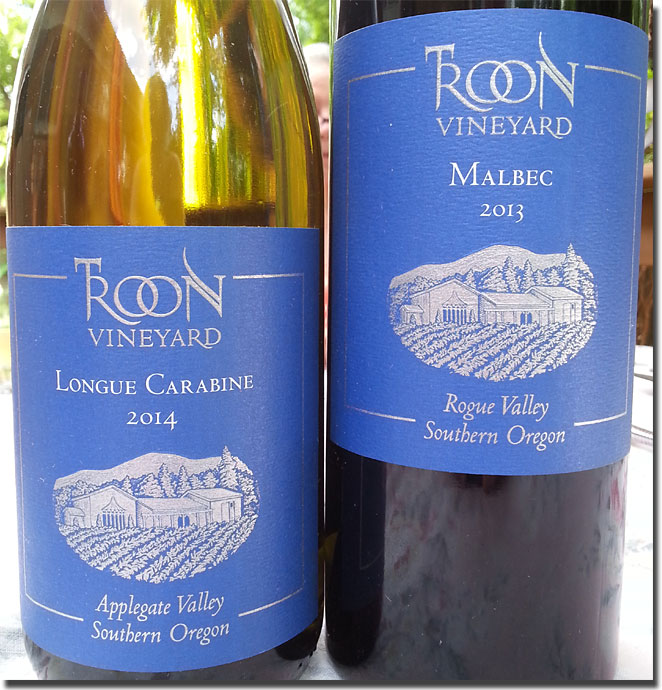 I think I'd be safe in hazarding the guess that when many causal wine drinkers hear the term "Oregon wine," the immediately think "Pinot Noir." Some of the savvier might add "Willamette Valley," but, of course, Oregon produces many more varieties than Pinot alone, and in other appellations as well.
One such region is Applegate Valley, a sub-appellation of the Southern Oregon AVA, and that's where Troon Vineyard is located. Troon is by no means a new operation; Dick Troon started planting vines back in 1972. (Dick sold the winery to his good friend Larry Martin in 2003; you can read a brief history of Troon here.) Over the years, the focus has centered on seemingly unlikely varieties such as Vermentino, Zinfandel, Malbec and Tannat, to name just four. Sustainable farming is the practice (estate vineyards are L.I.V.E. and Salmon Safe Certified), with grapes crushed in the old school method, by foot. Natural yeasts are employed in fermentation, and they don't do much in the way of using new oak or sulfur. In short, the wines are produced as naturally as possible, which is always a good thing, in our not-so-humble opinion.
Troon has been making something of a splash lately, not just because the wines are, for the most part, very good, but also due to the fairly recent addition of Craig Camp to the General Manager position. I've been virtually acquainted with Craig since before he took on the GM job at Cornerstone in Napa back in 2009, when we crossed paths and traded notes on various wine forums. Along with his many other considerable skills, Craig totally gets social media, and knows how to use it to promotes his business concerns; he demonstrated that during his tenure at Cornerstone, and, if anything, he's doing so even more adroitly at Troon. Wine samples have been sent to a whole host of wine and food blogs, and the feedback has been quite positive, with more than a few rave reviews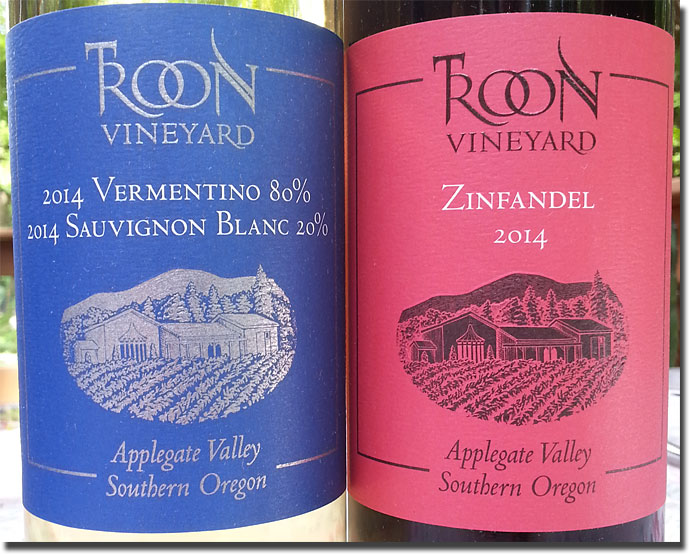 We received six Troon selections for review our own bad selves, and here are our impressions of each, starting with the whites.
2014 Troon Vineyard Blue Label Vermentino Applegate Valley, 80% Vermentino, 20% Sauvignon Blanc, 12.5% alc., $24: Clean medium color; green apple citrus flavors and aromas, with some underlying mineral. Good intensity in the mouth, and while it shows good acids and length, for me, it lacks just a little of the zippy edge that I like; I thought the same thing on the second night. Still, it's pleasant, enjoyable and nice with chicken, spinach and feta sausages. Find this wine
We've made a lot of friends and acquaintances via the internet since Gang of Pour first went online in 1996, and a fair number of those folks are winemakers. Some, like Brian Loring and Jim Lester were making wine well before we met, and some were enthusiasts who followed through on their passion and picked up the craft after we got to know each other. One of the latter is a fellow by the name of Vincent Fritzsche, who is doing good things in Oregon's Willamette Valley with his eponymous Vincent Wine Company.
We first met Vince at Zap '99; he even contributed a page of notes to our report from that festival. He and his family moved from the Bay area to Oregon several years ago and he established his winery in 2009, after years of apprenticing with producers in California and Oregon. A few months ago, Vince sent us 6 of his wines to try, and here are our impressions of them. The grapes are sourced from sustainably-farmed vineyards in the Willamette Valley and made in small batches at Grochau Cellars in the Eola Hills.
We tried the four Pinot Noirs in pairs, and the two whites individually.
That rascal "Backroad" Bob Summers showed up at Gang Central on his motorcycle at 8 AM in the morning on July 4th, looking for some breakfast and a place to lie low for 24 hours or so. We had an idea he might be coming, since he'd sent a box of wine the week previously, so we couldn't very well turn him away. I should clarify that the "box of wine" was a 6-pack of really good shit, not a Franzia 3 Liter; Bob's pretty good about those kinds of things.
We first met Bob back in 2004, at a memorable "offline" tasting in Cincinnati; we renewed acquaintances three years ago when ol' Backroad showed up at my gig at The Bluebird in Leland, and then again two years ago around this same time of year when he spent a few dazzling days with us here in Day-twah.
It turned out to be a fine 4th of July indeed. We enjoyed a succession of fine foods, we drank our share of amazing wines and we drank some of your share too. There were two that stick out in my mind; both were northern Rhônes, 17 years old and were retrieved from Backroad's 6-pack. Here are my impressions of each.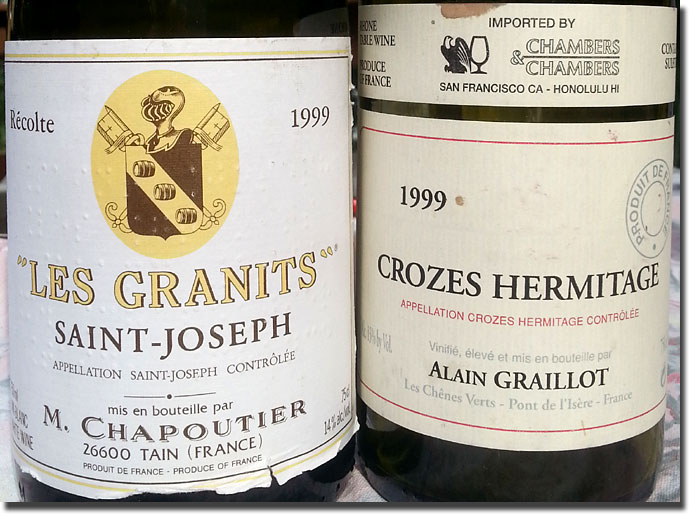 Read the rest of this entry »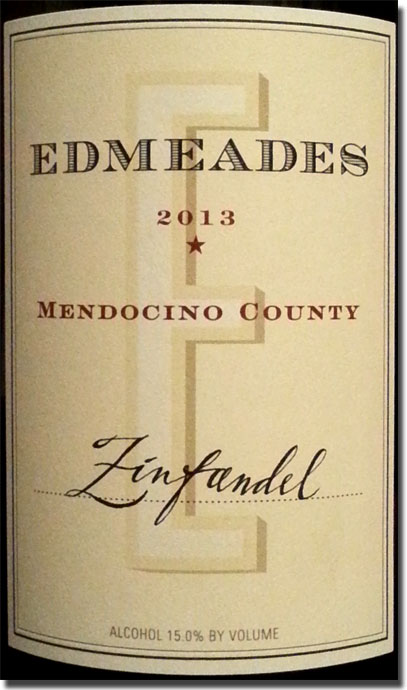 We don't drink near as much Zinfandel as we did back in the day. We cut our wine teeth on some beautiful Burgess Zins back in the '70s, and we discovered Mr. Ridge at around the same time. I reported on the 4-day ZAP (Zinfandel Advocates and Producers) festival in 2003, when my enthusiasm for the variety was still high, but after that, our interest started to drift more and more towards red Rhône varieties, and Zins showed up less and less in our reports. These days, we're most likely to pull the cork on one of these when we get together with our partner-in-crime, Alan Kerr aka Canadian Zinfan. (Click on images to enlarge.)
Case in point; a few weeks ago, Chef Kerr let it be known that he'd be in town for one night, and I thought it would be fun to honor his Gang moniker with something good, so I stopped by Holiday Market in Royal Oak and found a real beauty languishing on the shelves with a very affordable price tag affixed to it. As far as I can tell (or remember), the last time we tried an Edmeades Zin was in 2003, and that one was so enjoyable, I figured, "How bad can this one be?"
It turns out that it's every bit as good as that 1998 model.
2013 Edmeades Mendocino Zinfandel, 15% alc., $18.99: Clean and dark in color, with a lovely, rich "zinberry" nose; rich and creamy chocolate textured on the palate, with a ripe core of fruit anchored with earthy undertones and accented with shades of briar and bramble. My notes read, "This is Zinfandel the way I like it;" it's big, more old school than otherwise, and just a pleasure to drink. It's also a terrific value; in case you didn't notice, this one costs $2 less than that 1998. It has the structure to age and develop for several years, and both CZ and I have invested in four bottles each. I plan on buying more so that I have a few to drink in the near term while the others rest in the cellar. (I'd LOVE to get my hands on some of their single vineyard offerings to see what they are all about!) Find this wine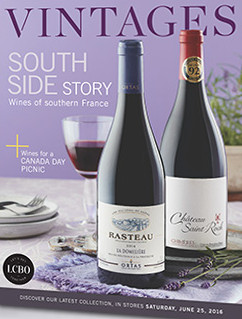 South Side Story; the wines of Southern France are the feature of the June 25th release and it's Canada day on July 1st. Thus there are a few (some exceptional I might add) wines from both Niagara and British Colombia up to toast the holiday.
Wines of the month.
450155 TAPIZ ALTA COLLECTION MALBEC 2013 Mendoza, Argentina $19.95: Pure essence of blackcurrant with support from the likes of black raspberry, blueberry and Dutch licorice. Juicy and ripe; the palate is creamy, echoing the fruit that runs all the way to the long and well balanced finish. Find this wine

325076 CAVES D'ESCLANS WHISPERING ANGEL ROSÉ 2015 Côtes de Provence, France $26.95: Lovely aromas of bright strawberry, citrus, white tree fruit and mineral. Dry styled, plenty of red fruit and nectarine flavours with enough acidity to keep it in tune. Find this wine

SOUTH SIDE STORY WINES

177584 DOMAINE LES YEUSES LES EPICES SYRAH 2013 Pays d'Oc, Midi $15.95: Very fruit forward at first, but with some encouragement, aromas of cave air and wet forest floor appear. Ribena streaks across the palate, and some cherry notes are present as well. It has good structure, nice blackcurrant acidity and enough tannin to hold it for a year or two. Find this wine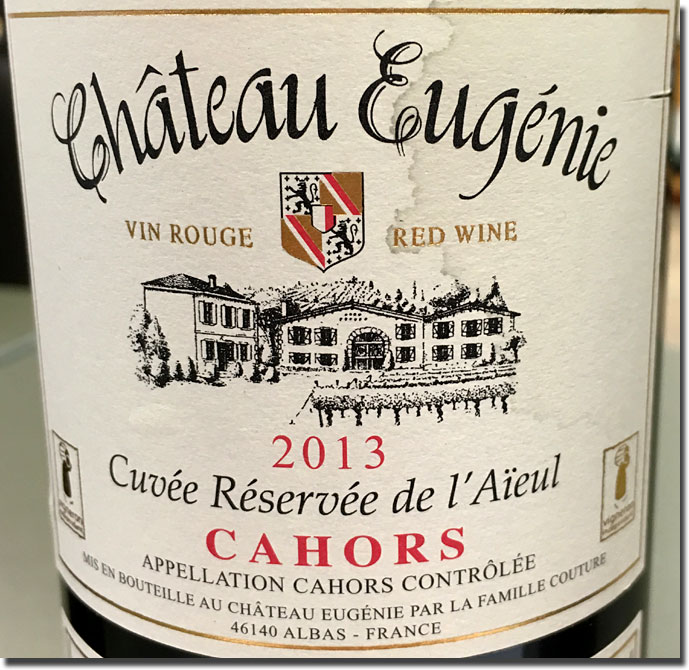 295949 CHATEAU EUGENIE CUVEE RESERVEE DE L AIEUL CAHORS 2013 $22.95: Black toffee with dirt, dust, mocha, plum, blackberry, clove and star anise. The palate has a creamy texture, filled with mocha, plum and dark fruit. There are tannins to deal with too, but give it time, it will be tasty. Find this wine

446138 DOMAINE DE L'ALBA L'ERMITE 2013 Corbieres, Midi $17.00: Little if any fruit on the nose. Instead it shows off tree bark, sweet black licorice, wet earth and a strange metallic note. However, the palate is different; it has plenty of juicy plum and sweet cherry flavours, while the earthy side still shows its presence. Acidity is clean and the finish has all the fruit plus a helping of Christmas cake spice. Find this wine

712174 MAS DES BRESSADES LES VIGNES DE MON PURE CABERNET/SYRAH 2013 Vin de Pays du Gard, Midi $21.95: Blackberry takes centre stage and is supported well by a cast of both Szechwan and black pepper, charcoal, damp soil and mineral. It is ripe, the fruit is a powerhouse, but acids are low, the texture is globby and heat on the finish is discernable. Find this wine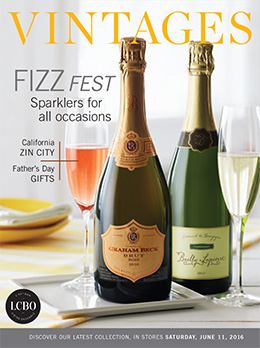 California Zinfandel has been an addiction of mine for many years; thus I was excited to see Zinfandel being the focus of this coming release at Vintages, due to hit the shelves this coming Saturday June 11th. Sadly there are no new Zins being showcased here and other than the Lytton Springs from Ridge and the Sonoma Zin from Seghesio, there is little to warrant setting an early alarm to be the first in line to shop.
Zinfandel is produced across California in a variety of styles. Some emphasize a softer more elegant character while others can have alcohol levels that can spiral out of control. Balance is the key here and when in tune, a powerhouse Zinfandel can be out of this world. Please read on to get my take on a few of them.
396168 CA' MOMI ZINFANDEL 2014 Napa Valley $22.95: Sweet and overpowering at first, but tree blossoms, tar, dried berry and lavender start to show. A pleasing mix of tart cranberry and sweet cherry hit the palate followed by a touch of chocolate and dusty tannin. Find this wine
942151 SEGHESIO ZINFANDEL 2014 Sonoma County $29.95: Full of fleshy ripe blackberry and dark cherry fruit enhanced by notes of mint, cake spice, black pepper, coal dust and Xmas pudding. Super concentration on the palate, it is chewy, the fruit is lively, there are teasing's of sweet black licorice and dusty cocoa. Tannins are discernible, but early decanting will help to soften. My pick of the release. Find this wine
Continuing with our survey of warm weather wines of the pink persuasion, I'm pleased to report that the two current selections from Tablas Creek Vineyard are quite delicious, and deliver the goods on every level. We're unabashed fans of this fine producer, and while we also will offer impressions of the latest versions of a dandy TC white and three of their fine reds, we're in full-blown rosé mode here at Gang Central, so let's start with those. (I also want to mention that the Tablas Creek Vineyard Blog, authored by Jason Haas, Partner and General Manager at Tablas Creek Vineyard, is a finalist in the 2016 Wine Blog Awards in the Best Winery/Industry Wine Blog category. Jason pens an excellent blog and deserves your vote!  But hurry, polls close on June 13th.)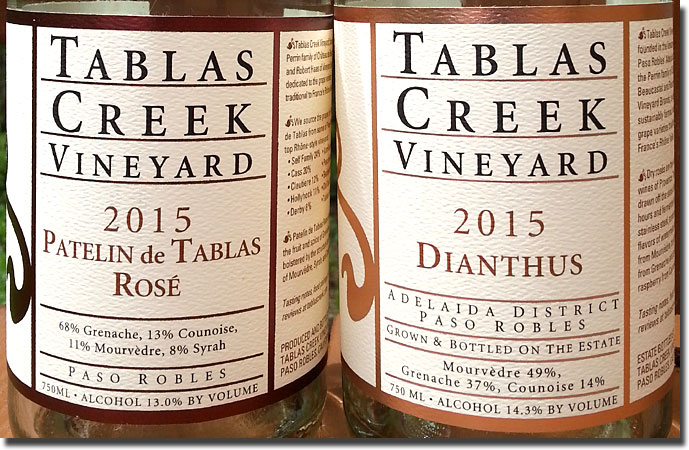 2015 Tablas Creek Vineyard Patelin de Tablas Rosé Paso Robles, 68% Grenache, 13% Counoise, 11% Mourvedre, 8% Syrah, 13.0% Alc., $25.00: Pretty salmon pink color; rich, fairly ripe and mineral laden, seemingly with one foot each in the Old and New Worlds. It shows a watermelon and strawberry fruit character, with a good dose of the aforementioned mineral; medium bodied, with zippy acids and good length. Very much in the same style as previous vintages and very much to my liking.
24% Grenache and Counoise from Self Family Vineyard (Templeton Gap)
20% Grenache from Cass (El Pomar)
12% Grenache and Counoise from Clautiere (Geneseo District)
11% Grenache and Tablas-clone Mourvèdre from Hollyhock (El Pomar)
8% Syrah from Derby (Templeton Gap)
7% Grenache from KamRidge (Creston)
7% Grenache and Mourvedre from Paso de Record (Paso Robles Estrella District)
5% Grenache from Beckwith (Adelaida District)
3% Counoise from Old Oak (Paso Robles Willow Creek District)
3% Grenache and Counoise from the Tablas Creek certified organic estate vineyard Find this wine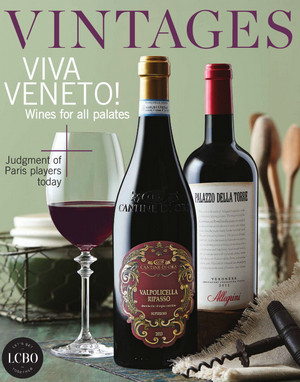 Hello, here are some notes on several of the wines being released on Saturday May 28th. The release features wines from the "Viva Veneto" and there are some solid Californian wines in the secondary release, the "Judgement Call".
The latter is honouring the wine tasting of 1976 known as the Judgment of Paris. A wine competition organized on 24 May 1976 by Steven Spurrier, who, at the time was a wine merchant in the city.
French judges carried out two blind tasting comparisons: one of first rate Chardonnay from California and Burgundy and the other, red wines from Bordeaux and Cabernet Sauvignon from California.
Much to their dismay and disbelief, the Californian wines rated best in each category. This was unheard of back then as France was regarded as being the foremost producer of the world's premium wines.
The American vintners beating the French at their own game is akin to Leicester City wining the EPL. That too was an achievement that most footie fans would have believed impossible.
The repercussions of the Paris Tasting were far-reaching as it seriously raised interest levels for California's wines in both domestic and international markets. And furthermore, The Judgement of Paris happens to be this year's theme for the twenty fifth anniversary picnic of MoCool. The date for this extemporary event is August 13th and sign up information is soon to be released. This release showcases current wines from some of the original players who put California onto the world wine map.
While we often tell anyone who will listen that we enjoy dry rosé throughout the year here at Gang Central, I have to admit, there is something very special about drinking pink as the weather warms and the world emerges from its winter slumber. One of our favorites over the last several years has been Bonny Doon Vineyards' Vin Gris de Cigare, for its delicious old world character. Frankly, the folks at Doon put out yummy stuff pretty much across the board, and when we found out that they've added three new bottlings to go with the Vin Gris, we just had to try them all. (I especially like the fact that all four are labeled as "Pink Wine.") We started out with the latest vintage of our tried-and-true delight. (Click images to enlarge.)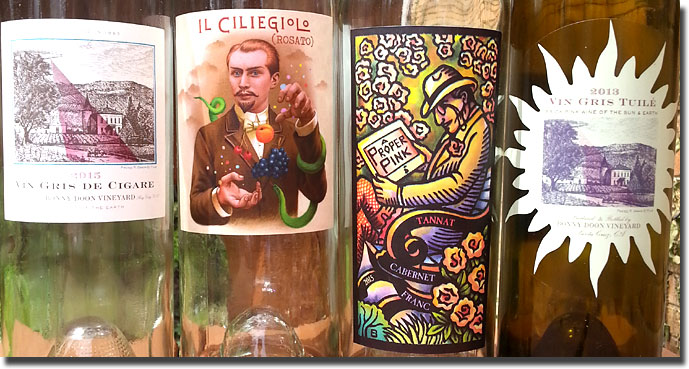 2015 Bonny Doon Vineyards Vin Gris de Cigare Central Coast Pink Wine, 44% Grenache, 20% Grenache Blanc, 12% Carignane, 11% Mourvèdre, 7% Cinsaut, 6% Roussanne, 13.5% alc., $18: Pale pink in color, with classic dry rosé character, offering mineral-driven strawberry and cherry flavors and aromas. Medium bodied, with zippy acids and good length. So consistent from vintage to vintage, this is probably my favorite domestic pink; it's certainly in my top three. It does everything I want a good rosé to do. Find this wine
It seems only fitting that, since Bonny Doon added a white Bordeaux-styled offering called Gravitas as a pale companion to their "A Proper Claret" bottling, a pink version would be created as well, and so we have the following selection. As Randall Grahm puts it, "…while the Vin Gris de Cigare is intended for more sober-minded occasions, this is definitely the less buttoned up in style."
We're always up for trying new vintages from our friends up on the ridge where they do-do the boogie, and we got the opportunity to do just that last Monday night, courtesy of Ridge Vineyards Regional Sales Manager, Christina Donley. Christina was in town for a few days promoting her portfolio, and she brought these three from 2014 back to Gang Central after pouring them at a trade tasting. Needless to say, we wasted no time in breaking right in to them to see what they had to offer, and we were most impressed with what we tasted. (Click image to enlarge.)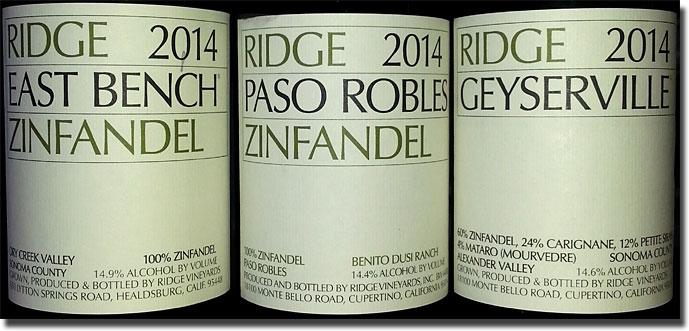 2014 Ridge Vineyards East Bench Zinfandel, 100% Zinfandel, 14.9% alc., $30: Pretty dark garnet in color, with a lovely "Draper perfume;" long time Ridge fans know exactly what this term refers to, which is our pet name for the winery's classic house style that has remained more or less the same for decades. Big, rich and intense, with earthy black raspberry and blackberry flavors and aromas, laced with spicy nuances, hints of briar/bramble and some sweet American oak that emerges with air, always complementing, rather than detracting from the wine's personality. Sturdy, but by no means unapproachable, this wants some grilled red meat (lamb for me, please), or pasta with a tomato sauce. I loved the 2013 version when we tried it about 11 months ago, and I'm just as high on this year's model. This is how Zinfandel should taste, in my not-so-humble opinion. As good as it is now, it'll be even better in five years, so you can drink it now or drink it later. Find this wine
2014 Ridge Vineyards Paso Robles Zinfandel, 100% Zinfandel, 14.4% alc., $32: Deep and dark in color, almost opaque; the nose only hints at the rich, ripe raspberry and black raspberry fruit found on the palate at first, but becomes more generous as it opens in the glass. The smooth, almost velvet-like texture can't entirely shroud the substantial structure that will take this several years down the road. Perhaps a little more "claret-like" than the 2013 (a side-by-side would have been instructive), and that's never a bad thing with Ridge Zins. Shades of subtle earth and hints of chocolate becoming apparent as it opens, and every successive sip brings more pleasure. Find this wine
2014 Ridge Vineyards Geyserville Alexander Valley, 60% Zinfandel, 24% Carignane, 12% Petite Sirah, 4% Mataro, 14.6%, $40: Deep, dark and not quite opaque in color; big and powerful, with many years of development ahead of it. Flavors and aromas of earth, black plum and blackberry, with hints of briar/bramble, so deep and dark, even the American oak only casts a pale shade on this Geezer's character. Brawny as it is, it's balanced and not at all unapproachable, especially with food, but I'm inclined to hold off for at least five years before opening another, so patience is advised. If you're so inclined, you'll be happy you waited. Find this wine
Many thanks to Christina for the opportunity to taste these wonderful selections from Mr. Ridge. We love ya, darlin'!
Reporting from Day-twah,
Bastardo