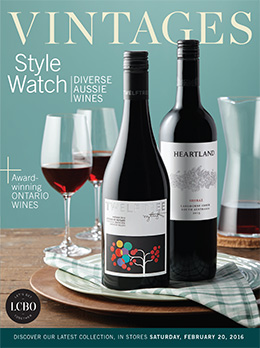 G'day mates. "Diverse Aussie Wines" is the feature of the February 20th release for Vintages. Unfortunately I was only able to taste a couple of the wines, but they were both bonza (Aussie term meaning exciting). I am happy to say there are some stellar wines from California that haven't yet been subjected to the price increase due to the instability of our plummeting Canadian dollar. Get them while you can as I am sure we will see a dramatic increase on the price of American wines in the very near future.
DIVERSE AUSSIE WINES
627869 GLAETZER BISHOP SHIRAZ 2013 Barossa Valley, South Australia $39.95
Notes of straw, iron and mineral soon give way to massive jolts of sweet black cherry, the purest black fruit and black licorice. Juicy and ripe on the palate, with some chalky tannins; a well-balanced wine with pristine acidity. Find this wine
246629 MOLLYDOOKER THE MAITRE D' CABERNET SAUVIGNON 2014 McLaren Vale/Langhorne Creek, South Australia $29.95
I have always enjoyed wines I have tasted from Mollydooker, Aussie Lingo meaning "left-hander" and this wine is as good as any. It's vibrant, laden with Cassis, mint, clove, band aid and lead pencil aromas. An inky wine, its texture is silky and full bodied, with an amazing concentration of dark fruit, plum, and currant, well integrated oak and a blast of sweet spice. Find this wine
We don't drink a lot of Barolo here at Gang Central, which is a shame, because it seems like every time we do, we ask ourselves why we don't drink more. I felt this when I tasted the terrific wines from Massolino some months ago, and again a few weeks ago, when my buddy, Charlie Engelhardt, posted a picture on Facebook of a bottle he was enjoying with his father, Kris.

As chance would have it, Charlie stopped in for a visit the following week, and told me that he'd just seen the wine in question a few minutes earlier at our friendly neighborhood Trader Joe's. I boogied on over the next day, picked up a bottle and opened it that night. Here are my impressions of what we tasted.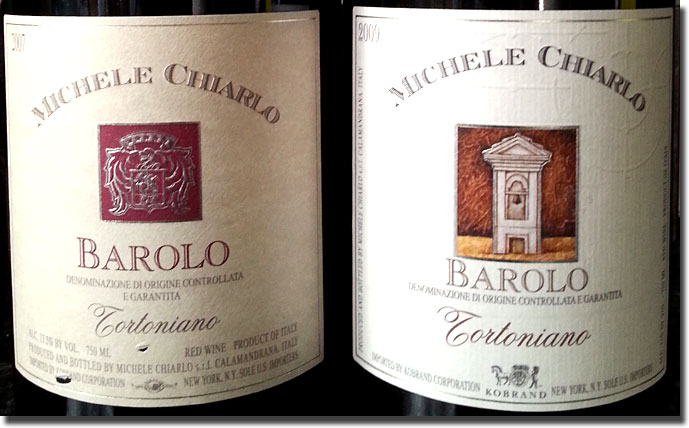 Read the rest of this entry »
So, here's how it all went down.
We decided we wanted to grill a leg o' lamb for Super Bowl Sunday, and enjoy it with some nice wine. Kim put a post on Facebook inviting interested parties to join us and our good friends Martha and Gary Shea, Shar Douglas, Ken Hebenstriet and Gang of Pour Charter Member Scott "The Geek" Tobias took us up on the offer. Shar and Ken offered a short menu of wines from their cellar that they were willing to bring over and share, and as soon as I saw Mr. Ridge mentioned, I suggested we go with some of those. They brought three bottles, and we added an '01 Monte Bello to compare to their 2000. Scott contributed a late model Napa Cab and Martha and Gary added some great homemade hummus, pita chips and scintillating conversation. (Click images to enlarge)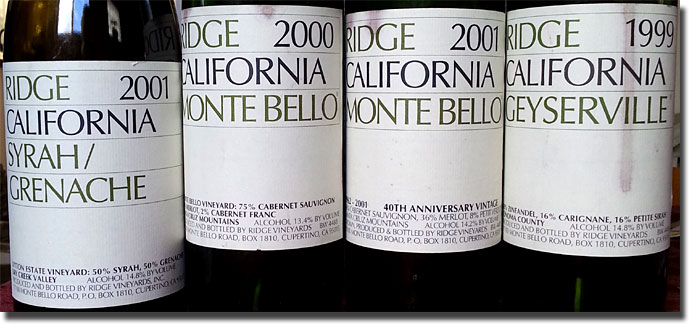 Read the rest of this entry »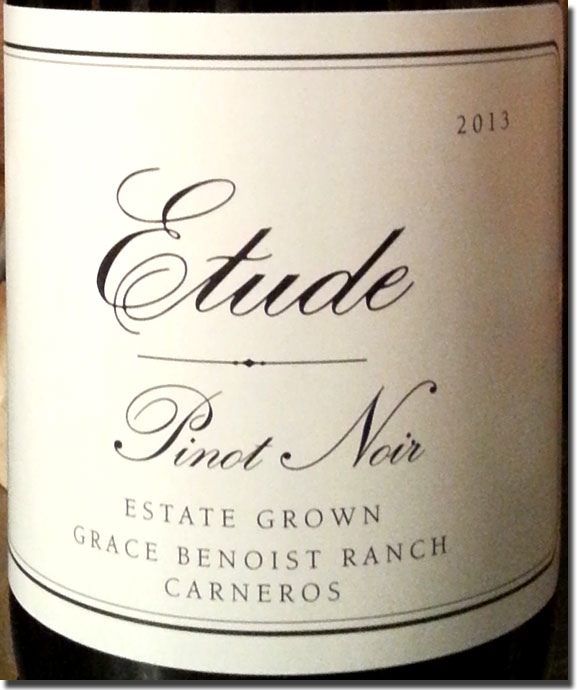 It had been a while since we last tried anything from Etude, perhaps as long as 10 years. I had a most interesting and informative chat with founder Tony Soter back in 2004, and usually liked what I tasted a lot, but, for whatever reason (price maybe?), I haven't gotten (or taken) the opportunity to try another until last week, when I found this in a bin at my friendly neighborhood Costco. As is so often the case, I was curious and asked myself, "How bad can it be?" Turns out it's pretty damned good!
2013 Etude Pinot Noir Carneros Grace Benoist Ranch, 14.4% alc., $33.99: Medium dark in color, with a beautiful perfumed Pinot Noir black cherry nose, with hints of tea leaf; the rich, earthy flavors generally echo, finishing decidedly dry, a little green and somewhat astringent. Medium full bodied and well-structured, which is a good thing, because this should benefit from some years in the cellar.
I like this. The green aspect isn't imposing enough to be a detraction; it actually fits in well as a complementary component of the greater whole. It opens nicely with air, and offers real drinking pleasure now, but give it five years to develop and it will be even better. The vineyard site obviously produces superior quality grapes, and the winemaking team of Soter, Jon Priest and Franci Ashton knows just what to do with them. Given the quality here, I have no problem with the price tag, and plan to go back for more. Find this wine
Reporting from Day-twah,
Bastardo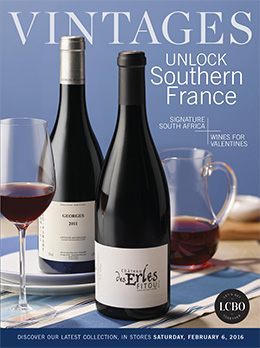 This release features some extremely tasty juice from Southern France. This is a vast region well known for producing a substantial array of artisanal and unique styles of wines. Geographically it starts just outside of Nice in its eastern regions then runs right down the Mediterranean coast just shy of the Spanish border. Not only do the wines produced here offer great value, the region showcases some of the prettiest and most bucolic parts of the country. It is split into numerous sub appellations, all creating wines that are distinctive to the soils they are produced in. There are several other tasty gems as well in this release including both the "Wine of the Month selections".
The aforementioned Wines of the Month selections.
444059 JOEL GOTT 815 CABERNET SAUVIGNON 2013 California $24.95
Although this is designated as a California AVA, don't be fooled, it really shows a sublime expression of Cabernet fruit, highlighting sweet blackcurrant, black raspberry, a trace of eucalyptus and milk chocolate. The palate is fruit forward, but well balanced delivering flavours of black fruits, red currant and mineral. Find this wine
384248 FINCA DEL MARQUESADO GRAN RESERVA 2008 Rioja, Spain $21.95
Lovely aromas of tobacco leaves, dried cherry, currant, raspberry, mocha and leather with a touch of coconut. The fruit is maturing beautifully, but there is still a spicy component and some chewy tannin. This is a fair price for those who want to sample an eight year old Spanish Gran Reserva wine. Find this wine
Our old partner in crime, Putnam Weekley, gave me a shout a few weeks ago to let me know about an upcoming Ridge Vineyards tasting at a cool little Detroit deli called Mudgies. Mudgies is a classic Corktown joint, old school and charmingly so. The focus is on local products whenever possible, in-house roasted meats, fresh soups and high quality cocktails, meads, craft brews and, of course, wines. Putnam bartends afternoons and also extends his considerable knowledge toward the selection of the alcohol that is served. There's a different wine theme each Tuesday evening, and last week, it was the aforementioned Mr. Ridge. Lord knows, I have more than a little experience with this producer, and while I might have passed on some other such events, I know that anything Mr. Weekley has his fingers in is bound to be good, so I saddled up and drove down to take it all in. Turns out I was right, because not only were the wines terrific, I also ran into and renewed acquaintances with my old friends Steve and Robin Kirsch and Rick Lopus. (Click images to enlarge.)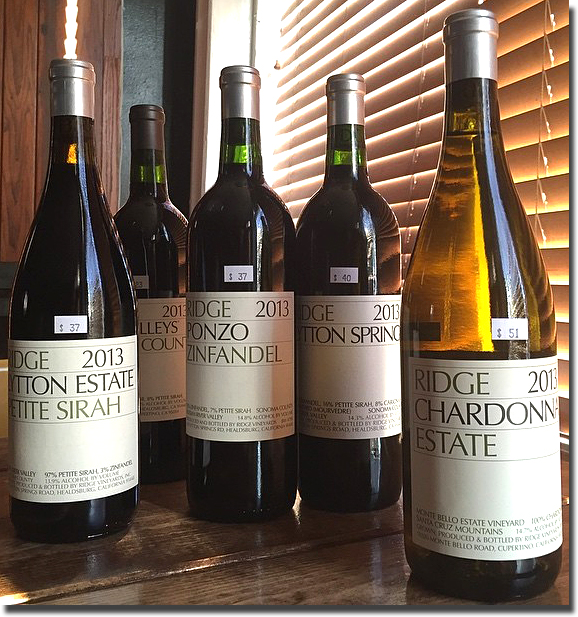 Read the rest of this entry »
As always, our tradition of pairing Red Wings hockey with Red Rhône wines is not exclusive to libations from southern France alone. All a bottle needs to qualify for Hockey Night in Day-twah is to be full of Grenache, Syrah or any other variety native to that region, be they grown in California, Australia, Argentina or wherever. We have our favorites, of course, and it should come as no surprise to longtime readers that Bonny Doon Vineyard is at the top of the list. (Click on image to enlarge.)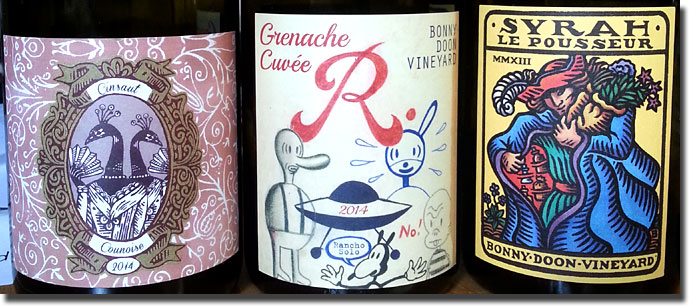 We got our hands on these three recently, and yes, they were all enjoyed while rooting for our boys with the winged wheel on the front of their jerseys. Here are our impressions.
Our wine fridge in the basement died a while back, so I spent some time a few weeks ago transferring the bottles from it into our passive Cellar From Hell. I had to move some things around to make everything fit, which is a good problem to have in this case, because it occurred to me that what had been a somewhat depleted collection a few years ago has become fairly substantial once again. Perhaps most surprising is that there's a good deal of Chardonnay down there now, which was never the case before, and it ain't from California, baby, it's all from the Chablis and Maconnais wine regions. Nothing "high end" (except for that one Raveneau), just solid and damned tasty stuff. We can live with that.
I've already blogged about the Collovray & Terrier Mâcon-Villages Tradition, Domaine de Roally Macon Vire-Clesse and Laroche and Picq Chablis, all of which are now well represented in our stash. In the past few months, the following three selections have also been very well received here at Gang Central.
I know that we've enjoyed previous vintages of this next wine at our good friend Anne Keller-Klump's house; it's out of the Vineyard Brands portfolio that she represents here in Michigan. This is the first time I've taken notes, though, and I'm glad I did, because it's a keeper. (Click images to enlarge.)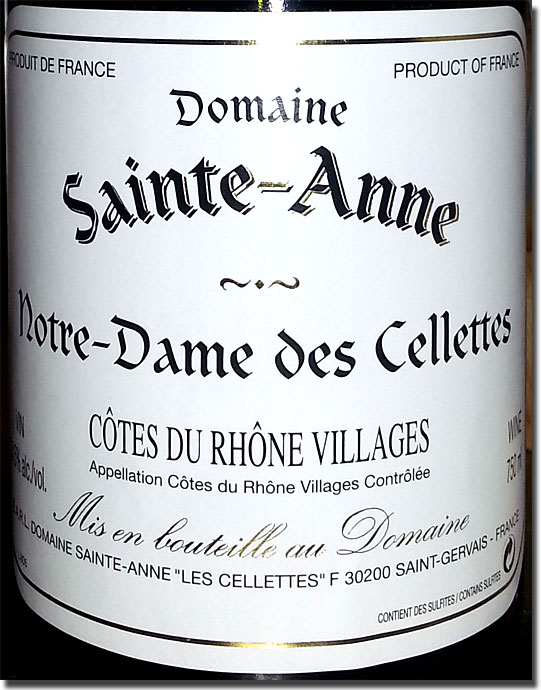 Over the past several years, Domaine Sainte-Anne, located in Saint-Gervais in the southern Rhône valley, has become one of our favorite producers. Their regular Côtes-du-Rhône is our #1 go-to everyday red wine, and going up from there, the wines just get better. We're always up for trying something we haven't had from the Steinmaier family's operation, and so it was that we picked this up selection during a recent visit to one of our friendly neighborhood Plum Markets. We hadn't tried this particular bottling since 2008, and based on our recent tasting of the regular Côtes-du-Rhône Villages, I had the feeling that it might be another tannic beast. It is all that and them some; here's my Rhône-down on what I found whilst sampling a few glasses and taking in a solid 3-2 Detroit Red Wings victory over the Nashville Predators last Saturday evening.

2011 Domaine Sainte-Anne Rouge Côtes-du-Rhône Villages Notre-Dame des Cellettes, 14.5% alc., $18.99: Deep and dark in both color and flavor profile, with a huge core of black fruit and lots of earth and tar. Seriously tannic, with a pretty good acidic bite to boot. This has all the goods, it just needs LOTS of time in the cellar; I wouldn't even consider opening another for at least five years, and waiting a decade might be an even better option. Having said that, Kim said the last two glasses were pretty good the next day, so it had opened, and maybe you just need to decant this for several hours if you want to try it now! 70% Grenache, 20% Syrah and 10% Mourvedre, aged in cement tanks after a relatively short maceration period of 8-15 days. Find this wine
Imported by AHD Vintners, Warren, MI
Reporting from Day-twah,
Bastardo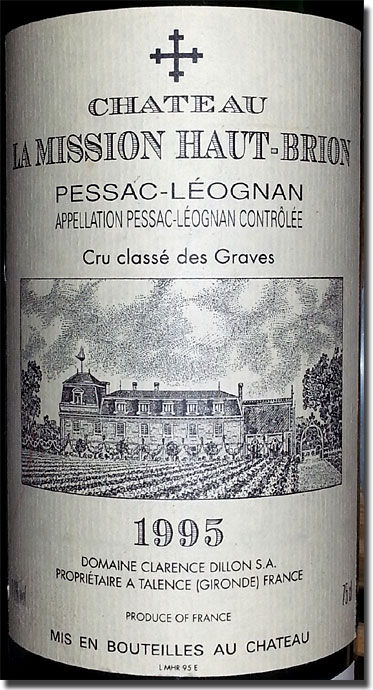 I don't know what a perfect wine is, and these days, I don't much give a damn. I do know that this "reclassified" First Growth, gifted to us by our friend, John Blackwood, more than 10 years ago, is as fine a wine as we could want to enjoy with Christmas dinner. I knew when John gave this to us that it would need considerable time in the cellar, and I decided last night that, at 20 years of age, it was time to see what it had to offer, and it proved to be a lovely match for perfectly grilled (I get it right every once in a while) medium rare Niman Ranch rib eye steaks, mashed potatoes with mushrooms in a red wine sauce and a mélange of multi-colored organic carrots, haricot verts and garlic.
1995 Chateau La Mission Haut-Brion Pessac-Leognan, 13% alc.: Still clean and dark in color, showing no bricking as of yet, and exuding copious amounts of saddle leather and mahogany aromatics, which follow through beautifully on the palate with subtle earth underneath. Rich, intense and still on the way up, this gives immediate pleasure from the moment it's poured after half an hour in a decanter, and it continues to open and become ever more generous as long as there is some left (I savored two and a half glasses over four hours or so). Harmonious and immensely satisfying, yet structured for many more years of further development. If you have some of this, it's more than safe to drink now, but I'd love to try another in about 5 years to see where it's at. Thanks a million, Blackie, this baby rocks, and so do you, my friend! Find this wine
Imported by Wine Markets International, Inc., Woodbury N.Y.
Reporting from Day-twah,
Bastardo