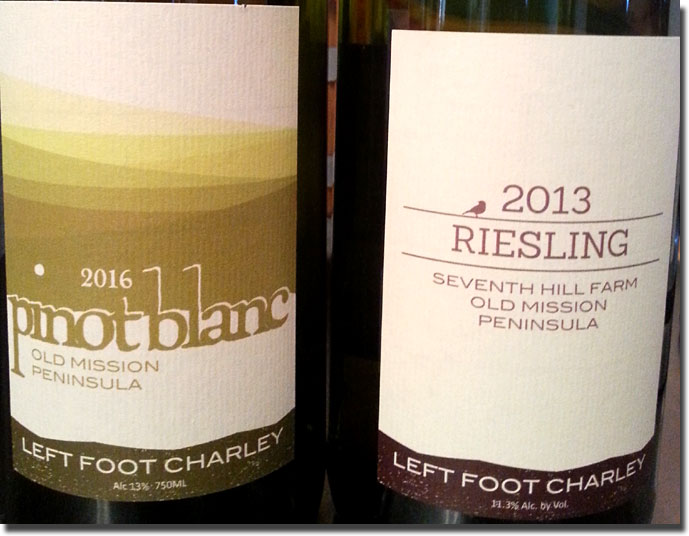 It's always a treat to get the first taste of new releases from our favorite producers, be they bold Zins from California, brawny blends from the Rhone Valley and, yes, crisp whites from Michigan. We've followed Bryan Ulbrich's Left Foot Charley up in Traverse City from their inception, and they have consistently remained at the top of our short list of preferred producers from "the mitten." We got our first taste of these two noted here at the recent Michigan Wine Showcase in Day-twah, and while we liked what we tasted, we didn't get the opportunity to spend a little time with them to get to know them better. I'm happy to announce that they are now available at Michigan By The Bottle Tasting Room in Auburn Hills and Holiday Market in Royal Oak, where I picked up the bottles reviewed here.
LFC's Island View Vineyard Pinot Blanc has been one of our two or three favorite Michigan wines since we first tasted the '06 from tank back in 2007, and we bought every vintage in quantities until 2015. That was when Ulbrich was unable to bottle from this site exclusively, because of seriously lower yields, due to the brutal winter of 2013-14. His solution was to combine what could be harvested from Island View with two adjacent Pinot Blanc plots and come up with a very good 2014 "Island View Corner" bottling that would seem to have given him the idea that there might be enough good fruit to be had from other vineyards to create a second LFC Pinot Blanc, once the original plot had recovered to once again make the single vineyard bottling. That time has come, and here's what he came up with.
2016 Left Foot Charley Pinot Blanc Old Mission Peninsula, 13% alc., $17.99: Clean, medium color, with a pleasantly inviting nose of green apple and citrus; flavors echo, being a little tart on the tongue, with some underlying mineral and a very subtle herbaceous quality. Medium body, with great acids and good length, this is the kind of dry white that I like to drink, and really has me itching to try the soon-to-be-released 2016 LFC Island View Pinot Blanc.
LFC: "This Pinot Blanc is a blend of three excellent young vineyard sites on Old Mission Peninsula. We fermented each lot independently to get a feel for their respective terroir contributions. Each was fermented in stainless steel. The three work very well to bring a complement of fresh apple and pear qualities with a firm but well layered palate. We expect this Pinot Blanc to develop more complexity in the bottle over the next two years." Find this wine
Bryan Ulbrich LOVES Riesling, and it shows in each and every bottling his urban winery has produced since its inception. My personal favorite is the Seventh Hill Farm.
2013 Left Foot Charley Seventh Hill Farm Riesling Old Mission Peninsula, 11.3% alc., $19.99: Pale in color, with no floaties of any kind; the pleasant, if not overly effusive nose offers not-quite-equal parts citrus mineral and petrol. Things pick up nicely on the palate with rich medium-dry Riesling character, and the slightly oily texture makes this seem a little more than medium bodied, with racy acids and good length on the finish. I was wondering how this might compare with the brilliant 2012 Seventh Hill Farm Riesling, but that one set a mighty high bar, so this one will have to settle for being "merely" really tasty, and cellar time is likely to allow it to evolve into something even better.
LFC: "We took a very relaxed approach with this Riesling in 2013 and it has been aging in our cellar for two years in the bottle. The vintage delivered an edge that needed to be softened. We let this part of the vineyard ride a very slow fermentation throughout the stillness of winter and spring. The long aging with the yeast gave the wine a rounded counterpart to the fruity acid. It's different than any Riesling we have made from this site. Rather like nectarine jam over a soft English muffin – no butter of course."
Find this wine
I'll be going back for more of these little lovelies, both of which are very food friendly, and a delight to serve as both aperitifs and back deck sippers.
Reporting from Day-twah,
Bastardo
Our soul sister Christina Donley made her annual visit to Day-twah to promote the wines of Ridge Vineyards a few weeks ago, and when we caught wind that she would be presiding over a tasting at Mudgies Deli & Wine Shop, we made a point of clearing the time on our schedules so that we would be in attendance. I reported on another way cool Ridge tasting at Mudgies last year, and it's clear that owner Greg Mudge is as much a fan as we are, so this was bound to be a fun event.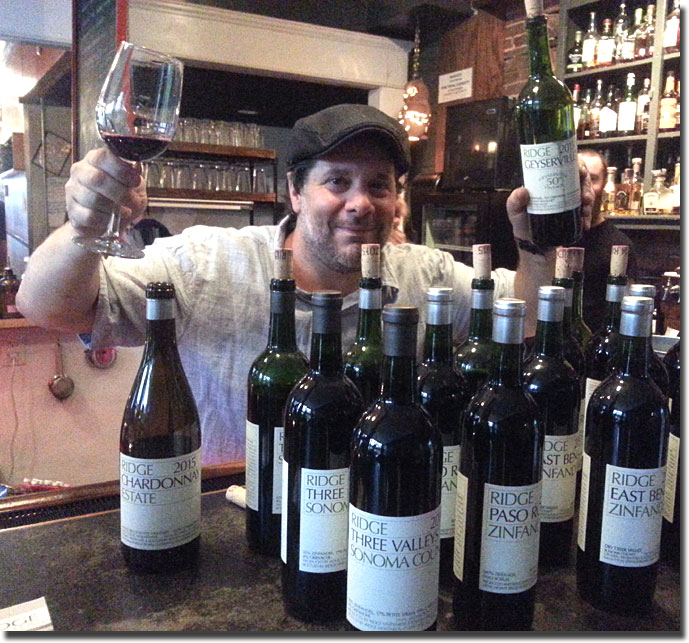 We arrived to find Greg holding court behind the bar, which was lined with bottles of the selections we'd be tasting. Christina was interacting with guests in the room, with more-than-able assistance from Great Lakes Wines and Spirits super-reps Monica Wilde and Rebecca Poling. We were greeted with glasses of Chardonnay and I pulled out my trusty pen and note pad and started tasting and scribbling.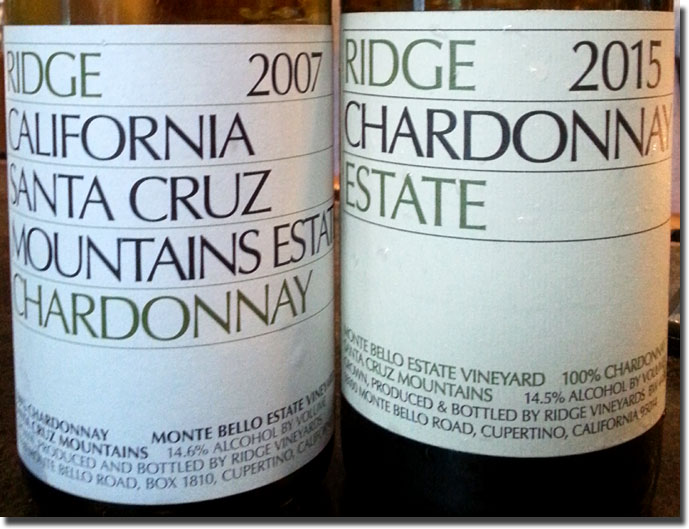 2015 Ridge Santa Cruz Mountains Estate Chardonnay Monte Bello Vineyard, 14.5% alc., $54: This exudes a ripe apple-pear and sweet oak bouquet that's a bit toasty, and I like that. Rich, fairly ripe flavors echo and expand on the promise of the nose so nicely; the wine is full bodied, with great depth, balance and acidity and very good length. Christina says that the oak, mostly neutral American, with some French, has been toned down some over the past few years, and it shows. This is as fine a Ridge Estate Chardonnay as I can remember tasting, and a delight to sip on as the event gets started. Find this wine
Monica pulled the following selection from her "wine closet" and brought it along to contrast and compare with the 2015.
2007 Ridge Santa Cruz Mountains Estate Chardonnay Monte Bello Vineyard, 14.7% alc.: The clean, medium color gives no telltale signs of its age, and while the nose is not nearly as exuberant as that on the '15, it does give just a hint of something like caramel. Surprisingly fresh on the palate, super silky, and showing no secondary characteristics, it's all lovely apple-pear laced with a little mineral. Full bodied; the acids are still racy and there's nice length on the finish. Find this wine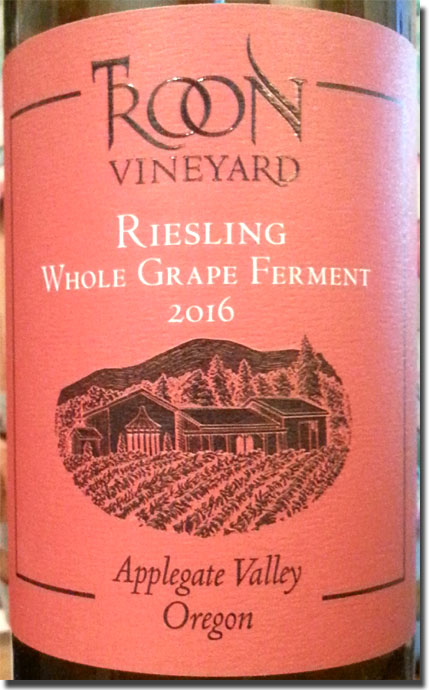 While several of our serious "wine geek" friends and acquaintances have been either extolling to virtues, or at least investigating, so-called "orange wines" for the last several years now, our experience with them has been extremely limited. They haven't flown completely under our radar, but we haven't exactly gone out of our way to seek them out, either.
For the uninitiated, orange wines are white varieties that are produced in the same manner as red wines. Whereas the vast majority of whites are made by removing skins and other solids early on in the winemaking process, those same skins and solids are left in contact throughout maceration and into the aging process. Troon Vineyard General Manager Craig Camp describes the process used for this particular wine thusly: "Produced essentially the same way as our red wines, this fruit was first crushed by foot, destemmed, then it was transferred to one-ton fermenters. The native yeast fermentation started after fourty-eight hours and completed in ten days. The fermenters were punched down by hand once a day. It was then pressed into neutral French Oak barrels for three months. That's it."
To be honest, the few orange wines I've tried previously did nothing whatsoever for me, but our impressions of Troon's offerings have been mostly very favorable, so I was more than a little curious as to how I'd react to sipping this one over a few hours.
2016 Troon Riesling, Whole Grape Ferment, Applegate Valley, 12% alc., SRP $20.00: Yes, this has something of an orange-gold color; it's not terribly expressive on the nose, but what's here, while a little hard to describe, is not unpleasant. It shows good intensity on the palate, and is unlike any Riesling I can remember tasting, offering a good dose of mineral, with zippy acids on a medium bodied frame. The closest I can come to describing the fruit here is something like star fruit with hints of orange and cinnamon. Despite its unusual character, this fairly rich, completely dry wine grows on me with each sip, and by the second glass, I find it to be quite pleasant, and very food friendly. Kim disagrees, and doesn't care for it at all. It's not for everyone, to be sure, but it's certainly not one of your "usual suspects," either. Find this wine
Camp recommends pairing this with tapas, "as it literally can be matched with almost any food as it's the white grape version of rosé combining a bright fruitiness with some structure." He also states that Troon will be adding a Vermentino to its "orange wine" program in 2017, so I'll be interested in seeing (tasting) what that one's all about.
Reporting from Day-twah,
Bastardo
Save
Save
Save
Save
Save
Remember that 2013 The Furst Pinot Blanc I told you about in early March? Well, I liked it so well, I went back for more, but the shop was out and indicated that they couldn't get any more.
Boo!
I kept an eye out for more of it during my explorations over the next few weeks, and found the following three instead. I brought them home to see if they are as good as the Pinot Blanc, and I'm pleased to report that they mostly are.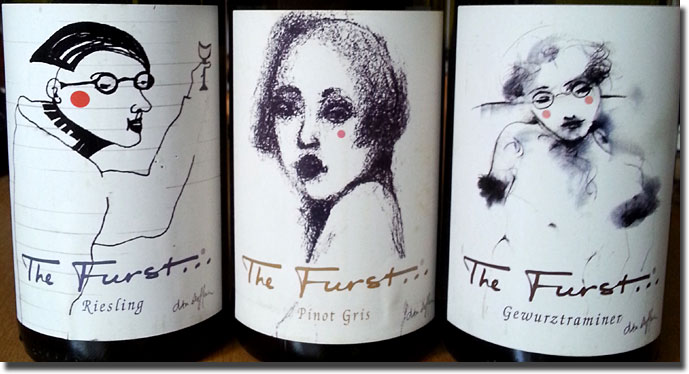 "All of The Furst… wines are made by Cave Vinicole de Kietzenheim-Kaysersberg. The Cave is a small consortium of wine growers located on the foothills of the Vosges mountains. Participating growers generally own small vineyards, averaging 3 to 5 acres in size. Such small holdings would not permit each grower to produce enough wine to be commercially viable and certainly not to have enough quantities to export wines. Therefore, the "Cave Vinicole de Kietzenheim-Kayserberg" was created.
The group limits the number of participating growers as well as Cave employees – there is only one wine maker and an agronomist on staff who make all of the necessary decisions in order to guarantee quality and consistency in production." ~ Eagle Eye Brands Website
2014 The Furst… Riesling Alsace, 13% alc., $11.99: Clean, medium color, with an expressive nose of slightly herbaceous green apple and mineral; the pungent flavors echo and expand, with wet stone minerality. Medium bodied, with some of that characteristic Alsatian oiliness, brisk acids and good length on the finish. This wine has quickly become my go-to QPR white, period. I've already gone through half a case, I like it that much. Find this wine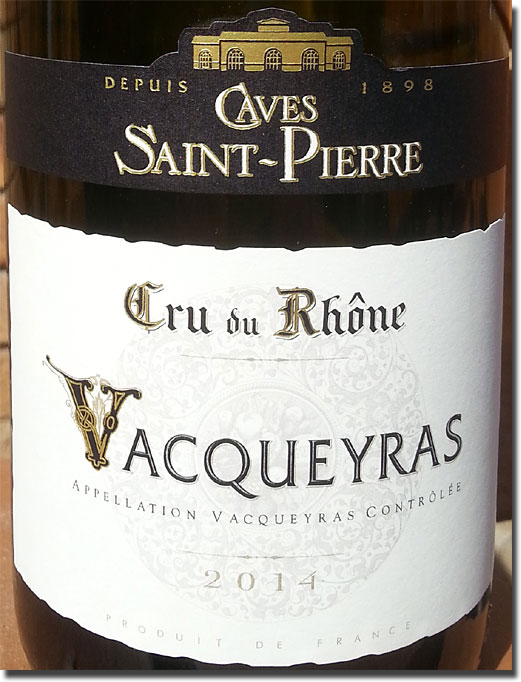 2014 Caves Saint-Pierre Vacqueyras, 11-14% alc., $12.99: This is the 4th consecutive vintage of Caves Saint-Pierre Vacqueyras that we've brought home from our friendly neighborhood Trader Joe's, and it might just be the best one yet. Interestingly, like its even-year predecessor, the 2012, it's a little more fruit forward than the odd-year 2011 and 2013. (The '13 is the only one of these that we haven't reviewed here; it tended to be somewhat hard, and I didn't find it interesting enough to bring a whole lot of home, much less write about.)
Full bodied and well-structured, this latest bottling gives plenty of what we've become used to from this producer; deep, dark color, lots of earth and iron, hints of leather and a generous dollop of fairly rich black plum, black currant, blackberry and even a little black cherry. A solid match for a variety of grilled red meats and hearty stews, it offers good QPR (quality-price ratio) and a nice alternative to similarly priced Cotes-du-Rhônes. You can lay some bottles down for 3-5 years, but there's no reason not to uncork a bottle tonight and enjoy with medium-rare lamb burgers. We've gone through at least a case of this already, and I'll keep bringing bottles home as long as its available. Find this wine
Imported by Latitude Wines, Inc., Danville, CA
Reporting from Day-twah,
Bastardo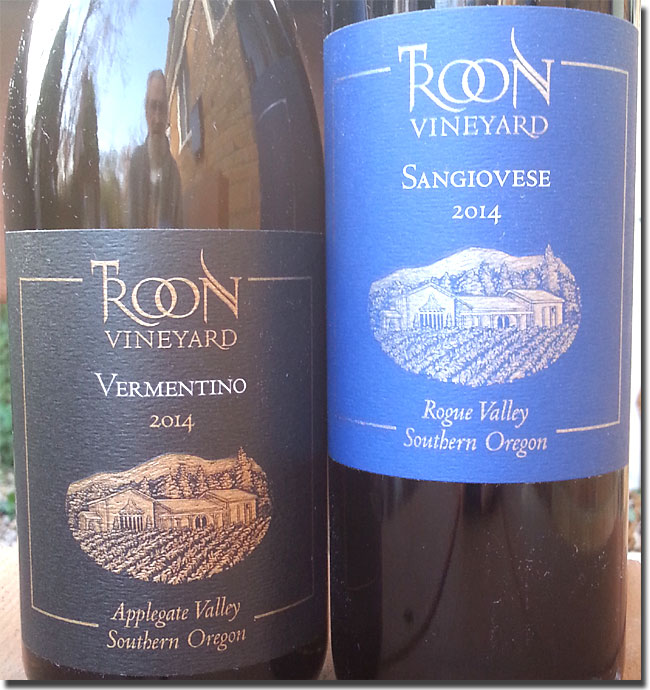 Troon Vineyard is an Oregon producer that had flown completely under our radar until we first tasted six of their wines last summer. Those were mostly quite good, and we'd been looking forward to trying more from them, so we were pleased to receive six additional samples over the last few months, coming to us two by two. As previously reported, Troon is not a Willamette Valley winery (they are located in Applegate Valley in southern Oregon), and they don't do Pinot Noir. Instead, their focus is on such seemingly unlikely varieties as Malbec, Tannat and Sangiovese, to name just three; they also grow Rhône grapes as well.
We took our time with them, sampling them over several weeks, and once again, we mostly liked what we tasted. Here are my impressions, listed in the order in which they were opened. We pulled corks from the first two one evening some weeks ago, and enjoyed them with opening appetizers and the main course respectively.
2014 Troon Vermentino Applegate Valley, 12% alc., $29.00: Clean, bright, medium straw color; oddly, this is better by itself than with Kim's wild sautéed shrimp in butter sauce. When tasted with the shrimp, it takes on a mineral-driven character, racy, devoid of fruit and a bit hot. On its own, a little more citrus peeks out, while the mineral takes on an ever-so-slightly petroleum-like note. Some quince emerges with extended air, but while it's not unpleasant, neither is it all that outgoing. Overall, it's a slightly quirky little variation on the Vermentino theme that I wouldn't be inclined to purchase. Find this wine
2014 Troon Sangiovese Rogue Valley, 13% alc., $29.00: Clean, dark color, with nice red berry cherry flavors and aromas. Soft tannins, balanced acids and good length, almost cherry stick in character, with a little earth underneath. Like the Vermentino, this gets better and better with air, and has plenty more to offer for my tastes. Makes a nice match for grilled lamb lollipops and mixed grilled veggies. Find this wine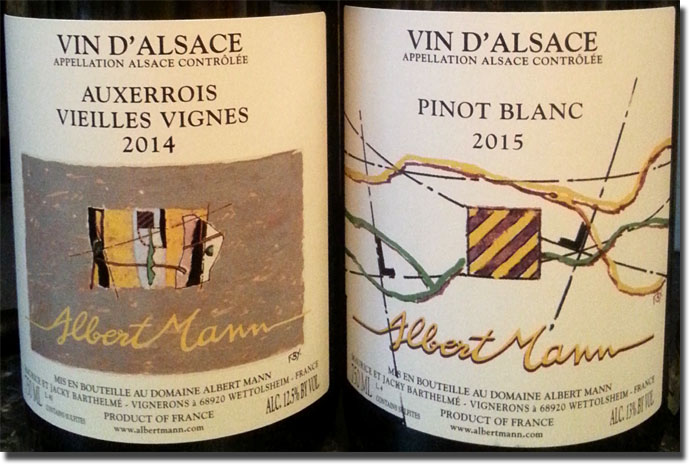 After filing my last report, I decided to see what else I could find in the way of Alsatian wines that are available in and around Day-twah, and, perhaps surprisingly, I found more than I expected in fairly short order. Selections from the Weygandt-Metzler portfolio are reasonably well-represented here, and after trying six of those, I was able to find a couple of other tantalizing tidbits too. I started my survey with a grape variety that is hardly a household name, but it's one that I'm quite fond of, thanks to a version that we produce right here in Michigan.
2014 Albert Mann Auxerrois Alsace, 12.5% alc., $18.99: Clean medium color, with river stones, green apple, quince and lime in both flavor and aroma; fairly rich and intense, with a somewhat oily texture on a medium-bodied frame, driven by ample acids right on through the lingering finish. More of the mineral character emerges as the wine opens and warms in the glass, and while it will certainly pair with a wide variety of the usual fish and fowl suspects, I'd like to try it with sushi, keeping the wasabi at moderate levels. It would also be interesting to try this alongside Bel Lago's version from here in Michigan for comparison's sake. Find this wine
2015 Albert Mann Pinot Blanc Alsace, 13% alc., $17.99: Clean medium straw color, with a fragrant green apple citrus nose that leads into fairly rich and intense mineral-laced green apple and lime; more and more gravelly character emerges as it opens in the glass. Medium bodied, with active acidity and good length, this is very food friendly, and I've already gone back for more. Find this wine
While strolling through the wine department of our friendly neighborhood Costco a few weeks ago, I noticed something that I've rarely, if ever, seen there before, a bin full of wine from Alsace. It had been quite some time since I've had anything from this notable region, and I've had previous vintages of this particular bottling, Lucien Albrecht's Réserve Riesling; it has always been pleasant enough, and the price was certainly right, so I picked one up, brought it home and found it quite to my liking. (Click image to enlarge.)

2015 Lucien Albrecht Réserve Riesling Alsace, 12.5% alc., $12.99: Clean, medium color; pleasant Riesling character reminiscent of red and green apples shaded with citrus, wet stones and subtle floral hints, being not quite bone dry, but close. Medium body, balanced acids and decent length. This offers good value for the price, doing exactly what it's supposed to, and I've been picking up a bottle or two with each return to the aforementioned Costco. I also appreciate the handy twist-off Stelvin enclosure. Find this wine
Imported by Pasternak Wine Imports, Harrison, NY
So, this wine got me to thinking about how much I used to like Alsatian wines; I reported on one in our first-ever Gang of Pour feature back in '97, and several times afterwards. I decided that I'd like to get back to drinking more of this stuff, but after visiting a few area retailers, I was reminded why I had strayed from them in the first place; the available selections have dwindled considerably in this market over the years. I spoke with both retailers and distributors about this, and the reason became clear; they're a hard sell. For whatever reason, fewer customers ask for them, fewer retailers put them in peoples' hands and distributors accordingly carry fewer selections. It's a shame, because many of the wines are so very good. I'm not at all sure if there are any selections from Grand Cru vineyards available in this area, other than perhaps a few from Zind Humbrecht. I found the following two at Plum Market's Bloomfield location. They fall into what I would have once considered the "usual suspects" category, but now they're some of the best of what little can be found hereabouts.
2011 Domaines Schlumberger Les Princes Abbes Riesling Alsace, 12.5% alc., $21.97: Clean, medium color, with a mineral-driven nose laced with just a hint of petrol that leads into fairly rich flavors of wet stones, quince and under-ripe green apples. Medium bodied, and slightly oily, with balanced acids; not racy, but more than active enough to work well with a variety of foods. Opens nicely as it warms in the glass, and if it's perhaps a little shorter on the finish than I would like, overall, it's a solid specimen of a not-quite everyday Riesling. Find this wine
Imported by Maisons Marques & Domaines USA Inc., Oakland, CA
2012 Domaine Trimbach Pinot Gris Réserve Alsace, 13.5% alc., $23.97: Medium color, with just a hint of that deeper Pinot Gris pigment; rich, intense mineral-laced apple and pear flavors on entry and through the mid-palate, turning almost, but not quite, totally dry on the finish. For some reason, I wasn't expecting this to be as dee-lish as it is, and I like it a lot. It's an excellent choice for a variety of fish and fowl type dishes, and drinks really well all by its lonesome. It also leaves a distinct tartrate crystal path from the bottom to the top of the glass after the last sip. Find this wine
Imported by Esprit du Vin, Port Washington, NY
Reporting from Day-twah,
Bastardo
Save
Save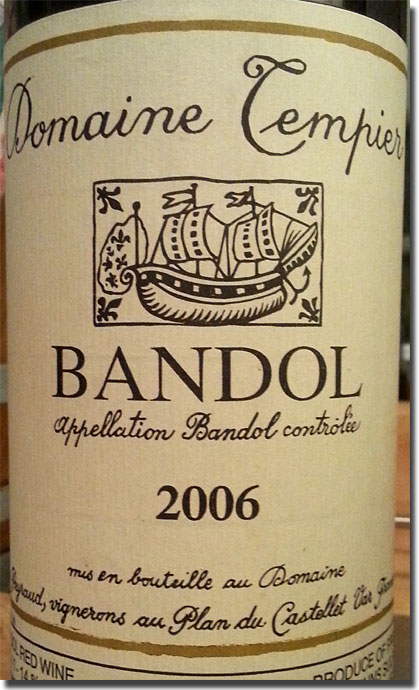 We enjoyed several big reds over the past few weeks, and while there wasn't a dog in the bunch, I only managed to take notes on two of them. It seems that I'm less inclined to record impressions when we're with a group of revelers than I once was, what with all the food and hoopla, but this pair was just for Kim and this taster. Perhaps not surprisingly, they were from two of our very favorite wine regions. (Click images to enlarge.)
We've said it before, and we'll say it again, we love Domaine Tempier Bandol at our house. I pulled this one from the cellar to celebrate Kim's "special day," and she loved it.
2006 Domaine Tempier Bandol, 75% Mourvèdre, 14% Grenache, 9% Cinsault, 2% Carignan, 11-14% alc.: Deep and dark in color, with no discernible bricking as of yet. Maturing nicely, with lovely Tempier character; a little earthy, with a bit of the barnyard and a big rich core of dense, dark Mourvèdre-dominated fruit. Nevertheless, at 10 years old, this is still a relatively young wine, not close to its peak and built for many years of further development. Give it an hour in a decanter if you're going to open one now; better yet, give it at least another 5 years in the cellar. This will deliver everything you want from a regular bottling from this great producer. Find this wine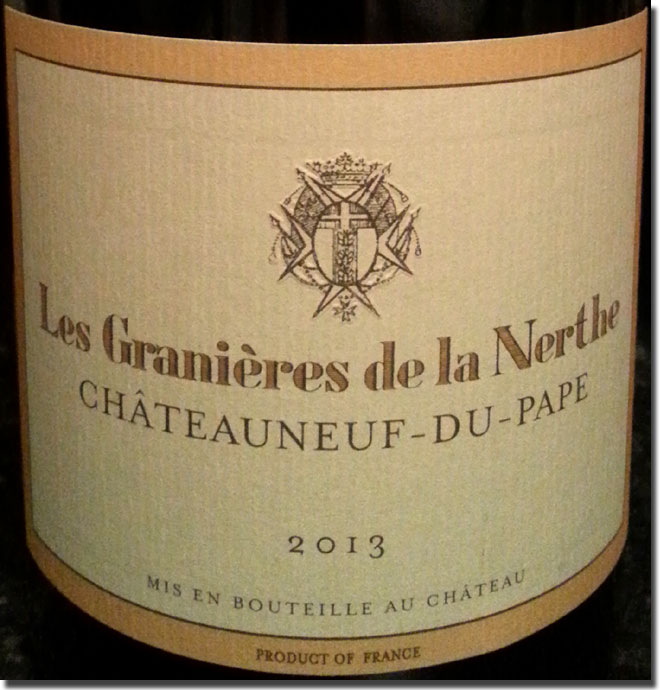 This was our first experience with Chateau La Nerthe's second label Chateauneuf-du-Pape, and it is a solid "Red Wings and Red Rhônes" selection, although Detroit did not play particularly inspired hockey on the night we imbibed it.
2013 Chateau La Nerthe Chateauneuf-du-Pape 'Les Granieres de la Nerthe', 33% Cinsault, 31% Syrah, 22% Grenache Noir, 11% Mourvèdre, 3% Other, 14% alc., $29.99: A bit lighter in color than most, almost Pinot Noir-like, but it's all Chateauneuf-du-Pape on the nose, with earth, iron and black fruit. Flavors echo and expand with much more weight and intensity than the hue might lead one to expect, very earthy and seriously structured for several years in the cellar. Textbook Chateauneuf, and if it's not quite as refined as the regular bottling, it'll be a darned good one in about 7-10 years. Find this wine
Happy New Year from Day-twah!
Bastardo
Save
Save
Save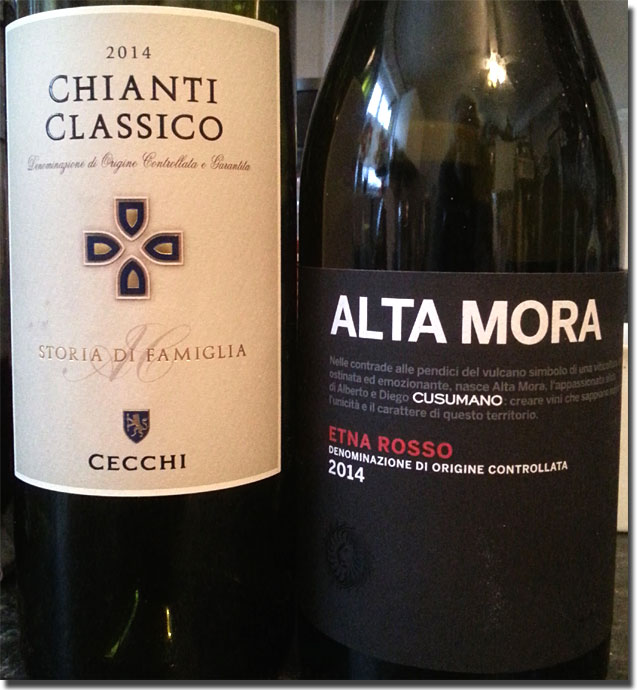 For our first entry of the New Year, we hereby submit our third and final report on the review samples sent to us by Donna White Communications, two Italian reds from decidedly different locales. We don't drink as much Italian wine as we might like here at Gang Central, so it's always a treat to taste something worthy that's out there, and these are both solid selections.
Cecchi Chiantis were always a mainstay in the inventories of the wine retail outlets that I worked in not so very long ago, and I had a chance to try a few back then. The low-end Chianti was serviceable, if boring, as I remember, while the Chianti Classico was, as one would expect, a good deal more taster friendly. The current CC model reinforces those earlier impressions.
2014 Cecchi Chianti Classico, 90% Sangiovese, other grape varieties 10%, $22.00 SRP: Clean, dark color; typical sticks-y dried cherry aromatics lead into a fairly generous entry with echoing earthy fruit and underbrush, and finishing with drying tannins. Full bodied and structured for at least five years in the cellar, and a good match for Kim's mostaccioli. A second glass after dinner was good, but not as good as the first was with dinner, so while this doesn't "need" food, it wants food, likes food and will show best with food. Find this wine
Like the Cecchis, I've also tried some of the wines from the Sicilian producer Cusumano, and even reviewed one some years back, although, in retrospect, that Nero d'Avola suffered from being placed at the end of a long afternoon of tasting. Happily, we got to spend plenty of time with this one.
2014 Alta Mora Etna Rosso DOC, 100% Nerello Mascalese, 14% alc., $24.00 SRP: A new project from the Cusumano family, this wine shows clean, dark color, and offers a pleasant, if slightly muted cherry berry nose, following through with earthy dried cherry and underbrush flavors, and while my descriptors may seem similar to those of the Chianti Classico noted above, the wines are rather different in character. Full bodied and structured for at least three-to-five years of aging and development, this is rich and flavorful, finishing totally dry. It's a versatile wine that will pair with a wide variety of foods, including just about any grilled red meat, pasta with a tomato sauce, pizza and our choice, a mushroom, onion, red pepper and cheddar dinner frittata. This seems like a fine alternative to the red Rhônes that I love so well, and I will buy it the next time I see it on a retail shelf. Find this wine
Both wines are imported by Terlato Wines International, Lake Bluff, Il.
Happy New Year!
Bastardo
Save
Save
Save