As previously reported, Shannon aka Shawn Walters sent me home from my June road trip to Traverse City and Leland, Michigan, with a selection of wines that he'd made for various clients. Besides selections from Bowers Harbor and Chateau Fontaine, he also gifted me with selections from Boathouse Vineyards, Blustone Vineyards and Verterra Winery. We're very familiar with Verterra, of course, but not so much with Boathouse and Blustone. The intrepid reader can follow the links to their respective websites and pretty much learn about as much as we know about them, but I promise, my next trip up to Leelanau, I will be knocking on their doors to get a better taste and a bigger picture of what these two promising producers are up to. (Click images to enlarge.)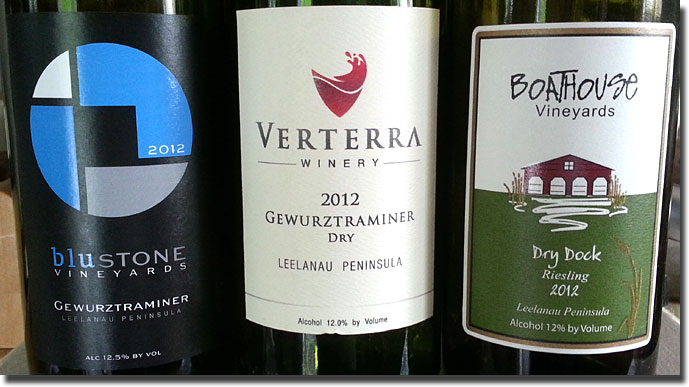 All five of the wines tasted here give yet further testimony to the great strides that have been made in the Leelanau Peninsula with regard to wine growing and winemaking in the past several years, and Shannon (it's hard not to call him Shawn, but Shannon is his given name, and he goes by that now) is at the very forefront of this movement. Here are my impressions of each.
Read the rest of this entry »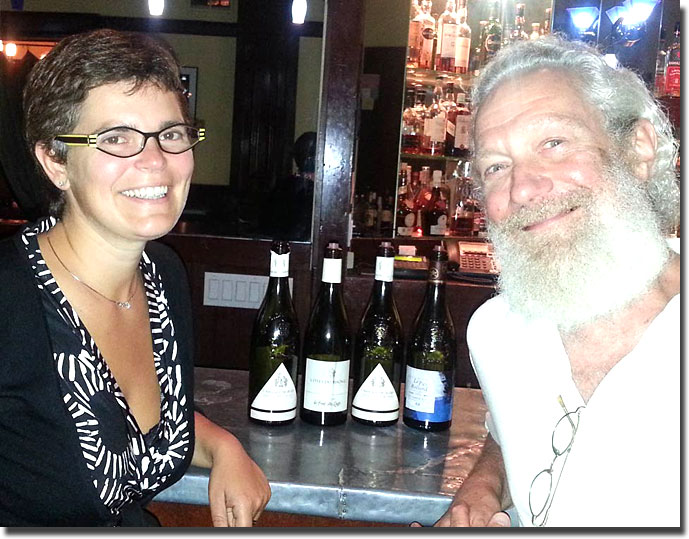 Anne Charlotte Melia-Bachas (shown on the right with this taster; click on images to enlarge) came to town last week to promote the wines of her estate in Chateauneuf du Pape, Chateau de la Font du Loup. We first met Anne Charlotte in 2010, at a wine luncheon presented by Font du Loup's regional distributor and importer, AHD Vintners. We were charmed by both her and the wines, and I took great delight in renewing acquaintances with her and meeting her husband, Font du Loup co-owner and winemaker Laurent Bachas.
So, when AHD Sales Rep Extraordinaire Michelle DeHayes invited Kim and me to join her and Anne Charlotte for dinner, we didn't hesitate to accept. We convened at Cuisine, in Detroit's New Center area. The food was quite good, and we were were pleased that Chef Paul Grosz joined us to taste through the wines; he seemed just as impressed with them as we were. Anne Charlotte herself is unabashed about liking her wines, and why not? I've never tasted anything from this estate that wasn't excellent. Here's what we tasted.
Read the rest of this entry »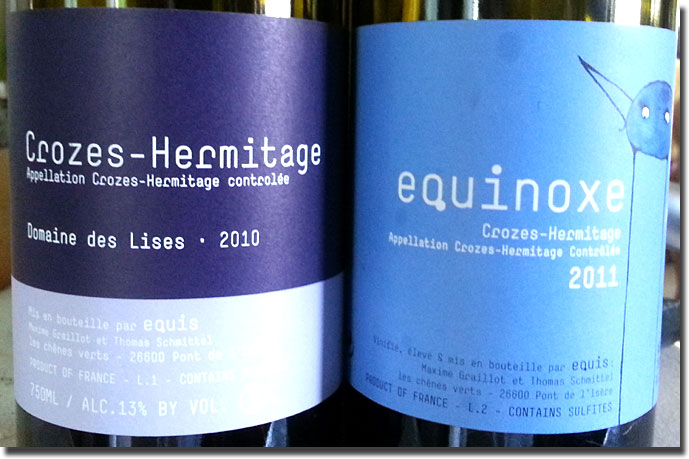 There was a time, not so many years ago, that red wines from Crozes-Hermitage were pretty common in our repertoire of drinking selections here at Gang Central. These wines are usually 100% Syrah (though it is legal to include small quantities of white Roussanne or Marsanne grapes), and tend to be more reasonably priced than their prestigious northern Rhône counterparts from Hermitage, Cote-Rotie and even Cornas. Back then, our go-to choice was the Paul Jaboulet Aine Domaine de Thalabert, and when we were slumming, Jaboulet 's Les Jalets was a pretty good alternative. When we wanted to treat ourselves, we'd opt for one of Alain Graillot's beauties.
Read the rest of this entry »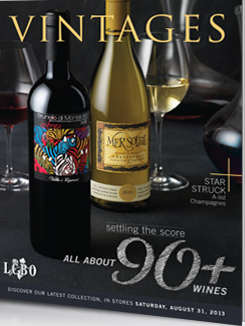 On August 31st, Vintages will release its 90 points plus wine release and yours truly was able to taste and enjoy a few of them. For those who buy wine based on the wine gurus' numerical ratings, there are many tasty bottles to pick from. Just for fun, I put my own numerical ratings next to those of the experts. Please do read on………
593525 FROG'S LEAP ZINFANDEL 2010 Napa Valley, California $37.95
An absolutely amazing multi-layered Zinfandel just brimming with dark fruit, mineral, Asian spices, pepper and dried mushroom. It is beautifully balanced, the dark fruit acidity is so cleansing, tannins are soft and the finish is long. Find this wine
Score: 91 Steve Heimoff, Wine Enthusiast.
Score: 92 C.Z. Gang of Pour
091058 BERINGER CABERNET SAUVIGNON 2010 Napa Valley, California $49.95
Ripe and aromatic, the nose has blackcurrant, stone, chocolate and cinnamon notes.
It has solid structure, good depth of dark fruit and plummy flavours, milk chocolate tannins and a chewy finish. Find this wine
Score: 92 Antonio Galloni, erobertparker.com
Score: 90 C.Z Gang of Pour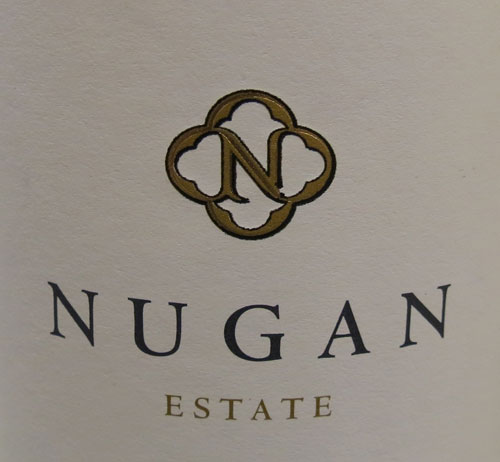 072603 NUGAN ESTATE MCLAREN PARISH VINEYARD SHIRAZ 2010 McLaren Vale, South Australia $24.95
Dark and shiny, it blows off notes of eucalyptus, mint, lavender and black toffee. A few spins releases layers of dark fruit, blackberry, black cherry and vanilla. Well balanced on the palate, lots of creamy sweet fruit tamed by perfect levels of acidity. Tannins are tight, although tasty right now, time in the cellar will only enhance this wine. Find this wine
Score: 90(+?) Josh Raynolds, International Wine Cellar
Score 91 C.Z Gang of Pour
719575 MOUNT LANGI GHIRAN BILLI BILLI SHIRAZ 2009 Victoria, Australia $17.95
A little supressed, some earthy aromas along with stewed fruit; palate has a sweet and viscous texture to it. The fruit is more apparent on the finish, acidity is low and tannins are soft. Find this wine
Score: 94 James Halliday, winecompanion
Score 85 C.Z Gang of Pour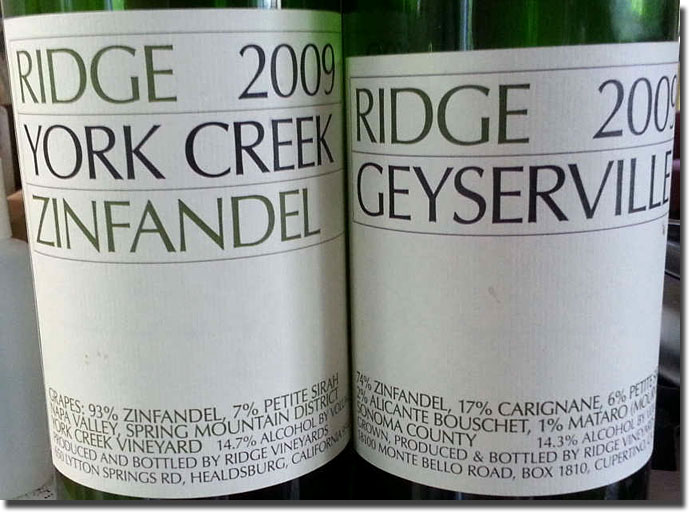 I wrote a song in 2011 that's on my CD, "In My Element," called "I'm Getting' Squirrilly in My Old Age," and the last verse pays homage to two of my very favorite California wine producers:
"These days I'm happy just to get along
All I want to do is write and swim and sing my song
I got no ambition beyond fishin' for that next new tune
And sippin' on some tasty wine from Mr. Ridge and Bonny Doon."
In the past few months, we've had two wines each from Mr. Ridge and Bonny Doon, and my notes are presented here in the order of their mention in the song. During a recent visit from our colleague-in-crime, Alan Kerr aka Canadian Zinfan, I put him on notice that I had a nice '09 Geyserville with his name on it, and he reciprocated with a York Creek Zin from the same vintage. Both were delightful with Australian lamb-sickles.
Read the rest of this entry »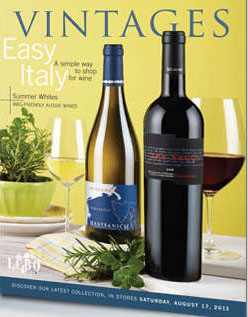 It has been a while since I was able to pop up to London and taste some of the merchandise due to hit the shelves on Vintages next release this Saturday August 17th. What will be released is a mixed bag with some pleasant surprises especially in the price range of $20.00 or less. Easy Italy is the feature focus that offers several wines from lesser known regions. (click labels to enlarge)
USA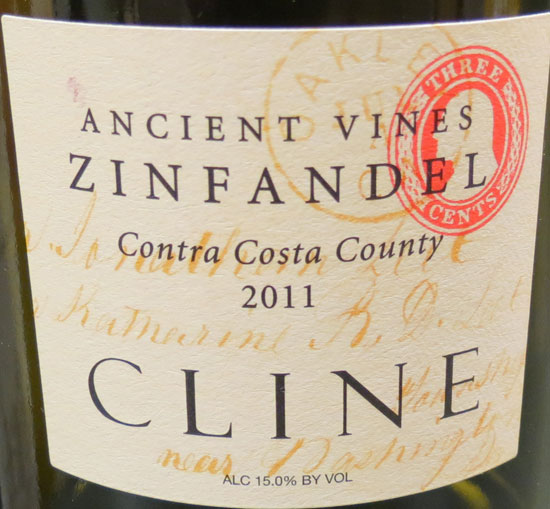 719211 CLINE ANCIENT VINES ZINFANDEL 2011 Contra Costa County, Central Coast $19.95
Pleasing aromas of blueberry, cake spice, black raspberry and plum. Its texture is quite creamy, with sweet flavours of ripe fruit, milk chocolate and mocha. Nice acidity balances the sweetness, finish is ripe and tasty. Find this wine
161190 GROVE STREET CABERNET SAUVIGNON 2010 Sonoma County $18.95
A nicely structured Cabernet showing, dark fruit and blackcurrant mixed with dusty cocoa and cough candy, bearing a nicely balanced palate and a simple clean finish. Find this wine
161273 CLOS DU BOIS PINOT NOIR 2011 California $18.95
Plum and dark cherry with some herbaceous notes and a touch of beet and sweet cherry cola on the nose. It's sweet on the palate, although acidity is noted; it is not enough to tone down the cloying quality on the finish. Find this wine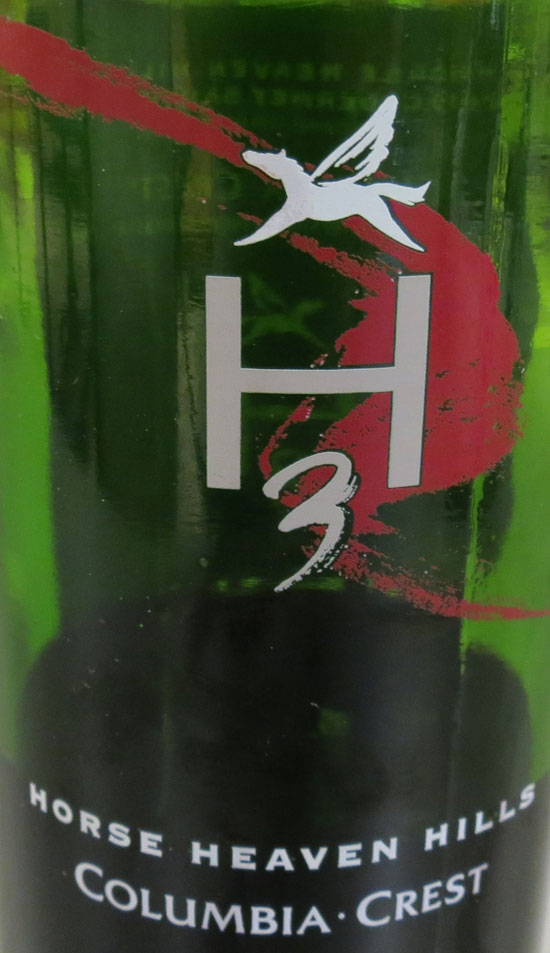 210047 COLUMBIA CREST H3 CABERNET SAUVIGNON 2010 Horse Heaven Hills $19.95
This is a most impressive wine that starts with earthy barnyard aromas that quickly take second place to layers of dark fruit, plum, dark chocolate and mocha. Tasty palate, well balanced, with gentle tannins, the only spoiler being a touch of heat on the finish. Wine of the month. Find this wine
AUSTRALIA
336966 TOURNON MATHILDA VICTORIAN SHIRAZ 2010 Victoria $19.95
A blend of treacle, fig, sour cherry and black pepper on the nose, all coming together on a palate full of lively acidity, black fruit and dark bitter chocolate. Somewhat clumsy now, but has potential to be an interesting wine in the near future. Find this wine
FRANCE
336909 CHÂTEAU LA FLEUR GRANDS LANDES 2010 Montagne Saint-Émilion $17.95
Whiffs of dark berry, leather and espresso grounds, a palate of sweet fruit, gentle tannins and a good core of acidity render this wine simple, pleasing and quaffable. Find this wine

We had the pleasure of once again taking part in the Leelanau Peninsula Vintners Association (LPVA) Media Weekend this past April. It gave us the opportunity to taste with some old friends and new, and also, to spend some quality time with Detroit News wine columnist Sandra Silfven and our buddies Mike Brenton and his wife Deb. The Leelanau Peninsula wine industry has grown such over the last several years that there are now three "wine loop trails," and participants broke out into the Grand Traverse Bay, Northern and Sleeping Bear Loops. Kim, Sandy, Mike, Deb and I were all on the bus that hit Sleeping Bear, and we had a fine day indeed. One of the stops took us to Chateau Fontaine, where we visited with Dan and Lucie Matthies. We always enjoy our visits to this excellent French Road operation, and we've never had anything close to a bad wine from these fine folks.
During my musical road trip to the Traverse/Leelanau region in June, I got to spend some time with Shawn Walters, who makes the wines at Chateau Fontaine, and he sent me home with the three in this report. We had only tasted the 2012 Gruner Veltliner in April, so we had two new wines to try, and plenty of time to spend with all three. Little did Shawn know at the time, one of these, the Pinot Blanc, would score big at the 2013 Michigan Wine Competition, held on August 8, at the Kellogg Hotel & Conference Center in East Lansing. The other two didn't do too shabby either.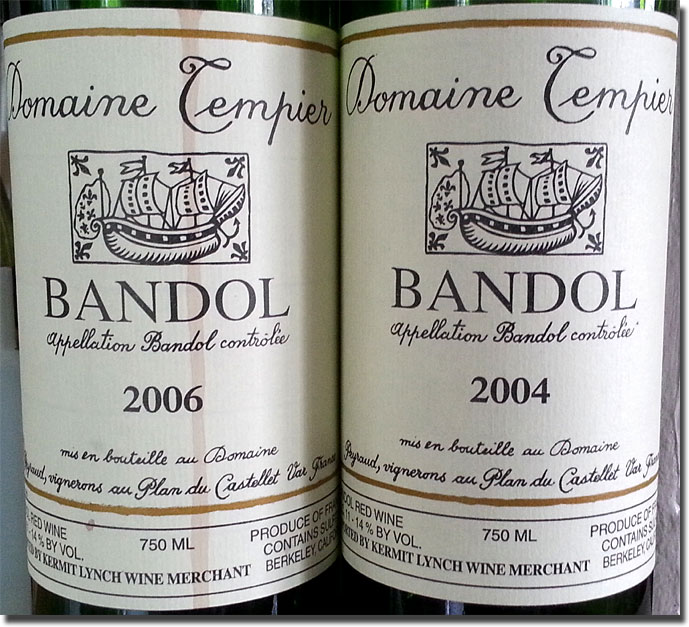 We love Domaine Tempier Bandol at our house. We have for several years now, and as I prepared this report, I did a search on the old site to see if I could find our earliest posting on wines from this iconic estate. Sure enough, it came up right away; the event was Day 3 of our first MO'COOL, in 1997, and the tasting, held at the Polo Fields Country Club, outside of Ann Arbor, was called "The Boys in the Bandol." What I find especially interesting about going back and reading through my notes from that day is that I wasn't exactly thrilled by most of the Bandol wines, Tempier or otherwise; the ringer, the '95 Ridge Pagani Mataro ATP, was the one that blew my hair back. Tells you all you need to know about where my taste buds were at back then, or maybe it says something about the specific wines that were poured that day and where they were at right then and there. (Click on image to enlarge.)
Whatever the case, we developed a serious affection for the Peyraud family's wines over the years, not only through tasting and enjoying them so very much, but also through Kermit Lynch's accounts of his times with them back in the day in his book, "Adventures on the Wine Route," and also Richard Olney's "Lulu's Provencal Table," a cookbook featuring many of family matriarch's wonderful recipes that she prepared for so many gatherings over the years. Read the rest of this entry »

We have always been very transparent regarding the fact that we have no qualms about receiving wine samples for review. We have always been honest with posting our impressions of samples sent to us, and we don't always give good reviews. There have been rare occasions in which we chose not to review samples, because we could find nothing good to say about them, and felt it was better simply to say nothing at all. Usually, however, we can find good attributes in just about anything we review; sometimes, our only reservations are that certain things just aren't made in styles that we favor. Such was the case with two of the three wines we tried from Cantele this summer.
I had seen Cantele wines locally over the past few years, but until we received review samples, had never tasted them, or indeed, knew little about the producer, other than it was an Italian operation. Visiting their website, I discovered that the Cantele family entered the wine trade after World War II, built their own winery in 1979, functioning primarily as a bottler of purchased wines until the 1990s, when they began to acquire vineyards to produce their own wines. A more detailed account can be found here, and it's an interesting read. Today, the Cantele winery produces 2 million bottles annually, including not only indigenous Pugliese grapes like Primitivo and Negroamaro , but also international varieties like Chardonnay, Merlot and Syrah.
We started off our survey with the Salice Salentino Reserva, to see how it compared to some old friends of ours. U.S. price ranges listed are from winesearcher.com. Production data is quoted directly from the Cantele web site.

Read the rest of this entry »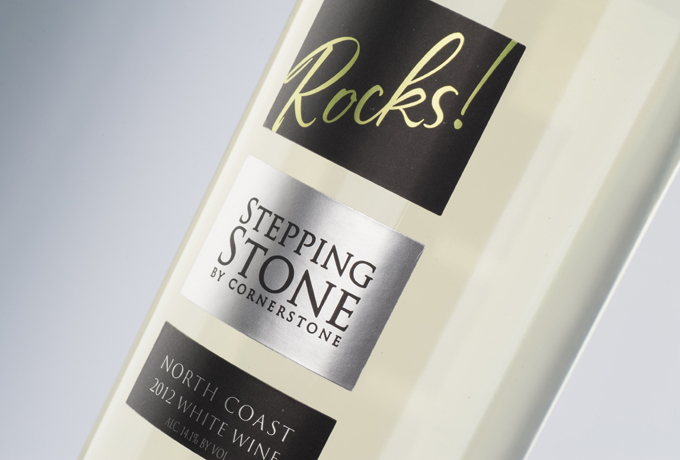 Stepping Stone by Cornerstone Rocks! is Cornerstone Cellars most modestly priced line of wines, and a very interesting one in that it's meant to be less "serious" and more "fun" than their other offerings. Each year, the winemaking team starts with a blank slate, giving them the freedom to find the best varietal blend the vintage gives them to make the best wines they can with what they have to work with. We recently tried the third installment of the Rocks! White and Red, and, true to form, each was a slightly different blend than the previous models.
2012 Stepping Stone by Cornerstone White Rocks! North Coast, 14.1% alc., $18 SRP: Clean, medium color, ever-so-slightly lime tinged; pretty melon and peach flavors and aromas, rich and round. Fruit forward in a pleasant way; ripe, but not overly so. Medium-full bodied, with enough acids to avoid being slightly plump, and if the finish could be a little longer, that's a minor objection. Unabashedly New World in style, without being heavy handed, and while I usually prefer a more mineral driven white, I like this just fine. Chardonnay and Muscat Canelli, 1,087 cases produced. Find this wine
Read the rest of this entry »