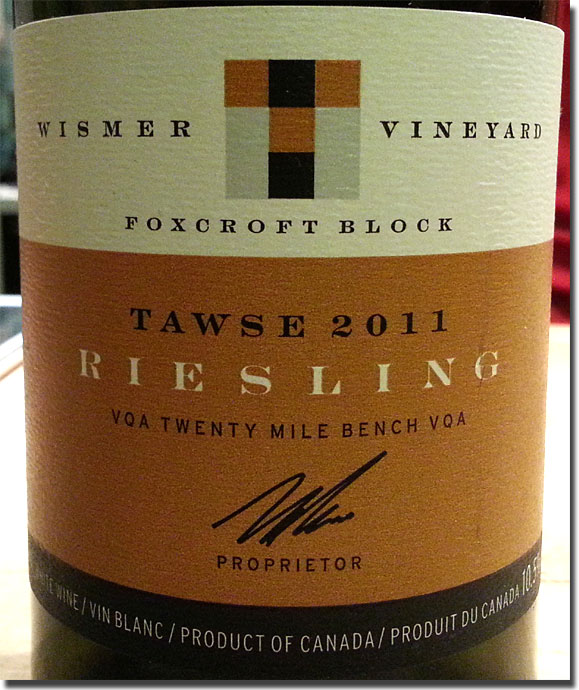 We spent last weekend back on Ontario's Niagara Peninsula, hanging out with our partner in crime, Alan Kerr aka Canadian Zinfan. As you might imagine, there was a lot of good food and wine consumed, and I plan on filing a report in the very near future. The one wine that I simply can't wait to talk about here, however, is the very first that Alan poured for us on Saturday. Tawse Winery, located in Vineland, is on our very short list of favorite Niagara producers, and we never miss the chance to stop in and taste when we're in the neighborhood. Chef Kerr has followed them from the very beginning, and always opens at least one Tawse something or another when we're at Gang Central Niagara. This time, he greeted us with glasses of the following. (Click image to enlarge.)
2011 Tawse Riesling VQA Twenty Mile Bench Wismer Vineyard Foxcroft Block, 10% alc., $24.95 Can.: Clean pale-to-medium color, with a nice note of petrol that drives the aromatics and carries over onto the palate, where it mingles with pure, rich and lovely Riesling fruit, which registers somewhere between off-dry and semi-sweet. Medium bodied, with excellent acids, nice underlying minerality and a long, lingering finish, this is utterly delicious and delightful.
We produce some very fine Riesling here in Michigan, but I've never had one that's as good this; come to think of it, I've had precious few from California this good (only some from Chateau Montelena come to mind), and none from Oregon, Washington or New York, though my experience with the variety from those four states is admittedly somewhat limited. True to our usual m. o., we visited the Tawse facility the day after trying this, and purchased a few bottles to bring back with us; unfortunately, it was the 2012 vintage, as the '11 is sold out. If you're touring Niagara, be sure to stop in and taste the wines. We think you'll be glad you did, and tell them that Gang of Pour sent you. Find this wine
Reporting from Day-twah,
geo t.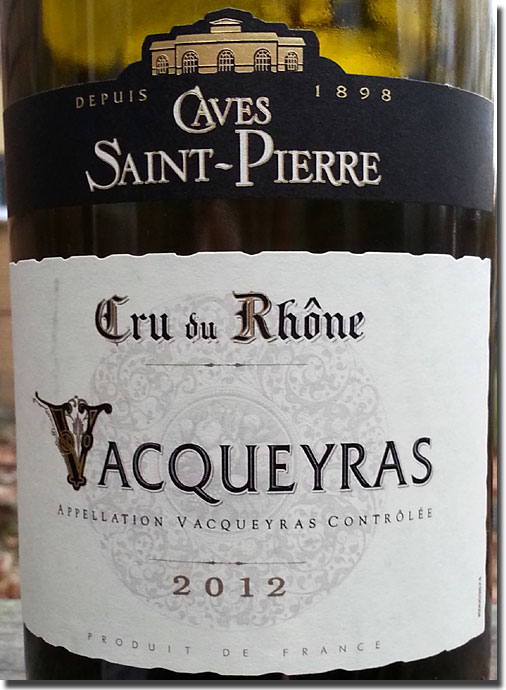 2012 Caves Saint-Pierre Vacqueyras, 11-14% alc., $12.99: I was quite impressed with the 2011 version of this wine when I happened upon it at our local Trader Joe's last spring, so when I saw this one, I didn't hesitate in picking a few up and bringing them home. I'm not sure that this new vintage is the better of the two, but I certainly can testify to the fact that it's the brighter, more immediately accessible. Showing deep, dark color, it offers up nice, earthy black plum, black currant and blackberry on the nose, shaded with a little leather. There's plenty more of the same on the palate, along with a good dose of iron-like minerality. This delivers pleasurable drinking right from the get-go, and gets better as it opens in the glass. Full bodied and structured for several years of cellaring, yet so good already, it's hard to keep hands off. It's a great choice to pair with all the usual culinary suspects, including grilled red meats, especially of the lamb variety, and a good hearty cassoulet, and, bottles we've enjoyed have also made for some excellent Red Wings and Red Rhônes mojo. At $12.99, it's a QPR All Star, to be sure. (Click image to enlarge.) Find this wine
Imported by Latitude Wines, Inc., Danville, CA
Reporting from Day-twah,
geo t.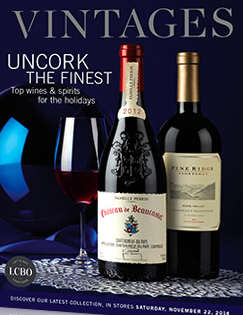 Yet another high end release is on the books for this Saturday's Vintages "Uncork The Finest". This coupled with the amount of snow in the area means it must be Christmas after all. Several good to very good wines, but the board was in a bit of Scrooge mood as they were not as generous with the amount of wines sent for tasting as they were for the last release.
315200 HENRY OF PELHAM CUVÉE CATHARINE CARTE BLANCHE ESTATE BLANC DE BLANC 2009 Traditional Method, Short Hills Bench, Niagara Peninsula, Ontario $44.95
Not presented at the tasting, but having the good fortune to taste this on a recent visit to the winery I can say to anyone wanting to pop a bottle of domestic bubby for the New Year, this will not disappoint. It has all the yeasty, straw and toasty aromas of a fine quality Champagne. The palate is dry, has superb acidity, with plenty of pear, mineral and bready flavours. Find this wine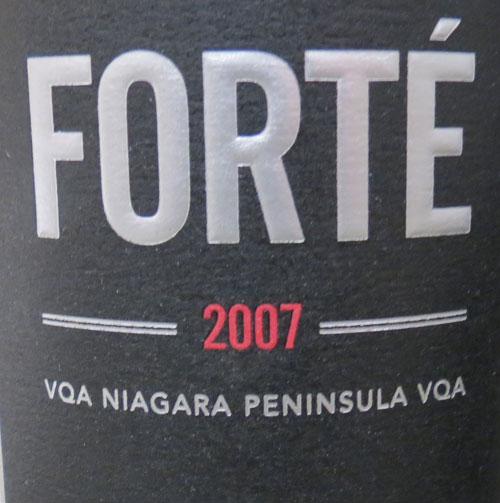 361758 UNION FORTÉ 2007 Niagara Peninsula, Ontario 500 mL $16.95
One of a couple of Port style wines up for grabs and this is really quite tasty. It oozes aromas of sweet plum, black toffee, sweet cherry and apple skin. It is a Tawny style wine made from a blend of Cabernet and Merlot from the region's excellent vintage of 2007. It's chewy on a palate and benefits from the explosion of blueberry fruit, and creamy dark toffee texture. Find this wine
548677 MASI CAMPOLONGO DI TORBE AMARONE DELLA VALPOLICELLA CLASSICO 2007 Veneto, $101.95
Quite lovely, enticing aromas of marzipan, chocolate egg, cardamom, root beer, mocha and cappuccino abound. Quite dense on the palate, great fruit flavours, slightly sweeter than its cousin below, with damson, blackberry and plum, somewhat spicy, finishing with dried blueberry and dusty tannins. Find this wine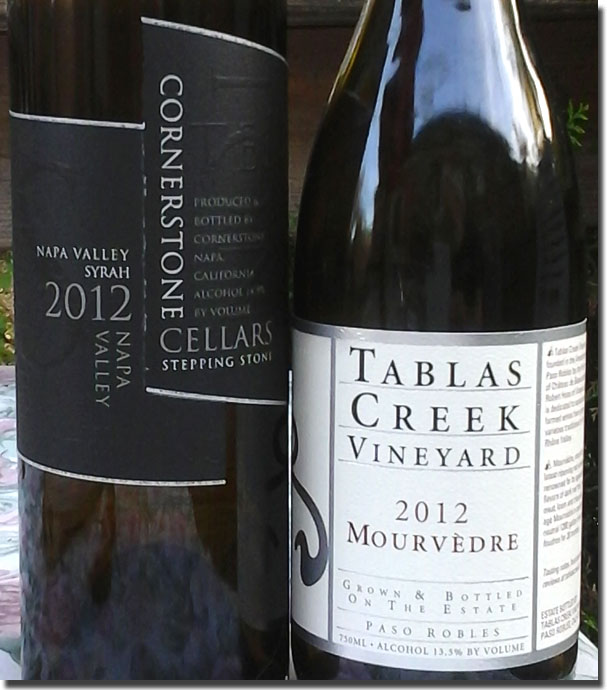 While preparing this report, the following thought occurred to me; man, I've been doing these Red Wings-Red Rhônes for quite a while now! Sure enough, a quick check on the old site shows that our very first RW-RR was posted in October of 1997, 17 years ago. Here is the premise as originally stated at that time: "Come October, this taster's thoughts turn to Red Wings hockey and big red wines from France's Rhone Valley. While I never mind the Wings' season extending into June, as it did this past summer, the same can't be said for the enjoyment of the heavy traditional winemaking styles that are typical of the southern Rhone. There's something almost oppressive about these wines, for me, when consumed between the bookend holidays of Memorial and Labor Days. With the first inkling of autumn, however, a magical change seems to occur, when they regain all of their considerable charm and appeal." (Click image to enlarge.)
Read the rest of this entry »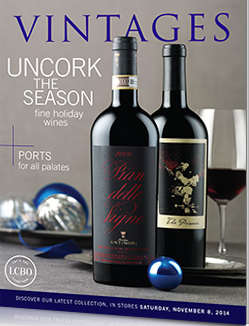 Tis the season to be jolly and Vintages is releasing some of their finest in the annual "Uncork the Season" release. As always there are good wines and not so good wines. Hopefully I can take the guess work out of some of them for you.
A selection of my opinions from the "Uncork" release.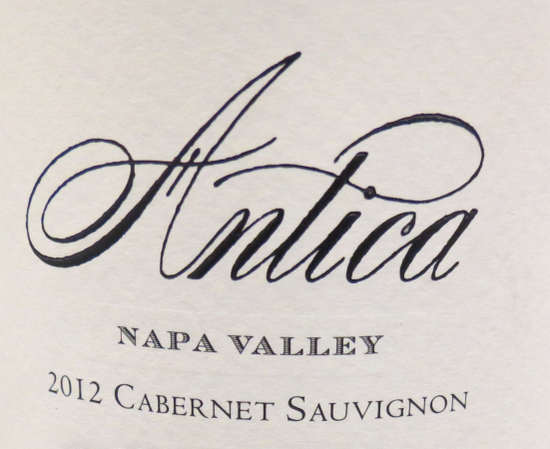 266551 ANTICA CABERNET SAUVIGNON 2012 Atlas Peak District, Napa Valley $53.95
Brimming with bursts of red jelly candy, cocoa, dried blackcurrant, licorice, tree bark, clove, anise and tar with luscious chewy fruit, featuring blueberry, plum and a touch of chocolate, well balanced, but firm tannins suggest time. Find this wine
652883 BELLE GLOS CLARK & TELEPHONE VINEYARD PINOT NOIR 2013 Santa Maria Valley, Santa Barbara County $44.95
Aromas of ripe red fruit, damson, black raspberry, rose petal, creamy cappuccino, Fry's cholate cream and cheap dollar store style sweet licorice. The palate is forceful, punching out blackberry and Asian spice flavours to no end. Great wine, but, fans of silky fined tuned Pinot beware, this is the anti-Christ of Pinots. Find this wine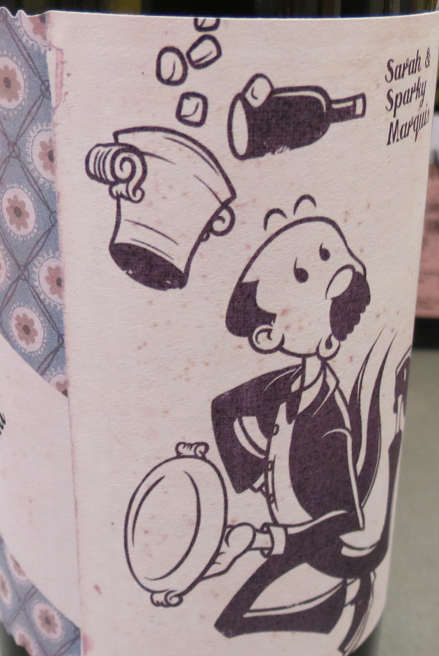 246629 MOLLYDOOKER THE MAITRE D' CABERNET SAUVIGNON 2013 McLaren Vale, South Australia $29.95 $29.95
I must confess to not enjoying Australian wines as much as I used to, but if they were all made like this, I would be a born again Ozzie- ite. This is a monster, but a gentle giant that oozes with aromas of iron, currant, mineral, dusty pine and eucalyptus. Its palate is powerful, but impeccably balanced, boasting flavours of currant, blackberry, Moroccan spice and Mocha. Think this is good; wait until the next release for my notes on its way bigger and brawny brother. Find this wine
104299 THE PRISONER 2012 Napa Valley $49.95
Murky, showing notes of dried leaves, hazelnut, sweet oak and dark red fruit, this vintage is toned down from last year's rendition, but the sweetness and the 15 plus level of alcohol both make their way to the surface . The blend of 46% Zinfandel, 22% Cabernet Sauvignon, 18% Petite Sirah, 12% Syrah, and a small amount of Charbono could be a fun wine to drink, but sadly the palate is globby and chewy with a finish of candy syrup and heat. Find this wine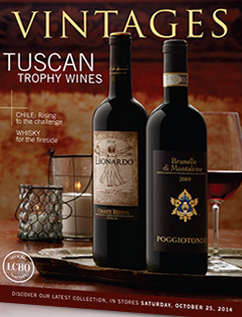 Tuscan wines are the feature this release and I can state there are good quality wines to be found at both ends of the pricing structure. Not too many other wines to report on as little else was sent to sample. There is a Chilean sub release, but my palate was done after tasting these big Tuscan beauts.
378257 BANFI BRUNELLO DI MONTALCINO 2009 $59.95
An enticing nose built of black raspberry, berry, dark caramel, espresso, polished wood and treacle. The palate has other ideas about drinkability though, it is tight, showing a little red fruit, bay leaf, sweet spice and plenty of gripping tannin on the finish. Find this wine
315150 CASTELLO D'ALBOLA RISERVA CHIANTI CLASSICO 2008 $22.95
Some pretty aromas of perfumed black fruit, thyme, cherry, tree bark and cigar leaf; sadly a little lean on the palate, tannins are dusty, but non aggressive. Find this wine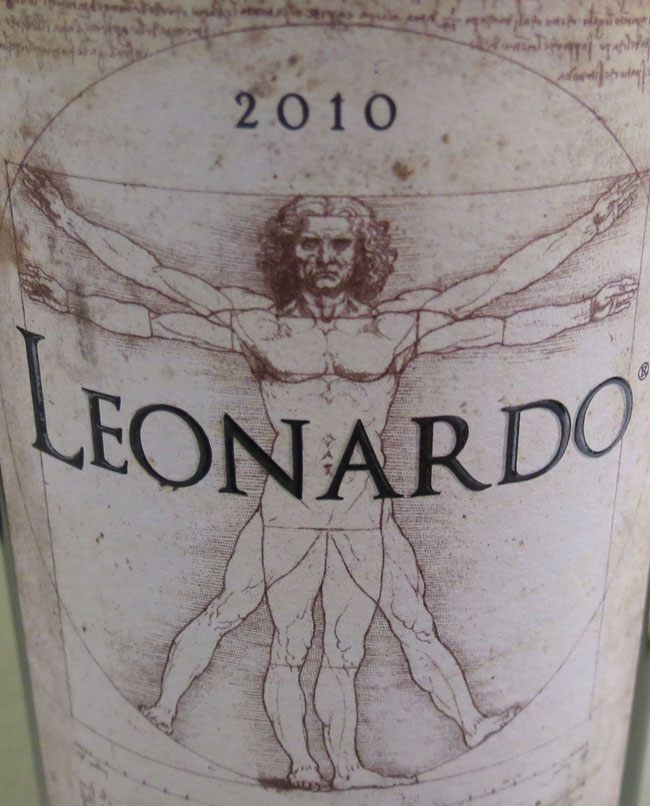 164707 LEONARDO CHIANTI RISERVA 2010 $19.95
Quite intense and stimulating, with a smoky/bacon note backed up with clove, plum, dried fruit and cave air. Fruit on the palate is quite dense showing off dark cherry and plummy flavours that render a decent wine for the price. Find this wine
222810 ROCCA DI CASTAGNOLI CHIANTI CLASSICO 2011 $17.00
A nice perfumed nose with heaps of plum, blackberry, fresh flowers and sweet spice leading to a slightly sweetish palate, but nonetheless, it has good solid dark fruit, gentle tannin and a soft texture. It is a tasty and nicely balanced wine. Find this wine
943670 AVIGNONESI VINO NOBILE DI MONTEPULCIANO 2011 $35.95
Laden with sweet fruit aromas, black cherry and fig take centre stage, but are supported well by notes of cured meat, Asian spice box and black tea. Chewy and ripe, the palate is full of flavours of damson, cherry and chocolate; there are some assertive tannins, but no bitterness whatsoever. Give this a couple of years and it will be a stunner. Find this wine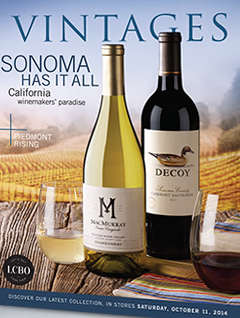 It has been awhile since I was able to get to Vintages pre-release tasting and I was so pumped to attend the latest one, as Sonoma is the feature and wines from my favourite part of California have long held a special place in my heart. There is a secondary release of Piedmontese wines that is another region I have great memories of, and much to my delight, the board sent most of the red wines from both. Please read on.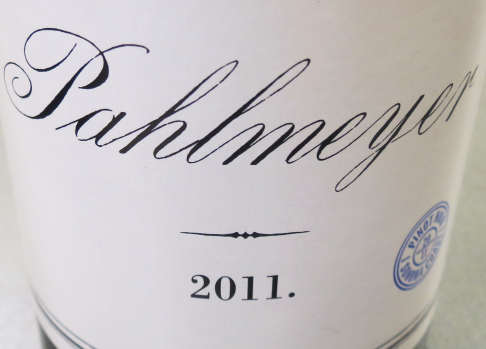 148536 PAHLMEYER PINOT NOIR 2011 Sonoma Coast $100.95
Sonoma Coast produces some of the silkiest and sensational Pinot in Sonoma and this is no exception. It starts out showing plenty of sexy red fruit combined with Dutch licorice, dates, coffee cream and creamy caramel. The palate is laden with plum and dark cherry, and has perfect balance, showing the right amount of sweetness and gentle, but supportive tannins. Find this wine
215210 FLOWERS SONOMA COAST CHARDONNAY 2012 Sonoma Coast $64.95
Beautifully crafted, showing cooler climate traits of Chardonnay, with layer of after layer of guava, citrus, mineral and pear. Oak is deftly administered; the acids are pristine and refreshing, the finish is sublime. Find this wine
982413 RIDGE LYTTON SPRINGS 2012 Dry Creek Valley, Sonoma County $52.95
Dark and deceitful, the noses allures one with aromas of warm brambleberry pie, Fry's chocolate cream bar, blueberry, dried cherry, iron and mineral. All is great, but the fun stops here as the palate is almost backward, dusty and forceful, the fruit is there, but the tannins have serious grip, suggesting cellar time will bring the wonders of this wine onto the playing field. Find this wine
203208 FRANCIS FORD COPPOLA DIRECTOR'S CUT ZINFANDEL 2011 Dry Creek Valley, Sonoma County $32.95
Not being a fan of Coppola's wine I am happy to find pleasing aromas of mocha, tobacco, dark currant, raspberry, underbrush and plenty of peppery spice. It carries a solid fruit laden palate with good acidity and a sound finish. Find this wine

Read the rest of this entry »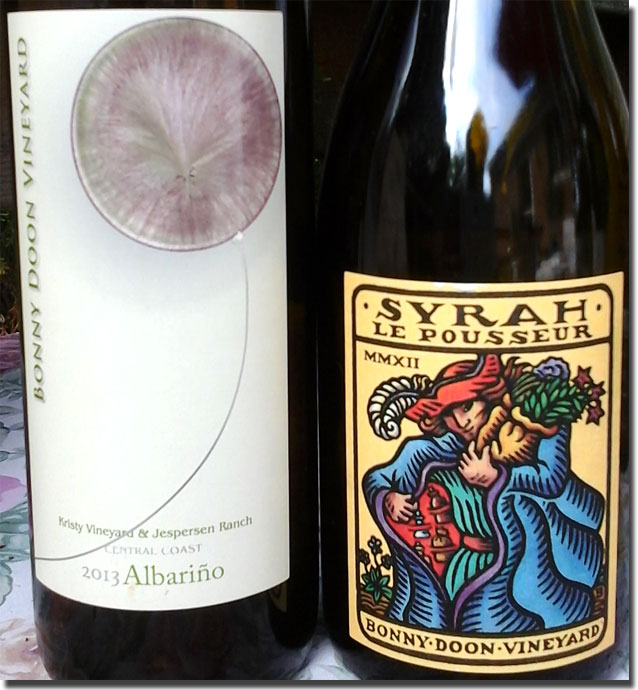 Now that I have a little down time after lots of singing and playing during the summer, I've been going through various folders to try and catch up with posting notes on some damned good wines we've tried over the last few months. For instance, the 2013 Bonny Doon California Vin Gris de Cigare that we reported on in our Six Rosés entry from July was actually from a 6-pack sent for review by Randall Grahm & Co. several months ago. We had other rosés to review, so separating the Vin Gris from the other five seemed like the obvious thing to do at the time, but what about those other Doons?
Well, we got to four of them eventually, but the Vinferno Grenache Blanc was the holdup for this report, because we just never did take the time to check it out. Finally, I said enough is enough. This needed to be resolved in short order, so I took one for the team, twisted off the Stelvin and made it happen last night. Here then are our impressions of those remaining five wines from Bonny Doon's spring release, which were all tasted here during the past three months. (Click images to enlarge.)
Read the rest of this entry »
A while back, I received an email from Christian Lane, the Director of Sales & Marketing at Viluko Vineyards, asking me where he could submit wine samples for review. In all honesty, I'd never heard of Viluko, but we're always willing to try new things, so I passed on the address here at Gang Central and immediately did some research into what this operation was all about.
Viluko Vineyards is located on the Sonoma side of the Mayacamas Mountains, between the Russian River and Sonoma Valleys, with 37 acres of CCOF-Certified organic vineyards planted on a 500 acre estate, with Cabernet Sauvignon, Malbec, Sauvignon Blanc and Chardonnay planted above the fogline at between 600-1,100 feet. The soil is volcanic, mixed with alluvial uplift, and the vineyard temperatures are moderated by cool night air from the Russian River. Viluko was established in 1998 by proprietors Pedro and Karen Arroyo; the winemaker is the seemingly ubiquitous Timothy Milos. The Arroyo's four children are also involved in various aspects of the operation, and there is a strong sense of stewardship of the land with the incorporation of diverse practices of sustainability throughout. (Click image to enlarge.)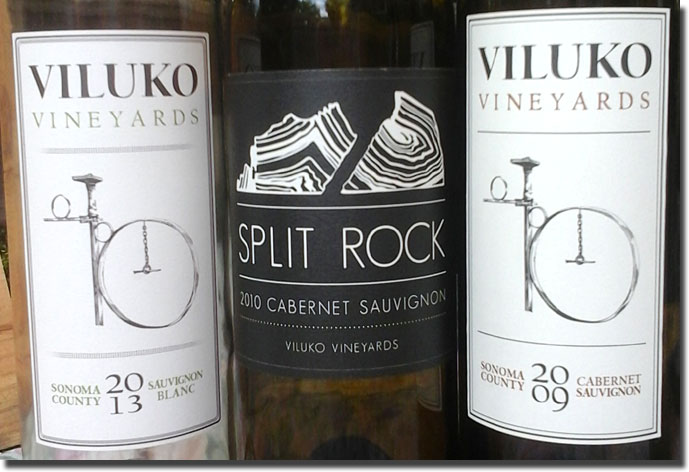 All this looks great on paper, but how are the wines? As has been the case so often lately, we took possession of the samples sent to us and then gave them plenty of time to recover from their cross-country journey. Here are my impressions of what we found in the bottles.
Read the rest of this entry »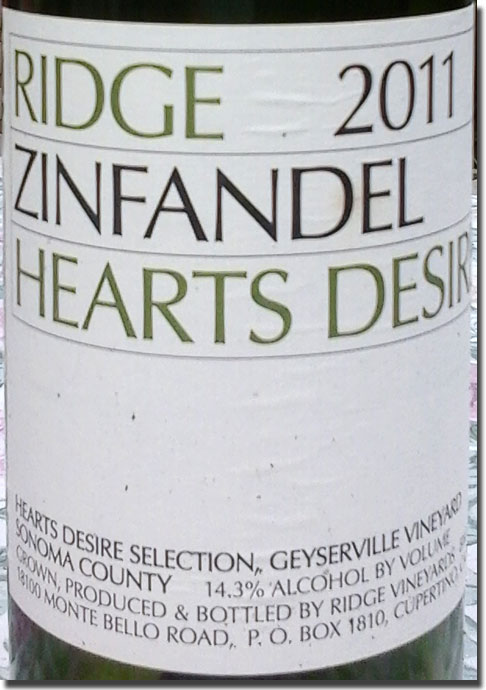 The original title for this blog entry was intended to be "Disaster Wines," since we had two challenging house-related issues descend upon us during the month of August, and I thought it would be fun to do a mini-reprise of our "Wines with Blackout and Other Earthly Delights" spread from several years ago. One of these issues was a loss of power after a powerful thunder storm rumbled through the metro Detroit area, forcing us to spend an evening with only candlelight to navigate our domicile, candlelight that I had to resort to in order to write notes on a lovely 2007 Tawse Cabernet Franc that Alan Kerr aka Canadian Zinfan had gifted to me many months ago. It would have made a cute little piece, but for one slight problem. The dog ate my tasting notes.
OK, so we don't really have a dog, and I don't really know where in the hell those notes on that slip of paper are. Hopefully, they didn't end up in the recycling and will turn up sometime in the near future, at which point, I will pass them on accordingly, because that Cab Franc was delicious.
Since the other wine for my intended feature was a fine Ridge Zin, I decided to go with an excellent Plan B, and focus on three wines we've enjoyed recently from that esteemed producer.
I had a birthday last month. It was probably the worst birthday I've ever had, not because of the particular year that turned over on me, but because of the flood we had in our basement the night before. 6 inches of rain in 4 hours will do that. We spent a good part of my "special day" bagging up ruined belongings and dragging them out to the street, where they would finally be picked up over a week later. Tiring, frustrating drudgery, to be sure, but we did rest up afterwards and go to Royal Oak's wonderful Café Muse for dinner with friends Rod and Hayden Leon and Shar Douglas. Afterwards, we came home and enjoyed this delightful wine, gifted to us by the equally delightful Christina Donley aka "The Donley." (Click images to enlarge.)
Read the rest of this entry »