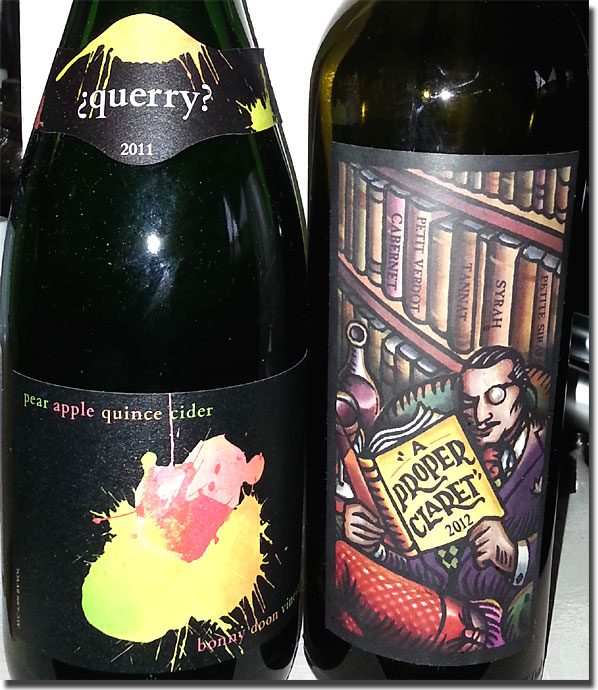 Good things do eventually make their way to the far flung bastions of civilization here in the outer provinces, and, happily, those include many of the offerings from Bonny Doon Vineyards. You can always count on Randall Grahm and crew to come up with something new and interesting, if not downright off-the-wall. We reported on a brilliant Sparkling Albariño last spring, and in this latest group we tried, we were intrigued to find a sparkling cider. That was followed up a few weeks later with another surprise, a mostly Bordeaux blend, composed predominantly of (gasp) Cabernet Sauvignon, never one of Grahm's preferred varieties!
We also tried some of Doon's more usual efforts, and as is almost always the case, we were mucho impressed. I'll start this report with our impressions of the cider and "claret."
2011 Bonny Doon Querry? Pear Apple Quince Cider, 58% pear, 33% apple, 9% quince, 6.9% alc., $14 SRP: Rich, golden color, with a fine, active bead and refreshing effervescence in the mouth. All three fruit components are all recognizable in the flavor profile, but there is a seamless quality to it as well. The percentage of pear in the blend makes this a little less pungent and intense than might probably be the case with a more apple-driven cider, but I like a good perry, so that's fine by me. This one is tons of fun, and I've tried it twice now. Naturally fermented with indigenous yeast and secondarily fermented en bouteille à la méthode champenoise. Pears: Bartlett, Seckel; apples: Pink Pearl, Macintosh, Pippin, Crabs (variety unknown); Pineapple and other unnamed quince. Find this wine
Read the rest of this entry »

The 2013 archive is presented by date the notes were compiled and submitted. Prior year's tasting notes may be found here.
December 24, 2013
2012 Idlewild, Vin Gris Dry Creek Valley:
13.6% abv; light copper color; mostly the bass notes of rosé wine as this is based on syrah (and since I see no regular syrah in their line-up, I assume this is direct press); bright and lively on the palate, some viscosity but nothing cloying, flavors have a sauvage note; mouth-watering finish. $22 retail.  Personally, I prefer lighter and more treble-noted rosés, but the earthy/wild notes here are intriguing and the acidity is clearly in charge overall. That's in my wheelhouse.  (With pupusas and pastillos, it paired well and the acidity kept the rather piquant salsa at bay.) Find this wine
2012 Idlewild, Arneis Fox Hill Vnyd.:
14.2% abv; expansive aromas of lime and flowers; texturally smooth with flavors that echo the nose and bright acidity; good balance and length. As it warms and gets air, everything becomes more intense and focused. A beautiful wine but I can by Giacosa, Arneis for $5 less; that's not a deal breaker because this is so pretty but it does make me think twice. Find this wine
2012 Idlewild, Carignan Testa Vnyd.:
13.2% abv; mulberry and earth scents; tannic and concentrated with flavors like the nose and some bitterness on the finish. While I like the depth and character here, it's a bit disjointed, so back in the decanter and into the cellar for another time. Day two: Find this wine
Aside: I have now tried the Cortese, Dolcetto, Grenache Gris, Carignan, Arneis and Vin Gris (all 2012's, their first year in release) from Idlewild. I am convinced that these wines are worthy of attention; they are geared to food and taste so much better in accompaniment that I think they should be severed at no other time. They have no overt oak flavors; the alcohols are mostly under 14%, the wines rely upon their acids (as would be expected) and they NEED time in the bottle. The price range is $22-$32 per bottle and that seems reasonable based on quality.
In addition, the varieties they are working with lend diversity to my cellar and their production is so small that I am pretty certain that only the owners are involved in the process; and no one looks after their "babies" like the owners.
Today, I will sign-up for their mailing list; it has been a very long time since I have signed-up for any list. Kudos to Sam and Jessica; an auspicious start. Find Idlewild wines
Best,
Jim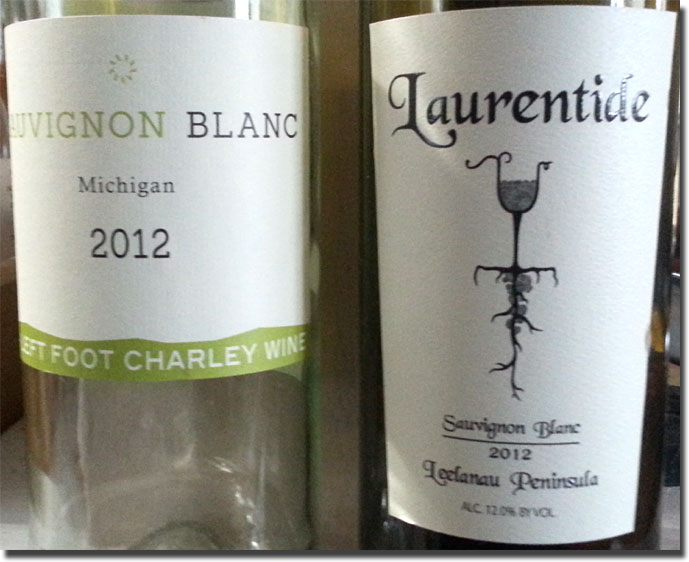 Last April, Kim and I drove up to Traverse City to attend the Leelanau Peninsula Vintners Association Media Weekend. After checking into our hotel, we did what we do whenever we go to TC, and booked straight over to Left Foot Charley Winery and Tasting Room. It's right in town, we don't have to drive to either the Old Mission or Leelanau Peninsulas, and we know we're going to taste some of the best wines in Michigan. As luck would have it on this occasion, owner/winemaker Bryan Ulbrich was in the house; he took us back into the production area, and gave us a taste of several tank and barrel samples. Everything was at least good (some parcels were meant for blending, rather that standing alone, so while not shining on their own, they would make important contributions to their intended greater whole), and then there were things like the then-yet-to-be-bottled 2012 LFC Pinot Blanc, which we could already tell was quite yummy. One of the most intriguing samples that Bryan poured us was a 2012 Sauvignon Blanc, one of the first from Michigan we'd ever tasted as far as I can remember, but as it turned out, by no means the first that has been produced. (I say as far as I can remember, because some years back, Kim and I sat on Joel Goldberg's Michwine.com tasting panel, and I seem to vaguely recall that we tried one or two back then, but I have no notes to verify that.)
The next day, during the LPVA Media Loop Tour, we stopped into the tasting room of one of the newest Leelanau producers, Laurentide, and we got a taste of another Michigan Sauvignon, this one grown right there on French Road, and made by our friend Shannon Walters. That one was from the 2011 vintage, and it caught the attention of everyone in our group. So, the variety was making inroads in the Grand Traverse Bay region, not unlike the upstart plantings of Gruner Veltliner at Chateau Grand Traverse and Chateau Fontaine that we've reported on previously.
Read the rest of this entry »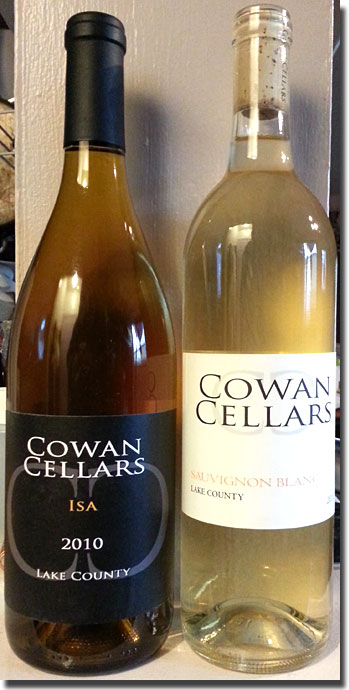 Gang of Pour was created back in 1997 as an offshoot of our involvement in the internet wine community, on such forums as those operated by Wine Spectator, Robin Garr, Brad Harrington and others. Over the years, we got to know many people virtually through said forums, and got to meet many of them in person through "offlines," tasting gatherings in various parts of the US and Canada. Several of the people we met have contributed to Gang of Pour over the years, and one gentleman who still does is "Florida Jim" Cowan. We first met Jim in person back in 2001, during a road trip to North Carolina, and have met up with him on several other occasions since. We found him to be every bit as charming and gracious as his online persona; here's what I said about Jim when we welcomed him as a contributor to our pages in 2010.
It's no exaggeration to describe "Florida" Jim Cowan as one of the most respected and admired commentators in the online wine community. A true gentleman, Jim is the consummate voice of reason, with a common sense view of all things wine-related that resonates strongly with his many friends and readers.
Jim is more than just a commentator, though; he caught the winemaking bug after working in the vineyards and wineries with Russell Bevan, of Bevan Cellars, and Steve Edmunds, of Edmund St. John, during the fall of both 2006 and 2007. He made his first wine in 2007 and has been making wine every year since then, establishing his Cowan Cellars with his wife, Diane Arthur. We first tasted one of Jim's wines in 2009, and while it received mixed reception among the rednecks we drank it with, this taster was most impressed.
A few months ago, Kim and I decided that it was high time to see how Cowan Cellars was coming along, so we ordered up a case. Kim wanted to throw a dinner party featuring some of the wines, and I thought it would be fun to try the two Sauvignon Blancs, the Pinot Noir and the Syrah. In his own words, Jim makes "wines that accompany food well, which is very important because I also love the food that my lovely wife, Diane, prepares for our daily meals – usually vegetarian, and always light yet flavorful." In that regard, Kim contacted Diane and set her menu based on some of her suggestions. We invited three of our best friends in the wine biz to join us, Rebecca Poling, Michelle DeHayes and Anne Keller Klump. We got things started with a very fine Left Coast sparkler that Rebecca brought over.
Read the rest of this entry »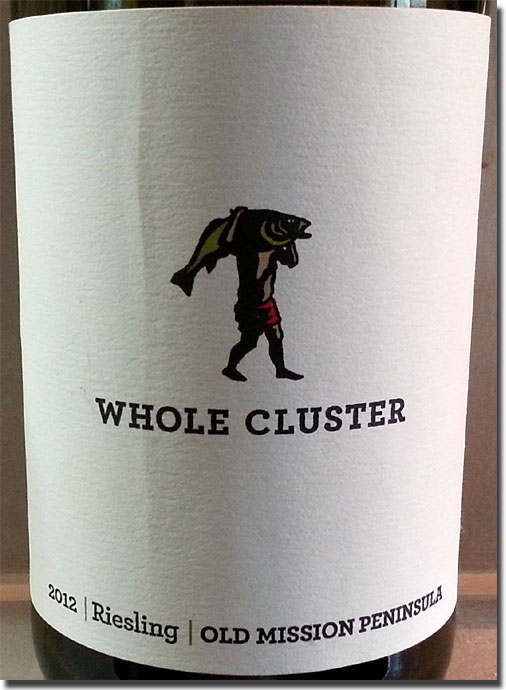 Our good friend and colleague, Alan Kerr aka Canadian Zinfan, contacted me recently and asked if I would procure a bottle of the 2012 Chateau Grand Traverse Old Mission Peninsula Whole Cluster Riesling for him. It seems that he had tried one a few nights prior and was quite impressed with this fine representative of Michigan Riesling, especially at the Costco price of $10.99. I was pleased that Chef Kerr so enjoyed this little gem, as he has no shortage of fine Riesling available to him right in his proverbial back yard on the Niagara Peninsula, and, of course, we've been fans of all of Sean O'Keefe's specialty projects for some years now.
I was happy to honor Alan's request, and was reminded that we've had both the 2012 Whole Cluster and its predecessor in the last few months, and I needed to transcribe my notes and put them online. Both are listed as "medium dry" on the dry-to-sweet scale on the back label. Here are my impressions of each.
Read the rest of this entry »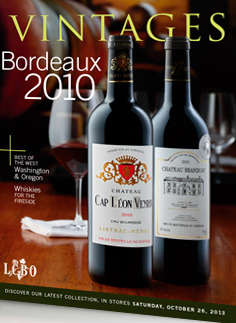 October 26th sees the first of the 2010 Bordeaux wines to come through Vintages. Naturally once again, 2010 is being heralded as one of the greatest vintages from Bordeaux in living memory. Gee, when have I heard that statement before? Given what I was able to taste, there was little that really impressed me. However, those people that read through my notes, hello mum, know there is always one or two wines on the release that warrant the trip to the LCBO on Saturday worthwhile. (click images to enlarge)
641555 CHÂTEAU LAMOTHE DE HAUX 2010 Côtes de Bordeaux $16.95
A bright wine full of blackcurrant, Ribena, Cassis, cherry and cedar with decent structure on the ripe and chewy palate, very new world styled wine, tannins are discernible, but non offensive. Find this wine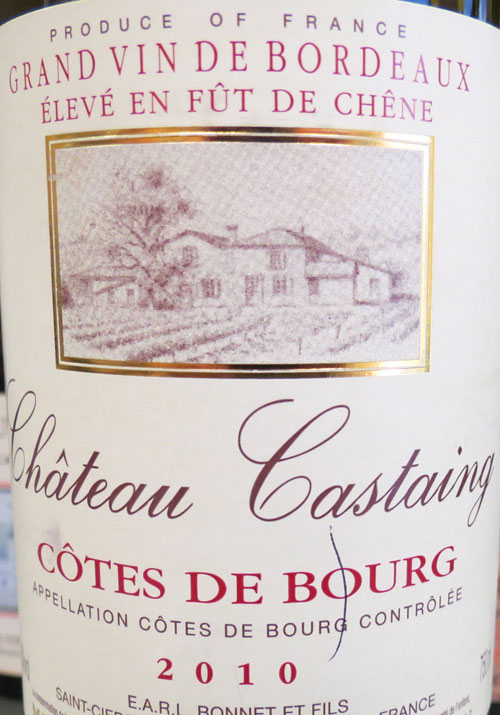 206631 CHÂTEAU CASTAING 2010 Côtes de Bourg $17.95
Dusty, with aromas of dried mushroom, cedar, plum and dried thyme. There is a good core of red and black fruit on the palate, acidity seems low, and some iron and mineral flavours surface on the finish. Find this wine
297945 CHÂTEAU LAROSE TRINTAUDON 2010 Haut-Médoc $26.95
Blending 65% Cabernet Sauvignon and 35% Merlot has created a tasty wine that boasts aromas of hay, dark chocolate, sweet vanilla, blackberry, currant and dried Chinese mushroom. The rich and chewy fruit driven palate is ripe and tasty, a little low in acidity, but nonetheless it finishes long and the tannins are gentle. Find this wine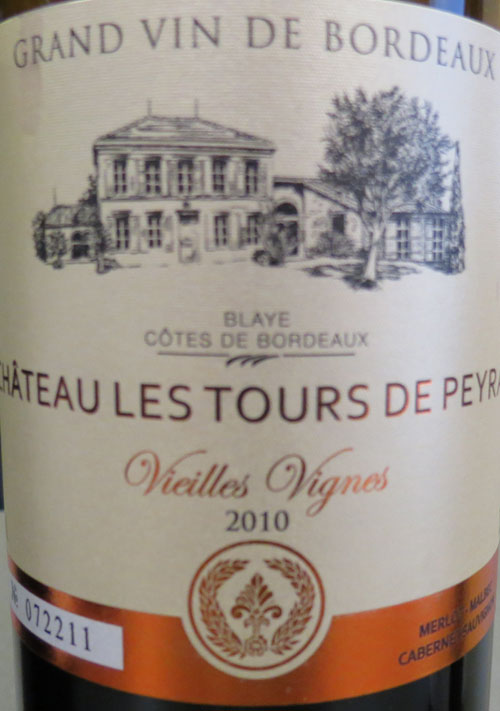 355891 CHÂTEAU LES TOURS DE PEYRAT VIEILLES VIGNES 2010 Côtes de Bordeaux – Blaye $18.95
Mix of blackcurrant, raspberry, mineral and lead pencil lead to a gutsy palate of red berries, big tannins and good acidity. Tasty, albeit tannic, but should only get better with time. Find this wine
199091 CHÂTEAU LACOMBE NOAILLAC 2010 Médoc $18.95
A meaty smoky almost bacon like note gives way to layers of dark fruit, cedar and a whack of oak. Its palate is creamy, showing some nice dark fruit, some sweetness and dusty tannin. Find this wine
171249 CHÂTEAU ROBIN 2010 Lussac-Saint-Émilion $17.95
Closed nose, struggles to show fruit, some earthy aromas come through, palate is thin, finish is lame and overall not a wine worth holding. Find this wine

Today I'm in Traverse City, and I'm really excited to be performing at Left Foot Charley Winery again, from 6-8:30 PM. I've been a big fan of LFC since before the doors of the winery/tasting room were even opened, and I had a great time playing there in June, so I'm really looking forward to doing this again! Fabulous Michigan wine and cider and homegrown Michigan music make a great pairing, so come on out and invite your friends!  I completed a fun interview on WNMC, 90.7 FM. Here's a stream of the interview on WNMC. Kim clipped the very beginning – sorry, and added a second stream of our pledge to the station (it's pledge drive) at the end.  It's a fun listen so she added it.  Hope you enjoy it.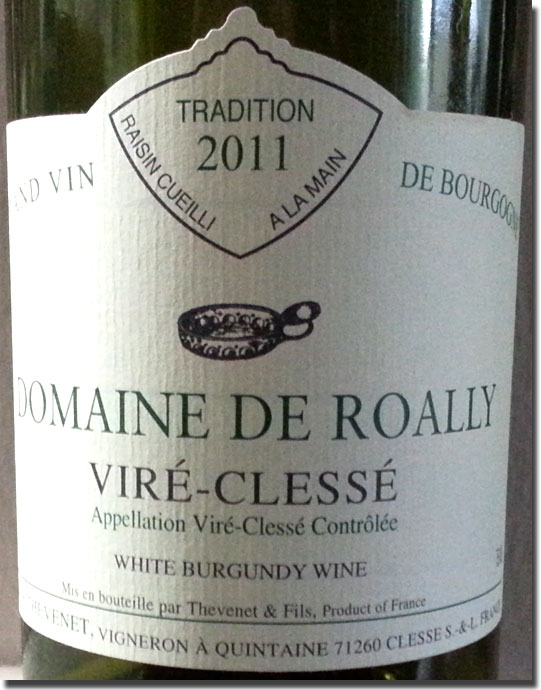 Last week, Kim and I, along with our good friend Ken Hebenstreit, were most pleased to attend a Louis/Dressner tasting at the West Bloomfield Plum Market. We really like what Madeline Triffon MS has done with Plum's wine program, and we've been big fans of the Louis/Dressner for many years. The event also gave us the opportunity to renew acquaintances with LD National Sales Manager Josefa Concannon. I was not really surprised to see that I have at one point or another reviewed every one of the wines being poured. As Josefa remarked, "Yup, these are all our best sellers here in this market."
Every selection was excellent, but after tasting through them all, there was one that really stood out for us, and it was, perhaps surprisingly, a Chardonnay, different vintages of which I've reviewed on at least three previous occasions.
Read the rest of this entry »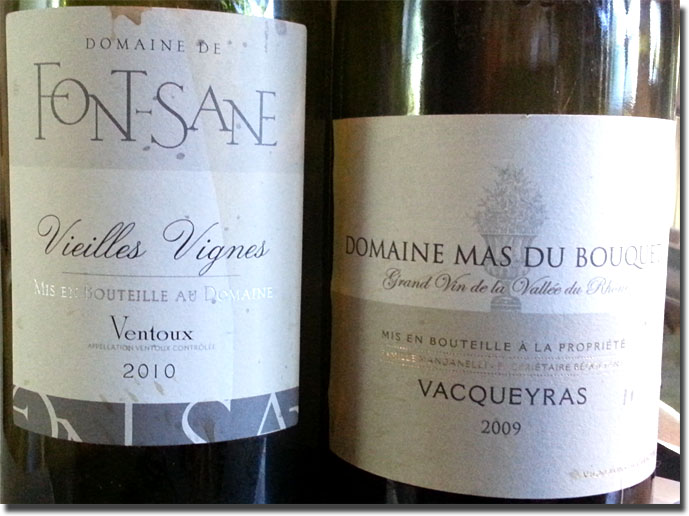 It's no secret that many of our favorite wines come from France's Rhône valley; we enjoy them all year round, winter, spring, summer and fall. I've been compiling various notes on what we've been trying over the past few months in an effort to catch up on my reports, and these six jumped right out at me. They're all really good; some are more ready to drink than others, and a couple of them really want some time. If you see any of them out there, my recommendation is to buy, buy, buy. 'Nuff said; read on, McDuff. (Click images to enlarge.)
2010 Font-Sane Ventoux Vieilles Vignes, 70% Grenache, 30% Syrah, 13.5% alc., $12.99: We've enjoyed this fine producer's Gigondas last June, and also back in 2010, and while this isn't the first time we've had their Ventoux VV, it is the first time I've reviewed it. With clean, dark color, it offers up dog fur and earthy, leathery black fruit that sets the tone for the wine's personality in both flavor and aroma in a way that I find appealing; it also has a slightly sunbaked quality to it that I like. Full bodied and structured for some years in the cellar, this is a solid, more-than-just-serviceable red. Give it some air and it pleases now; give it another three-to-five years in the cellar and it should be even better. Excellent QPR (quality-price-ratio) here. Find this wine
Imported by AHD Vintners, Ltd., Warren, MI
Read the rest of this entry »

It had been a few years since we last tried anything from our stash of Sean Thackrey Orion, so I decided it was time again, and found two opportunities to do so recently. It's hard to find better California reds than Orion, and once in a while, you just have to mine some data points, right? It wasn't a conscious decision to open the same two we tried that last time and see how they'd progressed; I just wanted to open something good, and these are the ones that jumped out at me down in "the cellar from hell."
Kim and I decided to open the '05 one night, just because we could; actually, there may have been a celebration of some kind involved. Whatever the case, it has definitely gone through some changes since 2011. (Click on images to enlarge.)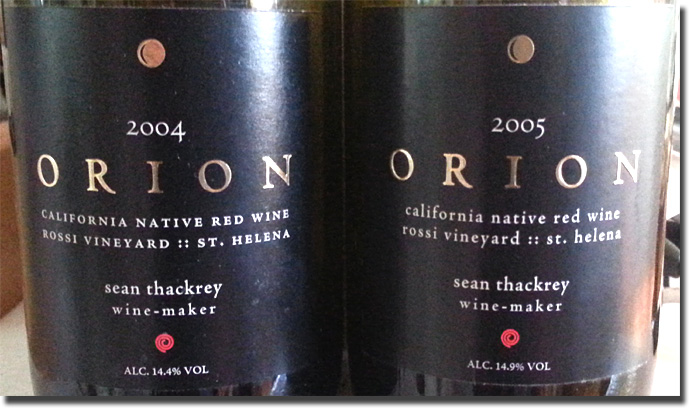 Read the rest of this entry »