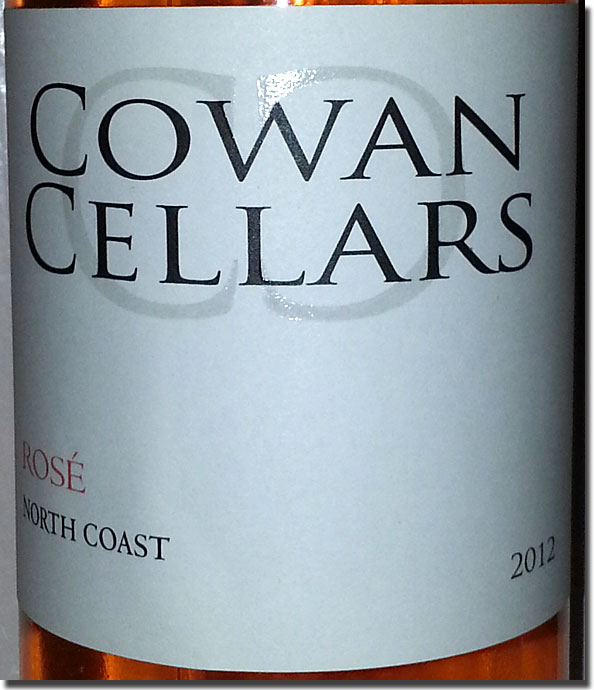 When we had our Cowan Cellars wine dinner back in November, we only tasted four of the six wines that we had purchased from our friends Florida Jim Cowan and Diane Arthur. We took our sweet old time getting around to the other two, and in fact, we still haven't tried the Ribolla Gialla (but we will soon). We did, however, try the rosé just a few nights ago, and we really enjoyed it. Here are my impressions. (Click images to enlarge.)
2012 Cowan Cellars Rosé of Pinot Noir North Coast, 13.9% alc., $15.00: Salmon pink color, not too dark, not too pale; aromas of watermelon and strawberry only hint at the intensity of the mineral-laden flavors. Medium-to-medium full bodied, with excellent acids and very good length. The minerality figures prominently in the wine's personality, playing a nice counterpoint to the rich fruit. This is the kind of rosé I would expect Florida Jim to make, knowing his personal tastes as I do, and it made a nice match for our quasi-Salad Niçoise of arugula and mustard greens, green beans, hard boiled eggs, sliced avocado and tuna. Jim is dead-on about serving this at cellar temperature; I disregarded his recommendation and gave it a good chill, wanting to observe how it changed in the glass, and I can report that as I sipped a glass slowly, it became considerably more expressive after 30 minutes in the glass. Comprised of saignée (bleedings) from several prestigious vineyards of Pinot Noir in the Sonoma Coast area of Sonoma County; partially fermented in open bins and part in 8 year old French oak; then combined and stored in tank for 6 months where it went through malolactic fermentation. Bravo, Jim Cowan! Find this wine
We've also sampled five other fine rosés over the last several weeks, from four of our favorite producers. I'll say it again, rosés aren't just warm weather quaffers at our house; we drink and enjoy them throughout the year. Here are my impressions of four domestics and one from the old world.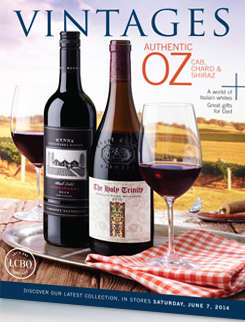 Australia is the principal feature of the June 7th release. I must confess to not buying a lot from down under recently, but there are a couple of tasty treats to be found.
675223 KILIKANOON KILLERMAN'S RUN CABERNET SAUVIGNON 2012 Clare Valley, South Australia $19.95
A little tight at first, but eventually it releases some dark fruit, cassis and mocha aromas, palate is tight too, but as it opens it leans towards being rather one dimensional focusing on currant and dark fruit. Find this wine
084996 WYNNS COONAWARRA ESTATE BLACK LABEL CABERNET SAUVIGNON 2010 Coonawarra, South Australia $27.95
Back in the days before the LCBO slapped their ridiculously high "Provincial Liquor fee" tariff on wines brought across the border, I used to buy this wine at Century Liquor in Rochester New York for about six bucks a bottle and I would bring back a case at a time paying a pittance on duties at the border. That was a while ago and the price has obviously increased since then, in fact it is now about $35.00 south of the border, making the asking price in the LCBO a great deal. It is so focused, the solid core of blackcurrant, polished leather, mint, eucalyptus and freshly ground black pepper is amazing. A big lift on the palate, laden with blackcurrant, cedar, chalky tannins, but well balanced, clean acidity and a long fruit focused finish. Find this wine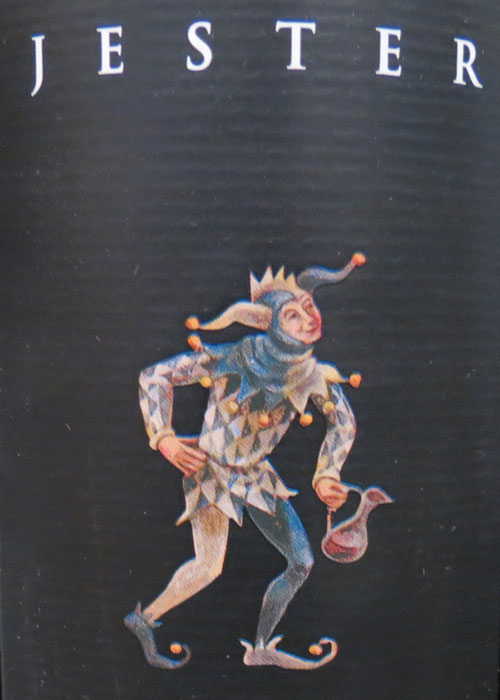 043224 MITOLO JESTER CABERNET SAUVIGNON 2012 McLaren Vale, South Australia $22.95
Quite stellar aromas of wet earth, chalk, leather, mineral and layers of dried dark fruits, lovely mix of currant and dark cherry on the palate, mixing nicely with milk chocolate, black raspberry to a finish with good length and structure. Find this wine
327395 DOMAINE TOURNON MATHILDA SHIRAZ 2011 Victoria $19.95
Black toffee, cedar, dried mushroom, tomato, bay leaf and red fruit roll up, a little chunky on the palate, lots of red fruit and a candy like sweetness on the finish. Another 94 point wine from Mr. P, so this will sell quickly. Find this wine
367425 HASELGROVE FIRST CUT SHIRAZ 2010 McLaren Vale, South Australia $18.95
Dusty and earthy, with layers of sweet dark fruit, vanilla, its palate has a sweet syrupy texture, there is plenty of acidity to balance, but it remains little jammy on the finish. Find this wine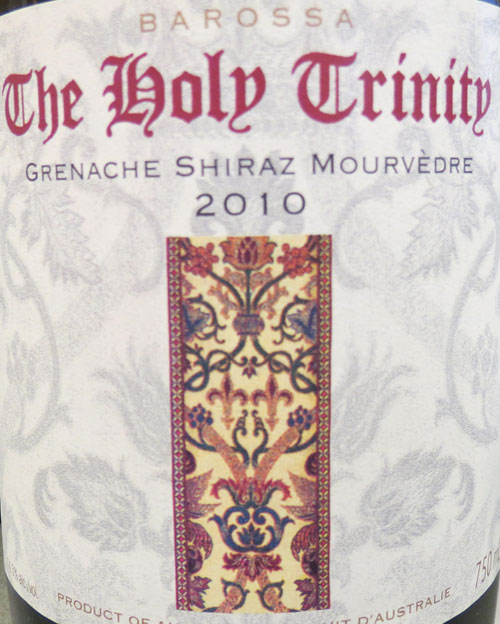 236257 GRANT BURGE THE HOLY TRINITY GRENACHE/SHIRAZ/MOURVÈDRE 2010 Barossa, South Australia $29.95
Tree bark, forest floor, pure velvety black fruit lead to a palate that is viscous, has tingly red currant flavours bound with caramel, Asian spice and red licorice. Find this wine
290874 DOMAINE TERLATO & CHAPOUTIER LIEU DIT MALAKOFF SHIRAZ 2011 Pyrenees, Victoria $55.95
Funky and full of such oddities as damp soil, coconut shell, wet fur, shitake mushroom, rosemary, thyme, barnyard straw and mocha and a little dark fruit. Structurally, the palate is lean and surprisingly light, showing cherry and plum that disappears quickly on the finish. Robert P bestowed 95 points to this wine, maybe I am missing something, but I tasted twice with similar notes. Find this wine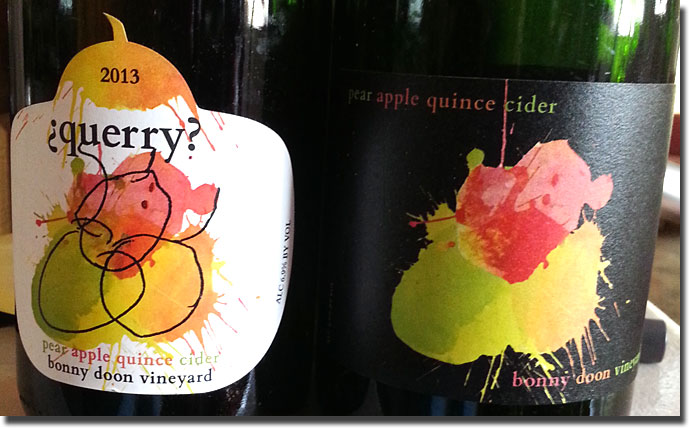 As reported last January, we were quite fond of Bonny Doon's 2011 ¿Querry? Pear Apple Quince Cider when we tried it, so when we got our hands on their new 2013 version, we were geeked to have a go at that one too. It was produced in a different manner than the previous model, as explained by Randall Grahm: "The production technique has changed slightly since the last (2011) bottling, which derived its carbonation from bottle conditioning. This time we've gone with a less labor-intensive methodology, (i.e. bottling @ 30° F. and saturating w/ CO2), enabling us to offer the new vintage at a more accessible price." The '11 was produced with secondary fermentation in bottle, à la méthode champenoise. (Click image to enlarge.)
I figured that since the 2011 is still available here in the Detroit area, it might be fun and instructive to try them side-by-side, which, as it turns out, put the '13 at something of a disadvantage.
Read the rest of this entry »
A few months ago, our friends at Napa Valley's Cornerstone Cellars sent out a three-year vertical of their Sauvignon Blanc to selected critics, reviewers and old folksingers. The idea was to demonstrate just how well these age and develop. We had already reviewed the 2009 back around the time of its release, and had quite liked it then, so, of course, I was very interested to see not only how it had fared in the intervening time, but how it compared to the two succeeding vintages.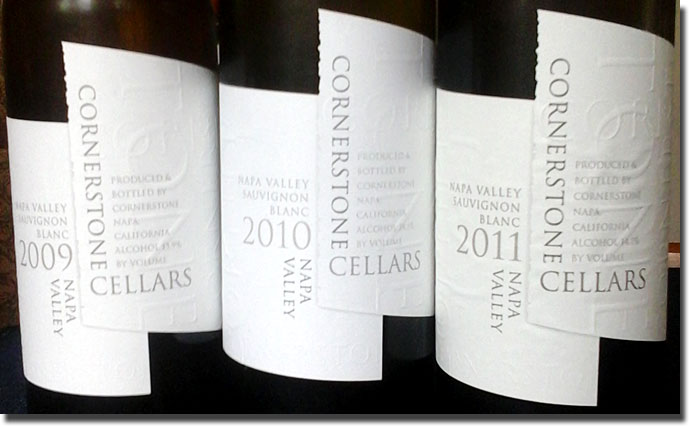 Read the rest of this entry »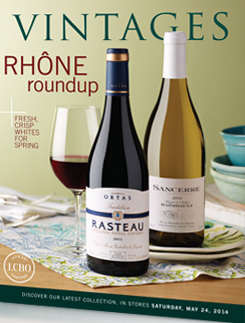 Fans of wines from the Cotes Du Rhone will be very happy on May 24th especially folks, like myself, that love great quality wines at reasonable prices. The board sent most of the red wines slotted for the release, made me happy, so read on, free up your credit cards and head to the store because you won't be disappointed.
370189 CHÂTEAU SAINT ESTÈVE D'UCHAUX MASSIF D'UCHAUX CÔTES DU RHONE VILLAGES $18.95
A beautiful nose laden with Christmas cake spice, coal dust and smoke, backed up with dark cherry, dark fruit and treacle. Super silky blueberry fruit and dried strawberry on the palate, very good concentration and good length on the finish. Find this wine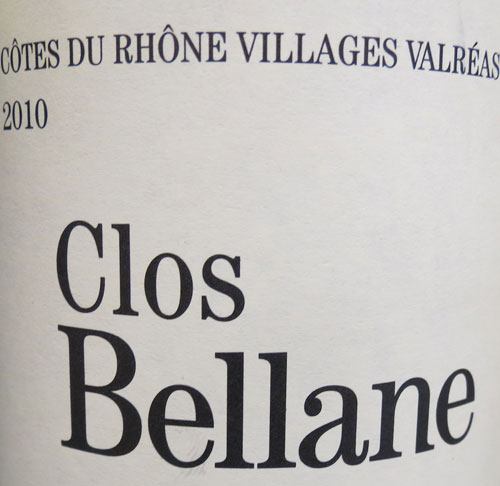 374991 CLOS BELLANE CÔTES DU RHÔNE-VILLAGES VALRÉAS 2010 $19.95
An interesting blend of cedar, smoked meat, Nori and dried cherry, showing super fruit flavours of redcurrant, raspberry and blackberry on the palate all bound with milky chocolate and clean acidity. Find this wine
374983 DOMAINE COURTOIS LA GRANGE VINSOBRES 2011 $20.95
Heady aromas of black raspberry, sweet smoke, Asian spice and a whiff of mandarin peel, solid structure on the palate featuring damson and plum, black tea and a hefty layer of bitter chocolate tannin. A wine soon to be very good, but needs a little time to do so. Find this wine
374280 DOMAINE DE LA VALÉRIANE VIEILLES VIGNES CÔTES DU RHÔNE 2012 $17.95
Very ripe, projecting aromas of tar, blueberry, black pepper grounds, dried mushroom and briar, quite smooth and round on the palate showing black cherry and currant flavours controlled by a gentle layer of tannin. Find this wine
I had the great pleasure of playing music again at Left Foot Charley Winery a few weeks ago. It's always a treat for me to play at any of our fine Michigan wineries, tasting rooms and breweries, but LFC is special for me, because we've followed their progress from the very beginning and we're big fans of their wines and ciders. It was a good night of music and a great night for trying different LFC wines. I strayed from my usual choice, the Island View Pinot Blanc, opting instead for the 2012 Dry Riesling, a glass of which I nursed over my two set performance. I didn't manage to record any impressions, other than the fact that it's a delicious example of just how good Michigan Riesling can be.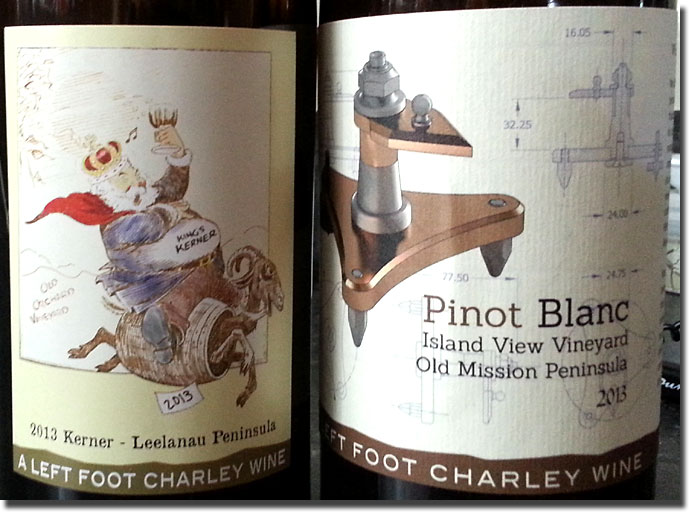 A few months before this, LFC announced on their Facebook page that there wouldn't be a lot of the Island View Pinot Blanc to go around this vintage, and that the savvy customer would be wise to take advantage of a six-pack pre-order priced at $18 per bottle, which I jumped on immediately. The fine folks in the tasting room held it for me to pick up at the gig, and, of course, we tried one as soon as we got back home. Here's what we found.
Read the rest of this entry »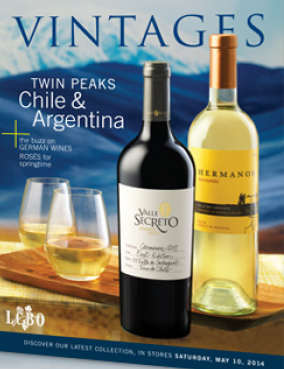 I do not have a lot to report on for this release. Believe it or not, my notes on the wines of Chile and Argentina, the feature of the release for May 10th, are M.I.A. While driving home from the tasting, the weather cleared and the sun came out. Thus I opened my windows and instantly my notes started to fly around the car and by the time I reacted, a couple of pages exited my vehicle and by now are in tatters somewhere on Highway 401. Therefore, here are the notes from the rest of the release.
145920 MARCHESI DE' FRESCOBALDI TENUTA DI CASTIGLIONI 2011 Tuscany $21.95
An inky enticing blend of moss, black licorice, treacle and blackberry aromas with an initial firm structure of tannin on the palate, but black cherry, currant and sweet blueberry flavours shine through. Perfect acidity, well balanced, just needs time. Find this wine
326710 LIRICA PRIMITIVO DI MANDURIA 2007, Puglia $18.95
Dark chocolate infused with black raspberry with a touch of mocha, pressed flowers and black pepper. Lovely flavourful palate, showing bright and fleshy flavours of blackberry, raspberry, lavender, cake spice and mellow tannins. A pleasing touch of sweetness on the finish along with a medicinal candy note, plus this wine is from the 2007 vintages, which indicates some bottle aging, rendering this very drinkable now. Find this wine
317313 CASALE DELLO SPARVIERO CHIANTI CLASSICO RISERVA 2010, Tuscany $19.95
Lots of aromas featuring dried cherry, underbrush, coffee grounds, prune and dark bitter chocolate lead to a mostly fruit focused palate of blackberry, damson, cherry and currant. Simple clean finish, balanced acids and minimal tannins. Find this wine
166512 VALDEMAR INSPIRACIÓN SELECCIÓN 2010, Rioja $17.00
I enjoy writing about a wine costing $17.00 that offers so much drinking pleasure at such a young age, but that also has potential to get even better with a couple of years in slumber. A dark fruit focused wine displaying great depth of black currant, black cherry, Dutch salty licorice and ground pepper. The palate hits with a whack of Ribena, dark chocolate infused with cherry liqueur, perfect acidity with a blackcurrant focused finish enhanced with mineral. Find this wine
287961 OSCAR'S ESTATE VINEYARD SHIRAZ/VIOGNIER 2011 Barossa Valley, South Australia $17.95
Sawdust, wet earth, violets, blackcurrant, Middle Eastern sweet spice and milk chocolate. Its palate is solid with plenty of dark fruit, a touch of tamarind, clean acidity and gentle tannins. Find this wine
097220 TORBRECK THE STEADING 2009 Barossa Valley, South Australia $53.95
A bit of a clumsy powerhouse right now, its nose is almost Port like, brimming with dark chocolate, blueberry, tar and candy floss. There is lively acidity, it is laden with chunky dark fruit, sweet toffee and has a finish of Fry's chocolate cream. Tannins are silky, but solid, however, this will be quite the wine given time, but nonetheless it's tasty albeit disjointed right now. Find this wine
948992 HEDGES CELLARS CMS 2011 Columbia Valley, Washington $19.95
A blend of Cabernet Sauvignon, Merlot and Syrah boasting aromas of dark fruit, chocolate covered raisins, Coffee Crisp candy bar, bacon/smoked meat and wet soil. It is a meaty wine, well balanced; the dark fruit shows well, a touch of pepper and spice lead to a clean and well balanced finish. Find this wine
951889 IRONSTONE OLD VINE ZINFANDEL 2012 Lodi $17.00
I like the crushed blackberry, blueberry, sweet cherry, black tea, lavender and linalool aromas. It is highly extracted, but no excessive heat, solid dark fruit flavours, some peppery spice, dusty blueberry, bubble gum and dried raspberry. Find this wine
186171 DECOY CABERNET SAUVIGNON 2012 Sonoma County $33.95
Duckhorn's second wine displays lots of dusty warm dark fruit, a little nutshell and plenty of mineral notes on the nose. A solid palate, with currant and raspberry, nice clean acidity, dusty chocolate tannins and spicy finish. Find this wine
That's it!
Cheers
CZ
My first experience with the wines of Chateau Virgile, located in Costiere de Nimes, was back in the spring of 2009, when I tasted that estate's white from the 2006 vintage with the US importer, Patrick Allen, of United Estates Wine Imports, Ltd. We liked it so well that we blew through all we could find in short order, and didn't get a chance to try anything else from them until September of 2010, when I happened upon their 2008 rosé; it was good, but not as good as the blanc, so we didn't buy as much, and didn't give it any more thought until I ran into Patrick again, this time, at a Rhône trade tasting put on by our friends at AHD Vintners this past February.
Patrick is every bit as affable and informative as he was five years ago, and once again, everything from his portfolio that he was pouring was excellent. The two from Virgile were the ones that really caught my attention, both for their tasty demeanor and their excellent QPR (Quality-Price-Ratio). We liked them so much, that we picked up a half-case of each. Here are my impressions of each, starting with the 2012 rosé, which I'm pleased to report is much more to our liking that the '08 model.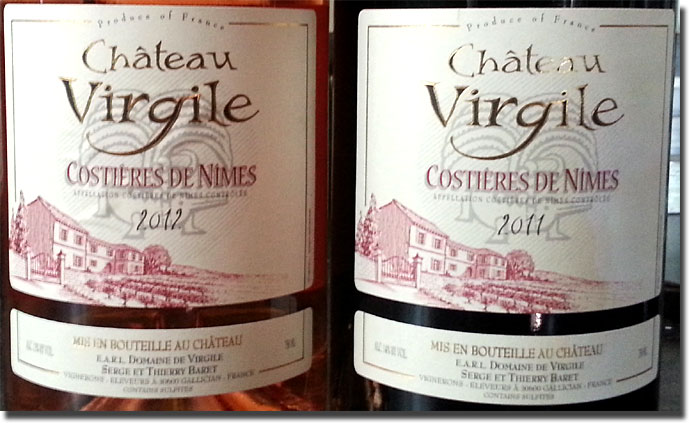 Read the rest of this entry »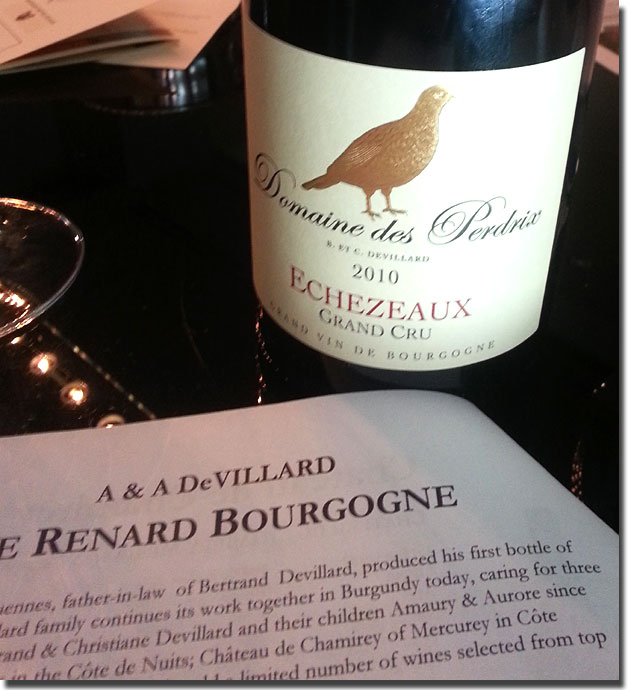 Recently, we had the pleasure of attending an intimate "Happy Hour" tasting of red and white Burgundies, courtesy of our friends at AHD Vintners. The tasting took place in a side room at Michael Symon's Roast restaurant, in the Westin Book Cadillac Detroit. The wines featured were from the portfolio of Domaine Devillard, which owns and operates, among others, Château De Chamirey and Domaine des Perdrix. At one time, these two estates were imported by Frederick Wildman and Sons, but when the Devillards sold their interests in two other Burgundy producers, Domaine Jacques Prieur and Antonin Rodet, they parted ways with Wildman. The folks at AHD are thrilled to now have these wines in their book, and when Cédric Ducoté of Domaine Devillard (shown on the left in the picture below, along with AHD's Michelle DeHayes and head honcho Anthony "Chip" Delsener) came to town to promote them, it proved to be an irresistible opportunity to try some wines that haven't been in the state since about 2009, except for older vintages. (Click on images to enlarge.)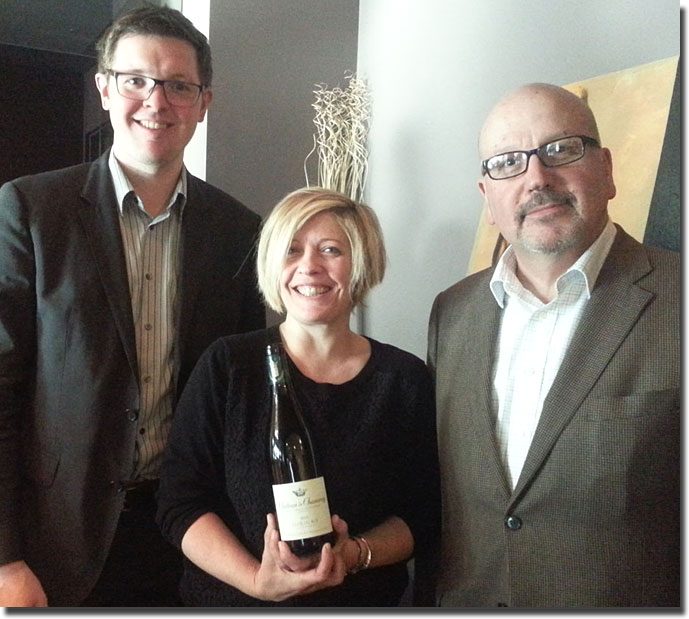 We tasted through seven wines, which ranged from very good to excellent. Burgundy may not be one of my strengths, but I certainly know fine wines when I taste them, I know what I like and these are all quite enjoyable. Here are my snapshot impressions. Prices listed are based on standard markups on the wholesale pricing in this market.
Read the rest of this entry »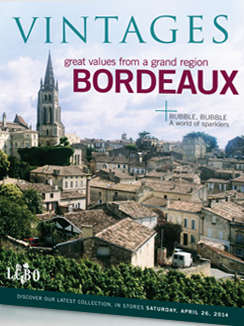 April 26th release showcases wines from several of the lesser known regions within the vast area known as Bordeaux. In great vintages wines from these regions usually offer the consumer very good quality wines at a fraction of the price of their more affluent neighbours.
Most of the wines in this release are from the 2010 vintage along with a couple from 2009. Both were heralded and highly touted and to quote Mr. Robert P who declared "It is an inescapable truth that 2010 has produced another year of compelling Bordeaux that will go down as a prodigious vintage alongside of 2009."
Sadly it looks like the LCBO left it to the last minute to shop and got the dregs of what was left over from their suppliers. Many of the wines are overly ripe and extracted; full of aggressive tannins, high levels of acidity and oak, it was tough to taste through them. I fully expect young wines to have ample tannins to survive time away in the cellar, but the levels of tannin in some of these wines is in excess of the norm.
307363 CHÂTEAU LE GRAND MOULIN GRANDE RÉSERVE 2010 Blaye – Côtes de Bordeaux $16.95
Bright aromas of plum, cherry and currant, backed with whiffs of cinnamon and toasty oak, the dark cherry flavour hits the palate, and all is good until a whopping veil of tannin comes along and shuts down the fun. It is astringent, tight and really shut down. Find this wine
368159 CHÂTEAU LAMARTINE 2010 Castillon – Côtes de Bordeaux $16.95
A wine of 85% Merlot and 15% Cabernet Sauvignon, exhibiting enjoyable aromas of earth, lead pencil, sweet spice, blackberry and cherry. The texture is rich and ripe, but not over the top, its fruit is focused on plum, black raspberry and currant flavours, oak aging is deftly performed and the acids are in fine tune. Find this wine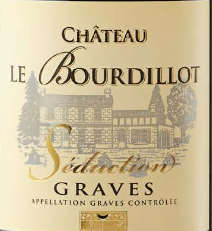 365908 CHÂTEAU LE BOURDILLOT SÉDUCTION 2009 Graves $18.95
This starts nicely with gratifying aromas of red raspberry and sweet cherry mixed with forest floor and mineral. The palate however loses its seductive charm, the fruit is thin and the finish is short. Find this wine
365882 CHÂTEAU DE MONBADON 2010 Castillon – Côtes de Bordeaux $18.95
A wine showing pure black fruit, dried cherry, cherry cola and forest floor aromas. It has good structure, there is some sweet oak, but the battle between fruit, tannin and oak is evident, hopefully a couple of years in a cellar may bring out its good side. Find this wine
374264 CHÂTEAU VIEILLE DYNASTIE 2011 Lalande-de-Pomerol $25.95
Very ripe, full of dark fruit, cherry cola with underlying aromas of cedar/balsa, smoked meat and tar. It teases the palate with dollops of blackberry and strawberry, the acids are clean and tannins while powerful, are dusty and tea like. Find this wine