A while back, I received an email from Christian Lane, the Director of Sales & Marketing at Viluko Vineyards, asking me where he could submit wine samples for review. In all honesty, I'd never heard of Viluko, but we're always willing to try new things, so I passed on the address here at Gang Central and immediately did some research into what this operation was all about.
Viluko Vineyards is located on the Sonoma side of the Mayacamas Mountains, between the Russian River and Sonoma Valleys, with 37 acres of CCOF-Certified organic vineyards planted on a 500 acre estate, with Cabernet Sauvignon, Malbec, Sauvignon Blanc and Chardonnay planted above the fogline at between 600-1,100 feet. The soil is volcanic, mixed with alluvial uplift, and the vineyard temperatures are moderated by cool night air from the Russian River. Viluko was established in 1998 by proprietors Pedro and Karen Arroyo; the winemaker is the seemingly ubiquitous Timothy Milos. The Arroyo's four children are also involved in various aspects of the operation, and there is a strong sense of stewardship of the land with the incorporation of diverse practices of sustainability throughout. (Click image to enlarge.)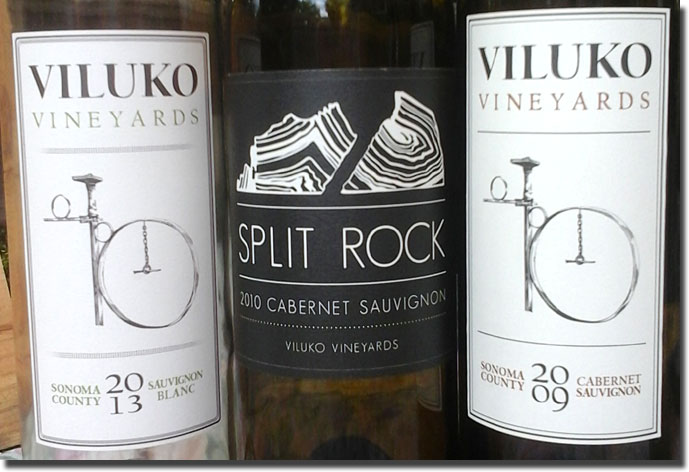 All this looks great on paper, but how are the wines? As has been the case so often lately, we took possession of the samples sent to us and then gave them plenty of time to recover from their cross-country journey. Here are my impressions of what we found in the bottles.
Read the rest of this entry »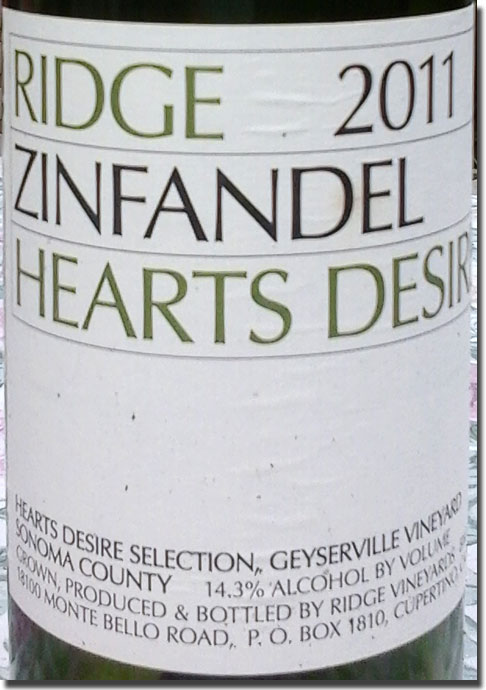 The original title for this blog entry was intended to be "Disaster Wines," since we had two challenging house-related issues descend upon us during the month of August, and I thought it would be fun to do a mini-reprise of our "Wines with Blackout and Other Earthly Delights" spread from several years ago. One of these issues was a loss of power after a powerful thunder storm rumbled through the metro Detroit area, forcing us to spend an evening with only candlelight to navigate our domicile, candlelight that I had to resort to in order to write notes on a lovely 2007 Tawse Cabernet Franc that Alan Kerr aka Canadian Zinfan had gifted to me many months ago. It would have made a cute little piece, but for one slight problem. The dog ate my tasting notes.
OK, so we don't really have a dog, and I don't really know where in the hell those notes on that slip of paper are. Hopefully, they didn't end up in the recycling and will turn up sometime in the near future, at which point, I will pass them on accordingly, because that Cab Franc was delicious.
Since the other wine for my intended feature was a fine Ridge Zin, I decided to go with an excellent Plan B, and focus on three wines we've enjoyed recently from that esteemed producer.
I had a birthday last month. It was probably the worst birthday I've ever had, not because of the particular year that turned over on me, but because of the flood we had in our basement the night before. 6 inches of rain in 4 hours will do that. We spent a good part of my "special day" bagging up ruined belongings and dragging them out to the street, where they would finally be picked up over a week later. Tiring, frustrating drudgery, to be sure, but we did rest up afterwards and go to Royal Oak's wonderful Café Muse for dinner with friends Rod and Hayden Leon and Shar Douglas. Afterwards, we came home and enjoyed this delightful wine, gifted to us by the equally delightful Christina Donley aka "The Donley." (Click images to enlarge.)
Read the rest of this entry »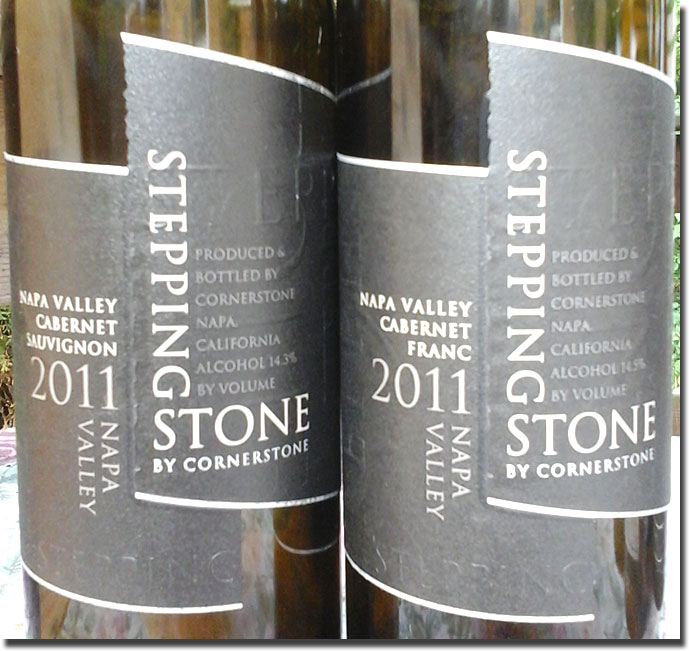 Earlier this year, our friends at Cornerstone Cellars in Napa Valley decided that a change was needed with their second label, Stepping Stone by Cornerstone Cellars. You can read Cornerstone Managing Partner Craig Camp's blog regarding their thoughts about that change, but the basic idea was that they wanted to move away from a range of declassified wines that were lower in price and more easygoing (or "comfortable, as Camp put it), and strive for higher quality with fruit from specially selected vineyards. The old Stepping Stone label was abandoned in favor of a black version of the familiar white Cornerstone Cellars label, and thus the Black Label Stepping Stone Cuvée tier was born. We received bottles of their inaugural Cabernet Sauvignon and Cabernet Franc some months ago, and took our sweet old time getting to the latter, thus the delay in filing this report.
We mostly liked what we had tried from the Stepping Stone tier previously, so I was quite intrigued as to what these are all about. Here are my impressions of the two.
Read the rest of this entry »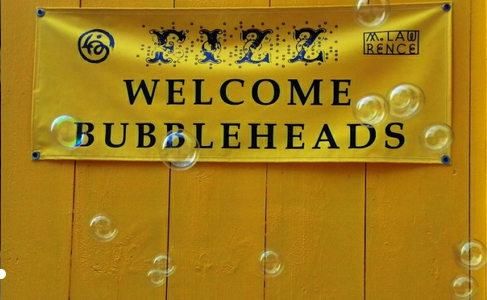 I just got wind of what promises to be a very cool series of events put on by our friends at L. Mawby Winery in Sutton's Bay, Michigan this September and October. They're partnering with area food trucks each Saturday to pair good food and fine bubblies in what they're calling Food trucks + bubbly + fall in Leelanau = delicious. ; )
Being a bubblehead my own bad self, this is a concept I can totally get behind. Here's a rundown on what they have planned:
Fall Food Trucks: We are featuring a delicious array of local food trucks on Saturdays, Sept. 13- Oct. 25, at our tasting room. Visitors may enjoy a delicious sampling that they can savor in our tasting room with a flight or at our TentBar with a glass of wine from L. Mawby, M. Lawrence, or bigLITTLE. They may also want to enjoy a nibble before their next wine trail destination. (Click images to enlarge.)
Read the rest of this entry »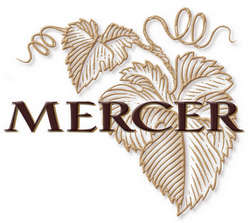 Call it coincidence; call it synchronicity or even serendipity. Perhaps it was a bit of all three, when, during her last visit with us, Christina Donley mentioned in passing a good friend of hers named Jenna who had worked with her at Ridge Vineyards before moving on to a new position at a winery in Washington. Kim immediately picked up on that and said that she had just received an email from Jenna Hannan, inquiring about the possibility of working with our company, Professional Pours, Inc., to sample and promote the wines of Mercer Estates here in Kroger stores throughout southeastern Michigan. "Yup, that's her," The Donley grinned.
Since Jenna was Christina's buddy, that boded well for our getting on well with her too. What's more, I had already had the opportunity to try and enjoy a few Mercer wines a few years previously, so this proposed arrangement was looking better and better. Jenna and Kim continued to email back and forth, and when an agreement was reached, Ms. Hannan informed us that she'd be in southeastern Michigan in late August, and that she'd love to get together with the four Professional Pours partners (Kim, Shar Douglas, Ken Hebenstreit and this reporter) to let us taste through a representative selection of their wines. It was decided that the best way to show the wines would be to pair them with small plates in a casual setting at Shar and Ken's house, which we did on August 24th. My impressions are given below, but first, a little background on Mercer Estates. (Click images to enlarge.)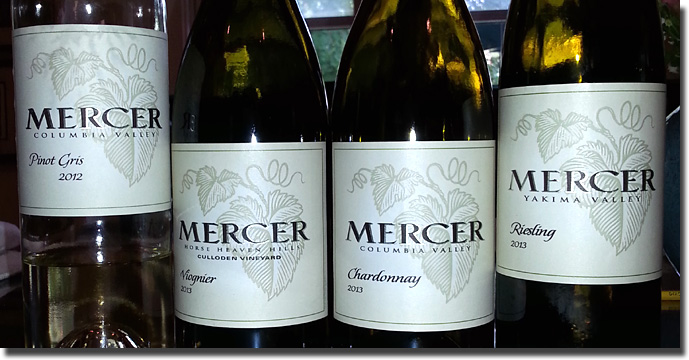 "Respect the land' has always been our creed, and the land has sustained us for five generations." – The Mercers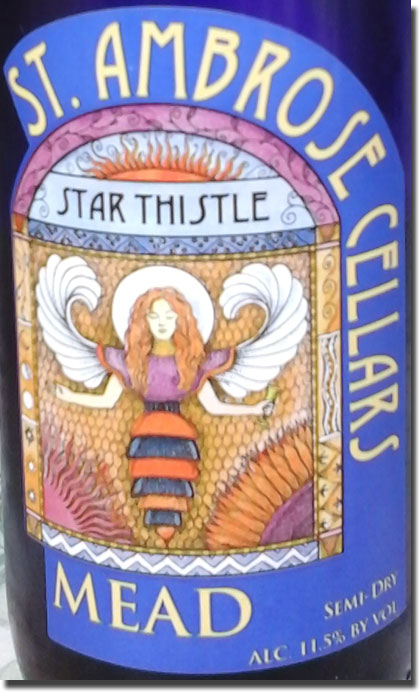 A few months ago, we got a private message on our Gang of Pour Facebook page from Matt Frollo, the winemaker at St. Ambrose Cellars, in Michigan's Benzie County, asking if we'd like to sample some of his wines for review. I'd never heard of this producer before, but Matt filled me in on some of their background information. It turns out to be a small winery operating from the former shipping department of Sleeping Bear Farms. They started making meads in 2010 (Kirk Jones, founder and owner of Saint Ambrose Cellars, is a bee-keeper, and, coincidentally, his Star Thistle Honey is my absolute favorite) and moved into wines in 2011. Frollo came on board as winemaker in 2012, after making wine at Peninsula Cellars on the Old Mission Peninsula for the previous 6 years. He tells me that the business is growing exponentially, and that a new winery and tasting room will open next door sometime this summer. From pictures that I've seen on their Facebook page, that may have already taken place, with a Grand Opening scheduled for September 13.
We took our time getting around to trying the four wines and one mead, as we've had a backlog of review samples to get through, but we've finally tasted them all, and here are our impressions. (Click images to enlarge.)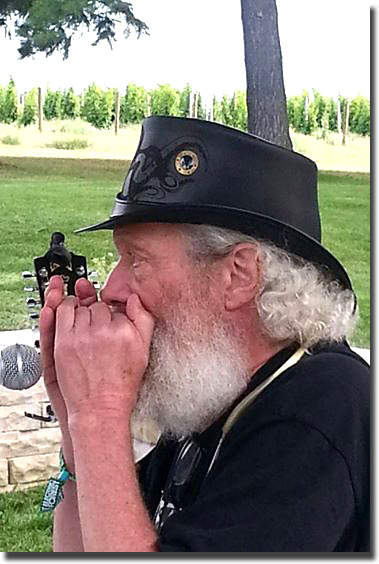 A few weeks ago, I had the distinct pleasure of being the first performer in Shady Lane Cellars' Summer Music on the Patio series. I've been a fan of this fine Leelanau Peninsula winery since we first visited the estate back in November of 2009, so this gig was a special treat for me. The music series celebrates Shady Lane's beautiful new tasting bar and patio, and I loved singing and playing to a sizable crowd of very appreciative listeners and Michigan wine lovers, with vineyards spread out all around.
Since our last visit, Shady Lane has changed hands, with Richard Fortune taking over proprietorship from Dr. Joseph O'Donnell, but happily, the positions as Winemaker and General Manager remain in the very capable hands of Adam Satchwell. If anything, the wines are even better than when we last stopped in to the tasting room that was once an old stone chicken coop, and we quite liked them then. Being the bubble-head that I am, my choice of libation to whet my whistle during my performance was obvious from the get-go, and it did not disappoint in the slightest.
2012 Shady Lane Cellars Leelanau Sparkling Riesling, 10.6% alc., $20: Medium straw color, with a fine, active bead. Nice "froth in the mouth" (I'm going to use that line in a song one day, I swear), with flavors not unlike a big, rich mélange of multi-colored apples. The scale on the back label says it's semi-sweet, and I'd only bicker by calling it quite ripe, with some subtle mineral to offset the sugars nicely. It's obviously Riesling, and the "ample bubbles" (same song?) kick the varietal character into overdrive, while the good acids take you off to a far out place, man.
This sparkler is delicious, and sipping on it while playing made my performance at Shady Lane even more enjoyable. I didn't have it with food, and while it will certainly pair well with a wide assortment of culinary delights, my taste for spicy wants to drink this with some Thai or Indian dishes. Find this wine
I'm really looking forward to going back to play Shady Lane again, and Adam and I are already discussing when that might be. I'm also especially pleased to present this report as my first cross-blog on both our Gang of Pour site and my own eponymous blog. You might see some more of that down the road, as well.
Reporting from Day-twah,
geo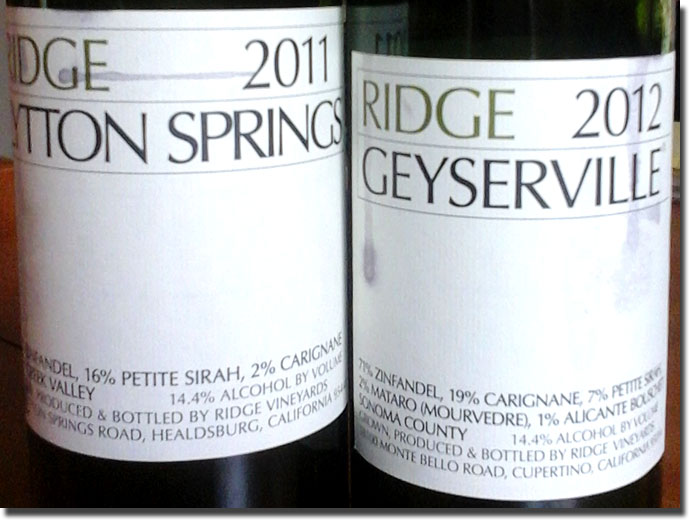 During her last visit, Ridge Vineyards Regional Sales Manager, Christina Donley aka "The Donley," spent her days making the rounds to both on-and-off-premise accounts in the Detroit area sampling some of our favorite wines here at Gang Central. On her second night in town, she came home with four bottles that still had enough left in them so that Kim and I could enjoy a good taste of each. I wasn't about to try these babies and not take notes, so I pulled out my trusty notebook and pen, put on my old "Bastardo" hat and went to work. (Click images to enlarge.)
2012 Ridge Geyserville® Sonoma County, 71% Zinfandel, 19% Carignane, 7% Petite Sirah, 2% Mataro (Mourvedre), 1% Alicante Bouschet, 14.4% alc., $38.00: Slightly lighter in color than I might have expected, but don't let that fool you. It exudes lovely Draper perfume, and flavors and aromas are all about well-integrated oak, even at this early stage, and a pretty mélange of red and black berries and cherries; there's also a note of aquarium on the nose. Even with the air that this got from being sampled all day, the tannin and acid structure is formidable, as one would expect from any good Geezer. I had a glass of this with Kim's chorizo tostadas and it still needs a minimum of five years in the cellar. Lots of potential here, so be patient.
(For the serious wine geeks, Ridge goes above and beyond to provide tech info like the following on the production of most of the wines on their website.) Harvest Dates: 17 September – 17 October. Average brix 24.5° degrees. Fermentation: Natural primary and secondary; 6 of the 27 tanks were fitted with submerged cap grids, both those and the tanks with a floating cap were given full pumpovers; pressed at 9 days. 100% air-dried American oak barrels (24% new, 25% one and two years old, 51% three and four years old.) Thirteen months in barrel. All estate-grown, hand harvested grapes. Destemmed and crushed. Fermented on the native yeasts, followed by full malolactic on the naturally-occurring bacteria. Six fresh egg whites per barrel to moderate the firm texture of tannins; minimum effective sulfur for this wine (30 ppm at crush; 164 ppm over the course of aging); oak from barrel aging; pad filtered at bottling. In keeping with our philosophy of minimal intervention, this is the sum of our actions. Find this wine
Read the rest of this entry »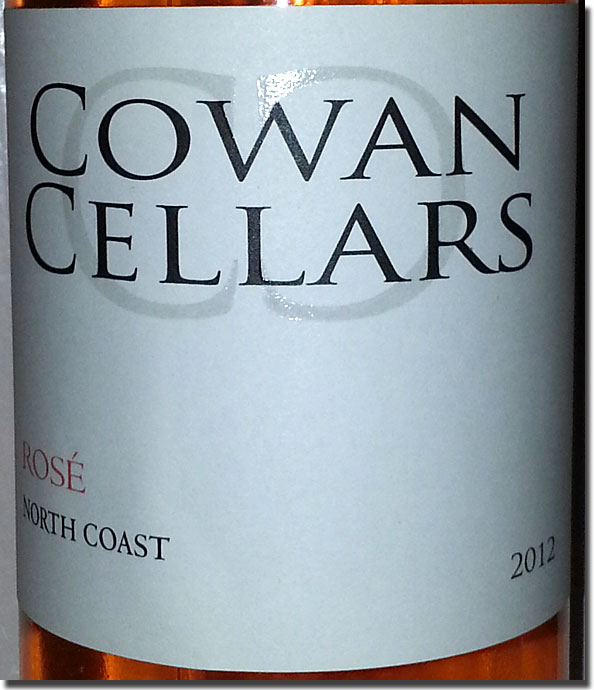 When we had our Cowan Cellars wine dinner back in November, we only tasted four of the six wines that we had purchased from our friends Florida Jim Cowan and Diane Arthur. We took our sweet old time getting around to the other two, and in fact, we still haven't tried the Ribolla Gialla (but we will soon). We did, however, try the rosé just a few nights ago, and we really enjoyed it. Here are my impressions. (Click images to enlarge.)
2012 Cowan Cellars Rosé of Pinot Noir North Coast, 13.9% alc., $15.00: Salmon pink color, not too dark, not too pale; aromas of watermelon and strawberry only hint at the intensity of the mineral-laden flavors. Medium-to-medium full bodied, with excellent acids and very good length. The minerality figures prominently in the wine's personality, playing a nice counterpoint to the rich fruit. This is the kind of rosé I would expect Florida Jim to make, knowing his personal tastes as I do, and it made a nice match for our quasi-Salad Niçoise of arugula and mustard greens, green beans, hard boiled eggs, sliced avocado and tuna. Jim is dead-on about serving this at cellar temperature; I disregarded his recommendation and gave it a good chill, wanting to observe how it changed in the glass, and I can report that as I sipped a glass slowly, it became considerably more expressive after 30 minutes in the glass. Comprised of saignée (bleedings) from several prestigious vineyards of Pinot Noir in the Sonoma Coast area of Sonoma County; partially fermented in open bins and part in 8 year old French oak; then combined and stored in tank for 6 months where it went through malolactic fermentation. Bravo, Jim Cowan! Find this wine
We've also sampled five other fine rosés over the last several weeks, from four of our favorite producers. I'll say it again, rosés aren't just warm weather quaffers at our house; we drink and enjoy them throughout the year. Here are my impressions of four domestics and one from the old world.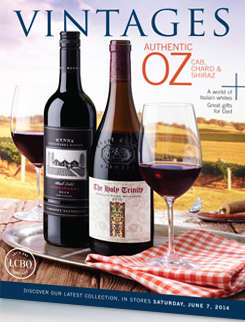 Australia is the principal feature of the June 7th release. I must confess to not buying a lot from down under recently, but there are a couple of tasty treats to be found.
675223 KILIKANOON KILLERMAN'S RUN CABERNET SAUVIGNON 2012 Clare Valley, South Australia $19.95
A little tight at first, but eventually it releases some dark fruit, cassis and mocha aromas, palate is tight too, but as it opens it leans towards being rather one dimensional focusing on currant and dark fruit. Find this wine
084996 WYNNS COONAWARRA ESTATE BLACK LABEL CABERNET SAUVIGNON 2010 Coonawarra, South Australia $27.95
Back in the days before the LCBO slapped their ridiculously high "Provincial Liquor fee" tariff on wines brought across the border, I used to buy this wine at Century Liquor in Rochester New York for about six bucks a bottle and I would bring back a case at a time paying a pittance on duties at the border. That was a while ago and the price has obviously increased since then, in fact it is now about $35.00 south of the border, making the asking price in the LCBO a great deal. It is so focused, the solid core of blackcurrant, polished leather, mint, eucalyptus and freshly ground black pepper is amazing. A big lift on the palate, laden with blackcurrant, cedar, chalky tannins, but well balanced, clean acidity and a long fruit focused finish. Find this wine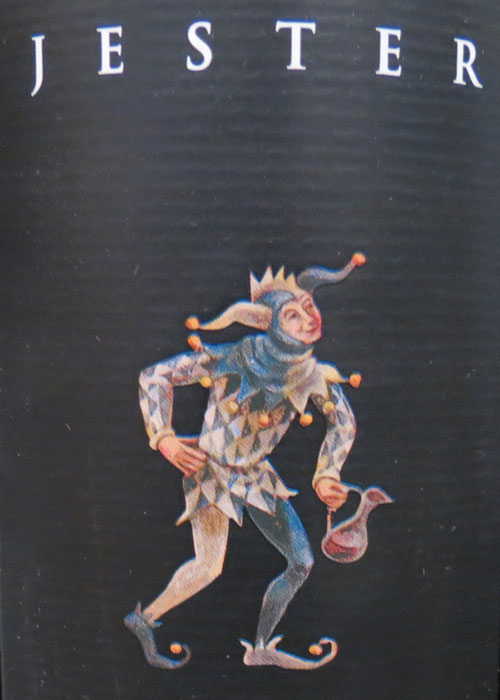 043224 MITOLO JESTER CABERNET SAUVIGNON 2012 McLaren Vale, South Australia $22.95
Quite stellar aromas of wet earth, chalk, leather, mineral and layers of dried dark fruits, lovely mix of currant and dark cherry on the palate, mixing nicely with milk chocolate, black raspberry to a finish with good length and structure. Find this wine
327395 DOMAINE TOURNON MATHILDA SHIRAZ 2011 Victoria $19.95
Black toffee, cedar, dried mushroom, tomato, bay leaf and red fruit roll up, a little chunky on the palate, lots of red fruit and a candy like sweetness on the finish. Another 94 point wine from Mr. P, so this will sell quickly. Find this wine
367425 HASELGROVE FIRST CUT SHIRAZ 2010 McLaren Vale, South Australia $18.95
Dusty and earthy, with layers of sweet dark fruit, vanilla, its palate has a sweet syrupy texture, there is plenty of acidity to balance, but it remains little jammy on the finish. Find this wine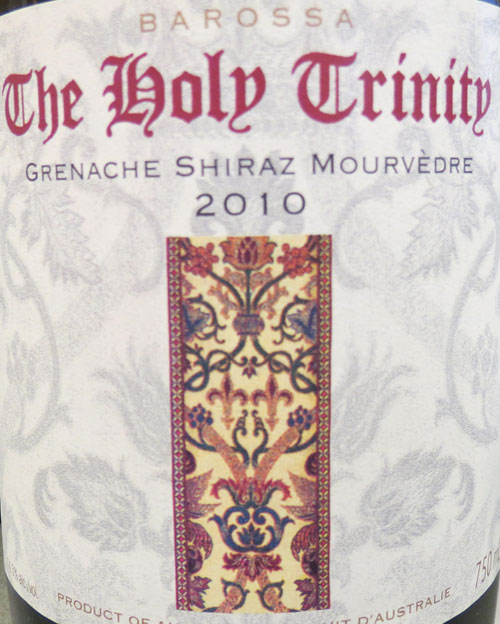 236257 GRANT BURGE THE HOLY TRINITY GRENACHE/SHIRAZ/MOURVÈDRE 2010 Barossa, South Australia $29.95
Tree bark, forest floor, pure velvety black fruit lead to a palate that is viscous, has tingly red currant flavours bound with caramel, Asian spice and red licorice. Find this wine
290874 DOMAINE TERLATO & CHAPOUTIER LIEU DIT MALAKOFF SHIRAZ 2011 Pyrenees, Victoria $55.95
Funky and full of such oddities as damp soil, coconut shell, wet fur, shitake mushroom, rosemary, thyme, barnyard straw and mocha and a little dark fruit. Structurally, the palate is lean and surprisingly light, showing cherry and plum that disappears quickly on the finish. Robert P bestowed 95 points to this wine, maybe I am missing something, but I tasted twice with similar notes. Find this wine