We're always up for trying new vintages from our friends up on the ridge where they do-do the boogie, and we got the opportunity to do just that last Monday night, courtesy of Ridge Vineyards Regional Sales Manager, Christina Donley. Christina was in town for a few days promoting her portfolio, and she brought these three from 2014 back to Gang Central after pouring them at a trade tasting. Needless to say, we wasted no time in breaking right in to them to see what they had to offer, and we were most impressed with what we tasted. (Click image to enlarge.)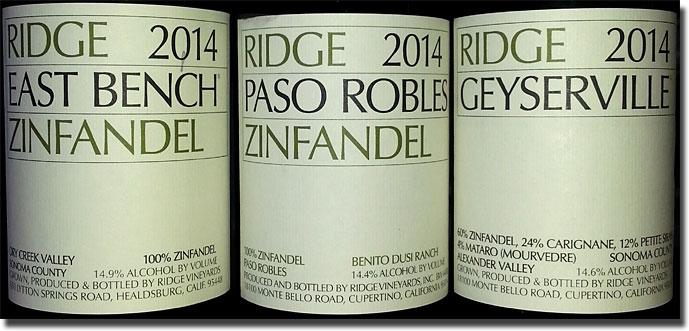 2014 Ridge Vineyards East Bench Zinfandel, 100% Zinfandel, 14.9% alc., $30: Pretty dark garnet in color, with a lovely "Draper perfume;" long time Ridge fans know exactly what this term refers to, which is our pet name for the winery's classic house style that has remained more or less the same for decades. Big, rich and intense, with earthy black raspberry and blackberry flavors and aromas, laced with spicy nuances, hints of briar/bramble and some sweet American oak that emerges with air, always complementing, rather than detracting from the wine's personality. Sturdy, but by no means unapproachable, this wants some grilled red meat (lamb for me, please), or pasta with a tomato sauce. I loved the 2013 version when we tried it about 11 months ago, and I'm just as high on this year's model. This is how Zinfandel should taste, in my not-so-humble opinion. As good as it is now, it'll be even better in five years, so you can drink it now or drink it later. Find this wine
2014 Ridge Vineyards Paso Robles Zinfandel, 100% Zinfandel, 14.4% alc., $32: Deep and dark in color, almost opaque; the nose only hints at the rich, ripe raspberry and black raspberry fruit found on the palate at first, but becomes more generous as it opens in the glass. The smooth, almost velvet-like texture can't entirely shroud the substantial structure that will take this several years down the road. Perhaps a little more "claret-like" than the 2013 (a side-by-side would have been instructive), and that's never a bad thing with Ridge Zins. Shades of subtle earth and hints of chocolate becoming apparent as it opens, and every successive sip brings more pleasure. Find this wine
2014 Ridge Vineyards Geyserville Alexander Valley, 60% Zinfandel, 24% Carignane, 12% Petite Sirah, 4% Mataro, 14.6%, $40: Deep, dark and not quite opaque in color; big and powerful, with many years of development ahead of it. Flavors and aromas of earth, black plum and blackberry, with hints of briar/bramble, so deep and dark, even the American oak only casts a pale shade on this Geezer's character. Brawny as it is, it's balanced and not at all unapproachable, especially with food, but I'm inclined to hold off for at least five years before opening another, so patience is advised. If you're so inclined, you'll be happy you waited. Find this wine
Many thanks to Christina for the opportunity to taste these wonderful selections from Mr. Ridge. We love ya, darlin'!
Reporting from Day-twah,
Bastardo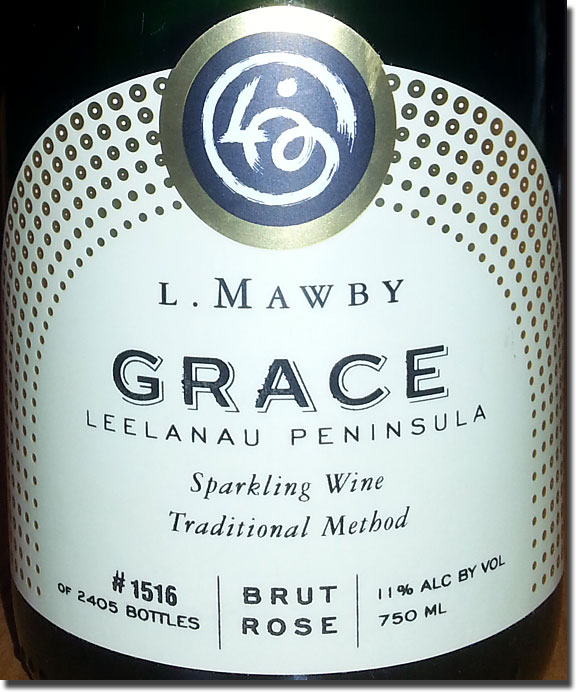 I need all the good grace I can get these days, so I was especially pleased to happen upon this little treat whilst leisurely sauntering through the wine department of Royal Oak's Holiday Market last week. I'm familiar with most of Mawby's delightful sparklers, but this was the first time I'd ever seen this particular model, so I just had to pick one up, bring it home, chill it down and pop the cork to see what it is all about. I'm pleased to report that it acquitted itself most admirably, and I have since back for several more bottles.
L. Mawby Grace Leelanau Peninsula Brut Rosé NV Cuvee 221, en tirage April 2012, degorgement June 2015, 11% alc., $19.99: Pale salmon color, with a fine active bead and more than ample mousse; lots of yeasty bread dough (just the way I like it) in both flavor and aroma, with a slightly tart and decidedly appealing core of red and green apple and some cherry to boot. Medium-full bodied, with excellent acidity and good length, this is a satisfying glass of wine for a bubble-head such as myself, and worth every penny of the $19.99 price tag.
"Pinot noir grapes that are hand picked and carefully whole-cluster pressed. The juice is fermented in stainless steel tanks, then blended with reserve wines and fermented a second time in this bottle and aged en tirage before degorgement. At degorgement a small quantity of regent red wine is added." Find this wine
Every month is Michigan Wine Month.
Reporting from Day-twah,
Bastardo
We first heard about the Popelouchum Project during a talk given by Randall Grahm to the assembled group during his appearance at Cloverleaf Fine Wine and Craft Beer in Royal Oak last April. It sounded like the kind of off-the-wall endeavor that one might expect from Mr. Grahm and his wacky cohorts at Bonny Doon Vineyards; "the breeding of 10,000 new grape varieties, each genetically distinctive from one another – and blending them into a unique cuvée that the world has not tasted heretofore." The project is located at Bonny Doon's Popelouchum Estate in San Juan Bautista, California.
Not so very long after that, Bonny Doon announced that they had started an Indiegogo crowdfunding initiative, and Kim and I decided to make a financial contribution. A few months ago, we received our little perk for doing so in the form of 12 bottles of this very nice wine.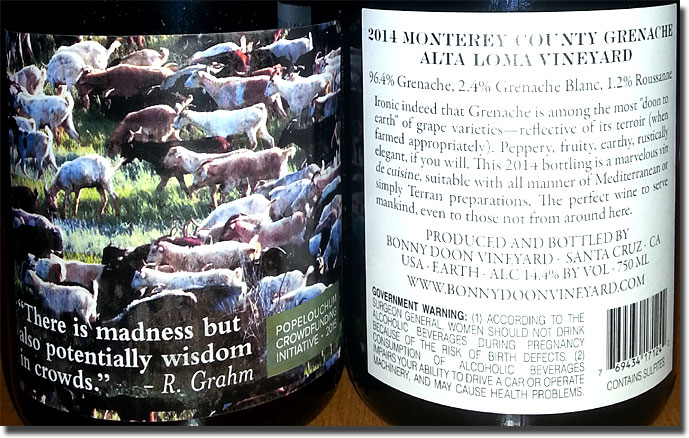 2014 Bonny Doon Monterey County Grenache Alta Loma Vineyard, 96.4% Grenache, 2.4% Grenache Blanc, 1.2% Roussanne, 14.4% alc.: Clean, dark color; not the most generous nose, but does give some earthy, tarry, peppery black plum and berry. Flavors echo with more fruit and more generosity, with the earth, tar, pepper and fruit all playing off each other nicely. Good weight, depth and structure here, and while it's more than drinkable now, it will develop and improve over at least the next five years or so. As you'd expect, this gets better with air, and the fruit turns "redder." Kim and I thoroughly enjoyed sipping on this, and I'm thinking of opening a couple more in the near term to get to know it better, then keeping hands off for a year or two to see just where it will go. Find this wine
Despite the fact that this wine is not for sale to the general public (there wasn't enough made to go further than rewarding contributors to the project), I have included a Winesearcher link in the event that some might turn up at an out-of-the-way secondary source somewhere down the road. You won't catch us flipping any of our bottles; however, if you catch us in a good mood during a visit to Gang Central, who knows, we might just twist a cap and share one with you.
Reporting from Day-twah,
Bastardo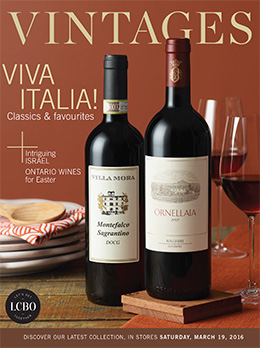 Italy is split up into twenty principal wine regions with each one producing many diverse and alluring wines. Italy's vineyards are home to some two thousand grape varieties, but for the most part, the countries more popular wines are made from Sangiovese, Barbera, Nebbiolo and Montepulciano. However, more recently French varieties such as Cabernet Sauvignon, Merlot and Chardonnay have found themselves at home in Italian vineyards. "Viva Italia" will put some of these captivating wines onto the shelves for the March 19th Vintages release. Also featured are some unique wines from Israel in the "Passover Perfect" segment that are worth exploring.
324160 NOZZOLE CHIANTI CLASSICO RISERVA 2011 Tuscany $19.95
Dusty with lots of cave air, sweet red fruit, strawberry, dried shitake and cinnamon aromas. Quite chewy on the palate, where redcurrant comes forth, with cocoa and mocha on the finish. Find this wine
722470 ORNELLAIA 2012 Bolgheri Superiore, Tuscany $195.95
Not much has changed since I last reviewed this wine in November of 2015. It is still very tight, but it is showing more dark fruit, the violet aroma is more pronounced and mineral and slate aromas are abundant. Plum, blackcurrant and blackberry liqueur appear on the palate, but the prickly tannins seem to propagate the longer the wine sits in the glass. It is still chewy, laden with dark berries, dusty chocolate and pure goodness. A long way from being even remotely ready to drink though. Find this wine
396382 ZACCAGNINI DAL TRALCETTO MONTEPULCIANO D'ABRUZZO 2013 Abruzzo $19.95
Blueberry and blackberry aromas combine nicely with hints of caramel, nougat, sweet spice and coffee grounds. The palate carries some sweetness, and the caramel and stewed fruit flavours are interesting. A touch of chocolate on the finish. Find this wine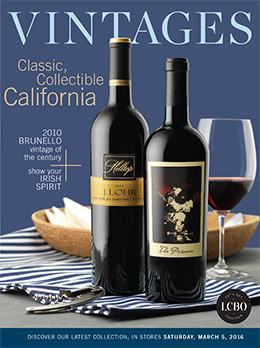 The March 5th release puts a few wines from California and Brunello onto the shelves and that made my drive to London to taste worthwhile. The Wines featured in the "Classical Coveted Collectable Californian" wines were more than likely purchased before the pre-Canadian dollar crash thus this is probably the last chance to buy US wines before their prices increase substantially. (Click images below to enlarge.)
CLASSICAL COVETED COLLECTABLE CALIFORNIAN WINES
218941 JONATA TODOS RED 2011 Santa Ynez Valley, Santa Barbara County $79.95
Earthy and reminiscent of a terroir focused Euro wine, this blend of 75% Syrah, 13% Cabernet Sauvignon, 4% Grenache, 4% Sangiovese, 2% Viognier, 1% Petit Verdot and 1% Merlot is flavoursome. It is laden with aromas of nutshell, lead pencil, saddle leather and wet soil. Californian fruit leaps across the palate in the form of ripe and chewy sweet cherry, plum and blackberry with globs of sweet oak and silky tannin. I like the nose better than I like the feel of the wine; it is tasty, but too cloying on the finish. Find this wine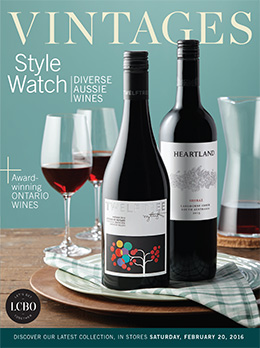 G'day mates. "Diverse Aussie Wines" is the feature of the February 20th release for Vintages. Unfortunately I was only able to taste a couple of the wines, but they were both bonza (Aussie term meaning exciting). I am happy to say there are some stellar wines from California that haven't yet been subjected to the price increase due to the instability of our plummeting Canadian dollar. Get them while you can as I am sure we will see a dramatic increase on the price of American wines in the very near future.
DIVERSE AUSSIE WINES
627869 GLAETZER BISHOP SHIRAZ 2013 Barossa Valley, South Australia $39.95
Notes of straw, iron and mineral soon give way to massive jolts of sweet black cherry, the purest black fruit and black licorice. Juicy and ripe on the palate, with some chalky tannins; a well-balanced wine with pristine acidity. Find this wine
246629 MOLLYDOOKER THE MAITRE D' CABERNET SAUVIGNON 2014 McLaren Vale/Langhorne Creek, South Australia $29.95
I have always enjoyed wines I have tasted from Mollydooker, Aussie Lingo meaning "left-hander" and this wine is as good as any. It's vibrant, laden with Cassis, mint, clove, band aid and lead pencil aromas. An inky wine, its texture is silky and full bodied, with an amazing concentration of dark fruit, plum, and currant, well integrated oak and a blast of sweet spice. Find this wine
We don't drink a lot of Barolo here at Gang Central, which is a shame, because it seems like every time we do, we ask ourselves why we don't drink more. I felt this when I tasted the terrific wines from Massolino some months ago, and again a few weeks ago, when my buddy, Charlie Engelhardt, posted a picture on Facebook of a bottle he was enjoying with his father, Kris.

As chance would have it, Charlie stopped in for a visit the following week, and told me that he'd just seen the wine in question a few minutes earlier at our friendly neighborhood Trader Joe's. I boogied on over the next day, picked up a bottle and opened it that night. Here are my impressions of what we tasted.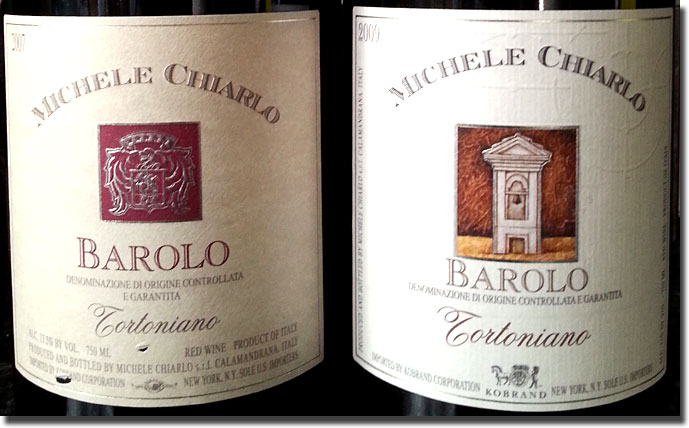 Read the rest of this entry »
So, here's how it all went down.
We decided we wanted to grill a leg o' lamb for Super Bowl Sunday, and enjoy it with some nice wine. Kim put a post on Facebook inviting interested parties to join us and our good friends Martha and Gary Shea, Shar Douglas, Ken Hebenstriet and Gang of Pour Charter Member Scott "The Geek" Tobias took us up on the offer. Shar and Ken offered a short menu of wines from their cellar that they were willing to bring over and share, and as soon as I saw Mr. Ridge mentioned, I suggested we go with some of those. They brought three bottles, and we added an '01 Monte Bello to compare to their 2000. Scott contributed a late model Napa Cab and Martha and Gary added some great homemade hummus, pita chips and scintillating conversation. (Click images to enlarge)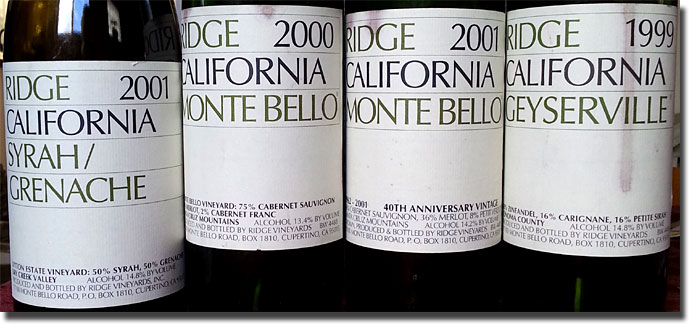 Read the rest of this entry »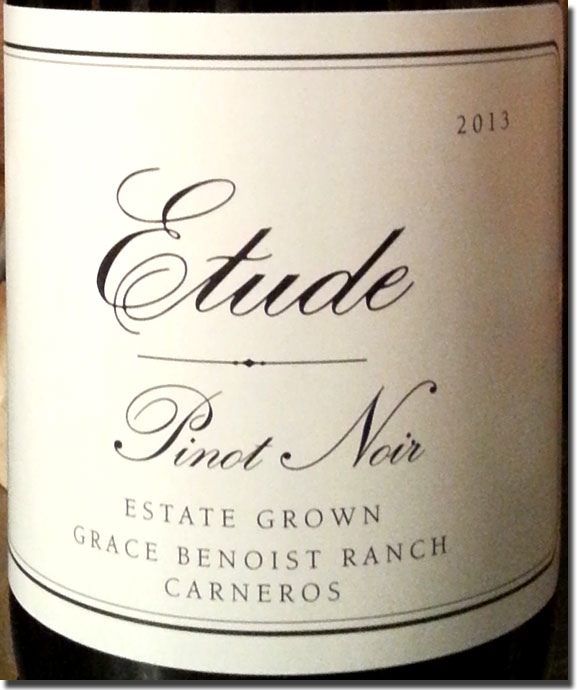 It had been a while since we last tried anything from Etude, perhaps as long as 10 years. I had a most interesting and informative chat with founder Tony Soter back in 2004, and usually liked what I tasted a lot, but, for whatever reason (price maybe?), I haven't gotten (or taken) the opportunity to try another until last week, when I found this in a bin at my friendly neighborhood Costco. As is so often the case, I was curious and asked myself, "How bad can it be?" Turns out it's pretty damned good!
2013 Etude Pinot Noir Carneros Grace Benoist Ranch, 14.4% alc., $33.99: Medium dark in color, with a beautiful perfumed Pinot Noir black cherry nose, with hints of tea leaf; the rich, earthy flavors generally echo, finishing decidedly dry, a little green and somewhat astringent. Medium full bodied and well-structured, which is a good thing, because this should benefit from some years in the cellar.
I like this. The green aspect isn't imposing enough to be a detraction; it actually fits in well as a complementary component of the greater whole. It opens nicely with air, and offers real drinking pleasure now, but give it five years to develop and it will be even better. The vineyard site obviously produces superior quality grapes, and the winemaking team of Soter, Jon Priest and Franci Ashton knows just what to do with them. Given the quality here, I have no problem with the price tag, and plan to go back for more. Find this wine
Reporting from Day-twah,
Bastardo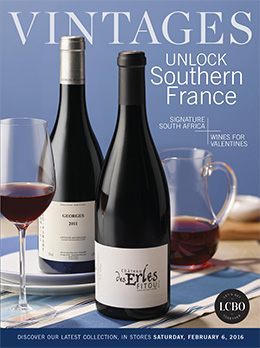 This release features some extremely tasty juice from Southern France. This is a vast region well known for producing a substantial array of artisanal and unique styles of wines. Geographically it starts just outside of Nice in its eastern regions then runs right down the Mediterranean coast just shy of the Spanish border. Not only do the wines produced here offer great value, the region showcases some of the prettiest and most bucolic parts of the country. It is split into numerous sub appellations, all creating wines that are distinctive to the soils they are produced in. There are several other tasty gems as well in this release including both the "Wine of the Month selections".
The aforementioned Wines of the Month selections.
444059 JOEL GOTT 815 CABERNET SAUVIGNON 2013 California $24.95
Although this is designated as a California AVA, don't be fooled, it really shows a sublime expression of Cabernet fruit, highlighting sweet blackcurrant, black raspberry, a trace of eucalyptus and milk chocolate. The palate is fruit forward, but well balanced delivering flavours of black fruits, red currant and mineral. Find this wine
384248 FINCA DEL MARQUESADO GRAN RESERVA 2008 Rioja, Spain $21.95
Lovely aromas of tobacco leaves, dried cherry, currant, raspberry, mocha and leather with a touch of coconut. The fruit is maturing beautifully, but there is still a spicy component and some chewy tannin. This is a fair price for those who want to sample an eight year old Spanish Gran Reserva wine. Find this wine