My first experience with the wines of Chateau Virgile, located in Costiere de Nimes, was back in the spring of 2009, when I tasted that estate's white from the 2006 vintage with the US importer, Patrick Allen, of United Estates Wine Imports, Ltd. We liked it so well that we blew through all we could find in short order, and didn't get a chance to try anything else from them until September of 2010, when I happened upon their 2008 rosé; it was good, but not as good as the blanc, so we didn't buy as much, and didn't give it any more thought until I ran into Patrick again, this time, at a Rhône trade tasting put on by our friends at AHD Vintners this past February.
Patrick is every bit as affable and informative as he was five years ago, and once again, everything from his portfolio that he was pouring was excellent. The two from Virgile were the ones that really caught my attention, both for their tasty demeanor and their excellent QPR (Quality-Price-Ratio). We liked them so much, that we picked up a half-case of each. Here are my impressions of each, starting with the 2012 rosé, which I'm pleased to report is much more to our liking that the '08 model.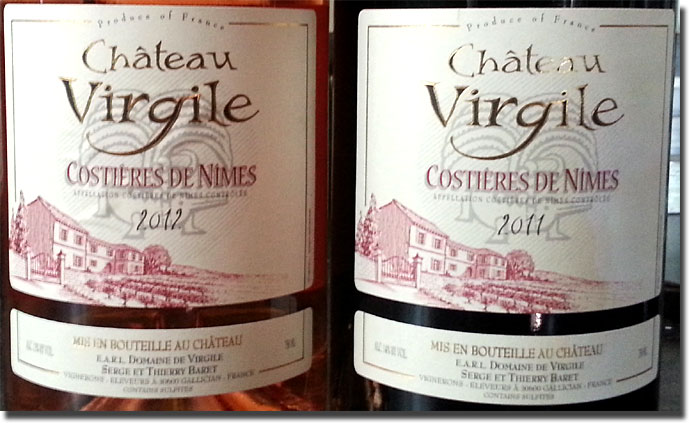 Read the rest of this entry »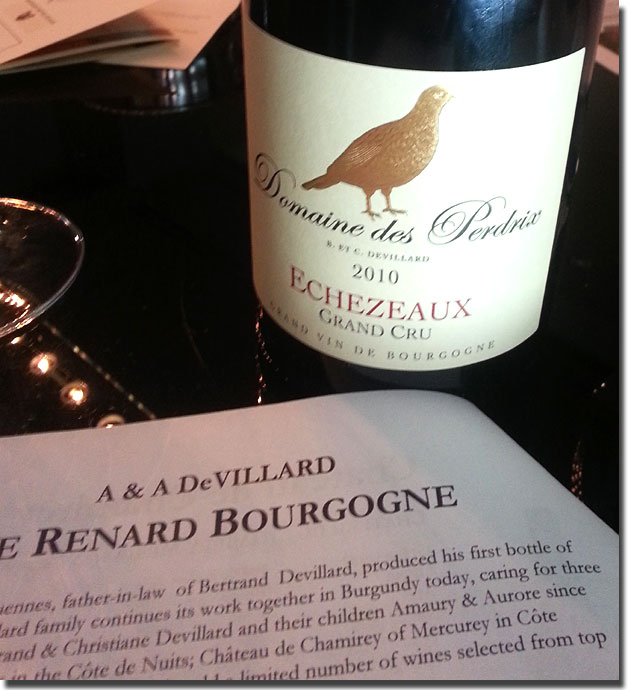 Recently, we had the pleasure of attending an intimate "Happy Hour" tasting of red and white Burgundies, courtesy of our friends at AHD Vintners. The tasting took place in a side room at Michael Symon's Roast restaurant, in the Westin Book Cadillac Detroit. The wines featured were from the portfolio of Domaine Devillard, which owns and operates, among others, Château De Chamirey and Domaine des Perdrix. At one time, these two estates were imported by Frederick Wildman and Sons, but when the Devillards sold their interests in two other Burgundy producers, Domaine Jacques Prieur and Antonin Rodet, they parted ways with Wildman. The folks at AHD are thrilled to now have these wines in their book, and when Cédric Ducoté of Domaine Devillard (shown on the left in the picture below, along with AHD's Michelle DeHayes and head honcho Anthony "Chip" Delsener) came to town to promote them, it proved to be an irresistible opportunity to try some wines that haven't been in the state since about 2009, except for older vintages. (Click on images to enlarge.)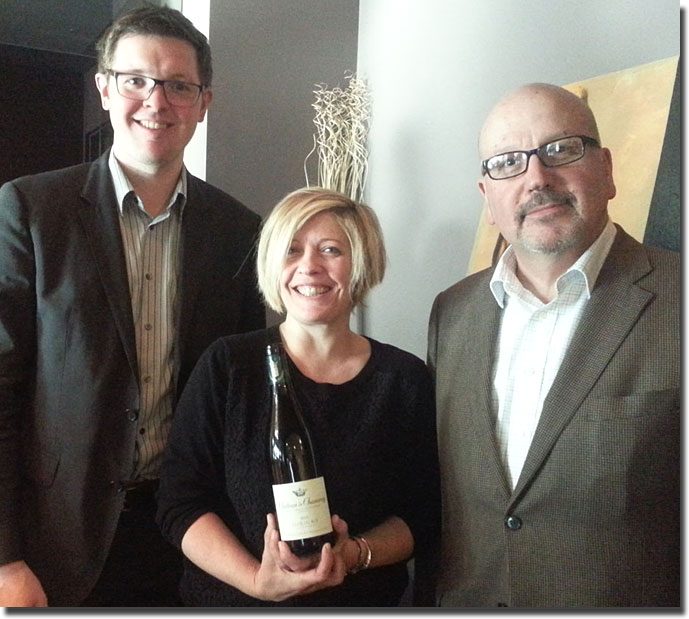 We tasted through seven wines, which ranged from very good to excellent. Burgundy may not be one of my strengths, but I certainly know fine wines when I taste them, I know what I like and these are all quite enjoyable. Here are my snapshot impressions. Prices listed are based on standard markups on the wholesale pricing in this market.
Read the rest of this entry »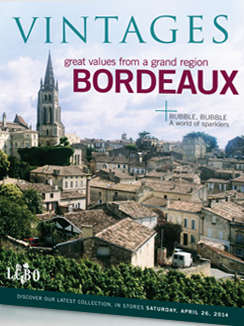 April 26th release showcases wines from several of the lesser known regions within the vast area known as Bordeaux. In great vintages wines from these regions usually offer the consumer very good quality wines at a fraction of the price of their more affluent neighbours.
Most of the wines in this release are from the 2010 vintage along with a couple from 2009. Both were heralded and highly touted and to quote Mr. Robert P who declared "It is an inescapable truth that 2010 has produced another year of compelling Bordeaux that will go down as a prodigious vintage alongside of 2009."
Sadly it looks like the LCBO left it to the last minute to shop and got the dregs of what was left over from their suppliers. Many of the wines are overly ripe and extracted; full of aggressive tannins, high levels of acidity and oak, it was tough to taste through them. I fully expect young wines to have ample tannins to survive time away in the cellar, but the levels of tannin in some of these wines is in excess of the norm.
307363 CHÂTEAU LE GRAND MOULIN GRANDE RÉSERVE 2010 Blaye – Côtes de Bordeaux $16.95
Bright aromas of plum, cherry and currant, backed with whiffs of cinnamon and toasty oak, the dark cherry flavour hits the palate, and all is good until a whopping veil of tannin comes along and shuts down the fun. It is astringent, tight and really shut down. Find this wine
368159 CHÂTEAU LAMARTINE 2010 Castillon – Côtes de Bordeaux $16.95
A wine of 85% Merlot and 15% Cabernet Sauvignon, exhibiting enjoyable aromas of earth, lead pencil, sweet spice, blackberry and cherry. The texture is rich and ripe, but not over the top, its fruit is focused on plum, black raspberry and currant flavours, oak aging is deftly performed and the acids are in fine tune. Find this wine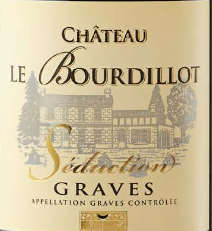 365908 CHÂTEAU LE BOURDILLOT SÉDUCTION 2009 Graves $18.95
This starts nicely with gratifying aromas of red raspberry and sweet cherry mixed with forest floor and mineral. The palate however loses its seductive charm, the fruit is thin and the finish is short. Find this wine
365882 CHÂTEAU DE MONBADON 2010 Castillon – Côtes de Bordeaux $18.95
A wine showing pure black fruit, dried cherry, cherry cola and forest floor aromas. It has good structure, there is some sweet oak, but the battle between fruit, tannin and oak is evident, hopefully a couple of years in a cellar may bring out its good side. Find this wine
374264 CHÂTEAU VIEILLE DYNASTIE 2011 Lalande-de-Pomerol $25.95
Very ripe, full of dark fruit, cherry cola with underlying aromas of cedar/balsa, smoked meat and tar. It teases the palate with dollops of blackberry and strawberry, the acids are clean and tannins while powerful, are dusty and tea like. Find this wine
When I purchased the 2011 Caves Saint-Pierre Vacqueyras that I reported on in my last blog entry, I had actually opted to try the least expensive of four wines from Caves Saint-Pierre that are available at our friendly neighborhood Trader Joe's. Having enjoyed that selection, I decided the other three were probably worth trying as well, so I picked them up during my next two shopping trips. While they varied some in quality, all three provided solid red Rhône mojo for my beloved Detroit Red Wings late season surge that has seen them clinch a 23rd straight berth in the NHL Stanley Cup Playoffs, despite a rash of injuries throughout the campaign that would leave lesser teams mired in the cellar with nothing but bitter wine.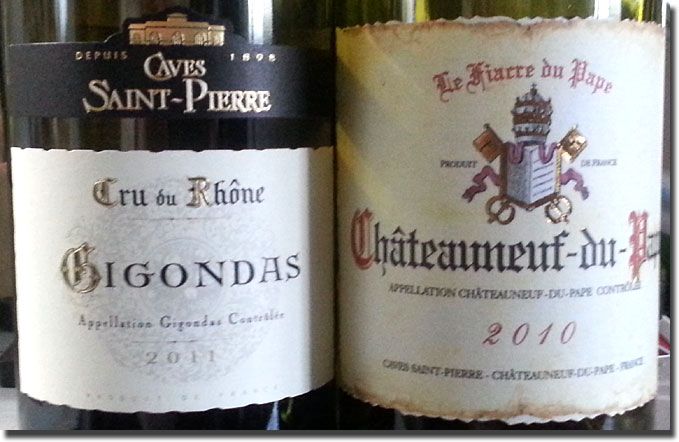 Read the rest of this entry »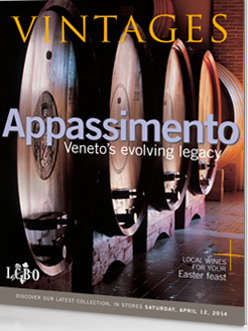 Wines made in Veneto's Appassimento fashion is the theme for this release on April 12th. There are some wonderful wines, but sadly there was not a lot sent for sampling, so here is my take on those that were.
650713 MONTE ZOVO SA' SOLIN RIPASSO VALPOLICELLA 2011 $17.95
Very good concentration of dried fruit, polished mahogany, brown cardamom shell and cigar leaf on the nose, lively palate has vibrant blackberry and blueberry flavours with a hint of dusty cocoa on the finish. Find this wine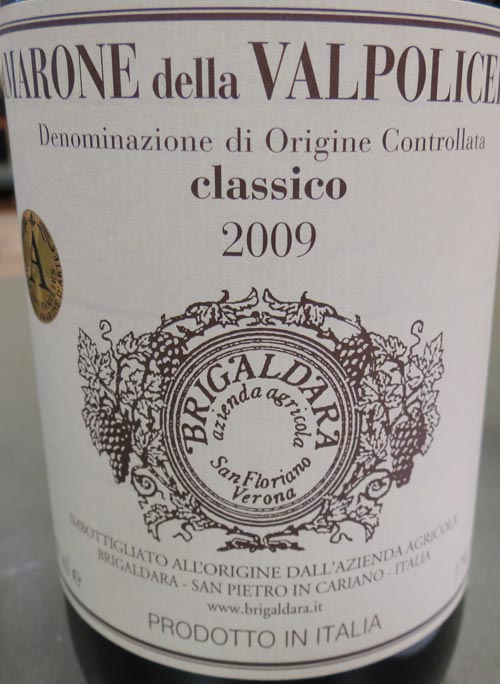 685107 TENUTA SANT'ANTONIO SELEZIONE ANTONIO CASTAGNEDI AMARONE DELLA VALPOLICELLA CLASSICO 2010 $43.95
Lovely aromas of blackcurrant, tar, black tea, fresh cut flowers, new leather and dark roasted coffee grounds lead to a mouth-watering palate of pure dark fruit, perfect acidity, bitter clove and dried plum, with a dose of astringent tannin on the finish. Find this wine
300012 BRIGALDARA AMARONE DELLA VALPOLICELLA CLASSICO 2009 $49.95
A wine brimming with aromas of cherry cola, sweet candy, dried cherry, cassia bark and dried meat. There is a floral background too whilst heady aromas of cherry brandy take centre stage. It has seventeen degree of alcohol, which deposits some heat on the palate, it is quite astringent, dysfunctional and clumsy now, but given time, this could be quite some wine. Find this wine
333575 CAPARZO ROSSO DI MONTALCINO 2011 $19.95
Earthy, with lots of aromas of wet cut grass, mineral, rosewater, damson and red currant. The fruit aromas flow through to the palate. It's nicely balanced, lively acidity, with a note of mocha and chocolate tannins on the finish. Find this wine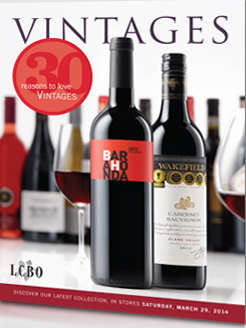 The theme for the release on March 29th' is "Thirty reasons to love Vintages." Well after the fiasco with the allocation of the 2010 Dominus featured in the previous release, I will need way more than thirty reasons to put Vintages back on my Christmas card list. Having tasted it, I touted it as being one of the best young wines I have ever had the privilege to sample. When I went to get me some, I found the allotment for the entire Niagara region was a grand total of 0 bottles.
Oddly enough, the entire allocation went to the more affluent neighbourhoods in Ontario, namely Oakville, London, Toronto and Ottawa. At least some of our federal and provincial politicians had the chance to get their grubby little paws on a bottle or two, if I did not. Seriously, if there is not enough wine to evenly distribute through the system, sell it through Vintages on Line and use a first come first served basis.
The theme of "Thirty reasons why we should all love Vintages" is a mix of self-admiration of the Vintages organization along with numerous wines worthy of making the pick. Here are my thoughts on a few of the wines listed. There is again one wine that blew me away and there is plenty to be found in the system. It is the amazing………….Ah shucks, just read the notes  Read the rest of this entry »
I happened upon a couple of bottles of Vacqueyras of the good QPR (quality-price-ratio) variety in the last few weeks, from unlikely sources, no less. This link takes you to what may or may not be our very first report on the wines from this southern Rhône appellation, posted back in about '97 or '98; whatever the case, it demonstrates that we've been fans for a quite a while now. Unfortunately, many of the bottlings we loved so much back then have seen gradual price hikes over the years, so we don't buy them as often as we used to; Domaine le Sang des Cailloux comes to mind right away. These two new ones are by no means among the best Vacqueyras we've had, but they certainly are solid, well-made wines at reasonable prices that we'll be happy to drink now and over the next several years.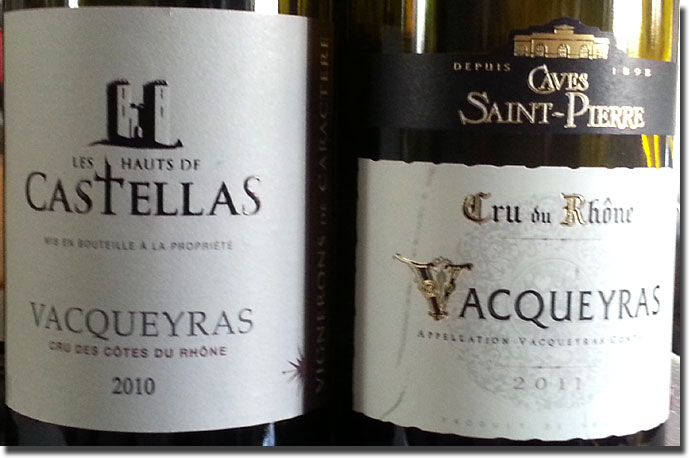 Read the rest of this entry »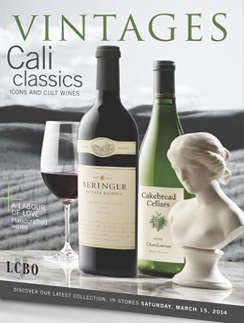 "California Classics" take centre stage for this release of March 15th. For the most part, these wines are outstanding, but sadly one does need deep pockets to take them home. Best advice I can offer is buy a lottery ticket or better still, rob a bank, because these wines are worth getting hold of.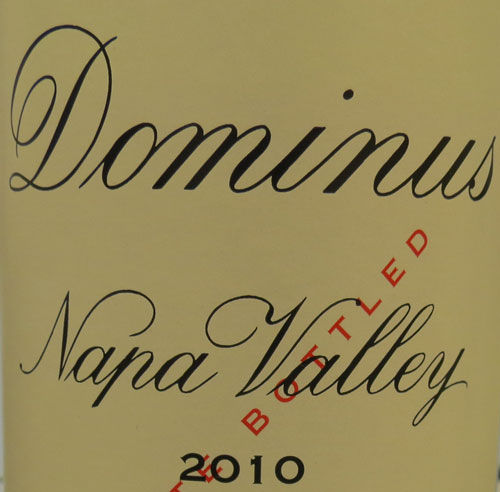 212381 DOMINUS 2010 Napa Valley $170.95
Tight, but it teases with dabs of coffee grounds, molasses, salted licorice, dried herbs, barnyard and hay. Then all of a sudden it bursts into life hurling aromas of blackcurrant, plum and sweet Moroccan spice. It has amazing structure, the tannins are gripping, but the velvety dark fruit is so focused, the acidity is seamless, just enough oak and an amazing mouth feel that finishes with spice, dark fruit and a touch of mint. Robert P deemed this wine to be a 100 pointer and I can't disagree. It is without any doubt, one of the greatest young wines I have tasted in a long long time. Plus, a quick scan of US pricing shows $170.00 price tag is more than a fair price to pay as our wine imbibing neighbours to the south are paying an average of $285.00 Find this wine
104299 THE PRISONER 2012 Napa Valley, California $49.95 or $109.95 if one wants to splurge on a magnum.
Another rave review from Mr. P. in a blend of 46% Zinfandel, 22% Cabernet Sauvignon, 18% Petite Sirah, 12% Syrah and Charbono that does sound intriguing, but for me it is awfully sweet and way over the top with its heady nose of cassis, red licorice, milk chocolate and briar. The hugely extracted palate has flavours of cherry liqueur, cherry cola, creamy oak and low acidity. Find this wine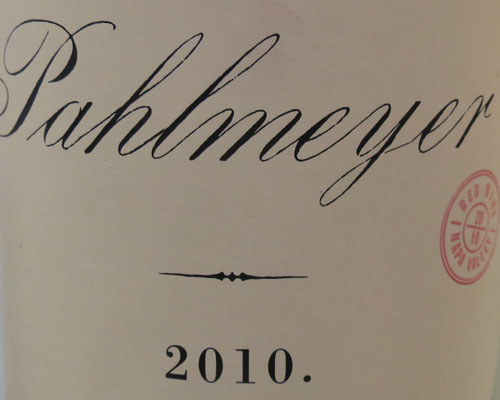 329375 PAHLMEYER PROPRIETARY RED 2010 Napa Valley $159.00
Given that 2010 was a challenging and cooler vintage in Napa these wines are really very good and Pahlmeyer is no exception. It is a heavy Cabernet Meritage blend that is not shy about showing its fruit forwardness, but it also shows another side packed with mineral, slate, forest floor, coffee grounds, Chinese mushroom and Indian spice box. The palate is powerful, while elegant, tannins are subdued; it demands drinking now, but those with lots of patience will reap the benefits a decade or two down the road. Marvelous stuff. Find this wine
060020 SEQUOIA GROVE CABERNET SAUVIGNON 2010 Napa Valley $55.95
A pricy entry level wine, but one that has serious merit and is bloody tasty, right from the muscular iron and mineral notes that meld with creamy mocha, currant, fennel seed and tobacco aromas. Cocoa and dusty tannins hold back the lively fruit for now, but give it a year or two of slumber and those fruit flavours will awake and do their thing. Find this wine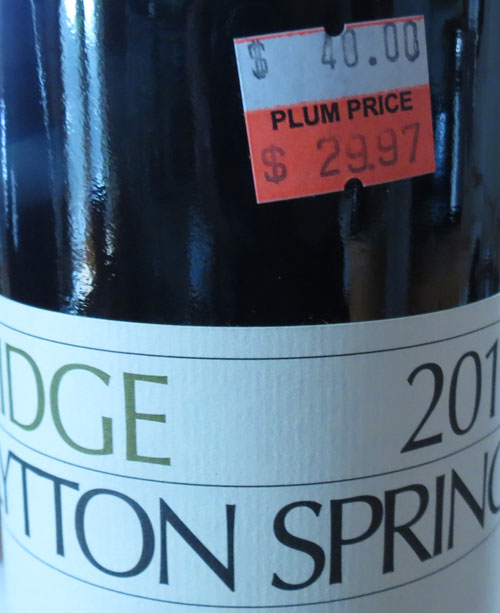 982413 RIDGE LYTTON SPRINGS 2011 Dry Creek Valley, Sonoma County $50.95
As good a Lytton Springs that I have tasted in a while. Cedar, blackberry, black toffee with a floral edge, dried cherry, lavender and a touch of beet abound. Not a candidate for early drinking, although I have no problem at the time of tasting, but there is a veil of tannin that does suppress the stunning concentration of fruit as it opens up, with super structure and lip smacking acidity. Having already made a purchase of this wine at "Plum Market" a store in the Detroit area known for its competitive pricing policies, I paid $29.00, considerably less than what the LCBO commands. Find this wine
366013 BELLE GLOS DAIRYMAN PINOT NOIR 2012 Dairyman Vineyard, Russian River Valley, Sonoma County $44.95
For those that wish to try a Pinot that doesn't remotely taste anything like Pinot, this is the one to acquire. As a wine, it has interest, as the inky purple/mauve libation shows density and heavy viscosity. The nose overflows with aromas of blueberry, Turkish Delight, white chocolate and sweet spice. Sweet and gobby on the palate, lots of dark fruit, and a background of coffee crisp candy and chocolate fondue. Find this wine
058024 LA CREMA PINOT NOIR 2012 Los Carneros $44.95
Moroccan spice ground with sweet cake spice, lovely blackberry, black raspberry and cherry cola aromas lead to an elegant palate, showing fruit purity, mineral, gentle acidity and the right amount of oak. Find this wine
089284 RIDGE ESTATE CABERNET SAUVIGNON 2010 Monte Bello Vineyard, Santa Cruz Mountains $61.95
Classic, this baby Monte Bello is filled with sweet spice, violets, cardamom, cassis, slate and blackberry aromas with a lovely palate; quite chewy, with great structure, vivacious fruit and lots of dusty tannin. Find this wine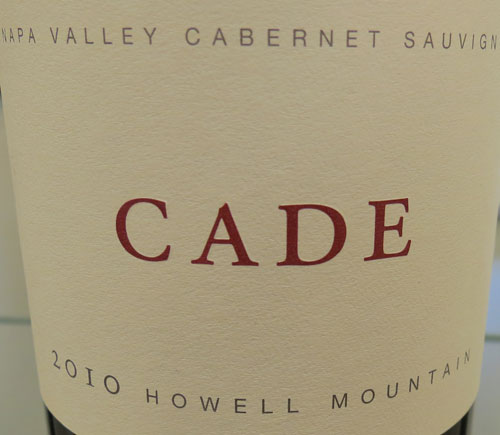 325027 CADE CABERNET SAUVIGNON 2010 Howell Mountain, Napa Valley $99.95
Very tight at first, needs sweet-talking to strut its stuff and when it does, it is a majestic and stately wine. Aromas of black and red fruits, vanilla, wet soil, molasses, morels, balsa and forest floor are plentiful. It has layer after layer of red fruit, cassis, and black raspberry with mineral and stone, a super long finish and although tannins are somewhat restrictive, every time I go back and re-taste this, it just keeps on getting better. Find this wine
THE REST OF THE RELEASE.
327700 BURNING KILN STRIP ROOM MERLOT/CABERNET FRANC 2012 Ontario $24.95
First impressions are of musty old wood, but that blows off to reveal notes of candy and soda pop, quite a tannic palate, some red currant and raspberry flavours that are masked by the astringency on the finish. Find this wine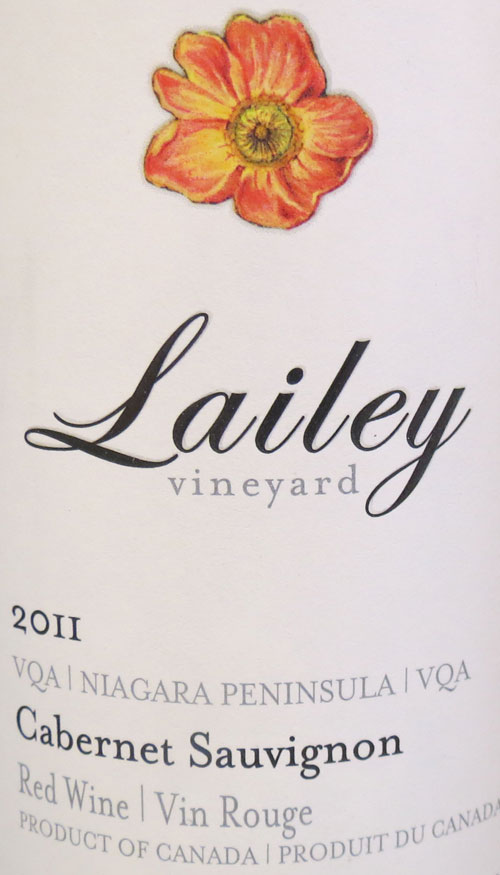 591370 LAILEY CABERNET SAUVIGNON 2011 Niagara Peninsula, Ontario $24.95
2011 was a taxing vintage in this part of the world, but wine maker and fellow Brit, Derek Barnett has produced one tasty Cabernet that, although tight, carries great aromas of plum mocha, blackcurrant and whiffs of vanilla. It has solid structure, well balanced fruit, acidity and mineral flavours, but the tannins are in control and suggest time in the cellar is needed. Find this wine
743989 CHAPEL HILL SHIRAZ 2011 McLaren Vale, South Australia $25.95
Muddy and enthralling notes of barnyard, Marmite, coconut and dense fruit, super power packed, but focused palate; well balanced and super length on the finish. Find this wine
357053 PATRICK LESEC CUVÉE SUZON BEAUMES-DE-VENISE CÔTES DU RHÔNE VILLAGES 2011 $19.95
Sweet cherry, linalool, caramel and currant combine in the Grenache and Syrah blend. There is dark fruit on the palate, decent acidity, but not enough to balance the unusually sweet flavours and globby texture. The 15 degrees of alcohol makes itself known on the finish with a snap of heat. Find this wine
356816 ALBERT MOROT BEAUNE TOUSSAINTS 1er CRU 2009, Burgundy, France $59.95
Pinot in its purity, featuring delightful aromas of beet, lavender, blackberry, sweet licorice and bay leaf, that turn to a blend of velvety red and dark fruit, sweet spice, cola, perfect acidity and a deft amount of oak. Find this wine
051797 GIORDANO COLLECTION PRIMITIVO DI MANDURIA, Puglia, 2011 $17.95
Fleshy and ripe, floral aromas combine with a touch of smoked meat and spice. Some expected sweetness on the palate, pleasing chocolate texture, dark fruit and enough acidity to keep one interested. Find this wine
684597 SANTA CAROLINA RESERVA DE FAMILIA CABERNET SAUVIGNON 2010 Maipo Valley $18.95
Quite dense, cassis and Ribena aromas enhanced by dried mint, Thai basil and cigar box. It is muscular, has plenty of fruit, but added mineral and iron notes are powerful, as are the teeth coating tannins. Needs time or a spell in the decanter. Find this wine
359927 FINCA LA EMPERATRIZ RESERVA 2007 $29.95 Old vines, DOC Rioja
Impressive, dark berry notes, some clove and mocha in the background, mostly red fruit on the palate; plum joins in the fun, tannins are soft, but still could use a year or two. Find this wine
Cheers
CZ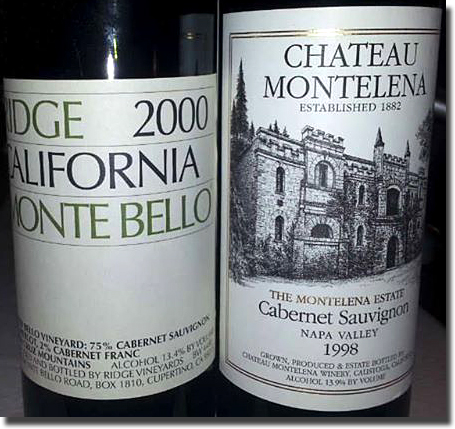 After having such a fine time at dinner with Anne Charlotte Melia-Bachas of Chateauneuf du Pape producer Chateau de la Font du Loup and AHD Vintners Sales Rep Extraordinaire Michelle DeHayes last September, Kim promised to cook the next time Anne Charlotte came to town. That turned out to be in early February, and, true to her word, Kim put together a terrific spread for our noshing and dining pleasure. Besides Anne Charlotte and Michelle, we were also joined by AHD head honcho Chip Delsener and Matt Jammes of Domaine Sarrail.
We decided that it might be fun to introduce our French guests to a couple of the best wines from California, and given that Niman Ranch flat iron steak with cannellini beans and red wine sauce was on the menu, the obvious choices were Cabernet-based. I figured it would be hard to come up with anything better than selections from Chateau Montelena and Ridge Vineyards, so that's what we went with. But first, Michelle got us started with a delicious Champagne.
Read the rest of this entry »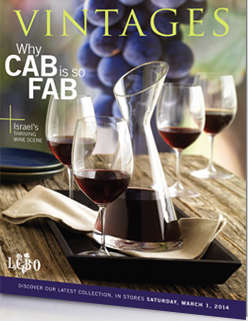 A fleet of Cabs will be cruising onto the LCBO shelves this March 1st. Many are really tasty, a couple are well…not so much. In time for Passover, there are a couple of new additions to the Vintage's portfolio and I am happy to say Kosher wines have come a long way.
THE CABERNET SAUVIGNONS
060525 RUTHERFORD RANCH RESERVE CABERNET SAUVIGNON 2009 Napa Valley, California $49.95
Heaps of dusty clay, mineral, dried herbs and pure black fruit run to a chewy and meaty palate of fleshy fruit, dried blueberry, blackcurrant, with bright acidity and silky dark chocolate tannins. Tasty now with time in a decanter, but it will get even better with time in the cellar. Find this wine
642207 DRY CREEK VINEYARD CABERNET SAUVIGNON 2010 Dry Creek Valley, Sonoma County, California $25.95
The aromas of black forest torte, blackcurrant and sweet vanilla entice, while the pure clean palate offers mouth-watering flavours of currant and black raspberry. It has great texture, is well balanced and although noticeable, the silky tannins do not interfere. Find this wine
725150 STARMONT CABERNET SAUVIGNON 2009 Napa Valley, California $35.95
A costly, but tasty entry level wine from Napa's renowned Merryvale Vineyards, that is rustic and hard showing notes of iron, mineral, dark fruit, Dutch licorice and cassis. The blend of 76% Cabernet Sauvignon, with Merlot, Petit Verdot, Cabernet Franc and Malbec is built to last. It is brawny, has solid tannins, the right amount of oak and pure clean fruit on the finish. Find this wine
161398 LANDER-JENKINS SPIRIT HAWK CABERNET SAUVIGNON 2010 California $19.95
If I only grab one Cab from this release, you are lucky enough to be reading about it. It's aromas of dark cherry, chocolate, currant and bay leaves are quite enthralling. The balance between dark fruit, lively acidity and sweet spice is spot on. Although its AVA is merely California, it offers up the drinking pleasure of some more prestigious wines at twice the price. Find this wine
001594 HEDGES FAMILY ESTATE RED 2011 Red Mountain, Yakima Valley, Washington State $32.95
A non-conventional blend of 44% Cabernet Sauvignon, 33% Merlot, 16% Syrah, 4% Malbec and 3% Cabernet Franc, boasting aromas of sweet mint, dried fruit, tar, peppery spice, blackcurrant and vanilla, with super structure on the palate, layers of dark fruit, chunky tannins, mineral and a finish of cassis and baking chocolate. Find this wine