All Things Must Pass
Aldo Biale – a Remembrance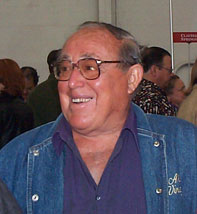 "…None of life's strings can last So, I must be on my way And face another day…" George Harrison
In 1993, Zinfandel Advocates and Producers (ZAP) was in its infancy, with a few dozen producers and a couple of hundred advocate members. The first Fort Mason tasting was quite a sight – nearly more producers, pourers and ZAP volunteers than there were tasters.
At the second table on the left was a new producer and member, previewing their first vintage – Robert Biale Vineyards. All four partners were there that day: Robert Biale; delighted he was no longer working night shift as a cellarmaster at Beringer, Dave Pramuk; still working his marketing job at Cardinale while the new venture launched, Al Perry, the thinking man's winemaker, and Aldo – the rootstock of the fledgling winery.
I was struck by the lack of pretense and genuine warmth that radiated from these fellows – this was no slick gladhand born of a marketing strategy. This was a team that had a real affection for each other and for what they were trying to accomplish.
And accomplish they did – bright, ripe, juicy, jammy, old school Zinfandel that I suspect tasted much like the "black chickens" the family sold from their cellar during Prohibition.
Wine lovers don't become fans of Biale, or wine club members, or even close friends. Aldo and Clementina make you part of the family.
Like his wines, Aldo didn't really change very much over the years that I was fortunate to know him. Whether at a tasting, or an offline at my place, or visiting on his back porch or at Tuesday lunch with the staff at the winery – his greeting to me was always the same: he would grasp my hand in both of his and say "Hello, young man."
Shaking hands with him was like having your hand enfolded by a gnarly, twisted old head pruned Zinfandel vine. They really told the story of his life: hard years, tragedy, good harvests and bad.
While many yammer and bemoan the loss of tradition, lack of family values, absence of principal and ethics, Aldo embodied all of those things, and more – all in his quiet, unassuming way. He leaves a rich legacy.
But I will always remember Aldo's hands.
califusa
9 Responses to "All Things Must Pass"