October 3rd, 2009 |

Author:
Allan Bree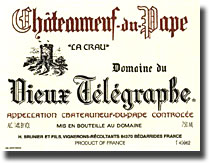 …is open for business and has it all – loam and licorice
and asphalt and tarry fruit – great mouthful of CdP, but
I must say the Paloma 1998 Syrah stood right up to it, and
then some. What it lacked in fruit it more than made up in
spice. Balanced and ready to go – a very very good wine
from a horrible vintage.
Quite a pair matched with braised lamb shanks and several
toasts to Jim…

Posted in
Allan Bree