Need a recipe for a fine evening?
Pull a few of your treasured older bottles from the cellar. Add a couple of your favorite people. Blend in a simple supper and you're there.
After a couple of near misses, Kat and I finally connected with Jon (Bigdog) Cook and his lovely bride, Kira (the Goddess) Maximovich. We motored down to San Jose to join them for a casual weekend supper that began with some nibbly bits and bubbles.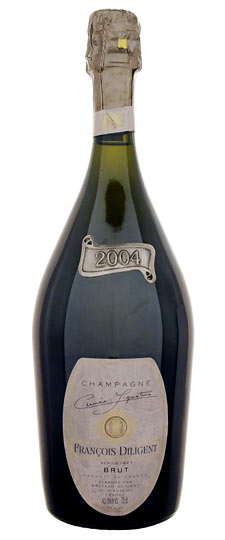 2004 François Diligent Brut  Cuvée Tradition – 100% Chardonnay   12% alc  $40  listed as "Cuvee Tradition" although the label is inscribed "Cuvee Signature".
Platinum hue in the glass – bright and crisp entry with lively bead – an excellent match with the Langa La Tur, a mixed milk soft fresh cheese. A synergistic combination and excellent starter. Find this wine
1996 Thunder Mountain Chardonnay  Matteson Vineyard – 13.9% alc  picked at 24.4° brix, yield 201 gallons, whole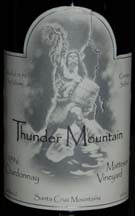 cluster crushed and pressed, barrel fermented
Milan's wines were, for the most part, unfined and unfiltered. When I pulled this bottle from the rack there was cirrus cloud formation amidst the wine in the bottle. I assumed this represented spoilage of some sort and I nearly left the bottle home. After standing upright for a few hours, the wine was still a bit hazy, but the wispy solids had settled to the base. The cork was removed and the wine gently poured.
Hazy deep golden color in the glass – initial impression of dried pear fruit in the nose and on the palate – the wine is smooth and viscous in the mouth with pure flavors and a long, lingering follow. The wine, for me, is virtually transcendent , and  just about transcends my ability to describe. It was as if the aromas, flavors and textures of the wine were so beautifully integrated that they were almost indistinguishable from each other – a perfect harmony and seamlessness that defies description – no components, only the whole; no angles, only the curves sweeping from aromatic to flavor to texture to finish – just amazing. A truly unique wine experience for me that I will always remember and even more special because it was shared with Kira. Find this wine
Along with a perfectly grilled Fred's tri-tip accompanied by grilled zucchini and radicchio with blanched and sautéed Blue Lake green beans we opened two offerings from the late and lamented Ridge Vineyards Cabernet Program – a short lived companion/alternative to the Advanced Tasting Program.
Fred Peterson farms the Bradford Mountain Ranch, located on the western edge of the Dry Creek Valley at 1000 ft. elevation. In the late 80s and early 90s he provided fruit for Ridge Vineyards – Cabernet Sauvignon, Zinfandel, Cabernet Franc and Merlot. These grapes now are vinted at his own winery.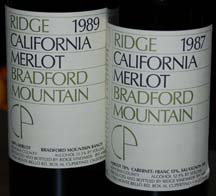 1987 Ridge Merlot  Bradford Mountain  CP – 78% Merlot  12% Cabernet Franc  10% Cabernet Sauvignon  12.9% alc  20% selection  2029 cases produced
Clear medium ruby color – bright and ripe red stone fruit aromas – mostly red cherry flavors in the mouth with some red plum that enters with focus and broadens out in the midpalate and richens with time. The texture is smooth, the flavors bright, the follow long and resonant. A beautiful blend that gives pleasure from first pour to last. Just lovely. Find this wine
1989 Ridge Merlot  Bradford Mountain  CP – 100% Merlot  13.3% alc  1809 cases produced
Clear medium garnet color – all sweet and ripe red and purple plum in the nose – the flavors follow the aromatics in a clear beam of fruit that flows effortlessly across the palate – bright acids lend structure to the velvety texture – a very, very fine example of the variety from a decidedly difficult vintage. Wonderful. Find this wine
Then on to a simple apple and dried cranberry tart garnished with crème fraiche that proved an excellent foil to the:
2006 Cinnabar Chardonnay  Late Harvest  Santa Cruz Mountains – 38° brix at harvest  179 g/L RS  12.9% alc  145 cases produced
I found this wine while tasting for the Santa Cruzin' story and this bottle was simply looking for a chance to be opened.  This is my note from the story…

"Lovely golden color and obvious viscosity in the glass – beautiful ultra-ripe apricot and peach in the nose – glorious in the mouth – the fruit promised in the nose follows on the palate – despite the high sugar level, the almost perfect balance of acid/fruit/sugar prevents the wine from being cloying – simply wonderful."
The wine has not changed very much since that tasting – perhaps the fruit has gained a little depth and weight in the mouth. Still very special. Find this wine
And the evening was very special, as well. Not only did we visit with two of my very favorite folks, but we shared some exceptional wines – an unexpected delight from Thunder Mountain and two splendid Merlot from the old Ridge Cabernet Program.
Noodle salad.
Reporting from the Alluvial Plains,
califusa
One Response to "Dinner at the Doghouse"