I approach these huge trade tasting events with no small degree of trepidation. I suppose it's not the tasting itself, but the challenge of finding an approach to visiting some 320 wineries in a structured fashion and leaving with a coherent story.
I spent quite some time perusing the Family Winemakers website, searching through the tasting information, looking for a "hook" for this story, a theme, a story line – all to no avail. I eventually found myself looking through the "varietal map" on the website, which was not a map at all, but lists of wineries that produced specific varieties. With both delight and relief, I found myself at the index page, staring at the list of varieties.
There it was, staring back at me, right at the bottom of the list of white varieties: "other white varieties" – and on the red wine page, a corresponding entry: "other red varieties". This appealed to me on several levels, not the least of which is the Gang's mission to find and report on out of the mainstream wines and producers. So it was with a sense of excitement and anticipation that I embarked on my personal quest to taste the "other' wines.
The first taste of the day is with Tablas Creek.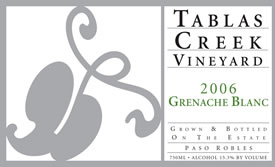 2006 Tablas Creek Grenache Blanc – 100% Grenache Blanc   15.3% alc  550 cases produced  $27
Lovely pale brass color in the glass – somewhat shy, but bright aromatics with floral overtones – crisp and refreshing in the mouth, showing mostly minerality with a hint of floral overtones and just a touch of smokiness on the back end. The wine is cleanly made, well balanced and has a long mineral finish. Very nice, indeed. Find this wine
2007 Esprit de Beaucastel Blanc – 68% Rousanne   22% Grenache Blanc  10% Picpoul Blanc  13.5% alc  2150 cases produced
Light brassy color – wonderful aromatics with sweet floral notes over a touch of the lightest imaginable butterscotch with some background minerality and a hint of caramel – rich with a broad flavors and a lovely mouthfeel – finishes cleanly and has a flavor profile that speaks of varietal mystery – a very successful blend that adds to the ever-growing list of impressive offerings from Tablas Creek. Find this wine
My next stop was with Mahoney Vineyards. Francis Mahoney started farming Pinot Noir in Carneros in 1971 and founded the Carneros Creek Winery in 1972. He also embarked on a lengthy and extensive program of Pinot Noir clonal trials in Carneros in conjunction with UC Davis. After three decades of success with Carneros Creek, he sold the label in order to concentrate on vineyard management. However, his collaboration with Pinot Noir veteran Ken Foster now allows him to oversee his wines all the way from ground to glass.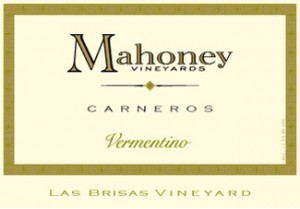 2007 Mahoney Vineyards Vermentino  Las Brisas Vineyard – 100% Vermentino  12.79% alc  $18
Rather pale, approaching clear, in the glass – there's some pretty, light peach aromas with floral overtones – more different than pleasing on the palate with a pleasant acidic bite on the entry with flavors that pretty much follow the aromatics – there are some tannins on the front end that I suspect are from skins, since I don't get any oak treatment on this wine at all – the fruit shows through very nicely and will show better with some food – I don't think this is intended to be a "quaffer" by any means. Find this wine
2007 Mahoney Vineyards Albariño  Las Brisas Vineyard – 100% Albariño   13.34% alc   $18
Pale, brassy color – lovely peach and light melon aromas with some wispy floral overtones – fresh and zippy in the mouth with flavors that follow the aromatics – finishes bone dry with a touch of astringency. Perhaps not quite as impressive as the (Gasp!) Bonny Doone I tasted during the Santa Cruz adventure, but still a refreshing and interesting take on the variety – a great wine for seafood and some cheeses, I suspect. Find this wine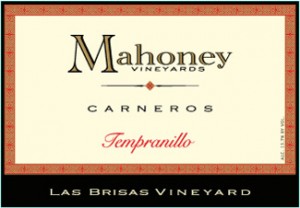 2007 Mahoney Vineyards Tempranillo  Las Brisas Vineyard - $18
Smoky, dense plum aromas – lovely rich flavors that follow the aromatics quite nicely – has a good acid backbone with a touch of a tannic bite on the front end, but all in all, a very nicely balanced wine. Should make for a nice alternative to Zinfandel and Syrah for your summer grilling menus – very impressive. Find this wine
2005 Mahoney Vineyards Nebbiolo  Las Brisas Vineyard - $18
Starts out smoky and dusty on the nose, which blows off, revealing bright and ripe cherry fruit that is clean and crisp – a bit soft on the entry, but still shows some long chain tannins on the front end – a light to medium bodied wine – probably best with a cheese course or some other dish that would tame the tannins, but the aromatics sell the wine rather nicely – a lot of fun to drink. A very strong showing of these "outside the box" varieties from Mahoney Vineyards. Find this wine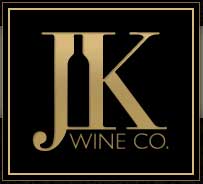 My next taste was with J K Wine Company from Paso Robles. They produce around 1000 cases a year – the Rhone varieties are bottled under the Katin label; the Bordeaux and Spanish varieties under the Arada label. Their winemaker is the very personable Justin Kahler.
2008 Katin Grenache Blanc   Paso Robles –
Almost a clear color in the glass – a little shy, but opens with surprisingly rich and sweetly ripe fruit balanced with very pleasant acids – it has great balance, is very cleanly made and has a long follow – very impressive. Find this wine
2008 Arada Albariño  Paso Robles – tank sample
Pleasant golden yellow color – quite lovely aromatics with floral and melon notes predominating – richly flavored with a very long follow – the acids are not as bright as other renditions of this variety I have tasted, but that is not a detractor – the fruit flavors linger on the palate, giving the wine a sense of richness in addition to its lovely texture – quite impressive. Find this wine
Boeger Winery is a label that is familiar to me, yet I've not tasted their wines in more than a decade. Greg Boeger spent a good deal of his childhood at his grandfather's winery in the hills east of St. Helena (Nichelini). He and his wife, Sue, bought property outside of Placerville shortly after he graduated from UC Davis in 1972. They began planting and built the winery the following year. The Estate Vineyard comprises some thirty acres of plantings with another ten under lease on a contiguous property. Another fifty acres are leased within the El Dorado Appellation, so eighty percent of their production is labeled Estate Bottled. Greg's son, Justin, is now the head winemaker.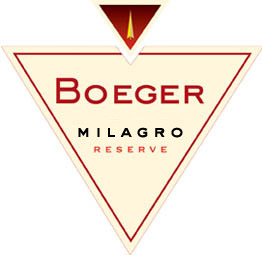 2004 Boeger Milagro Reserve – 61% Tempranillo  34% Graciano  5% Cabernet Sauvignon  14.5% alc  $25
Deep garnet color – pleasant, dusty plum fruit on the nose – rather friendly entry with the dusty plum notes following quite distinctly on the palate – there's some pleasing astringency on the front end and the flavors are well balanced. The wine is well crafted and should pair well with a variety of foods – well done. Find this wine
2007 Boeger Barbera – 100% Barbera  14.1% alc  $16.50
Light ruby color – shy aromatics, but a pleasant hit of bright and forward red and Bing cherry fruit with a hint of dustiness that is more flavor than texturally oriented – has a good acid structure to hold it all together – this is a red wine that is actually quite refreshing – very nicely done. Find this wine
I truly found the Mother Lode of "other varieties" at the Fenestra Winery table. In addition to their own vineyards in the Livermore Valley, they source many of their "other varieties" from the Silvaspoons Vineyards in the Alta Vista sub-appellation of the Lodi AVA.
2006 Fenestra Touriga   Lodi  Silvaspoons Vineyard - $26
Has a clear ruby color – impressively bright, forward, ripe and sweet cherry aromatics that are quite captivating – the flavors follow the aromatics with bright and crisp acids that create a rather riveting palate impression – the follow is quite long, the wine is cleanly made. By any measure – "out of the box variety or no – this is a very, very impressive wine. Find this wine
2007 Fenestra Tempranillo   Lodi  Silvaspoons Vineyard - $23
Slightly darker garnet color in the glass – rather shy aromatically, but if you work at it, you can coax out a little smoky red and purple plum – pretty and ripe fruit flavors in the mouth, although I must say that Lodi is one AVA where ripeness is rarely an issue. There are some light, but fairly mouth coating and smooth tannins that support the notion that this variety simply needs time in bottle to settle out and come into balance. The tannins become more of an issue as the wine spends more time in the glass. Find this wine
2006 Fenestra Alvarelhão  Lodi   Silvaspoons Vineyard - $19
Slightly light garnet color – very pretty and unusual red fruit aromas – a mix, perhaps of Bing and red cherry with some floral overtones – actually, quite unique – bracing acidity in the mouth subdues some of those impressive flavors, but with some additional bottle time, perhaps the wine will come into better balance as the acids soften and integrate. This is, however, a wine that I could enjoy for the aromatics alone – very, very impressive and a great find! Find this wine
2007 Fenestra Malbec   Lodi  Silvaspoons Vineyard - $22
Deep garnet color – toasty purple plum aromas – while not noted as a standalone variety, this rendition of Malbec is really quite pretty, showing sweet and ripe fruit upfront, balanced with requisite acidity and some not-insignificant tannins that will require some time to bring this package into balance. Find this wine
Just as I was about to make some closing remarks, I noticed a bus bin filled with ice and bottles of their white wines, including a Verdehlo and a Torrontes, so I'm not done here yet!
2008 Fenestra Verdehlo  Lodi   Silvaspoons Vineyard - $15
Rather pale brassy color – pretty, sweet peach and melon aromas with floral highlights – light and lithe on the palate with crisp acidity that keeps the wine moving – it's really quite refreshing and stands up to fairly low serving temperature. A great summer wine that can stand alone or served with a variety of foods. Nicely done. Find this wine
2008 Fenestra Torrontes  Lodi  Silvaspoons Vineyard – a cross between Mission and Muscat of Alexandria  $15
Pale golden color – and as I've experienced with other examples of this variety, and absolutely boisterous aromatic profile that is more floral than fruity, yet is not cloying at all – a true olfactory adventure – lean and absolutely bone dry in the mouth showing a hint of minerality – while there is not much of a fruit impression, it's not as if one misses it – the wine perfectly satisfying and enjoyable on its own terms – a great deal of fun in the glass and this wine has a bouquet you could literally lose yourself in. Find this wine
A wonderful lineup of "other" varieties from Fenestra – a great, great job!!!
Lone Madrone is another family owned winery from Paso Robles, a collaboration between Neil Collins (winemaker at Tablas Creek) and his sister Jackie.
2005 Lone Madrone Tannat   Paso Robles   Glenrose Vineyard – 200 cases produced  $40
Super dense and dark in the glass – somewhat shy aromatically – rich and dense on the palate with a pleasant sweetness of fruit – not as dark a fruit impression on the spectrum as Petite Sirah, but the sheer weight and concentration gives an illusion of darkness – appropriate acids bring it all together. It will certainly need some time to come into balance, but it is a frightening and entertaining wine that is quite unique in its palate impression. I've heard of virtually undrinkable Tannat, but this is not. It will certainly require some time, but I would love to revisit this wine in a few years to see what becomes of it. Kudos to the winemaker for taking that step off the precipice and trusting that the net would appear beneath him. Far out, man. Find this wine
McKenzie – Mueller Vineyards and Winery is a 2500 case/year family owned winery founded by Karen McKenzie and Bob Mueller in 1989. They produce Cabernet Sauvignon and Cabernet Franc from their Oak Knoll District vineyard and Chardonnay, Pinot Noir, Pinot Grigio and four Bordeaux varieties from their vineyard in the Carneros.
2005 McKenzie – Mueller Malbec  Los Carneros  Napa Valley - $45
Deep ruby color in the glass – shows a bit of residual sulfur in the nose that blows off with a little swirling, revealing some lovely fruit – pretty ripe varietal aromatics – it has a fairly friendly entry with appropriate typicity and good structure – there are some smooth tannins on the midpalate that will require some time, but the wine could be enjoyed now, although it will show better in a couple of years. Find this wine
PB Hein Vineyards was founded in 2005 by Paul Bernard Hein, a fifth generation Napan. He produces small lots of Cabernet, Charbono and Syrah.
2004 PB Hein Charbono  Napa Valley – From a St. Helena property  100% Charbono  12.5% alc   172 cases produced  $27
Very pretty and clear garnet color – shy aromatics – very impressive attack with ripe fruit, mostly red cherry with some red plum, all propelled by bright acids that make the mouth water. The flavors are clean, the wine well crafted with a long, long follow, but even though it's a 2004 and 100% malolactic, I think it might benefit from a little more bottle time to allow the acids to soften a bit more. Very nicely done. Find this wine
The next taste was with Thomas Holmes, winemaker for Fritz Maytag's York Creek Vineyards. (For extensive tasting notes on wines sourced from this property, check out the Saturday tasting at Ridgestock and our interview with Fritz Maytag). Tom was offering nine wines for tasting, including Pinot Blanc, seven red wines including single block Cabernets, Franc and Merlot as well as a Port that Fritz has been experimenting with for quite some time. I decided to focus on the…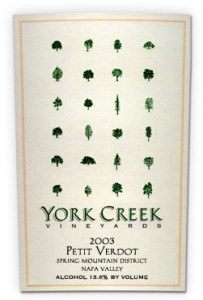 2004 York Creek Vineyards Petite Verdot   Napa Valley  Spring Mountain District – 100% Petite Verdot   $30
Very dense and dark color in the glass – somewhat shy in the nose – rich, mouth filling flavors – fortunately, the wine finishes before the considerable tannins shut down the front of the palate, but shows a density and purity of fruit that is quite admirable. Will need some time, of course, but I think will turn out to be a fine representation of the variety. Find this wine
Yorkville Cellars is located on the stretch of CA128 between Cloverdale and the Anderson Valley. Founded by Deborah and Edward Wallo in 1988, the winery has chosen to specialize in the Bordeaux varieties, including Carmenere. Sometimes referred to as the "lost Bordeaux variety", Carmenere was brought to South America around 1850 and because it was not replanted in France after the Phylloxera outbreak in the 1870s, is most predominant in Chile. Tiny amounts are grown in the United States – a total of perhaps 59 acres.
The winery offers all six as individual varieties, as well as a blend consisting of all six.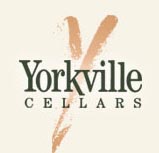 2006 Yorkville Cellars Carmenere  Yorkville Highlands   Rennie Vineyard – 90% Carmenere  10% Petit Verdot   13.5% alc  $28
Absolutely delightful garnet color – fascinating cherry and plum aromatics along with interesting spice highlights and a fascinating floral lift that makes the aromatics of this wine quite unique. Very soft entry with bright cherry flavors punctuated by brisk acids – the flavors finish a little short, but it's such a treat to taste this variety on its own that these minor criticisms pale in the overall enjoyment of the variety. A unique varietal offering in that this wine has little in contrast with the Southern Hemisphere examples I've tasted, and it gives some fascinating insight into the alchemy of 19th century blending. Another pigment to add to the winemaker's blending palette. A real joy and a true find. Find this wine
The family history of the Lucchesi Vineyards and Winery weaves a fascinating story from Toscana in Italy to La Paz in Bolivia to the United States. The winery produces from four to six thousand cases a year, the majority is estate bottled near Grass Valley.
2006 Lucchesi Tempranillo  Lodi – 100% Tempranillo  14.5% alc   194 cases produced  $28
Deep ruby color – somewhat restrained aromatics – shows well balanced and ripe black cherry and red plum fruits with a splendid acid balance without the tannins that seem to challenge other versions of the variety I've tasted today. A very pretty wine that's ready to drink right now – really quite nice. The tannins in this wine are really quite well managed and the winemaker tells me they use a yeast that's imported from Spain that seems to soften the wine and help with the tannin management – for this particular variety, the yeast yields superior results. This is a real beauty of a wine – the fruit really shines through very nicely and at $28, it's an excellent buy. Find this wine
I had quite the adventure today, meeting new friends and renewing my faith in the adventuresome spirit of California winegrowers. Many thanks to Family Winemakers for exceeding my expectations.
I thought to close this piece with a play on Robert Frost and the road less traveled, but I prefer the words of another poet and philosopher: "When you come to a fork in the road, take it."
Sage wisdom, that.
califusa
One Response to "All in the Family – Tasting the "other" varieties at Family Winemakers 2009"