Archive for December, 2009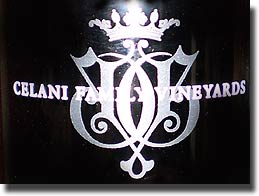 I've never been one of those wine lovers who worships at the shrine of Napa Cabernet, but that doesn't mean that I summarily dismiss them either. While too many can be ultra-ripe, over-oaked monstrosities that may show well in blind tastings and score big points with critics (just don't try to have one with food), there are exceptions, such as the 2 from Cornerstone Cellars we tried not long ago. I happened upon another one last weekend, and liked it so well, I brought one home.
.
Reading  Randall Grahm's recently released book, Been Doon So Long: A Randall Grahm Vinthology, is more than a little like having a conversation with him.  From the very beginning, one is bombarded with his erudite, irrepressible and, more than occasionally, savage wit, which should come as no surprise to anyone having had a gander at even one of his Bonny Doon wine labels over the years.
Read the rest of this entry »
Continued from the article Tasting Leelanau
Our final tasting was, most appropriately at Black Star Farms. We didn't have an appointment, per se, but David Rusnell spoke with Winemaker/Distiller/Manager Lee Lutes during the LPVA Visioning Session on Wednesday, and Lee agreed to lead us through the tasting. We scheduled to meet after we returned from our appointment at Left Foot Charley, and when we arrived, we found Lee already tasting some barrel samples with another Charlie, one Dr. Edson, from Bel Lago. Read the rest of this entry »
Need a recipe for a fine evening?
Pull a few of your treasured older bottles from the cellar. Add a couple of your favorite people. Blend in a simple supper and you're there. Read the rest of this entry »
Continued from the article Tasting Leelanau

It might be argued that a visit to Left Foot Charley is out of place with the Tasting Leelanau theme of our three-day excursion to northern Michigan wine country.  After all, the winery itself is located in Traverse City, and at the time of our first report on Bryan Ulbrich's upstart start-up project, only wines from Old Mission Peninsula fruit were made.  But from the start, Ulbrich had ideas about also sourcing grapes from the Leelanau, and now he's doing so.  There's also the Gill's Pier connection, so Bryan is no stranger to the "other side of the bay."  Besides, it just wouldn't be right to be in the area for three days and not drop in to see what's new at LFC. Read the rest of this entry »
Continued from the article Tasting Leelanau
.
We started our final day of Tasting Leelanau with a visit to a relatively new producer, Circa Estate Winery, owned and operated by Margaret and David Bell.  We were immediately struck by the fact that everything about this operation is first class and with a very distinct style.
In the accompanying video, the Bells tell of how they got into the grape growing and wine making business. Read the rest of this entry »
Picture driving back roads through the hills of the Leelanau Peninsula in a bright red, souped-up Dodge Charger for three days, with weather more beautiful than anyone has a right to expect in mid-November, bouncing from winery to winery and tasting some of the very best wines the appellation has to offer, and you'll get some idea of what our adventure in northern Michigan was like last month.
Our intrepid band of explorers, all of whom serve on the tasting panel for Michwine.com, consisted of Master Sommelier Claudia Tyagi, retired engineer and avid wine aficionado David Rusnell, Gang of Pour Chief Cook and Bottle Washer Kim Adams and this taster.  Claudia earned the title of Master Sommelier in 1997 and serves as wine consultant to a number of fine restaurants and collectors in the Metro Detroit area, while David has judged in numerous wine competitions in Michigan and Ontario.  Both are keen, longtime observers of the Michigan wine scene, not to mention excellent traveling companions.   Read the rest of this entry »
Continued from the article Tasting Leelanau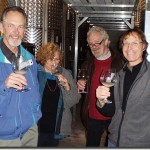 We began our survey of Leelanau wines with our visit with Charlie Edson at Bel Lago, and it set the tone for our entire tour.  The wines are delicious and Charlie is a delight to spend time with.  I suppose it would be more proper to refer to him as Charles E. Edson, Ph.D, his official title, but he just seems like Charlie to me, and I came to think of him as a buddy after sharing food and wine with him a few days later.  Claudia has known him for some time, and I'd met him on a couple of occasions previously at trade tastings, but those events, by their very nature, made it hard to get the kind of read on his wines that I would have liked. Happily, there would be no such distractions on this bright Monday morning. Read the rest of this entry »