Rednecks and Red Rhones 2010
I came to see Danica Nekked, but all I see is the Geico Pothole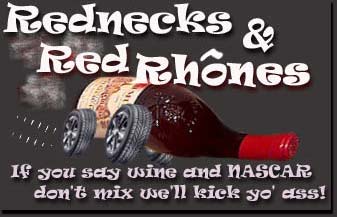 The run up to Rednecks and Red Rhones seemed particularly long this year. It's hard to say what the reason for it is really. The genesis of my rural ennui could have likely come about from any number of events that Southern Man just don't usually encounter, like the bone-chill'n cold winter, or four (count 'em, FOUR) heavy snow storms and the ach'n backs that came with shovel'n out the gravel drive of the mobile home park to get to the Post Office to pick up the ol' lady's alimony check. But then, perhaps the strain of hav'n she-who-must-be-obeyed in tow and her forcing me to drive sober for three whole hours made my blood too cold. But then again, it could be that I was exhausted from having the sh*! shocked out of me every time I touch metal because of all the freak'n layers of wool I'm wear'n during Al Gore's global warming meltdown just to ward off hypothermia here in the friendly, freak'n hospitable, used-to-be-sunny South – I dunno, but the usual trip to High Point for the annual gearhead and grape-must fest had a distinctly heavy feel to it this year. As I slipped and slid the SUV over hidden black ice that gave me a distinct sensation that I now had enough experience for driv'n a rig across Alaska's ice highway, all I want to know is: Who in the hell ever thought this sticky Yankee white stuff was "lovely," "dark" and "deep?
But if truth be told, the source of my foul mood weren't the fault of no weatherman or Mother Nature's blanket over the sculpted hills of this gracious land formed by God's fine hand. No, I need no reminding of the genesis and depth of my funk, what with the Spousal Unit holding up the latest issue of NASCAR Illustrated and needled, yet again, "So, how will Danica do at Daytona?" Of course she wasn't driv'in the big race, but just making a show in the Busch (Nationwide) series. But with all the doe-eyed, lip-quivering, melon-heads in the media salivating and slathering on the ink, avoiding any articles, images and video about her would be like Custer avoiding arrows. Hell, she ain't the driver that Juan Pablo Montoya is and certainly can't swear as good as he does, but here she is with more press, more ink, more photogs hanging on than Junior when he actually wins something.
This whole run up to Daytona gives me flash-backs to the Brady Bunch. A lot of Rednecks of our generation have held deep to a pass'l of feelin's for Jan, but I pray none of us ever hoped to empathize with her or know the depth of her teenage angst as she yelled, "Marcia, Marcia, Marcia! That's all I ever hear!" Yet, now, as Daytona – the Super Bowl of rac'n – is about to get underway, this is what has become of my NASCAR life. I am left to howl against the gods: "Danica, Danica, Danica! That's all I ever hear!"
With Jan's angst in my head and my burning memory of her in my heart, I swing the SUV into the hub of Rednecks & Red Rhones, Chez Ellis. As I unload the heap of wine, I couldn't help but wonder what a time Jan and I could have had with this stuff as teenagers! Marital fidelity quickly regains its rightful place as she-who-must-be-obeyed sharply asks, "What's that silly grin all about?" Prudence requires a realignment of, shall we say, intent. And I intend to get some wine in me real soon, and how!
Colonel Bob Cuozzi lays down the tunes. As much as we Rednecks enjoy the liquid velvet of Pasty Cline and the hombre timber of Trace Atkins, Bob's ability to venture into the more esoteric (by Redneck standards) is given free rein; unless of course, he ventures into 1940 show tunes. Show tunes these are not, but instead we swap vi'tals to the soulful sound of Joe Henderson Double Rainbow "The music of Antonio Carlos Jobim." Keeping in mind that the theme for Saturday nights of R&RR is open, Bob slides a glass over and the countdown to Daytona begins with:
Dumol Lia Viognier Russian River Valley 2008 Find this wine
Already opened two days, yet it still struts its stuff. The product from these cool vineyards of Hoppe-Kelly and Trenton Station walks the balance of fruit and minerality. Aged 11 months, it tops out with 14.9% alc. White flower dominates the attack – it is very floral – with lychee nut, vanilla, and orange rind following. Perhaps it has too much oak? But then again, Bob considers the flavor more like melon. The finish is long. John, a younger Ellis member, likes this wine! (We keep this up and we'll be assured of a second generation of R&RR events.) The memory of "Danica, Danica, Danica" shortens.
This year we opted for a Saturday dinner theme of Chateauneuf du Pape. With a line up of roast chicken on the pole and rotisserie chicken in second, followed by fix'ns of Parmesan risotto, salad and the now famous Ellis bread, we gather 'round and give thanks. Our hostess, Tami, gives us some crystal clear insight into her vinological focus with the comment, "So what good wines are open besides the Port?" The Colonel secures the Port to assure it will be available for later use and we turn Tami's attention and ours to:
Clos des Papes Chateauneuf du Pape Blanc 2007 Find this wine
14% alc. Loads of melon and white flower, (and maybe some orange blossom), loads of white pepper and … simply beautiful. Good depth and length. If Jeff Hammond were announcing he'd say, "Ready to go/open for business." On day two, it's a little tired, but still delivers some satisfaction….kinda like Danica going into the wall; you know you're not supposed to enjoy it, but you still do.
Ch. Rayas Chateauneuf du Pape Blanc Reserve 2000 Find this wine
13.5% alc. Butterscotch, bread, perhaps even brioche, melon and tropical fruits fill out the profile, but which comes first or last is a bit of mystery. Shorter finish than expected. It just didn't live up to expectations and seems to get left in the dust; somewhat reminiscent of Jr's '09 season.
Ch. De Beaucastel Chateauneuf du Pape 1990 Find this wine
13.5% alc. Bob votes this as the third wine of the night saying it reminds him of the '78 and '82 Beaucastels, while Steve places it on the pole as first place starter and the wine of the night. Classic Beaucastel with meat, mineral, black olives and blackberry that has a full mouthfeel, great weight and balance. Somewhat bricked all the way from the core to the rim, but given its age, its allowed to cruise the outside line on the track. It's still in a winning groove, which is a lot more than can be said for Richard Petty Motorsports.
Domaine Du Pegau Cuvee Laurence Chateauneuf du Pape 1990 Find this wine
14% alc. Sweet fruit initiates the attack only to be joined with leather, smokey meat, licorice, graham cracker, lavender, tobacco and mineral, with each laying it on in spades. It delivers a very rich flavor with a great mouthfeel. The finish is deep and long. Bob votes it wine of the night. It is undoubtedly a gorgeous wine.
Domaine Andre Brunel Chateauneuf du Pape 1995 Find this wine
14% alc. Something is off with this wine. Probably from the now famous "warmer cellar" of some attendee not to be named. The wine's not at all corked, but the roasted tomatoes are almost stewed. Heat damage? Probably, but it nevertheless shows glimpses of some blackberry, mint, licorice, black olives, but, again, undistinguished. (On the QT, this wine actually had been a recent purchase from WineBid.)
Ch. De Beaucastel Hommage A Jacques Perrin Grande Cuvee ChNdP 1999
Corked! "This sucketh!" Steve intones.
Vacheron Pouizin Le Clos du Caillou Chateauneuf du Pape Reserve 2000 Find this wine
14% alc. Bob gives it a thumbs up for a second place finish. Layers of mint, licorice, herbs, mineral and sweet fruit of blackberry thread their way to the front of the palate at one point or another. Almost a New World richness. This shows a more New World character than the Tablas Creek. Accordingly, it wins a nomination for the most controversial wine of the night award, which in turn makes it very similar to Junior!
Ch. De Beaucastel Chateauneuf du Pape 1998 Find this wine
13.5% alc. Sandalwood? More mature than the 1990? Smokey, bacony, meaty with blackberry and licorice. Without the depth or length one would expect with the '98. A dumb stage, perhaps? Greg says unequivocally "NO!, it's young and just opening." An hour later, Greg is redeemed. Mint shows, anise appears, black olives, white pepper, maybe some garrigue. It's now open and not only ready for business, but downright take'n names. It finishes with a touch of brett and maybe even some cough syrup. It's beginning to show as a classic Beaucastel. Greg loves this and gives it kudos. Bob spins the Beatles White Label to lay down the groove in the background.
Ch. De Beaucastel Chateauneuf du Pape 1994 Find this wine
13.5% alc. Dried out, herbaceous (in a good way), a decent wine, but pales next to all the others. Acidic nose and out of balance palate. A thin wine with a very light mouthfeel. A typical middle of the road Southern Rhone, but an undistinguished wine by this producer.
Tablas Creek Vineyard Esprit de Beaucastel Paso Robles Ca. 2000 Find this wine
A blend inspired by Beaucastel with Mouvedre taking the lead at 35% followed by Syrah 26%, Grenache 25% and Counoise 14%. This is still a young wine with a deep purple color. Smokey! Meaty! With violets, leather, earth and mineral. The palate speaks of California, but the nose speaks of its heritage. An excellent wine that leaves some of the others in the dust. So good in fact, it captures the attention of most and Barb in particular. She revisits it time and time again. Try this wine in 10 years.
Unknown to anyone but Bob and me is that this wine was comped courtesy of Jason Haas of Tablas Creek. Given the partnership between the Haas and Perrin families ideally, we had hoped to taste it side by side with a 2000 Beaucastel, but oddly enough, no one has a '00 Beaucastel! Nevertheless, watching the crowd's reaction to the wine is interesting: judging on its merits, instead of its relationship; watching the genuine pleasure of most all who tasted it. As a non-Rhone wine among some Rhone big hitters, it holds its own and threads its way to a respectable finish.
The clock hands turn and my head begins to spin – which is a good indication dessert is coming and Port is close behind. That's usually the time someone amongst us wants to make table blends from the dump bucket. But before everyone gets too far over the thin line separating celebration from brain cell re-calibration, Barb serves up some fangdangled magazine recipe dessert: something called a chi tea cheesecake. Damn, woman, who the hell wants a pastel green blob of sugared sour cream! But without even a polite comment of "Shut your pie hole!" in my direction, she forces – forces, I tell ya – a forkful past my dentures. Next thing I know, Steve is standing over me with a defibrillator, Greg has a stethoscope screwed into his head and the concerned-yet-knowing-look of a doctor screwed on his face,  . . . and Tami is asking if this will delay pouring the Port. That damn cheesecake done come over me some kinda way what with the richest, densest graham cracker crust ever; musta had about a stick of butter in every square inch. Outstanding dessert, Barb!
As I clamber up the side of the chair, I find yet another glass of joy juice afore me. With the night wearing on and my eyes beginning to multiply the number of people in the room, I manage a glass or three of:
Clos du Bourg Moelleux 1st Trie Vouvray 2002 Find this wine
The nose on this is incredible! Anise, orange blossom, white pepper, marzipan, honeyed nose with Energizer bunny go power. Inhaling it would make you think the mouthfeel will be big and round. It isn't. 12% alc. A very young, almost thin, (not light, but t-h-i-n) mouthfeel, but nonetheless a loooong finish. A wine to hold.
A distinct haze clouds the remnant of the evening. Tami announces the hour of Port is upon us with a shout of Hallelujah, but with my ears ringing from the shock of the defibrillator I cannot attest to that with accuracy. About this time someone thrusts a glass under my nose of:
Dow's Vintage Port 1985 Find this wine
Having no nose for Port, I detect only caramel and earth. "Soft on the nose" is the best I can do. Leaning on more dependable palates, I can only parrot descriptors of kirsch, beautiful raspberry, what Steve rejoins as a "lovely sweetness." While the crowd says, "Years to go on this" and "Young, exuberant" and "25 more years," Redneck logic would say the crowd has got into some bad juice – we all know that if wine is like a woman then it's ready to go now! Twenty-five more years and the damn thing is sure to be all pruney. But the descriptor that my besotted head just cannot shake is: "A snow cone-syrupy aspect." This, the crowd tells me, is a good thing. Where's that defibrillator so I can shock some sense back into these people?!
Jeff & Dena pry Barb off the remnants of the Tablas Creek and they trundle back home. Greg & Bob pour me into a cab, and I swear I hear Tami say, "Amen."
DAY TWO – RACE DAY!!!
It used to be that to find our way back to Chez Ellis we followed the trail of broken bottles until we could spot the smoke rising from some burning protein off of Greg's grill, but no mo'. Now, with Navi-systems, GPS and the like, we now use the regular named roads and don't have to slink back through the torn up yards, around the downed power lines and pesky, pester'n police with all their questions about how magnolia leaves come to be stuck in our SUVs' grills – the same magnolia leaves that look like those from the backyard of the mayor's house a couple of blocks over.
With one less thing to further slow our already rather stalled thinking processes, we gather back at Chez Ellis for the run up to the big race. We would have watched the pre-race events, but all the talk'n heads are all over how Danica, Danica, Danica! did so well in the race the night before. If ever there was proof that God is a man, you need look no further than the mute button on the remote. No way in hell such a bless'd invention would ever been devised if God were otherwise.
Bob, who is, may I say, much too chipper for the morning hour this particular day after a night like the night before, explores a retrospective of Pat Metheny's live double album – "Travels." The spiritual nature of "A Farmer's Trust" conveys a quietude that Miss Emma's 'lectic organ at Mt. Zion Independent Baptist Church cannot begin to translate.
And while it is rumored that we had Baptists amongst us, at 11:00 A.M. we had an invocation of a different sort. The green flag isn't waving in Daytona, but we threw it with alacrity in High Point.
Now, we ain't much inclined to florescent bulbs made in Chyner ("China" for those with effete school'n past the 5th grade), but never let it be said that a few boys and girls from the country aren't sensitive to the need to be good stewards of what we got and recycle all we can. After all, recycl'n is just be'n a good steward and we'd all learned about stewardship back in Sunday School. And to prove that very point, we finish off the Clos des Papes Blanc left over from yesterday. Besides, the bottle makes a heluva good target for shoot'n practice.
With slabs of beef tenderloin at the ready, we unveil the first – and probably last – Gang of Pour man in the field correspondent. Here at Gang Central, we spare no expense to bring you the action of wine and rac'n without compare. At this very moment, LIVE and ON THE GROUND in Daytona his own good self our man: G. Rod McPheeter. Born and bred in the shadow of that paperclip of a track, Martinsville, G. Rod came of age watching the races from the Lazyboy chair of his parents' single wide trailer that always had the hitch at the ready, (just in case).
G. Rod offered us the gift of his talents after he found hisself in good graces with his Uncle Elmer who had deftly lifted grocery money off his former ex-wife, whom he had re-married in a hasty, hazy moonshine drenched New Year's eve party. You see, G. Rod had always wanted to be a sportscaster and had even once attended broadcast night classes at the community college. As he sped down I-95 to Daytona, he thought of us in High Point and realized this might be his BIG CHANCE. While none of us held out any hope this would break into something bigger, at any rate, G. Rod knows rac'n and agreed to provide LIVE! ON THE SPOT coverage. Unfortunately, G. Rod's Aunt's grocery money means he is broadcasting on a budget. His first text message came at 11:30 when he advised, "Lawd, this place be big!" Did I tell you that G. Rod rode the short bus to school?
We turned off our phones and turned on to:
E. Guigal La Doriane Condrieu 2005 Find this wine
13.5% alc. A pale yellow gold with a green tinge appearing youthful, but the nose and palate are mature Viognier. Not nearly as oaky as the last bottle (HdR). Sure the vanilla is there, but its under layers of the honeysuckle, almond, orange blossom, white pepper. A beautiful and very ready to drink wine. It's lip smackingly good with Serrano ham and goat Gouda and artisanal Manchego. Bringing a German wine to a Rhone function is akin to a Hatfield moving next to a McCoy, but where alcohol is involved, we aren't particular, so we followed the Doriane with :
Weingut Selbach-Oster Feltinger Schlossberg Riesling Kabinett Mosel-Saar-Ruwer 1993 Find this wine
7.5% alc. The color is a wonderfully deep golden hue. Yet, the mouthfeel is very light, almost whispering, delivering a deft petrol note, with more orange peel and pineapple. A generous pour, but at about half the ETOH needed to kick start this particular morning.
Ch. Grillet 2001 Find this wine
13.5% alc. The one, the only and sole chateau of the AOC. Very clear in the glass with the lightest yellow eeking out a color. Notes of candied orange peel and graham cracker kick around the edge of the profile. Pleasant enough, but without the depth of the La Doriane in part due to a decidedly short mid-palate, but lengthy finish. Bob sums it up with "The nose promises more than the palate delivers."
The boys are off the start in Daytona and we briefly move to the reds, but then revisit the whites (as I said, the plugs just aren't spark'n well) so we can justify opening….
Chave Hermitage Blanc 1997 Find this wine
13% alc. Beautiful in the glass, catching light in ways that we wish our besotted heads didn't have to interpret just yet. Layers of flavor that include lanolin, honey, honeysuckle, some petrol, lychee, some milkiness on the nose and palate, white grapefruit … it just goes on and on. The texture is soft, yet the wine delivers length and depth. Nothing short of splendid.
Michel & Stephane Ogier La Belle Helene Cote Rotie 2000 Find this wine
13% alc. If you like candied apple garrigue, then this is the wine. It seems to be the wine for us, what with its soft tannins, velvety texture, brined olives, dried leaves, and rosemary herbaceousness, with some sweet blackberry thrown in as well ….. and yes, somewhere under it all is some candied apple, but it works and works well. It has both a sweetness and meatiness to it. It's a wine that goes fast.
Keslowoski bites the big one on the 9th lap and the group smiles knowingly. This is shaping up to be a fine race!
In the Ellis dining room, the table shows the making of a Jamet smack down developing. While we didn't intend this day to be a Jamet smack down, we find more bodacious blessings than Tony Steward has capacity for HoHos.
When Jamet is open, it has its own language. Accordingly, it speaks for itself:
Jean Paul et Jean Luc Jamet Cote Rotie 1985 Find this wine
12% alc? (No alcohol posted on the label.) Jeff likes the clean earthiness of the wine. The tannins may be fully integrated, but it drinks like a young wine. A slight touch of iodine layered between black olives and smoked meats with an underpinning of black fruits slathered on the bottom. Excellent mouthfeel – full, round and sexy. The Krista Voda of the Jamets.
Jean Paul et Jean Luc Jamet Cote Rotie 1991 Find this wine
12.5% alc. The softest of the Jamets on the table. It has all what we came to know as the Jamet profile of blackberry, smoke, smoked meats, a touch of iodine and coffee. And while not plushy in a New World way at all, it's soft enough. Very elegant. Krista Voda's sister perhaps?
Jean Paul et Jean Luc Jamet Cote Brune Cote Rotie 1997 Find this wine
13% alc. In the glass, it looks very young with deep ruby coloring. While not rich, it is satisfying with coffee, iodine, earth, mineral, … an old world wine to be sure. Well integrated tannins with a silkiness that cannot be denied. While very approachable, time will allow better results …. a Jamet with a sorta Lagano-esque quality .
Jean Paul et Jean Luc Jamet Cote Rotie 2000 Find this wine
12.5% alc. The tannins here are big and with more grip than 4 new stickies on a restart. Indeed, the consensus is that it is very youthful with years to go. The dominant flavors are blackberry, brined olives and coffee. A hint of brett or garrigue, the crowd is undecided, slips in on the finish. The mouthfeel is deep and rich.
All of the Jamets show well. All are solid, well made, consistent and frankly, a complete pleasure. Geo may be a Ridge whore, but we willingly submit to Jamet, anytime, anywhere, any place.
Mark Martin is left out of the line and hung out to dry, slipping back to 27th. Martin dislikes restrictor plate rac'n, but it sure would be nice to see him capture one. However, today won't be the day.
J. Vidal Fleury La Chatillonne Blond de Vidal-Fleury Cote Rotie 2003 Find this wine
13% alc. (Now a Guigal product.) While this may be a well made wine, it nevertheless could be from South Africa as well as the Left Coast. Some of us concede a hint of "roasted slope dark flavors" but not enough to suggest it truly is from Cote-Rotie. It simply doesn't speak Cote-Rotie. Yes it has olives and brett like a good Cote-Rotie should, but it also conjures up brunt caramel and a bit of a green streak. It's sorta like Kyle Petty: the burn out before fully maturing. Steve, however, describes it as a pretty wine. Others defend it as well. While it has no off putting New World candied quality at all, still others in the group are unmoved to revisit it.
R. Rostaing Cote Rotie 1997 Find this wine
12.8% alc. The most atypical wine of the group. A Pinot among Syrahs. Most elegant/feminine….dare we say, the most Danica wine of the group. Scents and expressions of deep forest floor, blackberry, blueberry, smoke and soft, round, touchable tannins.
Delas Freres Les Bessards Hermitage 1996 Find this wine
13% alc. A cloudy dark magenta core with a thin rim of brick. A very young wine with tannins which are not fully integrated. The tight palate is a bit much leaving the walls of the mouth feeling like an abused SAFER barrier. Smoke, meat, bacon(!), plum, bacon(!) and iodine chisel out a profile. It goes wanting, proving that not everything tastes better with bacon.
Booker T and the Memphis Group playin' the theme song from Hang 'em High wails in the background. The crowd enjoys the prospect of Jimmy Johnson not finishing well. …. And then …. the track breaks. A pothole the size of Darrel Waltrip's mouth appears in turn one; the crowd becomes unseemly….
What with all the Digger sightings on Fox Sports, we figure Digger done undermined the track with his own private tunnel, damn varmint. Some one needs to sight in on that nuisance of a mascot. But with race red flagged, we loosen our belts for yet another dessert. A couple of doctors pull out the defibrillator. As we put away an upside down apple ganache cake and belch our approval, we turn our attention back to the t.v. and find the race exactly where we left it: everybody looking at a hole in the asphalt in turn one. What the hell kinda race is this where they park the cars and look at a pothole. Realizing that millions of people are watching this gaping hole in the premier racetrack, the Florida governor calls DOT to action only to be told it will work only between the hours of 8 and 5 on 3 days notice and then only after the funds from the Stimulus package arrive.
No one knows for sure what the cause is, but apparently a freakish flash rain last year resulted in some flooding on the track. Whether it weakened the underlay or not no one knows. But with the race near the end and the camera zooming in on the butt-cracks of repairmen wondering how to repair the track's crack, this bunch of yahoos engages the TV's remote and watch, of all things, Olympic cross country skiing. Like we need to see more snow, more ice. Shoot, for all we know, the ski track is just outside our window on the streets of High Point, what with all the freak'n snow still trashing the asphalt. But at least these guys are moving around their track. We're amazed at the endurance of these athletes, but cannot for the life of us figure out why they don't have some motorized version of this sport. This cross country stuff looks too much like work. Besides, with all those opportunities to elbow one another and step on one another's skis and yet, no one does, we conclude this game is fixed.
And speak'n of fixed, we flip back to the race and find the drivers moving under caution. Bored with nothing else to do, we check in with G. Rod, who, for the first time in his life, is sounding like the carburetor is clean. "This is the lamest excuse for a @#$%@#$% race!" says his text. But as the race resumes under green, the cameras come back to turn one. The repair to the pothole is opening again under the stress of the cars. The pothole is just within the inside line that the cars are running. As a few more laps roll by, the hole is open and the talk'n heads are wonder'n if the tires will hold up to the pound'n they take with every hit of the hole. Just as if on cue, the #48 of Jimmie Johnson, who (thank you dear lord, baby Jesus) has had a mediocre day, hits the hole and down goes his right rear. Jimmie's day is done!
The voice-over of the Geico pothole echoes in the house – "Sorry to mess up your car and junk! Let me get my cellular and call you a wrecker. Oh, shooot, I can't …. 'cause I'm a paht-ho! K.., bye!"
So, as the beginning of Johnson's year looks like a DNF, the race goes under yet another red flag. Now any good redneck knows that to repair anything, you turn to duct-tape or bondo. Shov'n aside them engineers types, someone with good sense opted for bondo. (Factoid: NASCAR uses more bondo than any other sport and more bondo per captia than the auto industry.) But with what has to be the worse start to the NASCAR season in the modern era, the crowd turns away from the TV. We scrounge around to find something else to watch and consider taking some paint from Greg's basement and painting the TV room just so we can watch the paint dry – goodness knows we got ample time – but then we think on the fact that watching bondo dry is a lot like watching paint dry, just without the sometimes salutary effects of the fumes.
God, bless 'em, but Jeff and Dena musta found the paint cans, for in their stupor they develop geographical confusion in this Rhonathon by pulling out:
Domaine Zind Humbrecht Clos Jebsal Tokay Pinot Gris VT 1992 Find this wine
13% alc. What a nose!! Fall in; swim around; submit and be lost in the unctuousness. Honeysuckle, honey, orange peel, lemon zest, orange blossom, apple and pineapple, all laced together with smoky wisps. Very balanced with excellent acidity. An incredible wine. 'Nough said.
G. Rod texts that the Daytona crowd is dwindling down by 50% and he's leav'n the track his own self. The talk'n heads on TV say the crowd is stay'n with the race, but camera views conveniently don't pan across the crowd. G. Rod may not know how to count beyond his toes, but he knows the difference between leav'n and stay'n. While G. Rod votes with his feet and opts for a Chick-fil-a for his internal pothole, we finish up with:
Taylor Vintage Port 1977 Find this wine
Caramel, plum and I'm told "amazing acidity." Long life from one of the classic more storied vintages. Steve professes it is the most in its place of any Port he's ever tasted. I confess it is all lost on me. Throw me under the bus. Tami calls for one.
Domaine Zind Humbrecht Brand Riesling VT 1995 Find this wine
10.5% alc. Petrol and white grapefruit, creme brulee and lemon drop. Light and not at all heavy. Not as "sweet" as the Jebsal, but a palate cleansing quality that refreshes. By its lonesome it would be a standout, but nothing today is gunna touch the Jebsal – nothing.
By now the TV is cold, the race, whatever its status, a wasted memory by minds that frankly, could ill afford unnecessary mental baggage, what with all the baggage being rednecks already carries. As the comfortable haze of the day begins to come over us, we give pause to reflect on the mighty fine grape juice we opened for the most bizarre opening race of probably all time. The '98 Beaucastel and Greg's excellent advice of patience was a stunner. The '85 and '91 Jamets still perfume the room, while the Chave Hermitage Blanc evokes memories of R&RR past. But if the non-Rhone wines are considered in the contest for best wines, then the Z-H Clos Jebsal might just take the prize, making this the most bizarre Rednecks & Red Rhones ever.
Sometime the next day, G. Rod rings in to say that Jamie McMurray edged out Kevin Harvick to take the win and then…. McMurray blubbered like a baby about it. Good Gawd, there's no crying in NASCAR! Hell, even if you put Danica in that pothole nekk'd, I don't know if you could get me to watch another race . . . but I might think about it . . .
Related posts:
2 Responses to "Rednecks and Red Rhones 2010"