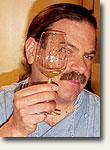 Allan Bree – califusa – had been the Gang of Pour's Left Coast Correspondent since June of 1998. His first article on the January 1998 Zinfandel, Advocates & Producers (ZAP) tasting in San Francisco followed closely by the epic, Bacchus Does Sonapanoma, captured the essence of those events to the acclaim of the Internet wine community and wine industry members alike.
With roots in Woodstock, New York, Bree moved to Northern California in 1976 to pursue a career in Emergency Medicine, and soon became an avid Wine Country visitor and collector. An interest in regional cuisine, cooking and fine dining quickly followed.
After a brief five year hiatus, califusa returns to the Gang of Pour with his decidedly Left Coast perspective on wine in general and California wine in particular. He lives and works on the alluvial plains north of San Francisco.
________________________________________________
BREE'S ARCHIVE FOR THIS BLOG MAY BE FOUND
HERE
BREE'S ARCHIVE FROM THE ORIGINAL SITE:
TASTING NOTES FROM THE RIDGE
A Bennion Retrospective: Early Monte Bellos
1963, 1965-1968, 1970, 1972, 1974
Russian River Barrel Tasting Weekend, 7 March 2004
Featured Wine Weekend, 22 February 2004
Winter Wineland, 18 January 2004
Holiday Re-Releases, 14 December 2003
Fall Z list tasting, 6 September 2003
ATP Tasting, 11 September 2003
Tasting Notes from the Northern Ridge
TN's From The Ridge & Beyond – Paul Draper and Monte Bello
More Tasting Notes from the Ridge
WINERY AND WINEMAKER PROFILES
Ten Years After – the Continuing Adventures of Russell Bevan
Flora Springs Winery & Vineyards
Up the Coast
Domaine Serene, Domaine Drouhin and Archery Summit
Syrah – from the ground up – An afternoon with Bob Biale
Tasting a Legacy – Wines of Stag's Leap
Serendipity – Soda Canyon Store tasting
TRADE TASTINGS
"T"is for…
califusa ventures where the stags leap
Hospice du Rhône 2000:
Library Barrel Tasting Preview
Grand Tasting
CYBER WINE COMMUNITY
Hail, Hail, the Gang's All Here
Here come da Juice -Meeting Spencer Jesner
Heidi Peterson Barrett Retrospective 1999