Archive for November, 2009
As has been reported, I consider myself to be something of a "bubble head," in that I would have no problem whatsoever with drinking sparkling wine on a daily basis. I love the stuff, I really do, but financial considerations, even at the best of times, are such that I can't afford to enjoy Champagne nearly as much as I would like. No hey problemo, as there is a lot of good bubbly out there for very reasonable prices. Normally, I might be inclined to go with a good Spanish Cava rather than an Italian Prosecco, as they tend to have a little more heft and a little more minerality than their counterparts from Veneto. However, we tried a little number that we picked up at Costco a few weeks back and I like it so well (especially for so few dollars), that I've been bringing it home again and again. Read the rest of this entry »
It is so rare when I find a domestic white that is not too much (fill in the blank with money, heat, wooden/ soda pop flavors, etc.), but it makes me happy when I stumble across an exception. The 2007 Cline Viognier is a delight for $10 – $12. It offers plenty of body to carry the ripe apricot and peach flavors across the palate. The fragrances of white flowers and pineapple are enticing. It actually expresses a great deal of Viognier character, which all too often is not the case for many of this grape's domestic renderings  I've tried throughout the years.
This is certainly a departure from the more lean, mineral crusted European whites I tend to favor, but this well priced bottle is plenty of fun, and all sorts of wine drinkers seem to enjoy it when I pour it in their glass. I've gone through half a dozen bottles in recent months — consistently enjoyable. Find this wine
Sad to announce, but I was unable to attend the last Vintages tasting due to my teaching schedule. This means I have no notes for wines released tomorrow, November 7th or November 21st. However, I will be back on track in the New Year and if I can I will get notes for December's holiday release. In the meantime, there will be lot's of other notes posted here by me mates so stop back in.
Cheers,
CZ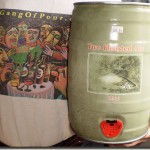 Pizza and beer; it's a natural combination, right?  Like love and marriage, law and order and Laurel and Hardy.  But truth be told, it's been years since we've indulged in those particular American secular sacraments at the same time.  On the occasions that we do eat pizza, we're more inclined to open a bottle of Sangiovese or Zinfandel, but last week, we broke away from our norm with a visit to Amici's Pizza and Living Room in Berkeley, Michigan. (Click image to enlarge) Read the rest of this entry »
Champagne Warrior Brad Baker had been looking for the opportunity to stage a comprehensive tasting of Jean Laurent Champagne for some time now, and he and wife Michelle finally bit the bullet and set a date to do so on October 3rd . The tasting was held at their home and by my count, no less than 24 bottles from that producer, spanning four decades, were uncorked, either by the more usual method of pulling, or with a the blunt edge of a blade. Oh yeah, there was a whole lot of sabering going on and we've got the videos to prove it! Read the rest of this entry »