Links to Article Sections:

Touring Central Otago's Subregions

The following morning, our tour of Central Otago's subregions began in earnest. The format for visiting the various regions involved a bus ride to the tasting room of one of the regions more prominent wineries, with a winemaker with experience in the region offering commentary about the region, the wines, and the characteristics that make each respective region unique. There would then be a tasting of several (usually 4-6) examples of "typical" Pinot Noirs from the region (not blind) from the 2007 vintage, followed by a lunch or dinner, at which more wines from the region would be served (usually a half dozen or so), both Pinot Noir and some of the regions white wines (usually dry Riesling and Pinot Gris). I took careful notes on the wines in the tasting portion, but did not take notes on the luncheon or dinner wines, as these were mainly social occasions, with a good opportunity to talk wine with the local winemakers and other participants in the program.
Alexandra
Alexandra is an hour or more drive to the east of Queenstown and a good 30-45 minutes from our overnight base in Cromwell. We left Cromwell in heavy fog, but emerged into bright sunlight as we traveled down the canyon. We were educated/entertained on the ride down by Dean Shaw, one of Central Otago's most prominent and respected independent winemakers. Dean works out of the Central Otago Wine Company in Cromwell, and makes the wines for Two Paddocks and a number of other wineries in Central. With his unruly shock of hair and off-center sense of humor, Dean is quite a likeable and entertaining fellow, but he's clearly serious about his craft and judging by the wines of his we tasted, a talented winemaker. His experience and credentials are impressive, including stints at the Comte Armand estate in Pommard, Hirsch in Austria, and Bouchard Finlayson in South Africa, as well as New Zealand wineries Rippon and Geisen.
Our destination in Alexandra was the Two Paddocks tasting room. Two Paddocks is the most high-profile winery in the region, in large part because its owner is the highly respected actor and New Zealand native Sam Neill (Jurassic Park, and many others). Four wines from the 2007 vintage were selected as representative of the Alexandra region:
Grasshopper Rock: Medium ripeness, with cherry/cranberry/raspberry fruit. Mouthwatering acidity with some warmth showing and hints of green elements emerge as the wine airs. A refreshing style of moderate depth. find this wine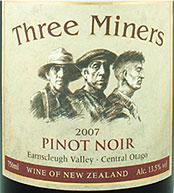 Judge Rock: A mix of red berries and herbs with some leafy notes are intermixed with red cherry and a hint of minerality. Very bright acids here, but well-balanced with fruit that is pure and elegant. find this wine
Three Miners: Darker color, with more black fruits than the preceding wines, also some spice and smoke. More rounded with good acidity, riper and fuller bodied with very smooth, well-integrated tannins. A more serious wine with greater depth than the preceding wines. find this wine
Two Paddocks: Straightforward pinot fruit here, clean and a bit one-dimensional, with good acidity that is balanced with the medium body, a bit of finishing warmth. This is very pleasant but simple, not as focused or complex as the previous wines, with tannins emerging as the wine airs. This was fermented with stems, but I didn't note anything in the taste or structure to differentiate this wine on that basis. find this wine
These were all nice wines, emphasizing pure cherry fruit flavors, bright acids, and supple textures. Lacking a bit in complexity, perhaps, and I didn't get the "rich aromatics" said to be typical of this region, or much spice, although I did note the light tannin structure.
Bendigo
Our next stop was Bendigo, a more recently developed winegrowing region with relatively few wineries at this point. Situated on the east side of Lake Dunstan and facing primarily west and northwest, Bendigo is the warmest subregion, and a good proportion of the grapes grown there are sold to wineries outside the area. Quartz Reef is probably the best known and most highly regarded winery associated with Bendigo, especially to American wine drinkers as their wines have been exported here for some time. The tasting took place in Prophet's Rock's tasting room, a winery I was not familiar with. We tasted five 2007 vintage wines from Bendigo:
Mudhouse: Plummy fruit with some cola, round, fruit-forward and very primary with cherry and red plum, very fresh if a bit one-dimensional, a bit of a "fruit-bomb". find this wine
Northburn Station: More spice and truffle notes here, with plummy round fruit that is well structured with firm acids, but still fruit-forward, showing more complexity than the Mudhouse. find this wine
Prophet's Rock: Also fruity and similar to the Northburn, although my glass seemed a bit musty which interfered a bit and made a more detailed evaluation difficult. Seemed full and round with a fat mid-palate and good finish. find this wine
Quartz Reef Bendigo: More subtle and complex but with plenty of fat and mid-palate depth. Very primary fruit of mixed red and black berries, a supple texture and quite long. A bigger wine but still fresh with firm acidity and excellent balance. find this wine
Tarras: Red cherries and cranberries, very crisp and a hint of citrus. Not as deep or rich as the previous wines, really needs food. A leaner style with brighter acids and very tightly structured. find this wine
Overall these wines showed a riper, richer fruit profile, consistent with this regions warmer climate. In some ways these wines are closer to domestic (either cool-climate California, or Oregon) pinots in their robust fruit, although the acids are a bit firmer, and the fruit, although ripe, doesn't give the impression of sweetness (sometimes referred to as "sucrosity", i.e., a sense of sweetness although technically dry) that some domestic pinot do. But the style here would appeal to American palates, I believe.
Bannockburn
The most well-known and highly regarded region in Central Otago, Bannockburn is the location of some of the region's most famous wineries (Mt. Difficulty and Felton Road), but continues to see some exciting new vineyards and wineries develop. Eight 2007 vintage wines were tasted in Desert Heart's "woolshed" tasting room (a former sheep-shearing barn, as this area was once a sheep grazing region, as is much of New Zealand it seems!), and this turned out to be one of the best tastings overall.
Akarua: Bright fruit, medium body with berries and both red and black cherry, hints of minerality and a very rounded texture with excellent balance of fruit and acids. find this wine
Carrick: A slightly more herbal character with some leafy notes, but also bright cherry fruit and racy acids, hint of truffle. Lighter in weight but elegant and well balanced wine with complexity. find this wine
Desert Heart: Racy cherry fruit that is quite rich but structured with distinct savory notes, generous and round with good length. Clean and pure showing some development but further potential as well. find this wine
Domain Road: Darker, riper, blackberry and Asian spice with hints of herbs. A bit tannic, perhaps accentuated by lower acids, but not too soft or flat. find this wine
Felton Road: Red and black fruit, very rich and round, and quite deep as well, with complexity lurking under a firm structure that seems tightly wound just now. This will clearly improve with age, but it's impressive already, a lot of wine here. find this wine
Mt. Difficulty: A bit lighter than it's next-door neighbor Felton Road, with more red fruits and a bit less depth, but still very well balanced and showing some spicy complexity as well. find this wine
Olssens: This seems more advanced, with the slightest oxidative note lurking under the dark fruits and hints of wood smoke. Some raisins and brown sugar as well, with notable tannins as if the wine is drying out a bit. I wonder if this is a representative bottle. find this wine
Georgetown: Dark fruits and quite rich with lower acidity emphasizing the fruit-forward nature of the wine. Finish is a bit short, rather straightforward wine overall. find this wine
This was an impressive group of wines overall, and the darker fruits and firm but smooth tannic structure of the wines suggests they will age quite well. These wines seem to express a fairly strong sub-regional identity, and one that suggests this region has the greatest potential for creating long-lived wines that will develop complexity with age.
Lowburn/Pisa, and Wanaka
Since Wanaka hosts primarily one Pinot Noir producer (albeit a very important one, Rippon), it was combined with the Lowburn/Pisa region to the south. Sitting opposite (and slightly to the south of) Bendigo, this is a large, spread-out area that hosts some fairly large vineyards. Because of the mountains immediately behind (to the west) of the vineyards, the regions sees about a half-hour less sunlight than Bendigo, and the wines are said to be a bit less ripe and more delicate. The wind was really whistling down the valley the day we tasted the following range of 2007 vintage wines at the Wooing Tree tasting room.
Locharburn: Moderate fruit intensity, with a stewed note, rather diffuse and unfocused, simple, but pleasant enough. find this wine
Lowburn Ferry: Much darker with rich fruit and fairly tart acidity. Notable minerality mingles with red and black cherry fruit, the texture is somewhat lean but there's enough flesh here for the short term, at least. Quite elegant.
Mitre Rocks: Fairly open, generous style with tart cherries and smooth tannins. Acid is notable and the finish is a bit tart. Would be better with food. find this wine
Mount Edward "Morrison's Vineyard": This Gibbston-based winery owns this vineyard in Lowburn, planted in 1997. Plummy with ripe, rich fruit of cherry and black plum, considerably richer and riper than the previous wines, but well structured with moderate acid that flattens out a bit on the finish. Very fleshy and sensuous style of wine, but not soft or flabby at all. find this wine
Rippon: Much more tightly structured and closed-in at this point, but very deep fruit that suggests great potential. The acidity is firm and tannins are substantial, but round. This needs some time to show what it's got. find this wine
Rockburn: Strong fruit presence, yet a lean impression from tart acids. Also seems quite tight and restrained right now, but with potential. find this wine
Surveyor Thomson: This didn't seem entirely clean, with herbal/green notes and very tart and sharp. Not representative? find this wine
Wooing Tree "Sandstorm Reserve": Rich, powerful and round, very California-like, showing some oak tannins, especially on the finish. More oak on shows on this wine than most. find this wine
Quite a varied set of wines, generally quite good if not at the level of the Bannockburn selection. The wines didn't scream out a particular sub-regional identity to me on this occasion, but the wines were clearly lighter and more structured than those from Bendigo, as advertised.
Gibbston
The highest, coldest regions situated in the dramatic Kawarau River canyon, it is the region closest to Queenstown, Central Otago's largest city. Most of the vineyards are on the south side of the canyon, facing north, and on slopes to provide at least some frost protection to the extent possible. Although this area saw some of Central Otago's first vineyard developments, the area remains relatively small in terms of wine production and the number of wineries, owing to the challenges of getting the grapes ripe here without frost damage. The tasting took place in Mount Edward's very comfortable tasting room, and we were given a good overview of the region and its wines by Duncan Forsyth, Mount Edward's winemaker. He also makes a mean home-made prosciutto, compliments of one of the pigs raised on the property. Unlike the previous tastings which featured only wines from the 2007 vintage, this tasting included a couple of older bottles, as noted (the remainder were all 2007).
Brennan: Large-scaled aromatically, with ripe fruit of black cherry and some Asian spice notes. Quite rich, round with smooth tannins and balanced acidity, note of savory beef broth. find this wine
Gibbston Valley "Le Maitre": Light with fresh raspberry and floral notes, silky tannins, round and delicate, but not undernourished. Very elegant, pretty wine. find this wine
Hawkshead: Another lighter style with red cherry fruit and fairly high acid, almost tart. A bit short finish, rather simple but pleasant, better with food. find this wine
2003 Mount Edward "Susan's Vineyard": A real treat, this mature wine was very reminiscent of a fine Beaune with complex earth forest floor and mushroom secondary aromatics. There is enough fruit to support the complex development flavors with good length and great complexity. Perfectly mature and delicious, and very "old world" in taste and structure. It should be noted, however, that the wine seems considerably older than most good-quality 7-year-old Burgundies or American pinots would taste.
2006 Two Paddocks "First Paddock": From this Alexandra winery's original vineyard located in Gibbston Valley. Pure, high-toned fruit, elegant with silky tannins and hints of secondary development with forest floor and smoke beginning to emerge. Good deep fruit, this wine seems almost mature. find this wine

2007 Two Paddocks "First Paddock": Much younger pure fruit dominates with hints of savory herbs and leaf notes, but not too green. Supple tannins and well integrated acidity, not as complex at this point as the 2006, or as deep, but seems well balanced for further development. find this wine
I really enjoyed the wines in this tasting, which had a savory elegance I found very appealing. Lighter in color and body, yet not lacking in intensity or depth of flavor, these were some of the prettiest wines of the week, and very food-friendly.
Links to Article Sections:

New Zealand's Central Otago-Pinot Noir In-Depth: Introduction
Related posts: