INTRO | ARRIVALS | WINE | MORE WINE | RACE DAY WINES  | THE END
Rednecks 'n Red Rhones 2013 – "

Danica

,

DANICA

, DANICA"

Or "Grenache, you made me do it, but I didn't want to do it."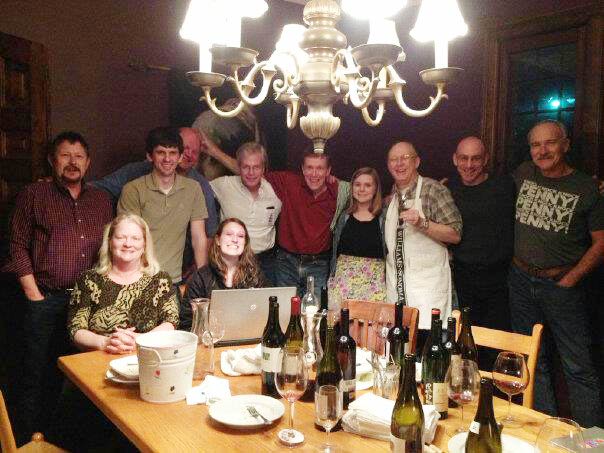 L to R Back Row:  Steve South, Michael Kuhn, Boyce Brannock, Greg Ellis, Katie South,
Bob Cuozzi, Marc Hanes, Bill Hamilton, Jim Cowan
L to R Seated: Barb South, Hazel Ellis Kuhn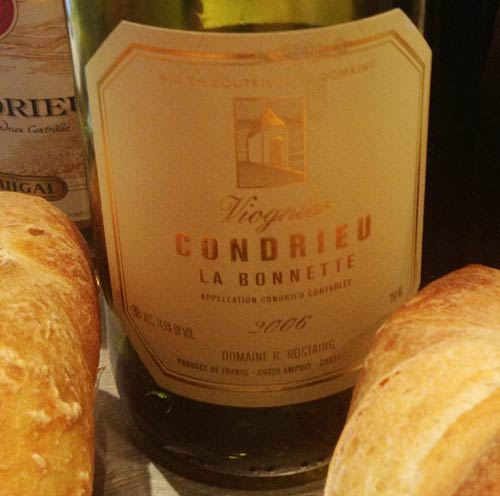 Like most days that end with bad ideas, Saturday's dawn broke bright and clear, even if a tad cool. Arriving early at Chez Ellis, the Doctor and I took a moderate bike ride. In need of hydration following the ride, we deemed a Domain R. Rostaing La Bonnette Condrieu 2006 as the pole winner for Saturday's race:
Despite showing a deep yellow color, it's not at all oxidized or otherwise over the hill. With floral and white peach flavors on the attack, the palate spreads out broadly. The flavors are deep and complex with honeysuckle, honey, lychee and orange blossom coming in waves that linger through the finish. White pepper and an almost diesel-esque quality turn it up on the finish. While the Bonnette packs 14.5% alc., it doesn't show in the least. An amazingly deft wine.
As if sensing the flying of corks, Florida Jim Cowan and Colonel Bob pull in … with wine and glasses at the ready. Who knew?!
Multi-nom de vin, Jim Cowan, wine board writer extraordinaire, bi-coastal resident and now winemaker, waltzes in sporting everything you'd expect of a recently minted winemaker, sans the "I'm a winemaker" tee shirt (which he should wear.) We gladly accepted a pour of,

Cowan Cellars Sauvignon Blanc Lake County Ca. 2012
A nose of white grapefruit edged with fig, and cut hay/grass follows through on the palate. It's made from whole cluster ferments that also see a full malolatic fermentation. The palate is led, but not dominated, with white grapefruit flavors while fig, hay and tropical fruit notes keep a tight pace. By tropical, I don't mean some simple lemon note. I mean pineapple, lymon and tangerine qualities. Crisp, clean and lean, but with fruit and quality that will carry it for several years. True to the winemaker's palate, the wine sports only 12.7% alc. This is a wine that reflects a really worthwhile effort. Find this wine
We didn't know just how far we were falling away from red Rhones, but given where the night would take us, in retrospect, the Cowan Cellars Rosé North Coast Ca. 2012 demonstrated just how wadded up we'd be by the end of the night. This rosé is all Pinot Noir. The nose puffs with some cherry and herb de Provence. Extra complexity settles in on the sides of mouth. This is all saingee juice that Jim saved from another winemaker's drain. He explains that he intends it to be experienced as a dry wine with character. Jim succeeds in spades with a refreshing and everything-you-want-in-a-rosé. This will be kick'n on a hot North Carolina day and perfect for the All Star Race in Charlotte. The label says 13.9% alc., but it feels lighter. Find this wine
Bob, who has never taken a shine to rosé, sips and moves on. The rest of us linger. We should have taken a cue right then and there that Bob just isn't quite his good-ole-boy-self. But then, we aren't exactly spinning aligned flywheels ourselves.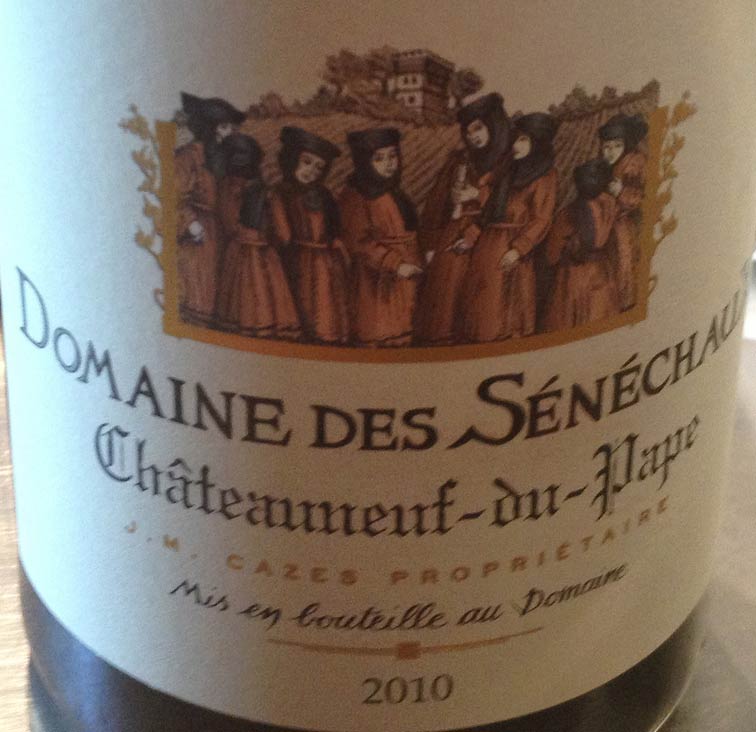 If the Cowan Cellars wines are our equivalent to rain delays for the big show, we re-group with a side-by-side restart of Sans Liege Cotes du Coast Santa Maria Ca. 2010 and Domaine De Senechaux Chateauneuf du Pape Rhone 2010,
Domaine De Senechaux Chateauneuf du Pape Rhone 2010
A burst of orange blossom, citrus, herbs and lychee on the attack and midpalate. Very refreshing and crisp. What is that? Is that white pepper and anise on the finish? Delicious, even if a bit light on the finish. It tracks with a bit of octane with 14% alc., but does not show it on the palate at all. Someone says this effort is owned by the Cazes family and is one of their properties. Find this wine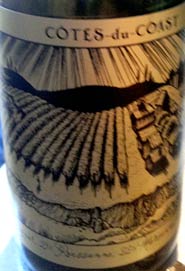 Sans Liege Cotes du Coast Santa Maria Ca. 2010
A blend of 43% Viognier, 23% Roussanne, 22% Marssanne, 12% Grenache Blanc and only 290 cases made. With 14.9% alc., this one might sneak up on the lightweights by the end of the evening. It definitely shows potential as a tool for snagging race'n babes in the infield. Ok, so Florida Jim declares the alcohol gets in the way. Perhaps it does. Yet it's palatable with citrus, orange, honeysuckle, lychee and white pepper. It's more than palatable. No, it's not a Tensley Camp 4, but it's a solid Rhone Ranger Blanc. Find this wine
The conversation turns to personal arsenals and the advantages of having at one's immediate disposal, warthogs with spent uranium rounds. It's only 4:30 and I'm feeling a might anxious for my longevity in this crowd and ask for a dump bucket. Heads turn. The music goes silent. And that's when things really get redneck weird.
Bob doesn't usually need any help with the music, but to avoid another half hour of the Dead playing the same three bars pretending they're jam'in', another music hound joins us in the guise of Marc Hanes. Marc is now a perennial attendee if for no other reason than to be able to tell his Yankee friends he once knowed some real, live rednecks when he went on a tear and visited some place called Carolina. Marc puts on some kind of music that sounds like the lead singer's tighty whiteies are a bit too tight, but with the sounds of glasses clinking and corks popping, not to mention the occasional belch, the music is just an afterthought.
With Marc tromps in co-hosts Barb and Steve South along with Mark Perell, Bill Hamilton, and Michael and Hazel (Ellis) Kuhn. It's time to lay down some Grenache skid marks.   NEXT =>
INTRO | ARRIVALS | WINE | MORE WINE | RACE DAY WINES | THE END