Tasting Niagara 2009: Day  3 ~ Organized Crime Winery
Wineries covered in this report:  Tawse, Coyote's Run, Ravine, Organized Crime, Foreign Affair & Alvento.  The first three may be found here
We were tasting wine before breakfast on our 3rd day in Niagara. Our old partner in crime, Gary Bell, joined Chef Kerr, Kim and me to investigate three of the most interesting wineries on the peninsula, both in name and wares produced.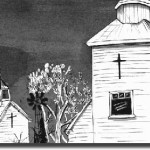 The Organized Crime Winery, located on the Beamsville Bench of the Niagara Peninsula, gets its name from both a play on words and a true story involving two feuding Mennonite Churches and a pipe organ. From the Brandever (both Organized Crime's and Foreign Affair's branding company) website:
"On what is currently the grounds of the Jordan Historical Museum stood two Mennonite churches. One of the churches was more conservative, while the other was more progressive and did not adhere as strictly to earlier doctrines. It turns out that the more progressive Mennonite church acquired an organ, and this so enraged the more traditional church that one night, members of the congregation broke into the progressive church, stole the organ and then threw it down the embankment to the Twenty Mile Creek."
Organized Crime is owned and operated by Jan and Krystyna Tarasewicz, who also grow the grapes. Andrzej Lipinski is the Consulting Winemaker, a post he also holds with The Foreign Affair Winery. The winery produces estate grown Chardonnay, Sauvignon Blanc, Pinot Noir, Pinot Gris, Pinot Noir Rosé, Gewürztraminer and Riesling, with yields that are usually never more than 1 ton per acre. Their proprietary red blend is called The Download. 4,000 cases were produced in 2008, but only 2,300 are projected for 2009.
We began by tasting barrel samples with Andrzej Lipinski in the winery.
2008 Organized Crime Cabernet Franc Barrel Sample: This has spent a year in Polish and Ukranian oak; shows clean dark color. Smooth and toasty in the mouth and middleweight in heft. Alan describes it has having "good ripeness for a cool year."
2008 Organized Crime Cabernet Sauvignon Barrel Sample: Fermented and aged in French and Eastern European barrels, which plays a nice role in the personality of the wine without dominating; Alan gets "a nice little creamy note on the mid-palate."  Middleweight and elegant.
2008 Organized Crime Blend Barrel Sample: (23% Cabernet Franc, 50% Cabernet Sauvignon, 20% Merlot, 7% Petit Verdot) Clean dark color; sweet and dry at the same time, with silky tannins and nice toast from the oak. One taster commented on "a lot of clarity of flavor." Very harmonious.
2007 Organized Crime Syrah Barrel Sample: Includes 7% Viognier and aged on the Viognier skins. Clean dark color, with a pretty nose that shows the influence of the Viognier; middleweight and elegant. Krystyna said that this will be the last Organized Crime Syrah, as the vines have all been pulled up because they don't survive the winter.
2009 Organized Crime Pinot Noir Barrel Sample: 828 clone, young vines. Surprisingly dark color stains the glass, and has very good varietal character.  Medium full bodied, with excellent concentration. Gary Bell calls it a monster. Saw full berry but not whole cluster fermentation.
2009 Organized Pinot Noir Barrel Sample: 828 clone, older vines. Good color, and showing some SO2; still undergoing malolactic fermentation as we taste it. Middleweight, showing some creamy oak qualities and slightly green at this point.
When we were finished in the barrel rooms, we reconvened in the tasting room, where Krystyna Tarasewicz presides, while Jan stayed in the background chatting with Gary and a few others who were present. Krystyna could be described as something of a character, mixing equal parts attitude and humor, and she had us laughing more than a few times. She told us that they're doing some basket drying of grapes at Organized Crime, but not nearly on the scale as is being done at Foreign Affair, nor for as long. More about that in the next segment.
"We're off the wall, we don't read the manuals properly." – Krystyna Tarasewicz
Krystyna started us off with some reds, then, almost as an afterthought, poured us a few of their whites.
2007 Organized Crime Pinot Noir, $34.00 Can.: Clean medium color, with pretty cherry, pomegranate and cranberry flavors and aromas shaded with a little beet root and cinnamon; medium bodied, very elegant and very nice.
2007 Organized Crime The Download, 64% Cabernet Sauvignon, 18% Cabernet Franc, 9% Merlot, 9% Petit Verdot, $36.00 Can.: Good dark color, rich and fairly ripe, on a middleweight frame; Alan found it a little cedary.  Very tasty and very harmonious. "These all need three hours of decanting," Krystyna told us.
2007 Organized Crime Cabernet Sauvignon, $35.00 Can.: Clean dark color; sleek, smooth and elegant, with black currant and blackberry flavors and aromas followed by some cedar on the finish.  Lovely, silky tannins, excellent acidity and very nice to drink.
2008 Organized Crime Chardonnay Reserve, $28.00 Can.: Clean pale color; luscious, middleweight and medium intensity, with a kiss of sweet oak over pure, pretty Chardonnay fruit.
2008 Organized Crime Riesling Reserve: Barrel fermented in old barrels, picked Dec. 6th at 23.2° Brix, 14.5% alcohol.  Throws a lovely perfume, and in the mouth, it's rich, yet totally dry.  You can taste the barrel, but it's in good proportion to the fruit, softening the wine and toning down the alcohol.  Lovely varietal character, with pretty perfumed apple and no petrol whatsoever.
They're doing very nice things at Organized Crime, and we'll certainly be watching their progress in the future. Andrzej Lipinski is obviously a talented winemaker, as our next appointment would reconfirm, and the Tarasewiczs are giving him excellent fruit to work with. Their website is worth taking a look at as well, if just for the drawn art work, which almost looks as if it belonged in a spooky graphic novel.
Tasting Niagara 2009: Day  3 ~ The Foreign Affair Winery
While  Andrzej Lipinski is winemaker at both Organized Crime and The Foreign Affair Winery, the wines themselves are rather different in style.  Perhaps no other winery in North America is more dedicated to producing wine by employing the appassimento process of drying grapes in baskets a la Amarone, than Foreign Affair.
In the early '90s, Foreign Affair proprietor Len Crispino fell in love with the wines of northern Italy while living and working in that country in the service of the Canadian government.  After returning to Ontario (where he is presently President and CEO of the Ontario Chamber of Commerce), Crispino purchased prime farmland in the Vineland area of the Niagara Peninsula in 2000 and planted 40 acres of what he refers to as "Amarone-inspired vines."   Foreign Affair is actually a partnership between Crispino, his wife Marisa and Louis Cimicata, with the aforementioned Lipinski in charge of winemaking and Phil Clarke of Glenn Elgin Vineyard Management tending to the vineyards.
The idea of attempting to produce Amarone-styled wines in Niagara seemed mad to many when Len first proposed it.  "Everyone told me not to do it, including Andrzej," he told us. Nevertheless, they have received critical acclaim from the Canadian wine press and for good reason, if what we tasted is any indication, as Crispino poured us four of the wines Foreign Affair produces.
2007 Foreign Affair Riesling, (20% dried) $28.00 Can.: Clean pale to medium color, with good varietal character and a nice apple-like core of Riesling fruit shaded with a hint of petrol; medium bodied, almost delicate, with good acids and balance.
2007 Foreign Affair Cabernet Sauvignon (12% dried) $38.00 Can.: Clean dark color; a pretty kiss of oak complements rather than detracts from the rich, somewhat earthy black currant/cassis character of the wine.  Fairly ripe, but totally dry, it is elegant, with a lovely balance to it.
2007 Foreign Affair Tempress, $45.00 Can.: We weren't given varietal percentages of this Bordeaux blend, but Crispino claims that you can lay it down for 25 years, it is well structured for the long haul in the cellar.  Deeper and darker than the Cabernet Sauvignon, medium-full bodied, with a rich core of mouth-coating black currant and blackberry fruit and a long, lingering finish.
2006 Foreign Affair Cabernet Franc, $110.00 Can: As one might expect from the price tag, this is the signature wine of Foreign Affair, inspired by those of Giuseppe Quintarelli, according to Crispino.  100% dried for over three months, it throws an intense Amarone-like nose of black currant, blackberry and black cherry, which echoes and expands on the palate.  Deep, dark, rich and ripe, with mouth-coating intensity and ample structure for many years in the cellar, it garnered a "WOW!" in my notebook.  Gary Bell commented that it is "like eating a chocolate bar."
Despite the naysayers and the odds that were seemingly stacked against them, the team at Foreign Affair has succeeded, perhaps beyond even their wildest dreams, in creating the style of wines they set out to accomplish, and kudos to them for doing so. If you have the opportunity to try any of these, and especially the Cabernet Franc, which has yet to be made in quantities of more than 100 cases, don't miss it.
Tasting Niagara 2009: Day  3 ~Alvento Winery
We'd been hearing about "this place in Niagara that does Nebbiolo" for a while now, and it turns out that "this place" is actually Alvento Winery, our third stop of the day.  I can't say for sure that Alvento is the ONLY winery that produces Nebbiolo on the peninsula, but there can't be many others if this is the first selling point that caught our attention.  As it turns out, they do more than just one variety, also producing Cabernet Sauvignon, Cabernet Franc, Merlot and Viognier, all grown at their 5 hectare estate waterfront vineyard, located at Jordan Harbour.
Twenty five years ago, Bruno and Elyane Moos started a small 4 hectare vineyard on a hillside town in Tuscany that became known as Cantina del Castello di Soiana. In 2001, they partnered with wine collector Morrie Neiss to create Alvento, with the "serious vintage" being 2006. Each bottling produced is given a proprietary name, those being Elige, Vio, Emilie, Aria and Sondra.
Upon our arrival, we were met by Bruno and Elyane, and almost immediately, Bruno took us into the cellar to do some barrel tasting.
2008 Alvento Cabernet Sauvignon Barrel Sample: Deep and dark in color and character; a touch under-ripe, with a good deal of underbrush and more mineral and earth than any of the other reds tasted on this day.  Gary found it "pretty nice for the vintage."
2008 Alvento Merlot Barrel Sample: Not as complex as the Cabernet Sauvignon, but not as green either, with a note of coffee over a nice core of black currant and blackberry.
2008 Alvento Nebbiolo Barrel Sample: Lighter in color than the Cab and Merlot; a little green, earthy and tarry, bone dry, medium full bodied, with good tannins and acids.
2009 Alvento Viognier Barrel Sample: Put in barrel on 10-27; slightly cloudy medium color and still slightly yeasty, but exhibiting typical Viognier character along with what Alan describes as a note of "canned pineapple."  Medium to medium-full bodied, with lots of acidity and lots of promise.
We then returned to the tasting room, where Bruno poured the following for comparisons sake; the 2007 Vio saw stainless steel, while the 2006 was fermented and aged in new oak.
2007 Alvento Vio, 100% Viognier, $25.95 Can.: Clean medium color, with canned pineapple on the nose, fleshing out on the palate with good acids and gaining some nice pear; Gary adds an impression of "dried banana chip."
2006 Alvento Vio, 100% Viognier, $23.95 Can.: Pale gold in color, this is softer than the '07, thanks to the new wood, and seems almost flabby in comparison.  Pleasant enough, but the consensus is for the stainless steel treatment.
2006 Alvento Elige, 65% Cabernet Sauvignon, 33% Merlot, 2% Cabernet Franc, $23.95 Can.: Good dark color, with a perfumed nose; medium full bodied, rich and very ripe.  Reminds me a little of Foreign Affair's Amarone style.  Bruno says that the name "Elige" is a fantasy name of no significance.  Aged for 18 months in Burgundy barrels (70% new).
2006 Alvento Emilie, 70% Cabernet Franc, %30 Merlot, $23.95 Can.: The name "Emilie" is a reference to St. Emilion and the corresponding varietal blend.  Clean dark color, with a perfumed nose; rich, yet bone dry, with what Kerr describes as "cocoa and mocha," and again, a subtle Amarone-like note.  Aged for 18 months in Burgundy barrels (70% new).
2006 Alvento Sondra, 90% Merlot, 10% Cabernet Franc, $23.95 Can.: A "breakfast wine," with clean dark color and toast and coffee that dominates the character of the wine; there's a solid core of black currant and blackberry fruit, and the wine is smooth and harmonious on the palate.  Very nice now, and structured for at least a few years of further development.
Aged for 20 months in Burgundy barrels (70% new).
2004 Alvento Elige, 60% Cabernet Sauvignon, 20% Merlot, 20% Cabernet Franc, $19.80 Can.: Clean dark color, with subtle oak over a pretty core of blackberry and black currant; medium-full bodied and harmonious, if ever-so-slightly green.  Aged for 18 months in Burgundy barrels (70% new).
2005 Alvento Elige, 60% Cabernet Sauvignon, 20% Merlot, 20% Cabernet Franc, $24.95 Can.: Good dark color, and again, with that almost Amarone-like intensity; almost idiosyncratic in style, but nicely so.  Aged for 18 months in Burgundy barrels (70% new).
2006 Alvento Aria, 100% Nebbiolo, $25.95 Can.: Medium dark color, with flavors and aromas of dried cherries shaded with subtle toast and coffee; bone dry and very old world in style, with good acids and silky tannins.  My favorite wine of this line.  Aged for 18 months in Burgundy barrels (70% new).
Alvento Winery provided a fine finale to our 3-day Niagara road trip.  Like the other producers we visited, their wines are solidly consistent in quality, and have a quirky personality all their own, making the cozy little tasting room well worth a visit.
Our Days 1 and 2 report on Tawse, Coyote's Run, & Ravine may be found here