Florida Jim Cowan's Tasting Notes
All notes, except as otherwise noted, were from bottles that were opened and drunk with a meal over an extended period.  The 2008 archive is divided into the following categories:  Bubbles, Red, White and Rosé – Florida Jim Cowan
~~~~~~~~~~~~~~~~~~~~~~~~~~~~
REDS
2005 Dom. Vissoux, Fleurie Poncie:
Closed with a cork, which gave me pause – but this wine was sound. Actually, its well beyond sound; it is glorious and testament to a great terroir and the careful hand of M. Chermette; dark fruit, talc, stones and spice on the nose – so quintessentially Fleurie that it would be hard to guess otherwise; perfectly balanced in the mouth with ripe black fruit flavors and all sorts of enticing accents, slightly brooding, rich yet texturally silken, wonderful concentration, great acidity and a long, detailed finish.
Oh my! Find this wine
With vegetable hash:
2005 Jadot, Moulin-a-Vent Chateau des Jacques:
At present, a precise, tight Gevrey-esque wine – good with the meal but giving only a glimpse; the real value here is the future – if it goes where I think its going, this will be as profound an MaV as one could ask and a wine that more than lives up to its top billing as a Beaujolais cru. Perhaps even more beguiling, is the distinct possibility that this will, with sufficient age (10+ years), resemble fine Burgundy. Good now; so much better later. 13% alcohol, imported by Kobrand and about $22; worth it. Find this wine
Chicken and porcini on pasta:
2001 Giacosa, Nebbiolo d'Alba:
Decanted 4 hours; this is fuller, more aromatic and better integrated then when simply popped and poured; little secondary development yet but excellent complexity and a lovely texture; quite long in the mouth. Matched very well with the dish. 13% alcohol, imported by Locascio and about $20 on release; I bought a lot. Find this wine
Turkey and dressing:
1998 Vieux Télégraph, Châteauneuf-du-Pape:
Very funky aromas when opened – decanted two hours; much better then with salted meat and cherry smells; light bodied, flavors echo the nose, some garrigue, some grip; medium length finish. This was most impressive on release and has been shut down ever since; now, it is approachable, albeit straightforward and pleasant, but nothing that can't be bought for $15 in Pic St. Loup and blown away for $25 in Faugères. 14% alcohol, imported by Kermit Lynch and about $50 on release; ridiculously over-priced. (If anybody wants my remaining bottles in trade, they have only to ask.) Find this wine
Cheese and crackers:
1999 Juge, Cornas Cuvée SC:
Should anyone wish to know why syrah is my favorite grape, they need only consult exhibit "SC;" initially this has some char on the nose and some green but, as it opens, these elements fade into the warm red fruit compote, cured meat, olive and milk chocolate aspects of this wine to become merely an accent; smooth and supple in the mouth with a linen texture, flavors that follow the nose and develop into nuances, superb balance and a hint of grip; long, flavor-filled and integrated finish. Sublime; a sip of pleasing relief from a difficult day. 13% alcohol, imported by New France Wine Co. and about $40 a couple of months ago; I bought what I could and wish I'd bought everything they had. Find this wine
Grilled chicken, stuffing and porcini gravy:
2005 Catherine & Pierre Breton, Chinon Beaumont:
A remarkably concentrated wine with rich berry smells accented with mint and earth; very deep and extracted but perfectly balanced with a lightening bolt of acidity etching all the flavors, almost grainy in texture yet still round in the mouth; and incredibly long. Another magnificent Chinon for 2005 and one that will reward cellaring. 12.5% alcohol, imported by Louis/Dressner and about $19; worth multiples of that. Find this wine
Potato and fennel gratin with grilled sausages:
2002 Michaud, Brouilly Prestige de Vieilles Vignes:
This has opened a good deal since release with lots of black fruit and berry smells and tastes, a solid earthy streak underlying and the texture of satin. A good wine that is structured, balanced, just coming into its own and excellent with the meal. 13% alcohol, imported by Becky Wasserman and about $20; I bought a lot. Find this wine
Chili and corn bread:
2002 Jacky Janodet, Moulin-à-Vent:
More reserved and polished than the Michaud but more approachable as well with solid fruit and earth tones, good integration and an impression of completeness. Pretty wine that was good with and without the food. 13% alcohol, imported by the Henry Wine Group and about $13 on release; I'd buy it again. Find this wine
2006 Alesia, Pinot Noir Green Valley:
For both Diane and me, this wine was an unexpected treat. California is not our first language when it comes to pinot but this wine was easy to understand and delicious. Quintessential left-coast in style but almost no wood, no overworking, clean, clear flavors, some minerality and a very balanced delivery. Proportional is the word that comes to mind; everything in its place and well integrated. May need six months to a year to peak but really charming now. 14.1% alcohol and price unknown; I'd love to drink it again. Find this wine
2001 Sella, Lessona:
On the other hand, this mostly nebbiolo wine is very fine grained, balanced and complex with a nod toward traditional Barbaresco. Quite a contrast from the late-model Giacosa and very enjoyable. 13% alcohol, imported by Select Estates of Europe and about $27, worth it. Find this wine
2004 Yalumba, Grenache Tricentenary Vines:
I tasted this before I read the label and quite enjoyed it – the label said "Australia, grenache, 14.5% and aged 10 months in French Oak hogsheads;" all things that, in most instances, would send me running – but this is the exception to the rule; it tastes more like syrah then grenache, doesn't seem over-ripe, has some depth and character, its texture is more silk than milk-shake and it's a more graceful then expected. This old dog learned a new trick. 14.5% alcohol, imported by Negociants U.S.A and price unknown; I'd enjoy drinking it again. Find this wine
2002 Tenuta della Terra Nere, Etna Rosso Vigneto Guardiola:
Having recently had the 2004 Calderara Sottana from this producer, I tried to compare the terroirs and vintages. I have read that nerello mascalese can add color and alcohol to blends and that, when made well, they can be long lived. This wine does not give me the impression of longevity being somewhat thin at mid-palate and a bit drying from tannin. Nonetheless, both have good flavors, some complexity and are pleasant drinking – I just don't think the wine making style of this producer leads to wines for the long term.
So I will drink them and enjoy them near term; not such a bad thing as it seems I have too much wine that "needs time." 14% alcohol, imported by Skurnik and about $25; vintages since 2002 have gone up in price so I will restrict my buying to the less expensive Calderara. Find this wine
2000 Château Cantelys, Pessac-Léognan:
Expansively aromatic with black fruit, graphite and earth scents; full in the mouth but not "big" with flavors that follow the nose, good depth and integration, some complexity and better than expected length. A really beautiful Graves that could sell for a whole lot more and it drinks well now. 70% cabernet sauvignon and 30% merlot. 13% alcohol, imported by Prestige Château and about $23; I bought all they had. Find this wine
2004 Domaine Brana, Írouleguy Ohitza:
Spicy dark fruit nose with some earth tones; much the same in the mouth a slightly rustic although, for a wine that's at least 50% tannat, it's not near as tannic as I'd expect; medium length finish.
On day two this is more Côte du Rhône-ish with an earthy rusticity; more a pizza wine for my tastes. 13% alcohol, imported by Wine Traditions and about $14; I won't buy more. Find this wine
2004 Château Bellevue la Forêt, Côtes du Frontonais Ce Vin:
100% négrette, this is all about blueberries, dark fruit, unsweetened chocolate, laurel and stone – both on the nose and palate; vinous, grapey and structured with a slightly bitter finish.
On day two, it is far more integrated, complex and complete; a very nice wine that reminds me of ripe cabernet franc. Probably needs a few years in the cellar but shows nicely now when decanted well before service. 12.5% alcohol, imported by Wine Traditions and about $9; I'll buy more. Find this wine
Pasta with a purée of almonds and fresh tomatoes:
2005 Tete, Juliénas:
Decanted two hours; open and generous with berries and mineral scents; good depth, flavors that echo the nose and a beautiful, supple texture; excellent length. A very fine wine with years ahead of it. 13% alcohol, imported by Louis/Dressner and about $18 on release; stealing at the price. Find this wine
After dinner with more crackers and cheese:
2001 Palazzola, Rubino:
70% cabernet sauvignon, 30% merlot; restrained but penetrating aromas of berries, cassis and spice; elegant in the mouth but with powerful flavors that follow the nose, seamless and integrated but with good acidity and a long finish. The best thing about this wine was what was absent; little oak, no candied flavors, no over-extraction; it tasted like real wine. I remember Rubinos from the mid-90's being far more over the top than this . . . and a lot more expensive. 13.5% alcohol, imported by Locascio and about $17; I'll buy more (and I never thought I'd say that). Find this wine
2004 Domaine du Cros, Marcillac:
Made from a grape called fer servadou (a/k/a fer or masois or pineac or brocol) in an AOC in southwest France, this is a character driven, smoky, spicy red wine with structure, rusticity and a little too much green bell pepper for me. With a bit less green, this would be really fascinating stuff. (I don't know if the "green" is a result of vintage, AOC or producer so I will probably try a riper vintage of the same wine when it comes available.)
Day two: So much less green that it is now just a faint accent – not unlike good Chinon – and so much more vivid and bright. A very interesting wine. 12.5% alcohol, imported by Wine Traditions and about $13; maybe again. Find this wine
2001 Bouchard Père & Fils, Volnay Caillerets Ancienne Cuvée Carnot:
Way too oaky when first opened – wood that kills the nose, chokes the mid-palate and dries the finish – and then, the miracle happens (after about an hour open); the oak diminishes on the nose and lets through black fruit and stone aromas, the palate opens up and gains depth and density, and, the finish lengthens and becomes juicy. I have no idea how this metamorphosis occurs but was delighted to have the wine with grilled duck breast once it changed. Probably needs five years in the cellar or a good bit of time in the decanter. 13.5% alcohol, imported by Cliquot and about $25, on release; I got plenty. Find this wine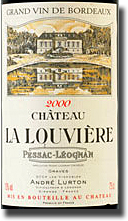 2000 Château La Louvière, Pessac-Léognan:
After a while open, this has the poop, leather, tobacco, mineral notes that are indicative of its origins but it is also rich, velvety textured and dense without being weighty, fruit driven and supple with a medium length but fairly full finish. A very nice bottle right now after it gets a little air. 13.5% alcohol, importer unknown and about $37; I'll buy it again. Find this wine
2005 Orin Swift, The Prisoner:
Jammy, alcoholic, raisined and diffuse by itself, this became spicy and filled with berries when served with a spaghetti squash casserole that included porcini, gruyere and a tomato reduction sauce. Not a wine I'd buy but I enjoyed it with the dish. 15.2% alcohol, price about $40; I'd not buy it. Find this wine
2004 Saintsbury, Pinot Noir Brown Ranch – Carolina Cuvée:
Smells of chocolate and black fruit; rich in the mouth with flavors that follow the nose, smooth texture, hidden structure and some heat; medium length finish. Not typical of the variety and a touch too hot but very good with food and better than I would ever have expected. 14.5% alcohol and price unknown: thanks Allan. Find this wine
Diane took spaghetti squash, used it as pasta and topped with a porcini, tomato reduction ragout and served it with crusty bread. To accompany, we tasted two really fine wines:
2004 Puffeney, Trousseau Les Bérangères:
Quite aromatic and complex on the nose; lots of black and red fruit flavors with earthy, stony, smoky nuance, good acidity, excellent concentration and considerable grip; tannic finish. The tannins seemed to melt away with the dish and the earthy nature of the wine came to the forefront. An exceptional wine and a symbiotic pairing. 13.5% alcohol, imported by Rosenthal and about $28; I believe it is worth the price but that is right at the limit I would spend. Find this wine
2005 Philippe Faury, St. Joseph:
Smells like young Hermitage, is extremely complex with its leather, olive, meat and garrique elements complimenting supple fruit flavors, has a satin texture, is round in the mouth and finishes long and detailed. Quite a wine that is complete and approachable now but certainly has the ability to develop over time. 12.8% alcohol, imported by Kermit Lynch and about $25; I'm going back for more. Find this wine
2005 Dom. Chignard, Fleurie Les Moriers:
A remarkable experience, drinking this wine now; my impression is that it has the structure, balance and fruit concentration to outlive me, that it is of its place only "more so" then one would expect and that even with all that character and power, it is a beautiful wine with roasted chicken tonight. 12.5% alcohol, imported by Kermit Lynch and about $21 on release; I really wish I'd bought more. Find this wine
2005 Château Lascaux, Bordeaux Superieur:
From vines that are 35-40 years old, this is 60% merlot, 20% cabernet franc and 20% cabernet sauvignon aged 18 months in barrel, 1/3 of which are new. It smells like Bordeaux – cabernet based wine that carries some earth, leather and mineral scents; it tastes like Bordeaux – with full bodied fruit, a tannic grip, good density and concentration and a nicely balanced delivery with a somewhat worsted textured; and, it has a medium length, tannic finish. With food, the tannins are less intrusive and the depth of wine is evident.
Much the same on day two, with a little more earthiness, a bit more integration and a somewhat less tannic finish. Could certainly stand some time in the cellar (the website recommends 6-12 years).
13% alcohol, imported by Stacole and about $14; a very good wine among quite a few very nice 2005 Bordeaux bargains. Makes me wonder why I would bother to buy/drink domestic cabernets? Find this wine
2001 Palazzola, Rubino:
I had tried a bottle of this a week or so a go and it was decent so I tried again – entirely different experience; smells like a freshly sawn dill pickle barrel; tastes similar with a thinness to the fruit and a short finish. I have no idea why the wide variation but I'll not try this again – this is much more the Cotarella type wine I remember. 13.5% alcohol, imported by Locascio and about $17; DNPIM. Find this wine
2004 Terres Dorées, Côte de Brouilly:
Always a stemmy wine, this now smells of dill and stewed jalapeño (not in a good way) and tastes so bad I spit it out. I did not notice any bacterial type smells or flavors but I suppose it's possible it's a bad bottle. 12% alcohol, imported by Louis/Dressner and about $20; DNPIM. Find this wine
2000 Château Cantelys, Pessac-Léognan:
Opens gradually to poop, blackberry, cassis, stone and smoke – complex and inviting nose; rich and full bodied in the mouth with flavors that echo the nose (sans poop), grip, concentration and length. Could use some time in the cellar as it's just a touch rustic but what a nice wine. 13% alcohol, imported by Prestige Château and about $23; I bought all they had. Find this wine
2004 Bodegas Marqués de Carrión, Rioja Antaño:
Smells earthy and looks like it has more age on it then it does; but in the mouth it's dirty – not organically flawed (at least not such that I can tell) but not especially pleasant either; short finish. Maybe it got cooked or maybe it's just not good wine; although, it's a lot better with food than without. 13.5% alcohol, imported by CIV and about $3; not again. Find this wine
2006 René Barbier, Penedès:
100% tempranillo (as was the preceding wine) this is much more characteristic of the variety, lively, in your face fruit, disjointed and rustic but in a youthful way rather than a winemaking-mistake way; solid structure, decent depth and a medium length finish. Exuberant wine with a touch of country rusticity; good now and I'm guessing, better later. 13% alcohol, imported by Freixenet and about $4; I'll buy more. Find this wine
In the "what the hell is going on here" category, I had the chance to try two 2005 Vincent Girardin wines. This is a producer that I have studiously avoided ever since my run-in with the 1999, Les Amoureuses; a wine that should have sent me on flights of fantasy but instead, left me cursing the day I thought this guy had a clue; a house that has underachieved for quite some time; big wood, big yields and no sense of place.
But what's this? Wines of character without artifice or over-wooding? Wines that taste like somebody actually cared about yields and brix and all that little stuff? I am shocked and amazed – pleasantly, as it so happens:
And,
2005 Gevrey-Chambertin VV:
Shows like a barrel sample – raw-boned, in pieces and tannic – but what promise; beautiful earthen scents; strong flavors in the meaty/spicy end of pinot; it's concentrated, intense, structured and very long. I'm thinking there must be some mistake – no hint of oak on the nose or on the palate and no drying on the finish. Good heavens; someone has figured out how to make wine – even better, Burgundy! It was about $48 and I bought one bottle to age. That price is almost off my radar screen but this kind of quality and promise made me refocus. Who'd a thunk? Find this wine
2005 Beaune Les Greves:
Whole cloth, albeit young, and amazingly pure. Again, none of the woody faults of the past, none of the questionable yield dilution, none of the drying barrel treatment – focus and purity and really Beaune character. Porcine aviation! About $45 and, dare I say it, worth it!? Find this wine
A bottle of the 2005 Perrin & Fils, Côtes du Rhône Villages was adequate, I suppose; nothing wrong with it but certainly nothing to make me want more. Whereas, a recent 2006 Côtes du Rhône Reserve from the same house was delicious and character driven (and cheaper).
Oh well, there's half a bottle left; maybe tomorrow it will be different. Find this wine
Another nice bottle of the 2005 Filipa Pato, Ensaios with dinner of pork tenderloin and chick pea curry was a great foil; its smoky, earthy and full of dark fruit with decent complexity and good length. A Portuguese beauty for $15. Find this wine
Lots of talk about 2005 Bordeaux, so I opened the 2005 Château Tour de Gilet Bordeaux Superieur this evening. My local retailer told me it's got a bit more petite verdot in it than the usual and sure enough, its color is very dark and it's pretty tannic. But it's also very aromatic and quite good with pizza and salad. I suspect this would actually age into something more developed and complex; right now it's got forward fruit, mostly in the black hues, good concentration and fair balance. At $15, maybe I'll buy a couple for future experiments. Or future pizza nights. Find this wine
Diane says we're having polenta with a topping of greens, beans, olives, red pepper flakes and garlic, and a little pork tenderloin for me (she does not eat meat); and the 2005 d'Angerville, Bourgogne is the perfect accompaniment. It's reticent but pure on both the nose and palate but solid and graceful in its very Beaune way; nothing here to cloy and a texture and delivery that are finely grained, perfectly balanced and make us want to come back to the glass – we both wish it was a magnum. I suppose it could use some time in the cellar but we probably won't be that patient – how many pinot noirs today create such a presence in such an understated way? It's a premier cru Bourgogne if there ever was one. Find this wine
There are a lot of years when I really like this wine, but the 2004 Dom. d'Aupilhac, Coteaux du Languedoc Montpeyroux just isn't one of them. It's not a bad wine; salty minerality and ripe fruit, but it isn't carrying anything that identifies it as to place and it seems a little over-done; torrefied and tannic for tannic's sake, etc. I suppose it would be fine with heavy or fatty food but that's not what I eat so this will be my last bottle of this even though it's only $15. Find this wine
Then they opened a 2005 Bogle, Phantom which appears to be a blend of petite sirah and zinfandel with a splash of mourvèdre. It's 15.8% alcohol and, while it's not hot, it is ponderous and thick in the mouth – a 'cocktail wine' if there ever was one. Find this wine
With dinner, a bottle of 2005 Filipa Pato, Tinto Ensaios smelled of dirt and fruit; had a very earthy palate but still carried more than enough fruit, was moderately complex and had medium length. An intriguing Portuguese table wine from the Beiras region; the earthy elements really give it character and match quite well with food. I'll buy more of this at $15. Find this wine
For $6, the 2003 Lanciola, Chianti Colli Fiorentini will go reasonably well with more than a few dinner choices as it has soil and chocolate on the nose and in the mouth, does not show the alcohol and extraction of the vintage, and, generally delivers an elegant if understated performance. Find this wine
I'm just not sure about the 2005 Giacosa, Nebbiolo d'Alba; it doesn't have much varietal character right now and its tough and steely across the palate – almost minty; concentrated and balanced, maybe it just needs a few years in the cellar. And since it's this producer, I think I will trust in that. Find this wine
1998 Guiseppe Mascarello, Barolo Monprivato:
Served a bit warm and recovered some when put in the fridge for 15 minutes; pale and slightly browning color; once it was cool, a lovely rose petal nose; elegant and flavorful in the mouth albeit slightly thin and resolved tannin. I think this had been somewhat cooked in transit but it was still a pleasant bottle – but not for $38. Find this wine
1998 Hop Kiln, Cabernet Sauvignon Reserve:
So much American oak smell as to mask any fruit aromas and the wood dried out the palate almost completely. Bad wine-making. Find this wine
2005 Cep, Syrah Sonoma Coast:
13.2% and supposedly the second label of Peay Vineyards; a wine that is similar to the Qupé mentioned above but is more California in style and shows its wood; the wood does not overwhelm by any means but, as far as I am concerned, if you can smell it or taste it, its too much, and you can do both with this wine. The difficulty here is that it does not enhance the wine but rather, it obscures varietal character and limits the intensity and length. Not a bad wine and, maybe with time in the cellar, better than it is now. But this was $25 and when I can buy the Qupé for $9 less, I really haven't the inclination to experiment. Find this wine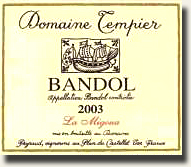 2003 Dom. Tempier, Bandol La Migoua:
Decanted four hours; game smells and flavors compliment ripe fruit with accents of fresh turned soil and fresh herbs; fine grained in the mouth with flesh, structure and weight yet still balanced and integrated. A big wine but not out-sized and terrific with pizza. Find this wine
2005 Erath, Pinot Noir
Clearly from Oregon with its pale cherry color, underbrush and cherry scents and elegant mouth feel; nonetheless, solid fruit flavors and some hummus accents with a light mineral undertone. Pretty – a 'little' wine but also a nuanced one. Find this wine
2005 Steele, Pinot Noir Santa Barbara:
A "little wine" that gives the impression it was whole-cluster fermented; a stemmy, light cherry, clean nose with flavors that follow and add some black cherry and a mineral tinge; smooth and round, decent acidity and good balance. Not for those who like big pinots or want them to act like syrah. 13.5% alcohol. Find this wine
2003 Dom. Tempier, Bandol La Tourtine:
Opened with trepidation and only to see if I wanted to buy more, this was much more open and expressive than expected; blackberries, meat, stone and a unsweetened baker's chocolate; flavors of black and red fruit with a strong coffee note, fleshy and resolute in the mouth with excellent concentration, fine grained tannins, good balance and a very long, mouth-coating, albeit drying, finish. More to my taste than the '03 La Migoua tried last week. Superb wine but truly, one for the cellar. And, for those keeping score, no overt evidence of the heat of the vintage. Find this wine
With pasta tossed with mushrooms and truffle oil:
2002 Overnoy/Houillon, Arbois Pupillin (poulsard):
If one insists that the "earth speak" through wine, this is the bottle for you; pours orange but settles in the glass to transparent garnet with a browning rim; the nose is so enticing – wild strawberry with the leaves, pomegranate, newly turned earth, and very light truffle tones (not even a hint of oxidation despite the color); much the same in the mouth with a capsaicin-like note (probably borne of bright acidity), a weightless delivery but no lack of intensity; long, spicy finish. Diane says it reminds her of France – the countryside – and although I've not been, I get it. A pretty wine that will not be for everyone but that speaks to me as few others do. $21 – worth multiples of that to those who love such wines. Superb with the dish. Find this wine
With cheeses:
1999 Drouhin, Volnay Clos des Chênes:
Has shed its baby fat but is still a juvenile; very Volnay with its stony structure underlying striking red fruit and considerable length to the finish. But this needs at least a decade in the cellar as it only showed faint, albeit inviting, hints of development. Grand cru quality. Find this wine
With chicken sausages with feta and spinach, hummus, sliced zucchini in lemon sauce, fresh tomatoes with basil and grilled Nan;
2005 Dom. Vissoux, Beaujolais VV Cuvée Traditionnelle:
Try this; think of the sound a whip makes when its cracked; now imagine scents and flavors that carry that same stamp; crackling black-raspberry fruit with mineral undertones; vibrant, alive and utterly pure. It is impossible to have too much of this wine; graceful, vigorous and joyous stuff! And $14, on release. Find this wine
With pasta with veggies and olives:
2001 Edmunds St. John, Los Robles Viejos:
This may be a southern Rhône blend but it acts more like a St. Joseph with clean syrah smells and a distinct mineral ingredient; firm in the mouth but not closed with red fruit, mineral and some light garrigue accents, fine balance and structure; medium length, integrated finish. A wine of whole cloth with better structure than is typical for CA reds; no doubt, it has a long shelf-life. Gained presence and complexity with the dish. Find this wine
With Caesar salad and pizza:
1998 Giacomo Conterno, Barolo Cascina Francia:
Very elegant wine with soil and roses, pretty nebbiolo fruit, good complexity and an almost weightless delivery. The label says 14.5% alcohol; you coulda' fooled me. A lovely bottle that is showing quite well. Terrific with the pizza but then, it's terrific by itself, too. Find this wine
With cheese nachos, salsa, hummus and coleslaw:
1993 Sullivan, Merlot:
In those days, Sullivan made wine to age – at 15 years this has finally become what it was made to be; decanted off substantial sediment; a bit of VA along with bottle bouquet, pungent earth and dark fruit tones, some Baker's chocolate and lots of complexity; still structured in the mouth but with fully developed fruit and earthy flavors, complexity, a certain rusticity and good sustain. Pretty nice wine and really balanced with the meal. Find this wine
With braised short-rips:
2005 Landmark, Pinot Noir Kanzler Vnyd.:
Rhubarb, orange peel, red fruit nose with some underbrush accents; not quite as complex or nice on the palate with candied fruit and echoes of the elements of the nose, big textures and a bit hefty; medium length finish. Not to my taste by itself but this came alive with the short-ribs and was much better than I expected. Find this wine
2002 Alain Demon, Côte Roannaise Réserve La Perrière:
Concentrated, integrated but straight-forward gamay; a little more earthy than Beaujolais, a little less bright, as well. Good wine but not worth the wait. Find this wine
2004 Tenuta delle Terre Nere, Etna Rosso Calderara Sottana:
A distinct milk chocolate note here with a light cherry note, some earthen tones and a bit of brown sugar (without the sweetness of sugar); elegant in the mouth with flavors that follow the nose, light-weight, clean and integrated; medium length. Nerello mascalese, often thought of us as a blending grape that provides alcohol and color, can also make wine that tastes delicious, doesn't go over 14% and vints out translucent – and here it is. Sort of pinot noir-esque in texture and weight. Pretty stuff. Find this wine
With grilled NY strips with corn and baked potato salad:
1997 Jaboulet, Hermitage La Chapelle (magnum):
Decanted 6 hours and, IMO, much the better for it; leather, stone and deep syrah fruit on the nose with hints of cinnamon, bacon and cold stream water; medium weight on the palate but intense and integrated, flavors follow the nose, pretty balance and the impression of latent power; quite long and clean on the finish. I tasted this when first opened and the decant helped immeasurably. Showing very well but clearly has lots of time in the cellar left. Devine with the steaks. Find this wine
1996 Gouges, Nuits-St.-Georges Les Pruliers:
Others liked this better – I found it still fairly closed and ungenerous. A good wine but not one that touched me. Find this wine
1993 Leroy, St. Aubin (rouge):
OTOH, this wine had a bottle bouquet nose that was almost enough to carry me away; not quite as fine in the mouth with the tannin just a little outsized for the concentration but still a lovely wine and delicious with food. Find this wine
1994 LaJota, Cabernet Franc:
Served blind and most folks guessed nebbiolo – and I can see why. These old LaJota francs are intriguing and not something one would recognize without seeing the label. Not yet fully resolved. Find this wine
1999 Dujac, Chambolle-Musigny:
Not at peak but showing some secondary development, refinement, excellent balance and so Chambolle; an elegant, layered wine that will always be feminine in delivery. Lovely with cheese soufflé. Find this wine
2002 Ridge, Lytton Springs:
Big assed zin./petite with a bit too much new American wood for me. But these often integrate with time and I would expect this to do likewise given another 8-10 years. Has the stuffing to live well past that. Beef brisket with raisin sauce helped. Find this wine
2004 Gorrondona, Bizkaiko Txakolina:
From clay and slate soils in the Basque region of Spain, this is hondarrabi beltza fermented in stainless; it is one odd critter with a nose of smoldering rosemary, thyme and fresh spearmint with just a hint of red cherry; the same in the mouth except the sweet cherry element is dominant, crisp, juicy, lightly tannic and a bit drying on a fairly long finish. Too herbaceous for me but an interesting wine and one that seems to be aging at a slow pace. Not bad with cheeses.
More integrated and smoother on day two but retaining much of its herbal character – more Chinon-esque now. Find this wine
1998 Lafarge, Bourgogne:
In contrast to the Dujac mentioned above, solid, rustic, masculine pinot with medium tannins and big flavors. 12.5% alcohol and yet a 'big' feeling wine. For accompanying stews and roasts. Good. Find this wine
2002 Allemand, Cornas:
Red plum, cherry, olive, a slight charred note and herb on the nose; lovely sweet fruit with olive and leather accents in the mouth, some tannin, quite elegant and despite the smells and flavors of Cornas, little of the power and rusticity; medium length finish. Not the most concentrated nor complex Cornas but certainly charming in its own way and, I think, an example of the vintage that shines on account of the winemaker. Delicious with sausage with white beans and kale. Find this wine
2005 Dom. Vissoux, Moulin à Vent Les Deux Roches:
Open and generous (which was not expected) with deep, pure scents and flavors, medium weight, texturally like worsted wool and long. Has a distinct mustard note in the nose but the palate is fruit-rich, mineral accented and layered. The mineral element here is different from most wines; it seems richer and kind of meaty – an odd way to describe it, I know, but that's the impression it leaves. Still showing quite young but arresting in every way. Find this wine
2002 Clos Roche Blanche, Gamay:
The geranium nose is beaten back and it's mostly light fruit scents; really nice in the mouth with crisp acidity backing fresh fruit and mineral flavors; medium length. Being refrigerator cold made the difference; I like this wine now whereas, at cellar temperature, not so much. Find this wine
2005 de Villaine, Bourgogne La Digoine:
A feminine wine but a female who does four hours of pilates a day and only eats one meal; lovely clear scents of cherry and Burgundy; elegant but intense fruit with good complexity and a grace that is hard to describe but easy to love; fine length. Still young but utterly pure and fabulous. Find this wine
2005 de Villaine, Mercury Les Montots:
The masculine version from this house with a gamey aroma and a meaty texture, even more complex than the preceding wine but less ready to drink with some unresolved tannin and a slightly disjointed finish. Even so, one of the best pinots I've had this year. Find this wine
The first wine was $32 and the second $38; I can't think of any better pinot noir wines at that price. And these have a future in the cellar – there isn't a doubt about that. If you can remember only one name in Burgundy, remember this one.
2004 Descendientes de J. Palacios, Bierzo Pétalos:
Smells like CA cabernet franc with a little dirt thrown in, a hint of smoked bacon and a little (too much for me) sweet oak; much the same in the mouth with a hint of chocolate and tea; evident tannin; medium length, somewhat drying finish. A bit too 'made' for me but not devoid of terroir and better with food. $16. Find this wine
1985 Ridge, Lytton Springs:
80% zinfandel, 11% carignane and 9% grenache; I guessed an old Tuscan sangio. based wine – nothing here indicates zin. or grenache and only the most lenient would find carignane; a little vinyl on the nose detracts but from then on, its all integrated, red wine with an Italian slant that leads to a mellow, clean finish that lasts. Drink with someone you love. Find this wine
1999 Belle Pente, Pinot Noir Wahle Reserve:
Dark and brooding with strong smoky accents – all bass notes on the nose; much the same in the mouth – not closed but fairly monolithic; medium length finish. Better with food.
Too dark noted for me but I can see where others would like it better, but if I were guessing, I think the fruit will fade before the structure so I won't keep it long term. Find this wine
2002 Jadot, Moulin-à-Vent Chat. Des Jacques:
No evidence that this is gamay – more Beaune/Corton in nature with a restrained, firm, mouthful of red fruit with black fruit accents and forceful minerality. Too early to this but quite impressive. Find this wine
2002 Terres Dorees (Brun), Beaujolais L'Ancien:
This vintage had a reduction problem so I have let my bottles sit – not much difference when opened now. But I put it in the refrigerator and got it as cold as I could and, bingo – reduction gone! Certainly not giving the depth and nuance that wine at room temp. would but its bright, cheery and shows no flaw – lovely with lunch. Find this wine
2005 Alesia, Syrah Fairview Ranch:
Too oaky on both the nose and palate when opened – so I set it aside and came back to it two hours later – much better; still some gentle oak but now the wine is about fresh meat, blood, salt and syrah; quite concentrated, weighty, thick textured but balanced, layered and a distinct salty minerality.
On day two it is more integrated and smooth, still some oak noticeable and the minerality is more apart of the whole.
This needs time and with its considerable stuffing, I think it will integrate its wood and its other elements and become one of the more individual syrahs from the left coast. Find this wine
2004 Giacosa Nebbiolo d'Alba Valmaggiore:
Bright cherry with a bit of tar on the nose . . . and something that almost, but not quite, smells like insecticide; medium bodied and quite dry in the mouth with significant tannin and a stony quality; long, somewhat drying finish. OK, this tasting note doesn't make it sound spectacular but, it is. The purity of each element, the way they meld into something heady and more enticing, and the exceptional character in the finish – this is very fine and has a long life in the cellar despite a good showing this evening. Find this wine
2003 Giacosa Nebbiolo d'Alba Valmaggiore:
Not near the clarity and focus of the above wine; still good nebbiolo that, despite its amped-up delivery is true to its place and vintage. Good with pizza but, IMO, not worth the extra tariff for the vineyard designate. Find this wine
(Aside: I should say that the 2003 is a good nebbiolo d'Alba and representative of that DOC, albeit larger than normal. The 2004, OTOH, is more Barbaresco or Barolo-like in delivery and hence, exceeds its DOC label.)
1995 Laurel Glen, Cabernet Sauvignon Sonoma Mountain:
No brett or VA; some secondary development and bottle bouquet; varietally correct and detailed with cassis and old furniture aromas, very clear and clean fruit flavors with layers of accents including stone, herb and decay; long and intense finish. 'Not many CA cabernets I care a twit about but this could make me reconsider. Find this wine
2005 Michel Tete, Juliénas Dom. du Clos de Fief:
Starts tight with straightforward gamay odors and ripe, pure flavors; after about two hours in the decanter it loosens up and shows some complexity, minerality and focused fruit aromas and flavors; also its length extends and layers out. Clearly needs cellaring but some time decanted helps to get a glimpse of where this is headed – a very good place, indeed. Find this wine
1999 Barthod, Chambolle-Musigny Les Cras:
Red/black color but translucent; moderately expansive nose with depth and nuance, earthy/stony/leafy, some secondary development; cool but rich in the mouth, some tannin, more nuance than on the nose, black cherry, the impression of quartz dust, harmonious, balanced, intense; good length and grip but nothing drying. A very classy wine with an earthiness that accents a medium bodied fruit profile nicely. Feminine but firm and very Chambolle. (Diane is enthusiastic – a very rare occurrence.) Find this wine
1992 Belle, Hermitage:
Showing very well with mostly game, decay and complex fruit notes on both the nose and palate with excellent balance, a precise structure and lots of length. A fine wine at its peak. Find this wine
1995 Maison Leroy, Beaune Villages:
Firm, clean and appealing; not as rich as the foregoing wine; more focused and structured. Very clearly of its place and has many years ahead of it in the cellar. Find this wine
2002 Overnoy, Poulsard Arbois-Pupillin:
Pale salmon/orange color; smells of pomegranate and forest floor – but somehow more than that; light-weight, spicy, vinous juice that is a party of flavors in the mouth – most of them difficult to isolate or describe, intense, racy and long. Not as fresh as my last bottle but still head and shoulders more intriguing than 90% of what's out there. Find this wine
2006 Talley, Pinot Noir San Luis Obispo:
When opened, crunchy and interesting; by the time we had gone through this 375 ml, sugary, soft and forgettable. Not much there. Find this wine
1999 Bruno Clavelier, Vosne-Romanée Les Beaux Monts:
A great terroir, a fine vintage and a winemaker with skills – ruined by poor sanitation; a brett bomb. There is a very nice wine underneath all that horse-blanket but I can't get to it, won't try and now I question whether the rest of my bottles are similarly infected. Unacceptable behavior with an avoidable problem. Shameful! Find this wine
1991 Sullivan, Cabernet Sauvignon:
Ah, for the days when wine was 13.1% alcohol and tasted like its variety; this is quite nice – clean, correct, mellowed by time and has lots of life – all those harsh tannins have melted away. A good wine; not great, but then, good is often good enough. Find this wine
1999 Dom. Bizot, Vosne-Romanee VV:
St. Joseph on both the nose and palate; no Vosne spice, plenty of black and green olive and a texture that is halfway between pinot and syrah. Not a bad wine but one so atypical that I have to look twice at the label. Could oak staves that weren't well dried do this? Find this wine
1999 Dom. des Remizières, Hermitage Cuvée Emilie:
Completely resolved, wonderful balance and very fine grained; perhaps, a more feminine style than Chave, for instance, but utterly charming and one beautiful syrah. Find this wine
2005 Edmunds St. John, Syrah Bassetti Vnyd.:
A completely different wine then it was seven months ago; no longer that barrel sample character, this has thrown a large amount of sediment and is quite closed; much darker smells and flavors and a bit disjointed. This wine, or at least this bottle, was angry about being disturbed. Hold. Find this wine
2005 Chanrion, Côte-de-Brouilly:
Strawberry, lady's face powder and tonic water smells; beautiful in the mouth with dense fruit flavors, accenting minerality, a lightweight delivery and a silky texture; medium length, very clean finish. Drinking very well today and absolutely delicious. Yum! Find this wine
2005 Terres Dorees, Fleurie:
A baby – a yummy wine but requires several years to round out. Terrific wine. Find this wine
2006 Alesia, Pinot Noir San Mateo Cnty.:
Evidence of some whole-cluster fermentation and very sweet fruit; not my favorite but our guests loved it – to the point they drank it instead of many of the Beaujolais. I think this needs a couple years to integrate fully but our guests wanted more – my only bottle. Thanks, Kevin. Find this wine
2005 Castro, Dão Quinta da Pellada:
I don't know the make-up of this wine but, if I were guessing, I'd say it included some of the port grapes; 13% alcohol; stains the glass purple-red; very enticing aromas of earth and dark fruit with a bloody meat note; extremely concentrated on the palate with smoke, meat, earth and fruit flavors that expand in the mouth and are intense and lasting; long, flavor-filled finish. Exceptional wine with lovely balance and all the intensity one could ask for. Unbelievably good with homemade mac and cheese. Could use time in the cellar but is good now. Find this wine
1994 Laurel Glen, Cabernet Sauvignon Sonoma Mountain:
This producer can make brett-bombs – it can also make really fine wine; this bottle is one of the latter; a very slight touch of brett accents black currants and some red fruit, even a little mineral thrown in; much the same in the mouth with excellent balance, good grip and a composed texture; a bit drying on the finish but its also juicy and long. Not a lot of bottle-bouquet and still some unresolved tannin, but this is quite attractive, reasonably complex and delicious with pizza. Drink or hold. Find this wine
1996 Jadot, Clos St. Denis:
Luden's cough drops and dirt on the nose with considerable bottle bouquet, fairly tight; linen texture in the mouth with dark cherries and earth tones, slightly more giving than the nose, intense, very fine but noticeable tannins; moderate length, slightly drying. Nothing here indicates grand cru, yet. Find this wine
2002 Clos de la Roilette, Fleurie:
A bit muddy on both the nose and palate and not much sense of place either. Not a bad wine, just not drinking now. Find this wine
1999 Jaboulet, Cornas:
Funky smells and flavors at first but this rounds into a complex, earth driven wine with some syrah markers and a good dose of Cornas terroir. Better than expected considering a bottle two years ago was mediocre. Find this wine
2002 Taluau, St.-Nicolas-de-Bourgueil VV:
Tobacco leaf, cherry-cranberry and some mineral notes – the vegetative elements of the nose do not go over into green bell pepper; medium weight, a little grit in the texture at first but it smoothes, bright fruit, intense but not especially concentrated; medium finish. Nice wine with sausages, white beans and cabbage but probably needs a couple years to resolve. No doubt its Loire cab franc. Find this wine
2005 Mondavi, Cabernet Sauvignon:
Oak drek. It isn't just the matter of an oak smell or flavor, it's the way the wood insinuates itself into every fiber of smell and flavor, each to become soured and tainted so as to be indistinguishable from a damaged wine. I suspect this was at least decent juice to start with but the barrel treatment assures that it never will be again. Find this wine
2005 Dom. Chignard, Fleurie Les Moriers:
The glorious breath of Bacchus after the preceding wine; pure, almost haunting aromas of talc, wild strawberry and mineral – so utterly captivating; focused, medium weight wine with flavors that follow the nose with nuance, bright and intense; long finish with just a hint of structure showing. The impression I get is that this is only a glimpse of coming attractions but such a perfectly orchestrated one that one can't help but be entranced. Very Fleurie. Just as good on day two. Find this wine
1991 Montelena, Cabernet Sauvignon:
Clear and pure but lacking depth and showing a distinct, although not unattractive, herbaceous edge. An understated wine and, IMO, somewhat under-fruited. Other bottles have shown better. Find this wine
1999 Chave, Hermitage:
Touch of brett on the nose; fine aromatics but not expansive; better in the mouth with silken textures and plenty of complexity, not especially concentrated; moderate length. More resolved than I'd have expected and not showing the power that great Hermitage can possess. Odd, but not unpleasant. Find this wine
1999 Dom. de Courcel, Pommard Grand Clos des Épenots:
A meaty, smoky, tannic wine but with enough fruit to carry the phenolics; smells like Sonoma Coast pinot but tastes more like Burgundy, more dirt driven in the mouth and with sufficient intensity and promise to make me think several years are needed – but a peculiar showing and one that makes me think I should revisit some of the domestic pinots I haven't tried in years – those without all the sweet fruit and so much alcohol. Find this wine
1999 Cristom, Pinot Noir Marjorie Vnyd.:
Youthful in its grip and intensity and yet, there is a developed depth here – strong black cherry smells and flavors with lifted ever so slightly vegetal accents and nuances in the brown spice range; cinnamon, clove, star anise, etc. – not as complex as some aged pinots and more masculine than some but also quite well balanced with a presence that isn't all that common. Very Oregon and it has lots of life left – but one could do worse than enjoying it now. Find this wine
1995 La Jota, Petite Sirah:
At 13, this tastes pretty much as it did at 2; good grip, some nice spice notes, solid fruit and all in a relatively simple package that has changed little since it was bottled. Perhaps, it is a bit less bright, a touch drier and a trifle more integrated – none of which is sufficient reason to cellar this bottle so long. Good with burgers but I'd not buy it again. Find this wine
2000 Thomas, Pinot Noir:
Diane made a mushroom, chicken and vegetable concoction that went beautifully with this wine; its nose is blackberry and cola; in the mouth it has strong flavors but light weight and easy textures – a tenuous but attractive balance – it cuts the food with its acidity and flavors but never intrudes or overwhelms. 13% alcohol, thankfully. When I think of the domestic producers of pinot noir that I consider in tune with their land and meticulous about their process, John Thomas leads the list. A terrific wine that has years to peak but shows very well today. Find this wine
1995 Montus, Madiran Cuvée Prestige:
Smells like new tires and cherries; its all fruit and earth in the mouth with good grip and plenty of concentration and heft; a somewhat drying but very long finish. Expecting an avalanche of tannin, instead I got a masculine, thoroughly enjoyable bottle with pretty good balance and complexity. Not something I want a lot of but twice the wine with pasta and red sauce. Find this wine
2005 Clos de la Roilette, Fleurie:
Within a whisker of the '05 Vissoux, Poncie which I have written up maybe 20 times since release; my favorite wine that presently resides in my cellar. This is only short by a degree of concentration; otherwise, this is fabulous Fleurie, gorgeous gamay and wonderful wine. What a vintage in Fleurie! Find this wine
1996 Allemand, Cornas Reynard:
All the Cornas markers, good integration and balance and then, it drops off a cliff. Nothing there at all from mid-palate on. Sort of watery and, well weird. Find this wine
2000 Belle Pente, Pinot Noir Estate Reserve:
A wine I have not much cared for in the past; quite different this evening with the beginnings of bottle bouquet; a fairly straight-forward nose; a very complete and pretty profile in the mouth with attractive balance and good intensity, darkly fruited; long, tangy finish. So much better than its early years it's hard to believe it's the same wine. This has a life ahead of it but it has entered a very attractive phase. Find this wine
1999 Chevillon, Nuits-Saint-Georges Les Vaucrains:
Plums, flowers, mineral water and cured meat on the nose; much the same on the palate with some cherry and earthy accents added, evident structure and a meaty, mouth-coating texture, remarkable concentration and intensity; stunning length. Becomes more and more integrated as it sits in the glass. This could be ponderous if it wasn't for the brightness and savory/earthy character of the flavors – two bottles of flavor in one bottle of wine. "And miles to go before it sleeps . . ." Find this wine
With vegetarian lasagna with fresh sliced truffles:
1999 Pio Cesare, Barolo:
Very ripe on the nose and palate without much development or complexity but it tasted of fruit and not wood which is more than I expected of such a young Barolo. Good concentration, intensity and length bode well for its future. Find this wine
1999 Dugat-Py, Gevrey-Chambertin VV:
Also young but showing a velvet texture, ripe tannins and mouth-filling flavors of fruit and earth. And an amazing finish that keeps pumping out flavors long after one has swallowed. Not many village wines live at this level. Find this wine
2005 Lan, Rioja Edición Limitada:
Very oaky nose followed by a milkshake-like texture and lots of sweet fruit. Not my style of wine but, as it opened, I could begin to taste the tempranillo flavors ('never did get past the wood on the nose). Surely, this will be a popular wine in the U.S. but a couple of sips were all I really wanted. 14%, quite expensive and nothing I'd buy but I appreciate the chance to try it. Thanks Joe. Find this wine
2006 Paul Bouchard, Vin de Pays Doc Pinot Noir:
Correct, translucent, French styled pinot noir that is balanced and appealing. Not for aging and little complexity but entirely quaffable at $9. Find this wine
1996 Jessandra Vittoria (Coturri), Santa Vittoria:
A cabernet sauvignon and sangiovese blend that is a little pruney but still interesting. When unveiled, I remembered having some of this in my cellar some years ago. A bit too darkly framed and torrefied for me but sound and showing some development after 12 years. Find this wine
1990 Rabbit Ridge, Barbera Grande Riserva:
Great wine! Ethereal aromatics that are feathery, complex and evocative of the Italian countryside; completely resolved, silky smooth and nuanced to a degree that I take my glass off to a corner away from everyone just to concentrate on the wine. Appeals to the senses and the intellect, has developed both bottle bouquet and tertiary layers of aroma and flavor, and is at peak. Continues to develop in the glass and the finish goes on and on. 13% alcohol and the finest barbera based wine I've tried from anywhere.
Oh my! Find this wine
1995 Snowden, Cabernet Sauvignon:
My last bottle from a case and I am not sad to see it go. The winemaker started with terrific fruit; ripe, concentrated, varietally pleasing and then the barrel program blew it. It's not heinously over-oaked but it's to the point that the fruit gets hidden behind a bit of vanilla here and a dab of dill there. Sometimes, a good dose of the fruit gets through and it's delicious but too often there's an overlay of wood. And at 13 years out, I can't see it integrating. Maybe some will see this as complex; I don't. Find this wine
2006 Edmunds St, John, That Old Black Magic:
Ah yes, all wine, no trees. A co-fermentation of grenache and syrah, this has a southern Rhône attitude and a CA intensity. Nuanced aromatics; a complete wine in the mouth with fine grained flavors, good structure and despite its 14.3% alcohol, an elegant and medium weight delivery. A joy to drink, especially after the preceding wine. Find this wine
1993 Dom. Tempier, Bandol:
Had a slight onion smell and flavor and is not full resolved – other than that, a very interesting bottle but one I would never have guessed from Bandol. Find this wine
Quilceda Creek, Cab./Merlot/Cab. franc blend:
I didn't catch the year and really don't care; way too oaky on both the nose and palate – well past my threshold for such things.
2007 Biggio Hamina, Pinot Noir Deux Vert Vnyd.:
Translucent; very high toned aromatics that seem just a touch under-ripe to me – not 2004 Burgundy green but just not quite full; elegant and pretty in the mouth with bright black cherry and mineral flavors dominant, moderate intensity and a trifle thin (but leaving the possibility that this will gain weight with age); medium length slightly sour finish. Given a year or two in bottle this may be an entirely different wine – the fact that I found no 'green' at all gives me hope. But today it comes across a little under-ripe and lacking concentration. 13% alcohol.
I have another bottle or two and will age them and see what happens. I will say that if a producer has to miss my mark, I much prefer it this way than some over-ripe, alcoholic, knock-off for syrah.
Once again I am convinced; this is a producer worth watching. Find this wine
2006 Paul Bouchard, Pinot Noir Vin de Pays D'Oc:
Good, solid, Burgundy styled pinot with ripe fruit, mineral undertones and enough nuance to keep it interesting, Easy to drink.
On day two, it has gained complexity, integrated a little better and become even more pleasing both with and without food.
Buy this buy the case at $9/bottle. Find this wine
2000 Felsina, Chianti Classico Riserva Rancia (375 ml):
No bricking; red and black fruit on the nose with warm earth and milk chocolate hints; medium weight, flavors follow the nose with a smoke accent, silky texture, somewhat resolved structure and good length that carries a certain low-register, baked, black fruit note. Not completely integrated but certainly on its way. Perfect with white pizza and salad. About $20 for this small size. Find this wine
2007 Edmunds St. John, Bone Jolly Witters Vnyd.:
Gamay from El Dorado County; expansive and pretty aromas of fresh cherry and crushed rocks; in the mouth its juicy with flavors that follow the nose; so lively and exuberant – wide open, youthful, lip-smackingly delicious wine that simply demands that you take another taste. There is substantial fruit, an almost hidden structure, a satin texture and a vibrancy that is hard to put into words – this is the bomb! $16; back-up the truck. Find this wine
2007 Edmunds St. John, Porphyry Barsotti Ranch:
Gamay from El Dorado County from granite soils; restrained aromas of dried cherry and mineral with a slightly smoky note; equally composed in the mouth with flavors that echo the nose, considerable grip, bright acids and a fairly closed fruit profile; excellent length. This demands cellar time and has the stuffing and structure to age a decade or more. Today, this is more an intellectual experience, as opposed to the sheer bliss of the preceding bottle. But what a future it promises; great wine, showing very young. $20, full retail. Find this wine
1999 Belle Pente, Pinot Noir Murto Reserve:
This has always had a lovely nose – cherries, flint, underbrush, a touch of spice; well integrated in the mouth and the texture of silk, great pinot flavors that mimic the nose, good concentration, acidity and depth; better than average length. This is coming into its own and was ideal with salmon. Find this wine
1996 Chateau Lynch Bages:
In its early days, it was very Napa in style; it has crossed the ocean and is now quintessential Bordeaux; earth-driven on the with cassis, pencil shavings and stone elements; much the same on the palate as the sweet fruit flavors have receded and now are simply an element of the profile, good concentration, developing complexity, considerable tannin, nice balance and substantial length. The development of this wine has been a joy to experience; and certainly, the change has been dramatic. Still pretty young by Bordeaux standards. Superb with cheese. Find this wine