The wines of Sonoma take centre stage in the release slotted for Saturday October 29th. I don't have a lot of notes as so few wines were shipped, but those I tasted were, for the most part very good.
Once again congratulations are in order for the team at Tawse winery, which has, for the second year in a row, been bestowed as the Canadian winery of the year. This is a combination of an owner who strives for the best, a deftly skilled winemaker and a team that truly believes they have a wining formula. Well done.
Wines of Sonoma.
944843 KENWOOD JACK LONDON VINEYARD CABERNET SAUVIGNON 2007
Sonoma Mountain, Sonoma Valley, California $34.95
Rich and chewy, lots of sweet, but balanced dark fruit, black licorice, dried herbs and plenty of spice. It rolls over the palate boasting a core of blackcurrant, anise and despite the hefty tannins, it is one big juicy and enjoyable wine. Find this wine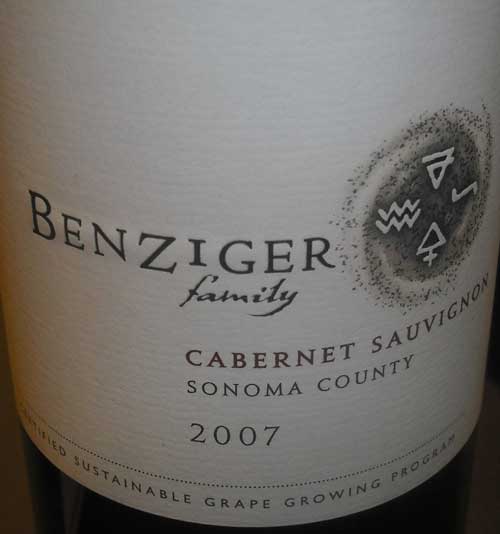 597237 BENZIGER FAMILY CABERNET SAUVIGNON 2007 Sonoma County $29.95
A tar laden nose also showing notes of forest floor, toffee, blackberry and currant, all leading to a palate with great depth and structure. Tasty now, but the silky tannins suggest a year or two of aging. Find this wine
014233 SEBASTIANI PINOT NOIR 2008 Sonoma Coast $19.95
Elegant aromas of black toffee, blackberry and a touch of chocolate expand on the palate that shows lively acidity and a touch of chocolate. Find this wine
038075 FREI BROTHERS RESERVE CABERNET SAUVIGNON 2008 Alexander Valley, Sonoma County $23.95
Great concentration of aromas radiate from this wine, composed of 80% Cabernet Sauvignon, 14% Merlot and a dab or two of Petite Sirah and Petit Verdot. It has a jammy texture on the palate, there is balance between sweet and tingly, nice plum and currant flavours and a touch of dried herb and vanilla oak. Find this wine
555599 GALLO FAMILY FREI RANCH VINEYARD ZINFANDEL 2009 Dry Creek Valley, Sonoma County $37.95
Just shy of sixteen degrees of alcohol, this nose is brimming with candied mint, Dutch licorice, bright red cherry, candied violets and wet forest floor. Any heat is cleverly masked by the power packed layers of ripe chewy fruit and dusty tannins. Find this wine
067744 SIMI LANDSLIDE VINEYARD CABERNET SAUVIGNON 2007 Alexander Valley, Sonoma County $44.95
Layers of lead pencil and mineral give way to nicely toned fruit aromas of blackcurrant and blueberry. It has a beautiful silky texture, the right amount of acidity and a touch of cocoa and silky tannin on the finish. Find this wine
Wines from the rest of the release.
ONTARIO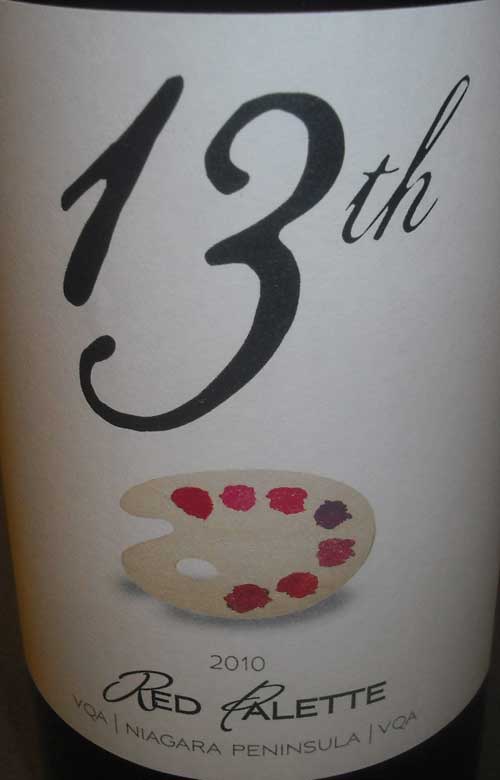 249458 13TH STREET RED PALETTE 2010 Niagara Peninsula $14.95
Nice streak of earth and mineral with a blast of sweet cherry and a touch of black tea. Plum and damson on the palate combine with red fruit and Asian spice. This is not a typical blend, Merlot, Pinot Noir and Gamay, but it shows well the potential of the excellent 2010 growing season. Find this wine
258673 G. MARQUIS THE SILVER LINE PINOT NOIR 2010 Single Vineyard Niagara Stone Road, Niagara-on-the-Lake $19.95
Spicy, full of plum, sweet dark fruit and mineral, it lacks on oomph on the mid palate, but finishes well with dark fruit and cherry. Find this wine
086363 WILDASS RED 2008 Niagara Peninsula $19.95
Wildass, the second wine of Stratus, has been well crafted to show a seamless wine exhibiting both aromas and flavours of red licorice, red fruit, rhubarb anise and dried cherry. Made from eleven different varietals, all estate grown, the wine has some tannin, the right hit of acidity and perfect balance. Find this wine
067645 MEGALOMANIAC BIG MOUTH MERLOT 2008 Niagara Peninsula $24.95
Notes of tobacco, cigar leaf, plum and blackberry are evident. The palate carries nice weight and texture, the fruit is rather sharp and a note of bell pepper surfaces, but the finish shows good black fruit with a pinch of cinnamon. Find this wine
FRANCE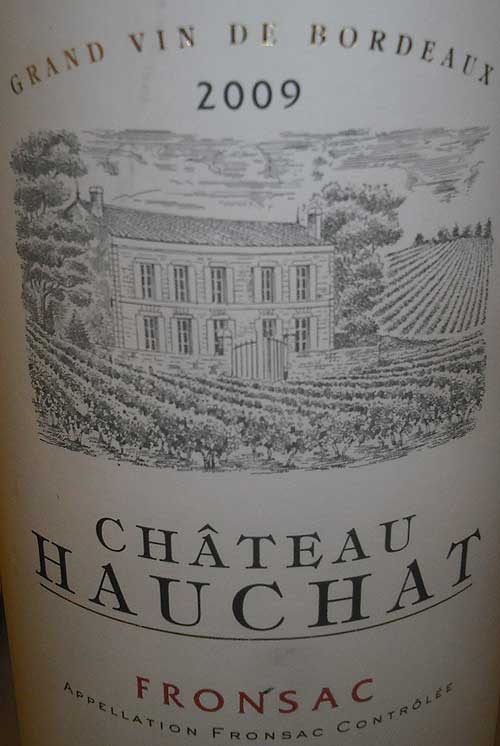 123489 CHÂTEAU HAUCHAT 2009 Fronsac $14.95
I like this wine from the get go, especially after seeing its more than reasonable asking price. It is sleek, has nice black fruit flavours with a little earthy note, a weird, but enjoyable aroma of HP sauce (tamarind), lovely dark fruit on the palate and excellent balance. Find this wine
048884 CHÂTEAU DE BEAUCASTEL COUDOULET DE BEAUCASTEL 2009 Côtes du Rhône $29.95
Youthful, but showing pleasing aromas of slate and mineral with underlying plum and cherry notes, a rich ripe palate, tight, but multilayered and with an abundance of dusty tannin. Not for drinking now, but should be great after a couple of years away. Find this wine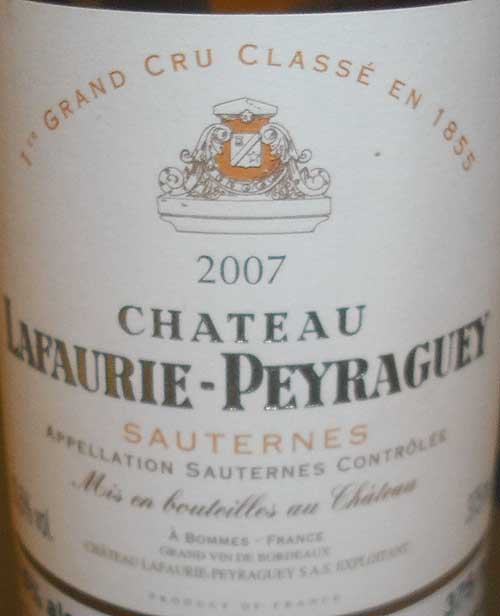 099804 CHÂTEAU LAFAURIE-PEYRAGUEY 2007 Sauternes, 1er Cru $37.00
Dried tangerine, Roses lime marmalade, lime leaf, a touch of treacle and a whiff of hay make for an interesting nose. The mid palate carries a simple syrup texture that is, for me, slightly cloying, but the streak of lime acidity helps and the touch of Botrytis on the finish is mighty tasty. Find this wine
ITALY
680496 CASTELLO DI QUERCETO CHIANTI CLASSICO 2008 $21.95
Dank and earthy, whiffs of bay leaf and thyme spring up. It soon shows nice dark fruit aromas with plum skin and red currant. The palate is lively, it shows good fruit some chocolate and some unresolved tannins. Find this wine
964221 ORNELLAIA LE VOLTE 2009 $29.95
Lots of sweet oak, blue and black berry aromas, a leaner palate and overall, not the same degree of depth as in previous vintages. Find this wine
247890 PASQUA AMARONE DELLA VALPOLICELLA 2007 Veneto $36.95
Forest floor and mushrooms, lots of nice plum, blackberry and blueberry fruit aromas seasoned with a pinch of cardamom, nice balance and a long tasty finish. Find this wine
356220 TOMMASI AMARONE DELLA VALPOLICELLA CLASSICO 2007, Veneto $49.95
Lovely aromas of mocha, hay, Kirsch, cola and rose petal with dark fruit and balsa, rich and chewy flavours of black cherry and blackberry and a long, slightly sweet plush finish. Find this wine
SPAIN
114454 RIOJA BORDÓN GRAN RESERVA 2001 Rioja $23.95
Starting out with a solid layer of blackberry and licorice candy, it soon shows a lovely notes of iron, mineral and maple smoked bacon. Spicy and plumy on the palate, juicy acidity and silky tannin, a ten year old wine priced well. Find this wine
Related posts: