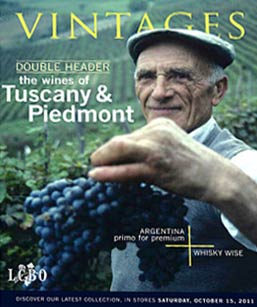 Thanks to one of my colleagues switching classes with me, I was able to get to London and taste a little of what we, the wine loving public, can expect to find on the shelves this Saturday and two weeks down the road. Although the focus this release is on some very good wines from Tuscany and Piedmont, I surprised myself as I was more impressed with the wines from Argentina, that although not cheap, were in fact exceedingly tasty.
October 15th.
Wines of Piedmont.
225227 LA QUERCIOLA CHICCHIVELLO LANGHE ROSSO 2008 $13.95
Lots of tar, spice, clove, black ground pepper and black fruit that runs across the palate with the right amount of acidity and oomph. Its finish displays the black fruit and adds a note of sweet red berry and dusty tannin. Nice wine, well priced and very quaffable. Find this wine
232454 PODERI DI LUIGI EINAUDI DOLCETTO DI DOGLIANI 2009 $18.95
This wine has layers of fresh berry coulis, cherry and black raspberry with floral notes, dried herb and mineral. It is fleshy on the palate, blueberry joins the fruit mix, it carries some weight, but at this point in its evolution it is a little chunky. Find this wine
233890 GUASTI CLEMENTE & FIGLI FONDA S. NICOLAO BARBERA D'ASTI SUPERIORE 2005 $21.95
A pretty wine, showing fresh cut flowers, damson cherry cola, mocha and maturing fruit, excellent balance, nice texture, gentle tannins and a touch of mineral on the finish. Find this wine
233908 GUASTI CLEMENTE & FIGLI RISERVA BARBARESCO 2005 $35.95 DOCG
As with the Barbera, this wine carries the maturing fruit and mocha notes plus a whiff or two of dried herb, game and meat. However, the palate is dry, has excessive tannins and a note of heat. Find this wine
232421 GIACOMO FENOCCHIO BUSSIA BAROLO 2005 $42.95
Enticing aromas of black fruit crème brulee, caramel, all spice and hay with plenty of red fruit and cherry. On the palate there are hefty tannins, which given time should subside to produce a sleek and tasty wine. Find this wine
251462 CORDELLA ROSSO DI MONTALCINO 2009 $19.95
Spicy, quite herbaceous, with leather, black cherry and coal dust on the nose. Clean sweet cherry flavours and dusty tannin on the palate. Find this wine
Some wines from Tuscany
991075 SAN FELICE CAMPOGIOVANNI BRUNELLO DI MONTALCINO 2005 $44.95
Wet forest floor leaps from the glass followed by a back drop of slate, nutshell, thyme, black fruit and sweet cherry. It has rich and velvety mouth feel with the right blend of fruit and mineral components and given time the cloying tannins on the finish should resolve. Find this wine
164814 SCOPETANI CHIANTI RISERVA 2007 $14.95
Simple, dark fruit with a stewed and maturing note, high acidity, peppery and a cola note on the close. Find this wine
953828 VOLPAIA CHIANTI CLASSICO 2008 $21.95
Tree bark and fresh flowers, a touch of cigar box, cherry and currant run to a rounded palate that is both fine tuned and well balanced with surprising length. Find this wine
177279 TENUTA DI NOZZOLE LA FORRA CHIANTI CLASSICO RISERVA 2007 $29.95
Sewer aromas with earthy clay are strangely pleasing, sweet spice and dark fruit also abound. There is spice, good concentration of fruit on the palate, nice black raspberry flavours and a hint of mocha. Find this wine
988055 POLIZIANO VINO NOBILE DI MONTEPULCIANO 2007 $25.95
At first the mahogany/furniture polish aromas overpower, but slowly red fruit, in particular, with cherry and vanilla come to the surface. It has a pleasant palate, some dusty tannin and sweet cherry on the finish. Find this wine
239889 MARCHESI DE' FRESCOBALDI TERRE MORE DELL' AMMIRAGLIA 2009 $19.95
A blend of Cabernet Sauvignon, Merlot, Cabernet Franc and Syrah that has a minty, and dark fruit laden nose kissed with a dose of vanilla, a fruit laden dusty palate and a jammy finish. Find this wine
651000 LUCE DELLA VITE LUCE 2008 $49.95 (375 ml)  685263 $99.95 (750 ml)
For some reason the board shipped both the grown up and baby renditions of the Luce. The little one offers generous aromas of dark fruit, floral notes, blue and black fruit, lavender and sweet dark pancake syrup. Its palate is tight, spicy, laden with dark fruit, cola, blueberry and black pepper. Tasty now, but it will only get better with time. There is considerable difference with the larger bottle, it is reluctant to shell out as much on the nose and the structure of the wine is way tighter. Find this wine
Notes from the "Premium wines" of Argentina release.
246082 DURIGUTTI RESERVA MALBEC 2006 Mendoza, Unfiltered $26.95
Sweet floral notes, plenty of wild perfume, nutshell and concentrated blueberry and blackcurrant fruits. The low acid palate echoes the toasty fruit, there is some tannin, and the only flaw is the note of heat on the finish. Find this wine
167247 FAMILIA MARGUERY MALBEC 2005 Mendoza $25.95
A Single vineyard wine made from 88-year-old Malbec vines equals a concentrated glass oozing with blackberry fruit, sweet spice, plus some earthy and pinecone forest aromas. Lots of ripe fruit with and a bitter, but not unpleasant, note on the finish. Find this wine
243501 RIGLOS GRAN CORTE 2007 Mendoza $37.95
Powerful, showing wet earth, moss and leafy forest aromas, the port like palate is laden with dark chocolate, pure fruit extraction, mocha and black raspberry flavours. Presently the tannins are harsh, but give it time. Find this wine
175547 FINCA LOS NOBLES CABERNET/BOUCHET 2005 Mendoza $63.95
Cabernet Sauvignon 88% and the remainder Cabernet Franc makes for a wine brimming with sweet perfume, sweet Asian spice, roasted beet, dank forest floor and creamy coffee candy. And did I mention the fruit! It is a powerhouse built with immense concentration of Ribena, blackberry and cocoa. It is very good right now, but the word infanticide is warranted. Find this wine
064501 NAVARRO CORREAS STRUCTURA ULTRA 2006 $34.95
An exceptional wine also with amazing concentration of black fruit and Ribena plus plenty of coal dust, black rock and mineral. Constructed from a blend of 52% Malbec, 30% Cabernet Sauvignon and 18% Merlot, the 18 months in new French oak does not over power. The palate tingles with lively bright acidity, magnificent intensity and overall balance. Find this wine
982355 CATENA ALTA MALBEC 2008 Estate Lots, Mendoza $49.95
Not showing as well as others on the table, but in time, the notes of apple skin, mineral and black fruit should show well. The blueberry focused palate has good depth of concentration, some nice flavours of cake and Asian spice, low acidity and amazing length to the finish. Find this wine
Other wines of the release.
384529 BOLLINGER SPECIAL CUVÉE BRUT CHAMPAGNE $69.95
A tasty sparkler with richness, aromas of toast, baked apple and bready notes. Great structure on the palate with a nutty note, apple and lively acidity. Find this wine
069831 MOËT & CHANDON GRAND VINTAGE BRUT ROSÉ CHAMPAGNE 2003 $87.95
The manual states this is from the 2003 vintages yet the bottle is labeled 2002. Regardless, it has a beautiful pink/rusty hue, appetizing aromas of berry, white tree fruit and mineral. Find this wine
033902 LE CLOS JORDANNE LE CLOS JORDANNE VINEYARD PINOT NOIR VQA Niagara Peninsula, Twenty Mile Bench 2009 $45.00
Elegant, with a pleasing mineral note, touches of sawdust, red currant, raspberry jell and leather. Pleasant palate, black cherry focused, lighter structure than previous vintages. Find this wine
149237 THE FOREIGN AFFAIR THE CONSPIRACY 2008 Niagara Peninsula $19.95
Notes of bacon, smoke, red fruit candy, this Ripasso styled wine has good ripeness, a clean palate, but a short finish. Find this wine
260281 SOUTHBROOK WHIMSY! CABERNET SAUVIGNON 2007 Niagara-on-the-Lake, Lot no. 19 $33.95
Ann Sperling, Southbrook's winemaker, has crafted a dense wine full of currant cordial, creamy mocha, raspberry and spice. Great concentration and balance on the palate. Find this wine
041095 LIBERTY SCHOOL ZINFANDEL 2008 California $18.95
Sweet briar, cream soda, black fruit ripple and plenty of sweet blackcurrant flavours. Juicy, lacks complexity. Find this wine
045476 SHAFER ONE POINT FIVE CABERNET SAUVIGNON 2007 Stags Leap District, Napa Valley $79.95
Very tight, full of potential, showing sandy, dusty mineral aromas, a great core of super velvety fruit, toasty, but not overpowering oak with layers of fruit and dusty soil on the palate. Find this wine
237776 KINGS RIDGE PINOT NOIR 2009 Oregon $21.95
Earthy with lots of sweet oak, black raspberry and lavender resulting in a pleasant wine albeit with a rather short finish. Find this wine
986752 PIRRAMIMMA PETIT VERDOT 2007 McLaren Vale, South Australia $26.95
Dark, plum laden, with chocolate, balsa, tobacco and smoke. Great textural mouth feel, spicy with some tannin and a medicinal finish. Find this wine
660035 TWO HANDS BRAVE FACES GRENACHE/SHIRAZ/MATARO 2010 Barossa Valley, South Australia $33.95
Lots of red berry and sweet jam with a touch of new leather and tar, a little sweet on the palate, but good acidity. Find this wine
062380 TWO HANDS SOPHIE'S GARDEN SHIRAZ 2008 Padthaway, South Australia $46.00
Sweet cordial, quite floral, a back drop of spearmint, globs of eucalyptus and a deftly prescribed amount of oak. Sweet blackberry focused palate, balanced with good crisp acidity. Find this wine
097899 CHÂTEAU DOISY DAËNE 2007 Sauternes, 2e Cru $32.00
Showing a tease of Botrytis, sweet apple, cheese rind, almond paste, lemon grass and funk. The palate has enough sweetness, a touch of honey, some lime syrup and a super long finish. Find this wine
098582 CHÂTEAU GUIRAUD 2007 Sauternes, 1er Cru $39.00
A floral nose with all spice berry, baked apple, biscuit and caramel toffee. The lovely palate carries flavours of orange, dried apricot and agave. Great viscosity and a pleasing velvety finish. Find this wine
138115 CHÂTEAU PIPEAU 2008 AC Saint-Émilion Grand Cru $29.00
Toasty, heaps of black fruit supported by notes of coffee, licorice root and Asian spice. The palate is quite low in acidity; it has chunky dark fruit and chalky tannins. Reputable producer and young wine usually equals goodness to come. Find this wine
100768 CHÂTEAU PONTET-CANET 2007 Pauillac, 5e Cru $105.00
Sweet fruit, lovely briar and currant, presently very tight showing little fruit, but plenty of tannin, spice and sweet oak. At this price, it's not a wine to rush out and buy, but I am sure for those that do, their patience will be rewarded. Find this wine
076331 DOMAINE GRAND VENEUR LES CHAMPAUVINS CÔTES DU RHÔNE-VILLAGES 2009 $18.95
Very mineral laden, notes of coal dust and ripe dark fruit with a spicy, but well balanced palate featuring cherry and dark fruit, tasty, but a little too quick to finish. Find this wine
Cheers
CZ
Related posts: