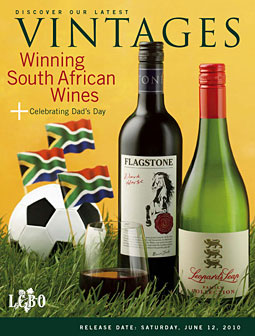 In celebration of FIFA's world cup held in South Africa this year, Vintages feature focus showcases several wines of the home team's country. Unfortunately none of these wines will match the excitement generated by this amazing event. There are some good wines, but none truly shine. England plays the USA on the same day, June 12th that these wines appear on the shelves. Personally, I am not sure yet which wine I will buy to celebrate England's win, but there are several beauties to chose from including a delicious Zinfandel from Renwood that might fit the bill.
The South African release
146928 SPIER VINTAGE SELECTION PINOTAGE 2006 Coastal Region $17.95
A funky nose of wet barnyard, iodine and band aid run to a palate that is quite fruit forward showing sweet blackberry, a touch of vanilla and dried herb. Acidity is refreshing, tannins are gentle and the finish has good length. find this wine
079517 AYAMA CABERNET SAUVIGNON 2008 Paarl (Slent Farms) $13.95
Plenty of blackcurrant aromas on the nose plus a streak of smoky dried fruit and leather. The palate has a one dimensional profile of cassis; there are dusty tannins that are evident on the finish. find this wine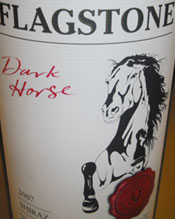 127654 FLAGSTONE DARK HORSE SHIRAZ 2007 Western Cape $17.95
An enticing nose of pure dark fruit backed up by notes of clay, coconut shell, well hung game and milk chocolate. The fruit flavours are clean; there is a little spice, a touch of licorice and refreshing acidity. Overall the wine is nicely balanced and has a lip smacking finish. find this wine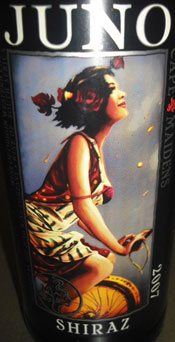 148585 JUNO CAPE MAIDENS SHIRAZ 2007 Western Cape $12.95
Funky band aid and creamy black fruit toffee dominate the nose; the mouth feel is full and fat with mocha and black fruit candy. Good wine for the price, although it could use a little more acidity for my taste, tannins are gentle and dusty rendering a nice dose of fruit on the finish. find this wine
148619 POST HOUSE PENNY BLACK 2007 Stellenbosch $18.95
An unusual blend, to say the least, Shiraz, Merlot, Cabernet Sauvignon, Petit Verdot and Chenin Blanc that offers up aromas of blackberry, mineral, treacle, dried tangerine peel, toffee and spicy black pepper. The fruit laden palate is full, sweet and quite tasty, but the fifteen degrees of alcohol does show up on the finish. find this wine
146530 VERGELEGEN MILL RACE CABERNET SAUVIGNON MERLOT 2006 Stellenbosch $17.95
Great nose, lots of cedar/sawdust aromas with plenty of dark fruit, plum and blackcurrant all backed up by a blend of licorice, dried herb and leather. Sweet tasty fruit on the palate, lively acidity balances well and dark fruit and chewy toffee combine nicely on the finish. find this wine
148593 JUNO ARTHOUSE SHIRAZ/MOURVEDRE 2007 Coastal $14.95
A little sliver of pig poo soon gives way to a layer of dark fruit and milk chocolate. The barnyard trait does show up on the palate, but melds nicely with blackberry and spice. Acids are clean, but there is a little heat on the finish. find this wine
Ontario
172643 TAWSE SKETCHES OF NIAGARA ROSÉ 2009 Niagara Peninsula $14.95
This delicious blend of Cabernet Franc, Cabernet Sauvignon, Pinot Noir and Merlot carries an amazing nose of crisp clean fruit with a gentle hint of mineral in the background. The mouth feel is succulent, the wine is dry, but it finishes with a note of sweetness. The balance is spot on making this a great summer sipper. find this wine
268391 HENRY OF PELHAM RESERVE PINOT NOIR 2007 Niagara Peninsula $24.95
A nose of dark cherry and plum with a touch of thyme, beet and vanilla lead to a palate with good depth and concentration. Flavours of cherry and strawberry ring around the creamy palate, the finish is long, has notes of pure fruit, mineral and some gentle tannins. find this wine
USA
025171 DE LOACH PINOT NOIR 2008 California $17.95
Juicy plum and sweet red cherry, the sweetness appears on the palate, there is a note of mineral, nutmeg and dried leaves that keeps the wine interesting. find this wine
189795 JOSEPH PHELPS CABERNET SAUVIGNON 2006 Napa Valley $74.95
Aromas of mushroom, soy, Asian spice, vanilla and black fruit are powerful. The wine is presently tightly wound, but blackcurrant, black raspberry, red currant and blackberry flavours manage to push their way through the veil of tannin. The finish is long, creamy and very tasty. It really needs a couple of years to show its best and when it does, it will be a great wine. find this wine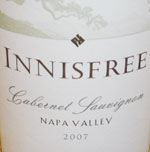 038125 JOSEPH PHELPS INNISFREE CABERNET SAUVIGNON 2007 Napa Valley$37.95
The baby brother of Phelp's Insignia, made with fruit from young vines of that vineyard. It has a fine nose of blackcurrant and blueberry fruit, a layer of slate and mineral, dried bark and wet leaves. The palate is ripe, full of Ribena, chocolate tannin and red fruit on the finish. find this wine
161505 CELLAR NO. 8 MERLOT 2007 California (Asti Winery)
Blueberry, plum, sweet toffee and dark chocolate all show nicely on the nose. The sweet dark fruit on the palate is enhanced with a touch of anise. All is well until the finish, which regrettably dies way too soon. find this wine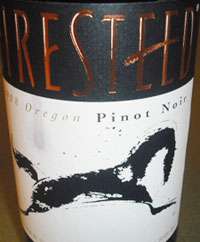 361782 FIRESTEED PINOT NOIR 2008 Oregon $17.95
Lots of beet, black cherry, strawberry aromas with a note of onion skin in the background. There is a mineral note on the fruit laden palate, acids are balanced and the finish is clean. find this wine
425504 RENWOOD OLD VINE ZINFANDEL 2005 Amador County $19.95
Where was this wine when Vintages released there Zinfandels last month? For fewer than twenty bucks, this clearly is way better than all the wines in that recent release. It fills the glass with aromas of Moroccan spice, leather, tomato, black raspberry and mineral. The palate has a subtle sweetness, expressive red and black fruit flavours, a note of white pepper and lively acidity. find this wine
France-Italy
125872 CHÂTEAU BRULESÉCAILLE 2006 Côtes de Bourg $16.95
A tight nose that shows cooked red fruit, wet earth and a touch of mineral. The palate has a new world tone, plenty of sweet ripe fruit, a little spicy note and decent concentration. Although tannin is discernable on the finish, give it a year and it should be tasty. find this wine
169771 DOMAINE DE SAINT SIFFREIN CHÂTEAUNEUF-DU-PAPE 2007 $34.95
My first impression is the wine lacks the typicity of the region. My second impression is that the wine is really bloody tasty. It is dark and inky, full of teasing aromas of cardamom, Ribena, blackberry, Asian spice, Dutch licorice and lavender. The monstrous palate abounds with cassis, fleshy dark fruit, plenty of spice and just a touch of heat on the super ultra long finish. find this wine
093088 CAMPANIA TERREDORA LACRYMA CHRISTI DEL VESUVIO ROSSO 2007 $18.95
Forest floor, smoked meat, dried mint and mushrooms back up the sweet and toasty ripe dark fruit. The palate boasts plenty of fruit, but the tannins mask it somewhat. There is a note of astringency on the finish, but given time, the fruit will shine. find this wine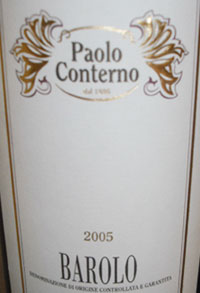 172783 PAOLO CONTERNO BAROLO 2005 $37.95
I was happy to see the price attached to this wine after tasting. Good value Barolo is a rarity in this province. This shows gorgeous floral aromas supported by notes of sweet black licorice, cigar leaf, sweet spice and mushroom. There are plumy flavours on the palate, dusty tannins and balanced acidity. Do not be in a rush as this will only get better with three to five years in the cellar. find this wine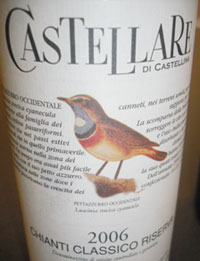 508507 CASTELLARE DI CASTELLINA CHIANTI CLASSICO RISERVA 2006 $26.95
Bold ripe aromas of blueberry, black raspberry and plum run right through to the well balanced palate that finishes with a silky note of dark sweet chocolate. find this wine
Cheers
CZ
PS
Come on England!
Related posts:
One Response to "Alan Kerr's June 12th, 2010, Vintage's Release – Tasting Notes"