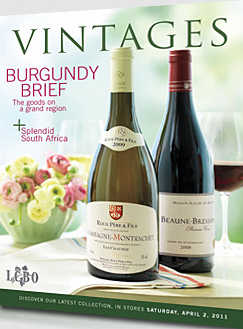 I was happy to get back to London, especially after missing the previous tasting that profiled some of Napa's super stock, to taste the wines of Burgundy, which is the feature release. The secondary release is wines of South Africa and to be blunt, I found them more interesting than the Burgundies. So please read on. (Click images to enlarge)
Wine from the Burgundy release.
208496 VINCENT MORIN LACOMBE PINOT NOIR BOURGOGNE 2009 $16.95
Perfume and dark fruit, good concentration, a note of lavender, anise and steely mineral, all create alluring aromas to this top value Pinot. There is some tannin, but the silky unobtrusive type, blackcurrant takes pride of place on the palate and overall, the balance is spot on. Find this wine
124305 DOMAINE LOUIS MOREAU CHABLIS 2009 $22.95
Typical notes of wet stone and mineral combine with simple fruit aromas of apple, grapefruit zest and a touch of roasted nut. Nice clean fruit on the palate, mineral components increase, finish is decent, but disappears too soon. Find this wine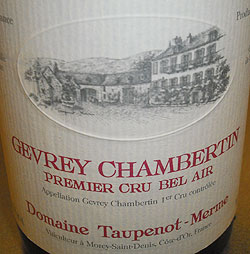 209502 DOMAINE TAUPENOT MERME GEVREY CHAMBERTIN BEL AIR 1ER CRU 2007 $79.95
Spicy with a touch of dried mint, black cherry, that is quite floral and perfumed. Good structure on the palate, a soft and creamy texture with plenty of red fruit, cranberry and dusty cedar. A pretty and elegant wine, showing a touch of tannin, but nonetheless, enjoyable now. Find this wine
210864 DOMAINE GILLE CÔTES DE NUITS-VILLAGES 2008 $24.95
The aromas of dark cherry, forest floor and blackberry are compelling to say the least. It has a pleasing texture, acidity is spot on, the dark cherry turns tart, but the tasty flavours of iron and mineral are duly noted. A nice wine, albeit short on the finish. Find this wine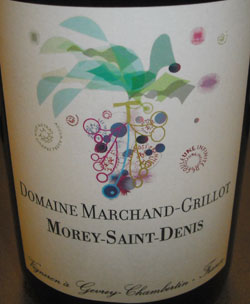 210906 DOMAINE MARCHAND GRILLOT MOREY-SAINT DENIS 2008 $39.95
This almost looks like a Rose in the glass, very pale, with faint aromas of clove, cake spice, perfume, rhubarb and cola. Disappointing on the palate, so light, so lacklustre, I think the tasting panel, judging from their accolades, had a totally different wine than we did! Find this wine
208553 DUFOULEUR PÈRE & FILS CHAMBOLLE-MUSIGNY 2007 $49.95
Earthy notes with dried mushroom and thyme, some red cherry and oak. High acid on the palate, fruit drying quickly, rhubarb and high acid finish with a note of brett. Find this wine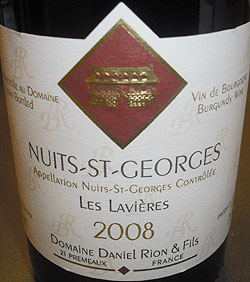 208454 DANIEL RION LES LAVIÈRES NUITS-SAINT GEORGES 2008 $47.95
Pond water and wet leaves, black cherry, blueberry and all spice hit the perfumed nose. Gutsy palate featuring dried fruit, black raspberry, coal and mineral. Not the longest finish, but a tasty one. Find this wine
208520 ROUX PÈRE & FILS CÔTE DE BEAUNE-VILLAGES 2009 $17.95
Gentle and soft, aromas of red fruit, Turkish Delight, red liquorice and violets. Red fruit, red currant, cranberry, strawberry and rhubarb all play a part on the mid palate. Finish is short and a little tart. Find this wine
208504 MAISON ROCHE DE BELLENE BEAUNE-BRESSANDES 1ER CRU 2008 $47.95
Now we're talking, dark robe, good viscosity, some funky notes, dank cave and tar, but behind are layers of dark fruit, Asian spice and black tea. It is rich and chewy, showing a core of tasty dark frit, some tannins and a long chewy finish. Find this wine
208538 ROUX PÈRE & FILS VOLNAY 2009 $29.95 AC
Sample corked. Find this wine
208488 VINCENT GIRARDIN LES GRANDS CHARRONS MEURSAULT 2008 $42.95
Peach, stone, a touch of honey and smoked meat all run to a tight, but creamy textured palate showing limestone, tree fruit and oak. Find this wine
021758 CHATEAU DE PULIGNY MONTRACHET PULIGNY MONTRACHET LES CHALUMEAUX 1ER CRU 2007 $84.95
A powerhouse of a wine, stony mineral gives way to melon, apple and kiwi aromas. Great concentration of fruit and flavour on the palate, perfect acidity and deftly administered oak. Find this wine
210823 DOMAINE MOUTON GIVRY CLOS CHARLÉ 1ER CRU 2009 $26.95
Thick and viscous, very youthful purple robe, focused layers of dark fruit, raspberry, cardamom, star anise and sweet oak linger on the nose. The palate is youthful, but shows nice sweet flavours of red fruit and cherry. Tannins are tight and suggest waiting on this one for a while. Find this wine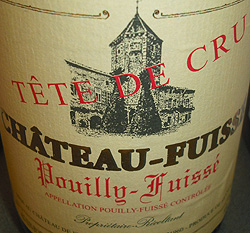 208546 POUILLY-FUISSÉ 2008 $29.95
Aromas of lime and apple, nice texture, showing creamy baked pear flavours with a touch of chalk and hazelnut. Find this wine
Some wines from South Africa.
148601 ATARAXIA SERENITY 2007 Western Cape $24.95
Lot of funky aromas of wet wool, straw, coconut shell, mocha and a whack of rich creamy blackcurrant. It has a chocolaty texture; the fruit is solid, well balanced and overall it is rather tasty. Find this wine
068692 BELLINGHAM DRAGON'S LAIR 2006 Coastal Region $19.95
Pure fruit accented by notes of tobacco, slate and tar. A blend of Syrah with small amounts of Mourvèdre and Viognier that is tasty. It has a chalky texture, lots of sweet cherry and blackberry flavours with plenty of dusty tannins. Find this wine
129718 BELLINGHAM MERLOT WITH A DASH OF MALBEC 2007 Coastal Region $13.95
Earthy and mineral aromas supported with cedar, cooked meat and black olives. Fleshy palate, good fruit structure, mineral and cola notes, nice cleansing acidity on the finish. Find this wine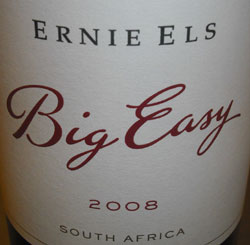 220038 ERNIE ELS BIG EASY 2008 Western Cape $19.95
Dark, notes of wet fur, Asian spice, molasses and plenty of pure dark fruit. The centre stage is tasty blackberry fruit coupled with cola and aniseed well balanced and a good finish. A blend of Shiraz and Cabernet Sauvignon, Grenache, Mourvèdre and Viognier. Find this wine
214361 THE OAK VALLEY BLEND 2005 Elgin $16.95
Coconut, dark chocolate, fudge and black fruit run to a palate that has pleasing notes of red fruit, some caramel sweetness with a touch of mocha and vanilla. Find this wine
007757 VILAFONTÉ SERIES M 2006 Paarl $39.95
The wine, a blend of Merlot, Cabernet Sauvignon, Malbec and Cabernet Franc speaks loudly. It offers up powerful aromas of plum, cassis, wet leaves and coconut shell. The palate has a rich chewy texture with flavours of chocolate, red fruit, cassis and mineral. The finish is long, but a little cloying. Find this wine
Other selections
291112 HENRY OF PELHAM GAMAY 2009 Short Hills Bench, Niagara Peninsula $14.95
Tasty little wine boasting red liquorice, stewed plum, sweet spice, wet earth and balsa, while on the palate, the red fruit is prominent, it is well balanced, a touch spicy providing instant pleasure. Find this wine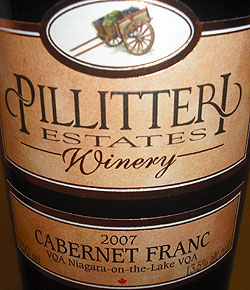 013763 PILLITTERI ESTATES CABERNET FRANC 2007 Niagara-on-the-Lake $19.95
Very well structured, showing lots of earthy mineral, a touch of wet potato peel and a solid core of dark blackberry fruit, black liquorice, black cherry and great acidity. Nice long tasty finish too. Find this wine
732511 BONNY DOON LE POUSSEUR SYRAH 2007 Central Coast $22.95
Funky, high degree of pond water and fennel seed with plenty of black fruit in the background. Creamy flavours of mocha, blackberry, and creamy toasty oak. A little overdone for my tastes. Find this wine
213017 MICHAEL DAVID PETITE PETIT 2008 Lodi $24.95
A blend of 85% Petite Sirah and 15% Petit Verdot that oozes aromas of Cadbury Caramilk and Coffee Crisp candy, toasted wheat cereal and blueberry. The palate, not recommended for the faint of heart, is dense with powerful flavours of black and blueberry fruit, highly enjoyable, in a weird sort of way with a long finish akin to Tawny Port. Find this wine
203109 SOUTHBANK ESTATE PINOT NOIR 2008 Marlborough, South Island $19.95
Some pretty dark fruit aromas with a note of blueberry and toffee. It is clean, well balanced, has realistic Pinot charm, good balance and although it leans to the lighter side, it has appeal. Find this wine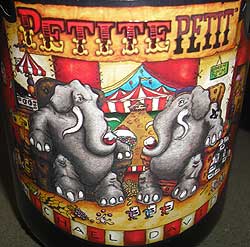 986752 PIRRAMIMMA PETIT VERDOT 2006 McLaren Vale, South Australia $24.95
Along the same lines, this powerhouse of a wine has rousing aromas of intense black and red fruits, Dutch liquorice, Middle Eastern spice box, anise and wood polish. A powerful palate, with immense concentration showing plenty of fruit like syrup and dusty tannins. A fun wine to eat! Find this wine
121301 SCHIAVENZA BROGLIO BAROLO 2005 $41.95
Woody, sweet spice, ripe fruit and earthy mineral lead to a palate of very ripe red fruit and monstrously hard and gripping tannins. Not sure if this has the level of fruit required to go the time required to let the tannins soften, if they ever will. Find this wine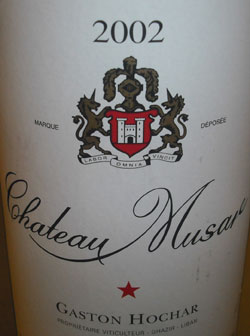 109413 CHATEAU MUSAR 2002 Bekaa Valley $51.95
To finish on a high note, Lebanon's benchmark winery has produced a splendid wine that has multiple layers of red currant, blueberry, cherry cola, cardamom and tar that combine to create a warm and fuzzy feeling delivering much pleasure. It is elegant and rewarding as layers of mocha, cigar leaf, dark and red fruits, tea and mineral dart around the palate. Some gentle tannin suggests more time in the cellar, but it is one tasty little wine right now. Find this wine
460410 KONIGSCHAFFHAUSEN STEINGRUBLE PINOT NOIR 2009 Baden $15.95
Soapy and floral aromas with a note of spice and fennel, celery and cedar. Simple fruit on the palate, a little cloying on the finish. Find this wine
942508 MASTROJANNI BRUNELLO DI MONTALCINO 2005 $45.95
Wood polish, coffee grounds, smoke, dark caramel, roast beef and thyme make for an interesting nose. Fruit does show itself on the palate, blackberry is discernable, the raspberry flavours offer good acidity, but tannins have a tight hold and intend to for a while. There is a note of heat on the finish. Do not be in a rush to open this. Find this wine
Cheers
CZ
Related posts: