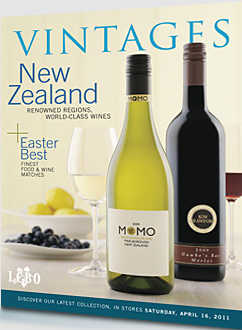 New Zealand takes centre stage in this, the second release of April. The release has no wines one would call outstanding, but there is one or two that are worth seeking out. Unfortunately, due to the next tasting coinciding with exam week at school, I will miss the next tasting. Thus no notes for the next two releases I am afraid.
Wines from the New Zealand release.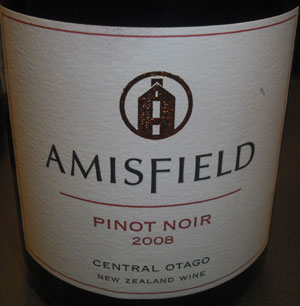 179754 AMISFIELD PINOT NOIR 2008 Central Otago, South Island $44.95
Appealing aromas of muddy wet barnyard combine with a layer of floral notes plus blackberry, plum and clove. It is a tasty, but young wine with intense flavours of cherry and plum, a touch of iron and red fruit jam on the finish. Find this wine
919837 CARRICK PINOT NOIR 2007 Central Otago, South Island $34.95
Dark and sweet, almost Shiraz like as it pumps out blackberry and spearmint aromas. It is spicy on the palate, laden with black fruit, quite tasty, but from being a recognizable Pinot. It has a full finish carrying plenty of mineral and a touch of mocha. Find this wine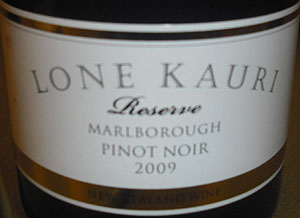 214858 LONE KAURI RESERVE PINOT NOIR 2009 Marlborough, South Island $16.95
Red berry, a wisp of pig poo, some clove and clay on the nose lead to a tasty mid palate showing plum, red currant, and dark cherry, a touch of spice and rhubarb flavours on the finish. Find this wine
214833 STAETE LANDT PINOT NOIR 2008 Marlborough, South Island $34.95
Crisp red fruit, apple skin, beet juice and tobacco are interesting, but the palate carries only lean red fruit, a bit of a green note and some astringency on the finish. Find this wine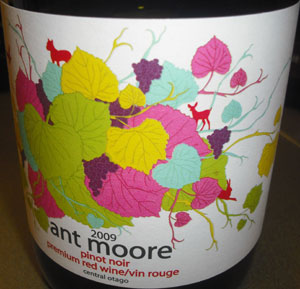 220657 ANT MOORE PINOT NOIR 2009 Central Otago, South Island $24.95
Nice black fruit, sweet black liquorice, forest floor and tea follow through to a spicy palate featuring sweet oak, red currant and anise on the finish. Find this wine
163584 CRAGGY RANGE TE KAHU GIMBLETT GRAVELS VINEYARD 2009 Hawkes Bay, North Island, Single Vineyard $27.95
An intense nose of blueberry, creamy chocolate and Ribena turn to a rich and chewy fruit driven palate, with nice notes of mineral, dark chocolate, some tannin and a low level of acid. Find this wine
095984 TE AWA CABERNET/ MERLOT 2007 Gimblett Gravels, Hawkes Bay, North Island $19.95
An overripe wine with notes of ethyl acetate, blue and black fruit, a fat and flabby palate and a whack of tannin on the finish. Find this wine
Wines from the "Match Points" release for Easter dinner celebrations.
606509 WHITEHALL LANE CABERNET SAUVIGNON 2006 Napa Valley, California $47.95: Suggested food lamb.
Dark and toasty, full of chocolate, earthy dusty mineral, cocoa, blueberry and blackcurrant aromas leading to a full bodied and well balanced wine that teases with shots of dark fruit, hints of mocha and a long tasty finish. Find this wine
950204 FALESCO VITIANO 2008 Umbria, Italy $15.95: Suggested food ham.
Falesco's Vitiano always represents quality wine at decent price and this vintage hails a wine full of floral notes with sweet perfume, wet straw and red fruit. On the palate the fruit has a stewed texture, plenty of tasty black fruit acidity and fine dusty tannins. Find this wine
980482 CAMBRIA JULIA'S VINEYARD PINOT NOIR 2008 Santa Maria Valley, California $29.95: Suggested food turkey.
A tasty Pinot, supporting floral aromas that combine with lavender, cardamom, plum and smoked meat. Balanced superbly; the palate has flavours of plum and blackberry, a touch of vanilla, spice and cola on the finish. Find this wine
163022 JOSEF CHROMY PINOT NOIR 2009 Tasmania $27.95: Suggested with salmon.
Old world aromas of Herbes de Provence, leather and dried mushroom couple with sweet blackcurrant and cherry cough syrup. It is quite sweet on the palate showing red cherry jam, candied citrus and a finish of Marijuana! At least I imagine that what it tastes like. Find this wine
Wines from the regular section of the release.
033944 LE CLOS JORDANNE LA PETITE COLLINE PINOT NOIR 2008 Niagara Peninsula, Twenty Mile Bench $45.00
The La Petite Colline, a 3.25 hectares vineyard on Twenty Mile bench, has produced a wine brimming with black raspberry, wet black soil, beet and Asian spice. True to Pinot form it has lovely tastes of black cherry, mineral, red cough candy and dried mushroom. Beautifully balanced, acidity is spot on, just a little tannin on the finish suggesting a year or two of aging. Find this wine
21699 PALATINE HILLS PROPRIETORS RESERVE CABERNET SAUVIGNON 2007 Niagara Lakeshore $19.95
Plenty of sweet red fruit and peppery spice with just a hint of vanilla follow through to a clean and sound palate featuring light red and black fruit flavours. Find this wine
161190 GROVE STREET CABERNET SAUVIGNON 2008 Sonoma County $15.00
Spicy sweet and a little boozy, syrupy fruit flavours abound on the palate; the overall mouth feel is ripe and toasty while heat is discernable on the finish. Find this wine
043810 CHÂTEAU SAINT-ANDRÉ CORBIN 2008 St-Georges-St-Émilion $21.95
This is where my cash will be spent this release. The wine is elegant, showing earthy barnyard, cigar leaf, black raspberry and blackberry fruit aromas. The palate is lovely, fruit is forward, acids are refreshing and tannins are gentle. The finish has fruit, mocha and oat notes. Find this wine
430876 MOMMESSIN DOMAINE DE CHAMP DE COUR MOULIN-À-VENT 2009 $19.95
I never been a fan of Beaujolais and having had to many disappointments from drinking the wines of Mommessin, I have to confess this wine impressed me. Its nose is full of creamy black fruit ripple bar, cake spice, lavender and a twist of pepper. The plump palate has plenty of dark fruit, a little sweet spice and touch of vanilla. Find this wine
222927 CAVE DE RASTEAU LA DOMELIÈRE RASTEAU CÔTES DU RHÔNE-VILLAGES 2009 $15.00
Mineral, slate and dried mushroom, a little mocha, anise and perfumed dark fruit run to a lively palate of dark fruit, chewy tannin, black olive and refreshing acidity. Find this wine
219899 CHÂTEAU GIGOGNAN VIGNE DU RÉGENT CHÂTEAUNEUF-DU-PAPE 2007 $39.95
Oh golly, where to begin? A mixed bag of dried orange peel, black olive, bacon, blackberry, liquorice, dried Shiitake, blackcurrant plus a healthy measure of good old fashion Southern Rhone funkiness. It has a concentrated palate, with layers of dark fruit, dried orange and long charismatic and complex finish. Find this wine
194837 DOMAINE DE LA VILLE ROUGE INSPIRATION CROZES-HERMITAGE 2007 $21.95
My notes are far from the praise and accolades this wine receives in the Vintages manual. To me it has a nose of Borscht, some fruit, but it is mostly green and weedy. Not much to speak of on the palate either. Find this wine
976845 PERRIN & FILS L'ANDÉOL RASTEAU 2008 Côtes du Rhone-Villages $19.95
80% Grenache and 20% Syrah is a winning formula, the aromas of plum, dried fruit, Fry's chocolate cream and blueberry fruit are powerful. It measures up on the palate too delivering rich chewy fruit, good acidity, dark chocolate and a hint of raspberry jam. Find this wine
211631 TENUTA FRIGGIALI BRUNELLO DI MONTALCINO 2004 $46.95
Gambero Rosso states "The '04 Brunello di Montalcino Friggiali is flawless" and I concur. It starts out with a swampy forest floor note that is soon overrun by the likes of white mushroom, liquorice, thyme flowers, plum skin, black cherry and blackberry. The palate is seamless, the layers of fruit just flow, there are tannins, but they are integrating nicely. Exquisitely balanced, this lovely wine can sit for a few more years until it hits its best. Find this wine
718130 PICHIERRI TRADIZIONE DEL NONNO PRIMITIVO DI MANDURIA 2007 $23.95
This is just one of those wines that, at the time, I just couldn't get my head around. It is weird, full of over ripe fruit, coffee grounds, caramel and molasses. The port like palate is quite hot; there is fruit, dried cranberry and currant. It finishes with liquid "Camp coffee with chicory essence" Another English kiddie memory! I need to re taste as I know this is a well touted wine. Find this wine
165035 VILLA MATILDE ROCCA DEI LEONI AGLIANICO 2007 Campania
Woodsy, forest floor, chestnuts, dark bitter chocolate, blackcurrant, wet horse fur and smoke. There is fruit on the palate, but the army of tannins is reluctant to back off. Need to revisit in a year or two. Find this wine
Cheers
CZ
Related posts: