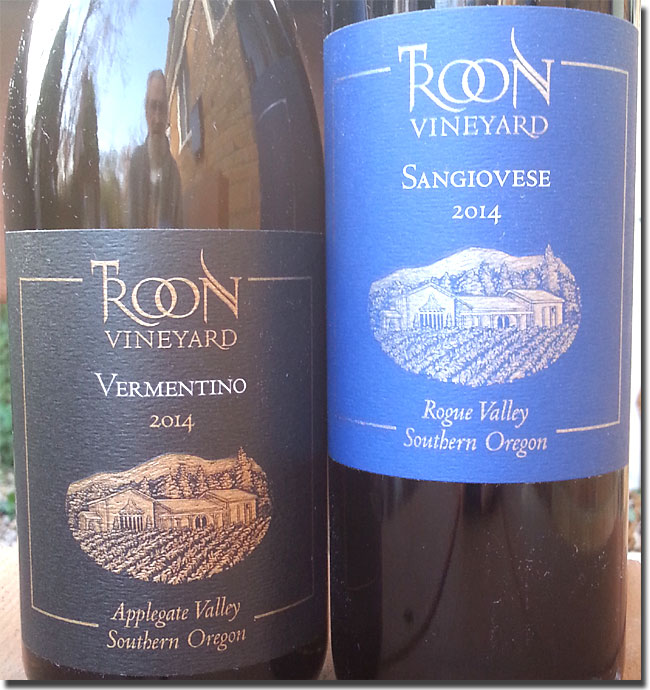 Troon Vineyard is an Oregon producer that had flown completely under our radar until we first tasted six of their wines last summer. Those were mostly quite good, and we'd been looking forward to trying more from them, so we were pleased to receive six additional samples over the last few months, coming to us two by two. As previously reported, Troon is not a Willamette Valley winery (they are located in Applegate Valley in southern Oregon), and they don't do Pinot Noir. Instead, their focus is on such seemingly unlikely varieties as Malbec, Tannat and Sangiovese, to name just three; they also grow Rhône grapes as well.
We took our time with them, sampling them over several weeks, and once again, we mostly liked what we tasted. Here are my impressions, listed in the order in which they were opened. We pulled corks from the first two one evening some weeks ago, and enjoyed them with opening appetizers and the main course respectively.
2014 Troon Vermentino Applegate Valley, 12% alc., $29.00: Clean, bright, medium straw color; oddly, this is better by itself than with Kim's wild sautéed shrimp in butter sauce. When tasted with the shrimp, it takes on a mineral-driven character, racy, devoid of fruit and a bit hot. On its own, a little more citrus peeks out, while the mineral takes on an ever-so-slightly petroleum-like note. Some quince emerges with extended air, but while it's not unpleasant, neither is it all that outgoing. Overall, it's a slightly quirky little variation on the Vermentino theme that I wouldn't be inclined to purchase. Find this wine
2014 Troon Sangiovese Rogue Valley, 13% alc., $29.00: Clean, dark color, with nice red berry cherry flavors and aromas. Soft tannins, balanced acids and good length, almost cherry stick in character, with a little earth underneath. Like the Vermentino, this gets better and better with air, and has plenty more to offer for my tastes. Makes a nice match for grilled lamb lollipops and mixed grilled veggies. Find this wine
A few weeks later, we enjoyed these next two with a beautiful New York strip.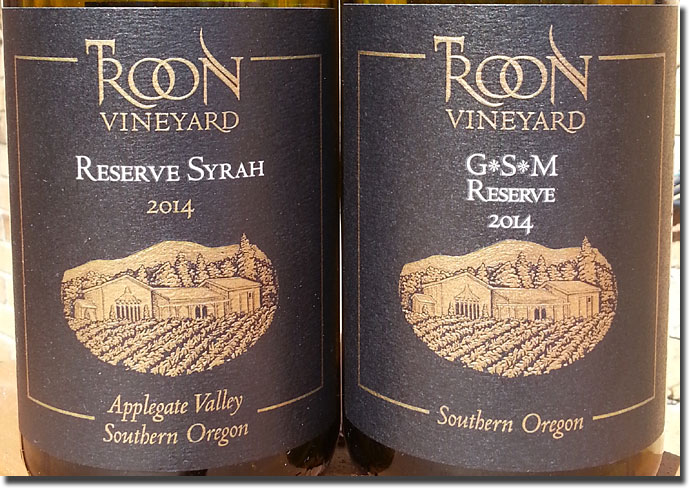 2014 Troon Black Label G*S*M Rogue Valley, 4.2% Grenache, 45.2% Syrah, 50.6% Mourvédre, 14.3% alc., $40.00: Clean, dark color, with a pretty nose of mixed dark cherries, berries and plums, graced with a kiss of oak. Flavors echo so nicely, with some earth underneath. Full-bodied, well-structured and more approachable than the Syrah noted directly below. Better in 3-5 years, but very nice now, especially with some air, gaining a little tar on the finish. Find this wine
2014 Troon Reserve Syrah Applegate Valley, 14.4% alc., $40.00: Clean, dark color, with a lovely, fragrant bouquet of black plums and berries; flavors echo and expand, with an earthy base and significant structure for several years of age and development. Full-bodied, with tannins that clamp down on the finish. Even with the New York strip, this obviously wants more time in the bottle. It opens nicely with extended air, so give it an hour in a decanter if you want to try one now, but I'd keep hands off for another 5 years or so. There's a wealth of promise here, so patience is advised. Find this wine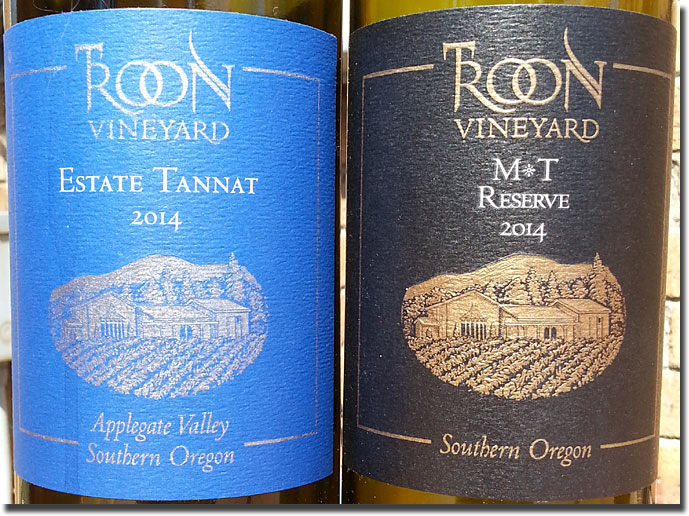 Finally, we tried the last two with our dear friend Rod Leon. Dinner consisted of a nice medium-rare Nieman Ranch flatiron steak, grilled medium-rare and sliced thin, with sides of sautéed onions, haricot verts and mushroom pea risotto balls
2014 Troon Blue Label Estate Tannat Applegate Valley, 14.4% alc., SRP $35: Clean, dark garnet color, with a pretty red and black fruit nose shaded with a judicious kiss of oak. Big black currant and plum flavors show less oak, an earthy anchor and substantial structure for several years of cellaring. Certainly approachable with the flatiron steak, but time will serve this best, because it promises even greater things down the road. Rod and Kim both opine that it's more backward and the M*T is more approachable now. I'd give it another 5 years before trying again. Find this wine
2014 Troon Black Label M*T Applegate Valley, 60% Tannat, 40% Malbec, 14.4% alc., SRP $50: A little darker in color than the Tannat, and less expressive on the nose; on the palate, it offers a note of oak over deep, dark black currant and berry, being a little bigger than the previous selection, and maybe even a bit more structured. It also works well with the dinner noted above, but its best days are ahead of it and patience will surely be rewarded. Find this wine
Based on these and the last six we tasted through, it's obvious to us that Troon Vineyard is most assuredly a winery deserving of greater recognition, and we're looking forward to trying not only what they come up with in the future, but also, to see just how these that we've already tasted age and develop.
Now, I wonder what else is going on down in southern Oregon that has flown under our radar…
Reporting from Day-twah,
Bastardo
Save
Save
Save
Save
Save
Save
Save
Save
Save
Related posts: